POV Holder:
Frank
Next POV:
Aug 11 (Saturday)
POV Used
NO
POV Ceremony
Aug 13 (Monday)
HOH Winner:
Frank
Next HOH:
Aug 16 (Thursday)
Original Nominations:
Wil / Joe
Current Nominations:
Wil / Joe
Have Nots Cod fish/Candy Canes
Joe, Shane, Danielle, Britney
Last Evicted Houseguest
Janelle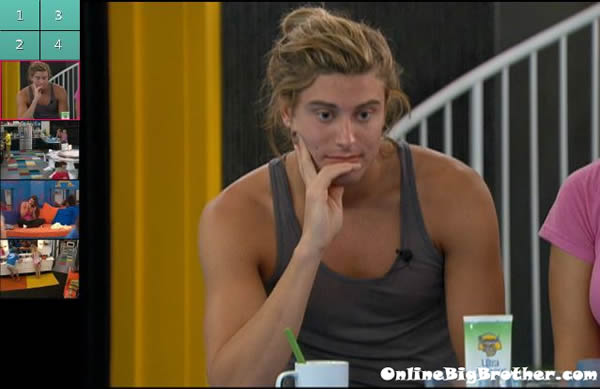 Power of Veto Ceremony Results: Frank decided not to use the Veto. Joe and Wil remain on the block for eviction!

12:05pm – 12:30pmWhen the live feeds come back from TRIVIA, in the bathroom, Shane tells Joe that he had a nice speech. Britney tells Dan in the bathroom that it is a good thing he didn't go up, because we would not have the votes to keep you. Britney says that was nervous, we should not have even had to be concerned. Shane says he thought for sure he was going up. Joe says yeah but I am still on the block, I guess I didn't reach his heart. I guess my heart to heart didn't work. Britney tells Danielle that we are going to have to tell Dan about what Ian told them last night and how they need to win HOH this week. Meanwhile in the kitchen, Ashley tells Wil that she liked his speech. Wil says thanks, but that he forgot the middle. Wil and Ashley sit there staring off into the distance. Joe joins them. He says to them that he guesses he didn't reach his heart. Wil says that if he is going home he is going out with a bang. Wil whispers to Ashley that they are definitely against us. Ashley says it will be okay we still have time.
Big Brother Live Feeds FREE 3 Day TRIAL: Try them and see what's happening right now!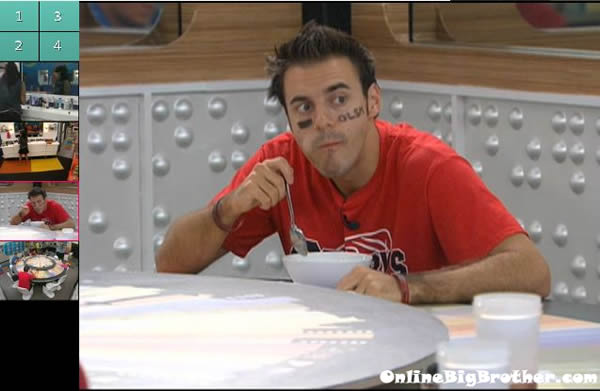 12:30pm – 12:45pm Danielle and Britney are talking. Britney tells Danielle that Dan needs to step up to the plate and start winning sh*t, I am tired of us saving him. He needs to win this week. Danielle tells Britney that Dan has told her that he hasn't thrown any competitions. Dan comes into the bathroom. Britney tells Dan that it was not looking good, that he was close to coming up. Britney tells Dan that he needs to win HOH. Dan says that he always tries. Britney tells him that she is not joking. She tells him to talk to Ian. Britney and Danielle talk about how Britney thinks this won't last past this week. Britney tells Dan that Ian came down last night and told them that you were an option to go up. Britney tells Dan that Frank doesn't trust you. But we didn't come tell you because there was nothing, nothing you could do. Britney says this will not last another week, one of us has to win HOH. Dan says I know, I am in tune. He says I won this game before, ya know. Dan leaves and then comes back. Dan asks them if they are upset. Britney and Danielle tell him no, we are just concentrating on Thursday, you need to win. Dan says that he knows, and he knows this game. Dan tells Britney not to underestimate herself that she can win it. Dan leaves the room. The conversation turns to talking about popping zits. Danielle loves it and Britney tells her that Ashley loves doing it too. Britney says that its sick.
Watch it ALL on FlashBack:
FREE 3 Day Trial, then only $14.99 to watch the last month of BB14!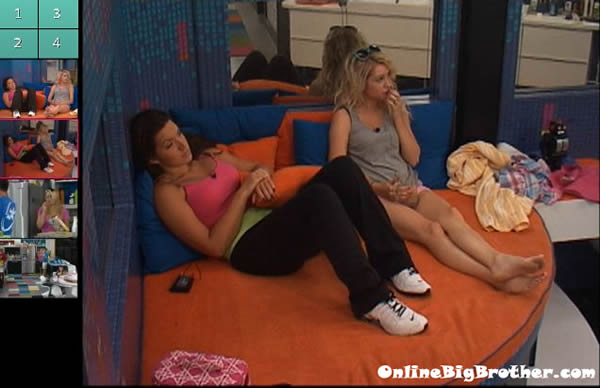 1pm – 1:10pm Joe and Ashley are talking in the backyard alone. Ashley tells Joe that she tried to get him off the block. She says that her and Wil went up there last night to talk to Frank. Joe tells Ashley that he thinks Frank is working with Britney, Danielle, Dan and Shane. Joe asks her who she will vote for. Ashley says that she doesn't know. Ashley asks Joe if he knows who Frank wants out. Joe says that he is pretty sure it's him because Frank told him the house wants him gone. Joe says that he thinks the votes are going to be heavy one side or the other depending on who Frank wants out. He says that he already told Frank that he wants to know either way so that he isn't blindsided. He says that way I can prepare for whatever happens. Joe heads inside.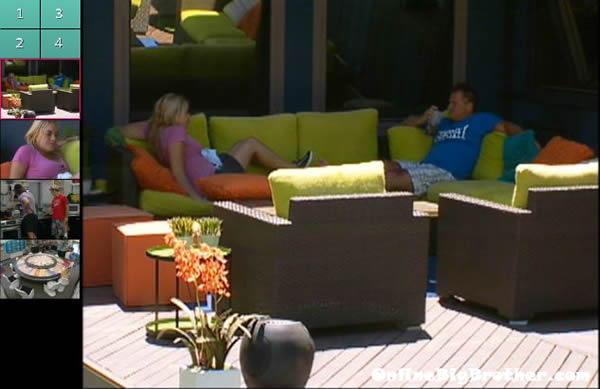 1:15pm – 1:25pm Dan and Ian rub lotion on each other's backs and talk about Ian's conversation with Frank last night. Ian says that Frank seemed to think that if he got you out he out be able to bring Shane and Britney over. Ian says there is no way that would happen but that he could not tell Frank that because he doesn't know about the Quack Pack. Ian says that he told Frank he needs to establish trust and that if he leaves it the same it would. Ian says that he tried to convince Frank not to use the veto and he is glad that is what he ended up doing today. Britney and Danielle join them by the pool. Ian says that he was thinking in his head fu*k, fu*k, fu*k that would have been messy if that had happened. Ian tells Dan that Danielle was freaking out. Dan asks her how bad. Ian says that Danielle was sh*tting herself. Dan tells Ian that he appreciates his help in talking to Frank about it.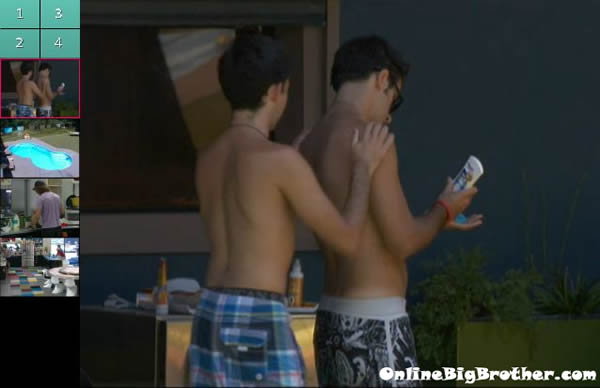 1:35pm – 1:45pm Joe and Frank head up to the HOH room to talk. Frank asks what's on your mind. Joe asks what was Wil offering last night? Frank says that they were trying to get me to back door one of the other four. He even wanted me to maybe use it on you and him stay up on the block as the pawn. Frank says that it's not like he hadn't considered it but he didn't know if it was time to rock the boat. He says let alone if he had the votes to get that person evicted. Joe tells Frank that Wil told him that he and Ashley had worked Frank over and that Wil may need Joe's vote. Frank tells Joe that people have come up to him and told him that they feel like they can trust you more now that Janelle is gone. Frank says that Wil thinks he is so crafty and that he thinks he can work people and get them to do things. Joe says that Wil told him that he had one glass of wine and that he came up with a genius idea and that he worked Frank over. Frank says yeah right. Joe heads back down stairs.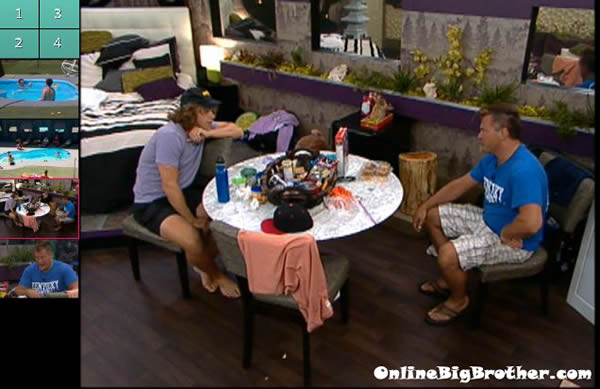 2:10pm – 2:40pm All four camera views on Frank, Dan, Ian, Britney, Joe, Jenn and Ashley are in the pool playing with the beach ball. Pool game ends. Dan talks about how Renny sold a blowup doll with his face on it. They continue to hang out in and around the pool having random conversations.
3pm Ian and Danielle in the pool talking about school. Dan, Shane, Britney, and Ashley are laying out by the pool not talking.

Share it YO!!
Tweet