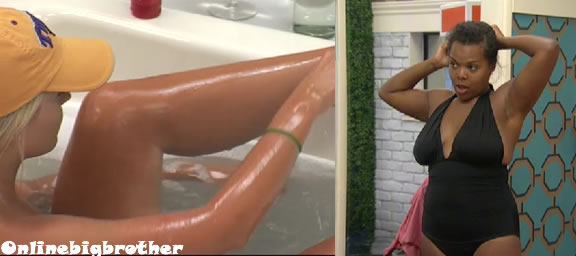 9:05pm HOH Bathroom Jordan and Kalia For the past 2 hours these 2 have been chit chatting.. conversations will blow you're mind, for example Kalia is complaining how she is the biggest girl in the Big Brother 13 House and some days it makes her feel insecure. Jordan tries to make her feel better telling her that she's a normal weight. Kalia says that she's in a house with a bunch of skinny girls with big boobs. Jordan tries to explain that there are models in the cast and Kalia's body type is normal. Kalia now proceeds to throw lawon under the bus, talking about how clueless he is and how she can't stand it when he looks at her.
They talk about who Jordan will nominate. Kalia says if jordan puts Kalia and Lawon up she'll understand she knows she has the votes to stay. Jordan mentions that Production told her she can't tell them directly who she's putting up. Kalia understands that Big Brother rules stipulate that the HOH cannot tell other people who they are nominating. Kalia says she think Dominic can be valuable for their side, she thinks he can be trusted (What side is that?)
it's now 9:36pm and the conversation rolls on into the deepest darkest realms of boring.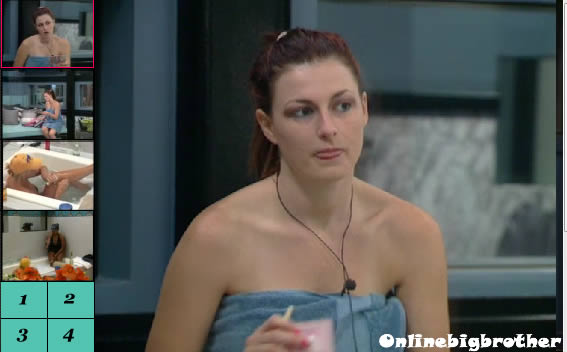 9:10pm Bathroom Rachel and Brendon Rachel is being hard on herself for playing the game emotionally again and messing up their game. Brendon tells her not to be upset about being on a Have Not and being on Slop. Rachel says she should of just left the slop during the competition, Brendon asks if he should eat outside. Rachel says it doesn't matter he can eat regular food around her. She's worried she can't make it for 2 weeks slop. Brendon points our that she did it last year.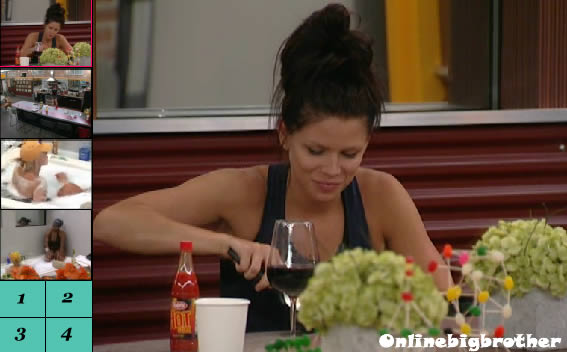 9:27pm Kitchen Rachel and Daniele Rachel is saying she should of never grabbed that slop ticket during the Have Nots competition. Daniele says she would of done the same, "Jeff really should of yelled at you to not get it.. Jordan wasn't even going to get it" (Dunno really what this means but after Dani said it she looked around the room to make sure nobody was around to hear it) Rachel says she's not bummed out she's on slop she wanted to go on a diet anyways. Rachel starts to make some slop food. Cassi walks in, Rachel: "OH MY GOD I love your shirt.. I almost bought it"
Porsche comes in to show rachel how to mask the taste of slop.. Behind them Cassi and Daniele are on kitchen table talking about there messed up sleep patterns. Dani gets called into the Diary Room and Dominic comes in. He Asks rachel what the longest she's been on Big Brother Slop, she tells him 2 weeks. He asks if she's worried about the next 2 weeks. Rachel: "I was already planning on going on a diet… I Miss Wine though"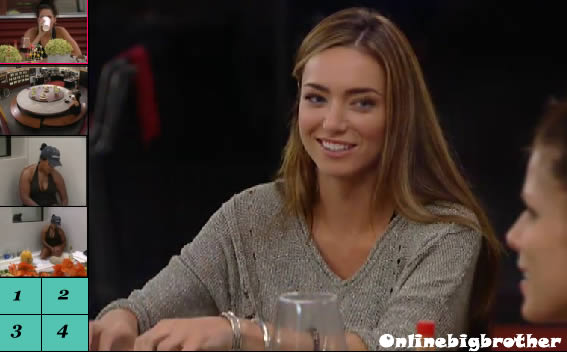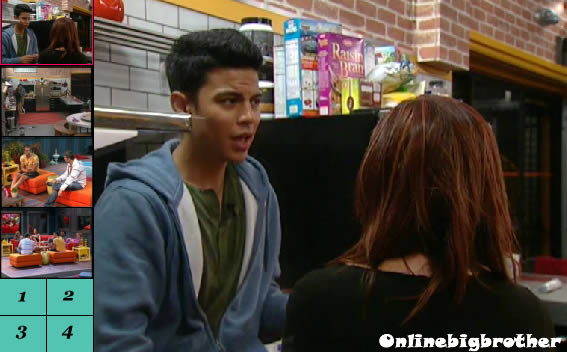 9:53pm Kitchen Rachel and Dominic Dominic says his group is too stupid he wants to join up with Brendon and Rachel. He tells her they can mow the rest of them down. Tells her he doesn't trust Adam, Rachel Agrees instructs him to keep close to Daniele that's how he'll gain their trust. Rachel tells him rachel is Really happy he won Power of Veto they were all cheering for him. Rachel: "If Brendon and I had won POV we would of taken you off the block". Dom: "We're going to be hard to beat" Rachel: "Yeah that's a good thing.. I don't want this place to be floater city". Dominic tells her that he was the one leading the charge against the repeats. Rachel: "Really I thought it was all cassi.. you where just innocent PT". Dom says he's going after Jeff and Jordan because they wanted him out. He's going to offer them a truce until the couple are split. Rachel mentions Adam may be a target but that Dominic has the votes to stay. Brendon arrives and they start talking about tequila shots before his and Rachel's wedding.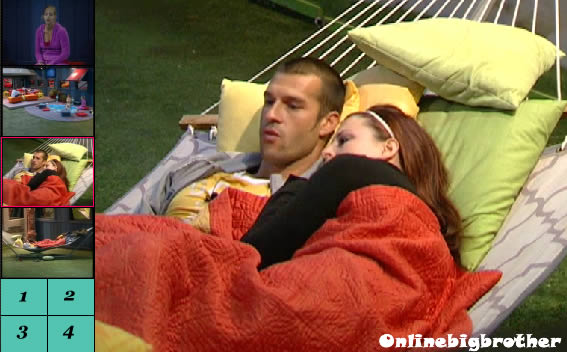 10:30pm Hammock Rachel and Brendon Rachel telling him that Dominic is going to make a deal with Jeff until the couple break up. Rachel explains that the deal is Dom will not get sent home but can be put up and in return Dom will not put up Jeff/Jordan. Shelly joins them tells them from what she's been hearing he and cassi are going up. Shelly wants to make sure they are good. Brendon tells her she's 100% good with them. Shelly leaves. Rachel points out that Kalia has been up stairs with Jordan all night they've "really became close friends" Brendon tells her not to worry. Brendon says he's trusting people less and less every day. Rachel wonders if she has the votes if she goes up. Brendon tells her not to worry. HE still thinks they have a really good chance of playing a strong game. Rachel tells him she's going to try hard and win the HOH
10:45pm Dani joins them and Rachel fills them both in with her conversation she had with Dom.. Dani says they need to show Dom trust we can't do what Jeff is doing by going up to dom and telling him he either takes it or leaves it. Dani really thinks they need to bring Dom in and after they get to singles and "Things start to fall apart" they need to use Dom to do their dirty work. Brendon asks her who she wants gone next week and Dani says Lawon. Dani: "these people are so dumb in this house it's not even funny.. " she leaves
11:26pm Hammock Rachel and Porsche Talk is focused on their apartments. Por says Miami is just as expensive as LA.. She had a sweet place right near the water but her leases was up right before she left for the Big Brother Show. She has all her stuff in storage it's costing her a copule bills a month. Rachel says her and brendon have 2 storage lockers on which is 69.99 a d month and another which is 99.99 a month. They got 2 because when she moved in with Brendon there wasn't enough room for her stuff.
11:45pm POr tells her that everyone plays the game differently and even though getting the slop wasn't a great thing for Rachel POR understands and would of done the same.
POr says it's a good thing that Shelly is on slop cause it's breaking her down.. Por likes Shelly as a person but as a competitor in the game she wants her taken out. Rachel says the slop doesn't bother her she thinks she has a good chance to win the HOH next week then she'll get her HOH basket of food.
12:04Am Cassi in the hot tub with Dom brendon and Rachel filling around with them talking about his missing turtle Franklin
12:09Am HOH Jordan and Jeff Jordan is saying that rachel is acting weird something is up. Jeff agrees. Jordan says her talk with Kalia was good they talked about a lot of things but mostly about her boyfirend. Jordan mentions that she's missing a couple bras, she suspects that rachel may have moved them by accident.
Jordan says you can tell on her face she's still mad at us. Jeff agrees says he's noticed she still pissed about Jordan not taking the slop even though she's "apologized" Jeff instructs Jordan to take the night off and relax but do not be the pouty one let Rachel dig her own grave.
Jeff: 'Listen people want rachel out we're good.." Jordan: "What are you thinking about…" Jeff: "nothing what are you thinking about..: Jordan: "Nothing"
Jordan thinks that maybe Jeff should go outside and hang out with everybody. She's confident that tomorrow will be fine there's just a bunch of tension with the girls. Jeff asks her what she's going to do tomorrow to ease the tension. Jordan says she's going to stay up here and Rachel can be down there. Jeff thinks that being anti social is a sign that something is wrong.
Jordan says she feel exhausted and cannot go to bed because she's getting called into the DR later. Jeff instructs her to be the better person in every encounter with Rachel, "Walk on egg shells with her.. you wanna be out of the way when things go down.. We're playing a game this isn't best friends for life.. we're not dealing someone normal" Jordan appears exhausted she's a bit short with Jeff. Jeff: "Look from now on one more glass.. what is it with you girls and their BLANK liquor"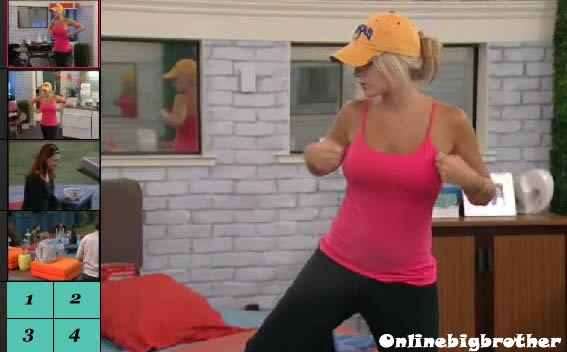 12:28AM HOH Jeff and Jordan Jordan thinks daniele is on the fence between Jeff, Jordan, Brendon and Rachel. Jeff says that Dominic is cool with them He doesn't think anybody is going to roll with Brendon and rachel.
12:36AM Jeff: "I know you like Cassi but it's a game and when we're getting out of here we'll be together and won't be around these people". Jeff: "listen what do you want to do.. take lawon out and have Dom and cassi take us out next week?" Jordan: "No I'm sticking to the plan" Jeff is glad he hopes that somehow Brendon and rachel split and they can roll with Brendon. Jordan thinks Brendon willl quit if Rachel goes.
Share it YO!!
Tweet