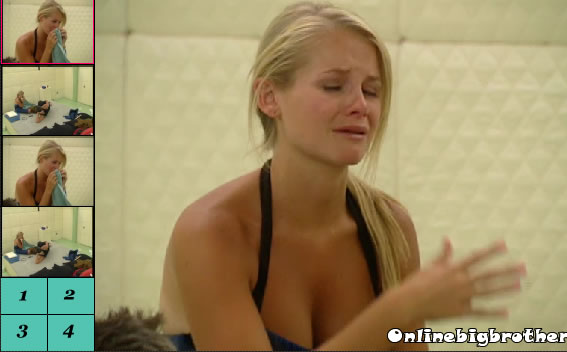 3:30 pm Jordan and Jeff in havenots Jordan is crying because the house is full of floaters (Funny how Jordan of all people is saying this) Jordan says she can't trust Shelly anymore and she thinks Lawon is like Kevin. She doesn't feel like anyone in the house is doing anything and once Jeff and Rachel are left every one is going to float to the end. Jordan adds that "they" are all trying to make Rachel look like the one that's causing all the Drama. Jordan calls Porsche useless "All she does is walk around in a bathing suit" Jordan: "I know we can do it we did it last time but I just feel bad" Jeff tries to make her feel better tells her that it's just the 2 of them they have to just look after themselves.
Jordan says Dani hasn't done anything in the house she had a golden key in the beginning and all she did was sit around. Jordan goes on and on about how BLANK Dani is and how cocky she it to Jordan and Rachel. Jordan thinks dani has done nothing in this game all she did was tried was concoct a stupid plan to backdoor jeff and it failed now she's angry at them all.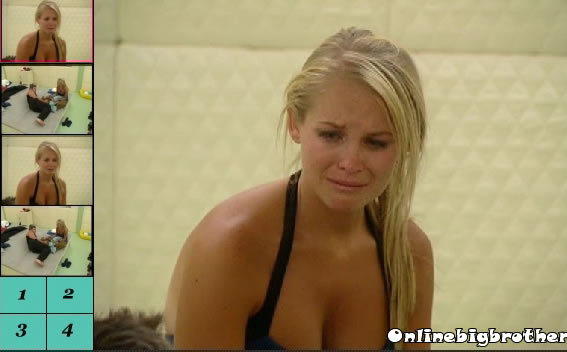 Jordan is pissed says she can't trust Shelly anymore can't trust Lawon. Jordan points out that it's so obvious that Kalia wanted Jordan to loss the comp. (LOL whats the difference between what you did last night?) Jeff is keeping his cool cool telling her that she's hit the rough things will get better. Jordan is saying she wants to leave.
Jeff is pissed also but he's holding it back.. calls the rest of the player int he house "SICK BLANK" he doesn't want Jordan to talk about her problems to anyone in the house only him they are just in it together now. Jeff says Dani is an evil person outside this house and they need to just relax and enjoy their time here. (no wizard powers for you this year JJ you'll need to play to win.. i hope)
Jordan mentions that she not going to step foot in the HOH this week nor is she going to talk to Kalia. Jeff thinks she should just keep a cool head about it all.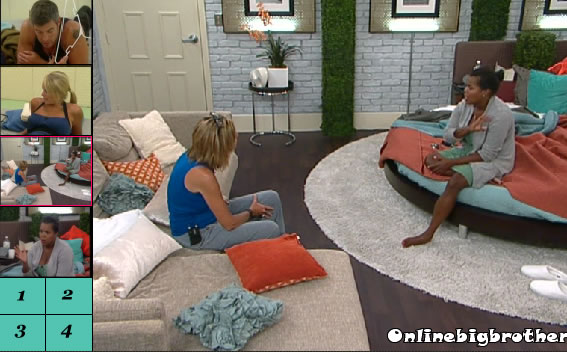 3:38pm HOH Kalia and Shelly I BLANKyou NOT shelly is giving Kalia the same straight shooter speech she gave JJ week one BLANK AWESOME LOL LOL
Kalia wants a deal for next week with Shelly, shelly accepts tells her that she respects Kalia and wants to play the game with Kalia. Straight shooter feeds her buckets of BLANK about how Kalia is a strong competitor and she's got Kalia's back next week. Straight Shooter whats a young person to walk away from this experience and have it change their lives. Straight Shooter continues with buckets upon buckets of steaming lies. Tell Kalia that it's not about the money it's an experiment for her she wants to see if the game can be played with integrity and respect.
Kalia explains to Straight shooter that Porsche has no alliance with them they haven't been trying to get her it's her own alliance that is puling Porsche out. Kalia mentions that they tried to get Porsche's vote to save DOm but she wouldn't do it she was loyal to JJBR and because JJBR thought Porsche was making side deals they are cutting her loose.
Kalia and Shelly start talking about Rachel being the type of person that needs constant validation. Kalia: "The only person that gives her constant praise and validation was Brendon and now he's gone" shelly agrees says Rachel has been coming to her lately and she's done with it she's not going to stand around playing Brendon for Rachel.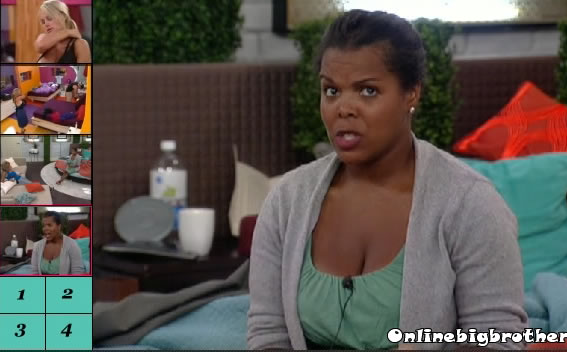 Kaila says she won't cry if Jeff goes home but Jeff is not her target she wants Rachel gone.. Shelly mentions that they can't call her a floater anymore. Kalia never thought she was a floater.
Shelly doesn't think Jeff, Jordan and Rachel are playing it very smart by saying they are not going to come up to the HOH room this week. (Apparently, JJR declared after losing the COMP that they will not visit Kalia in the HOH. LOL) Shelly suggests to Kalia that they form an alliance DANI, KALIA and SHELLY 3 person alliance to the end. Kalia thinks it might be a plan. (straight shooter shooting Straight) Shelly wants a final 3 with them… Shelly wants to know if Kalia is rich because shelly wants the money to go to someone who needs the money. Kalia swears on her family that she is in need of the money. Kalia says her family is well off but she is on her own and barely making ends meet. … Cams switch
(Shelly is one sneaky slimy straight shooter i love it)
Share it YO!!
Tweet