If you like this site and want to help us keep it running please consider donating, Your donations go directly to paying the server and bandwidth fees. Donate Link
9am Shelly is awake, she heads to the kitchen makes some coffee and sits at the kitchen table counting things on the wall. Then Shelly starts cleaning the big brother house.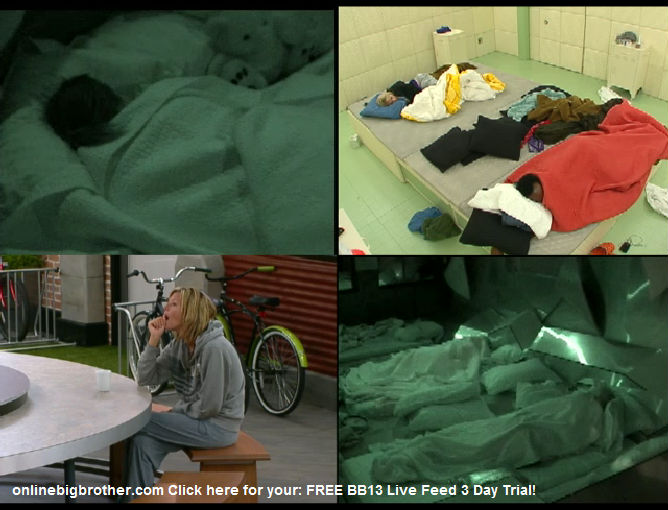 9:35am – 10:15am Shelly and Rachel are in the lounge room talking about how the missing things have something to do with the Have/HaveNot competition. Shelly asks if Brendon took the chess piece. Rachel says no… sometimes people think way too much into this game. They talk about how the Have/Havenot competition will be at around 12pm and then the nominations will be around 4pm. Rachel asks Shelly if she heard anything about who Kalia is putting up. Shelly says that Kalia hasn't said anything about nominations and that she gets off on having the power. Rachel says whatever ..I'm going up… someone is coming back … maybe it will be me. Shelly says that she thinks she is going up too. Shelly says that it won't be Jeff or Jordan ..they have some kind of deal ..they're safe. They talk about the twist. Shelly asks about what Brendon will be doing right now.. Rachel talks about how he'll be doing interviews and stuff today. Rachel asks Shelly if Kalia nominated Lawon …do you think I would stay or go? Shelly says you would stay. Rachel says what if its me against Porsche? Shelly says I don't know. Rachel says there is Jeff, Jordan and I would only need one more vote .. Shelly say me. Shelly says we need you here ..you can't go. Shelly leaves the room. Rachel starts reading the bible. Rachel then goes and gets back into bed in the metal room.
Click here for your: Live Feed 3 DAY Trial!
10:30am – 10:40am All the houseguests are back in bed sleeping.
10:55am Still sleeping…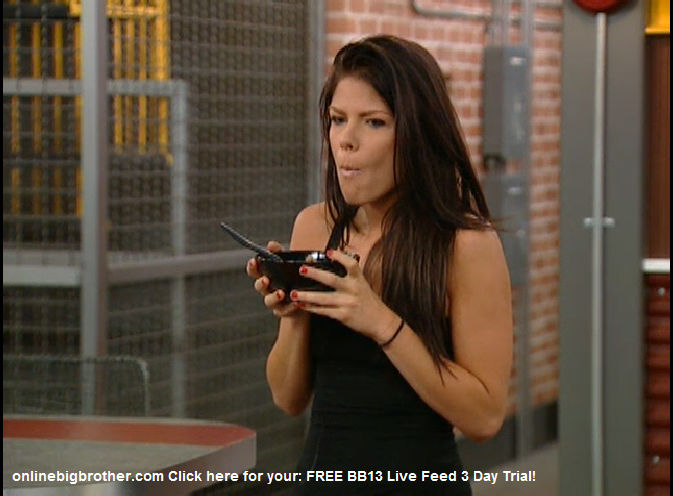 11am – 11:30am Big Brother wakes up the houseguests ..again.. Adam and Porsche are in the kitchen making breakfast. Jordan heads into the kitchen to make breakfast. Rachel and Shelly are in the bathroom getting ready.. Dani joins them in the kitchen to eat. Kalia comes downstairs. Dani asks Adam if he makes bacon every day? Adam says no .. 5 days a week. Dani asks ..what warrants a non bacon day? Adam says thats a good question.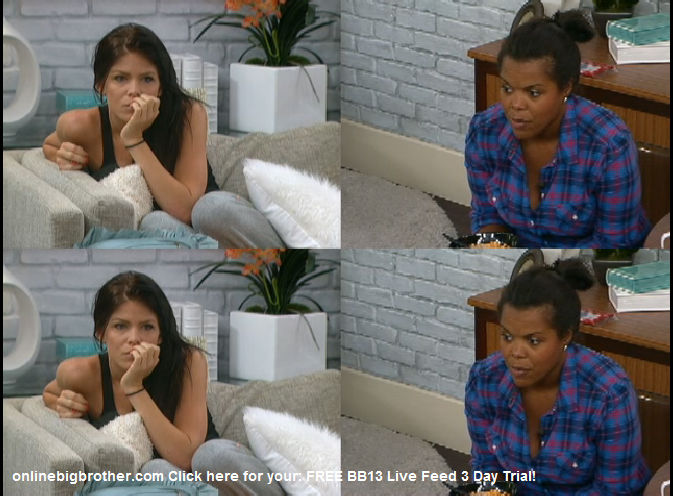 11:40am – 11:50am Dani and Kalia are in the HOH room talking. Kalia says that she really wants to talk to Shelly ..that somethings are really bothering her and she just needs to ask her… but that she knows she is going to just say what she wants to hear. Dani asks what? Kalia says that she wants to asks about whether she really voted for Dominic. Kalia says that Lawon offered to go up on the block. They talk about how Lawon got angry about being called a floater …and Kalia says that she told him that he needs to do things that show that he's not a floater. Kalia says that she talked Porsche and said that she would want to be friends with her after and that she is in a good spot within the house. Dani says that Adam is in a good spot too. Kalia talks about how Rachel came up and offered that if Kalia didn't put her up …she wouldn't put her up the week after. Kalia says that Rachel said it was set in stone kind of deal. Kalia says she just told Rachel that she still wasn't sure about what she was going to do… Adam starts yelling telling everyone to come to the living room. All the houseguests gather in the living room. Adam says that as you all know I have been an elf all week.. The others say no …really?! Adam says I want you all to tell me what you liked and didnt like about the elf.. Jeff says he liked most that Adam was no longer here and that there was elf here… Jeff says that there was nothing that he didnt like about the elf.. sometimes he was too cheery and he wanted to choke him. Rachel says that she loved her lap dance. Dani says that she loved his dance… and didn't like how his costume made him so hot that he had to sleep all the time and he couldnt hang out with them. Shelly says that she loved how well he dealt with having to wear the costume… she says she hates the bells. Jordan says that it will be sad to see the elf go. Adam then does a strip dance out of the elf costume…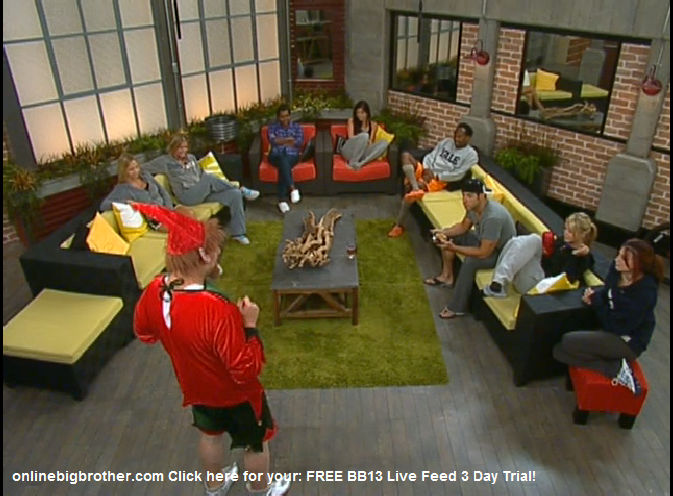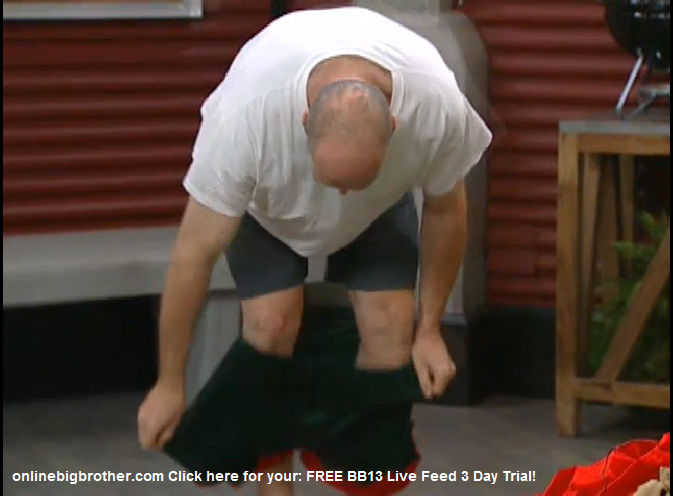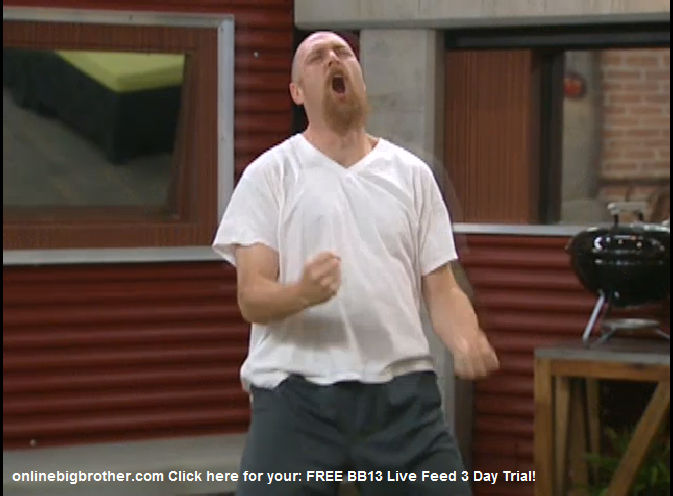 11:50am – 12pm Porsche tells Shelly all about how Rachel came up to her and was all bubbly and Porsche told her she didn't need to be like that around her… and says that Rachel was like WHAAATTT?! Shelly tells her not to get down about it. Porsche says that she told Rachel that she knows that she doesn't like her. Porsche says that Rachel said I don't know what you are talking about ..the only person that would say anything about me would be Shelly. Porsche says that Rachel doesn't know that Shelly told her anything about her. They end their conversation. Meanwhile Dani and Kalia head up to the HOH room. Porsche heads up right after and starts complaining about Rachel. Dani and Kalia talk about how Rachel was crying herself to sleep last night. Kalia says that Porsche is in a good position ..because the other side of the house will try and use you and want to try and work with you. They start talking about their periods. Kalia asks if she has to pick who is a have/have not is it okay if I pick you as a havenot Porsche. Porsche says yeah if you want to lock me in a room with them. Kalia says that she is just thinking of who hasn't been on it yet. Kalia says that it would probably end up being Porsche, Rachel and Adam. Dani says I don't think you will have to pick. Kalia says that she really does like Shelly and she wants her here. Kalia says what she wants most is for the newbies to rise up and really play the game. Porsche says just let me know if you are going to nominate me or if I am up for a back dooring. They laugh and ask her if she wants someone to back door her. Rachel comes up and asks what they're doing? They says that they were just talking about the competition and shooting the shit. Kalia asks if she wants to talk or something? Rachel says no ..just came to hang out. Kalia says well sit down you're making me nervous. Kalia starts talking about her family.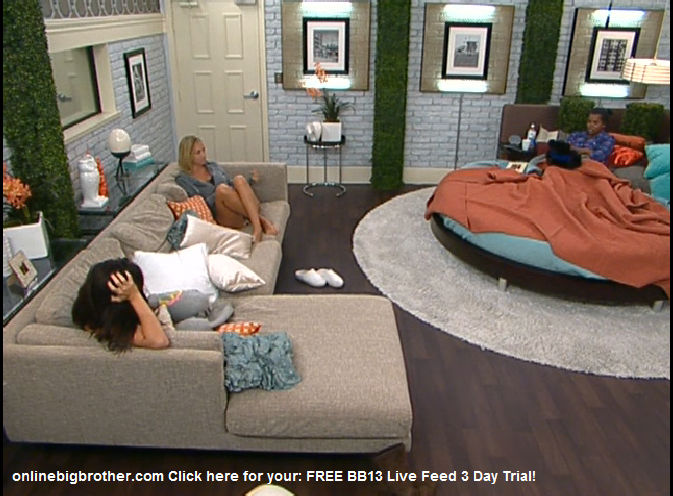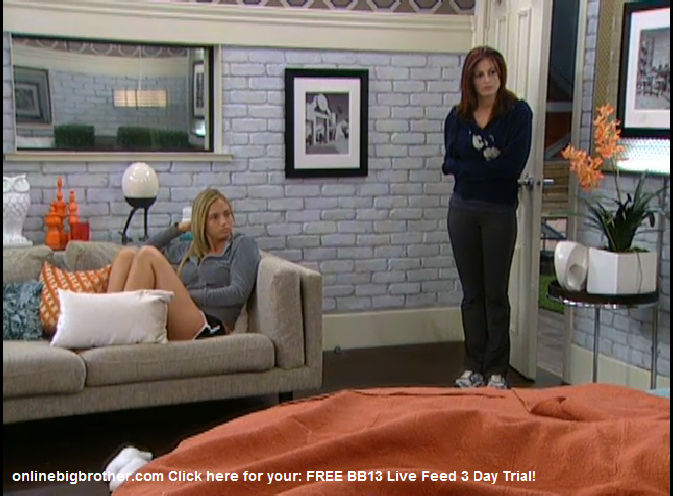 12:10pm Big Brother switches the live feeds to the TRIVIA screen… Looks like the Have/HaveNot competition is happening now…
1:10pm Still TRIVIA..
1:30pm TRIVIA..
1:45pm They're still competing .. TRIVIA continues..
2:10pm The houseguests have been playing for the Have/HaveNot competition for 2 hours now.. TRIVIA ..
2:30pm ..TRIVIA..
2:45pm Yup, you guessed it .. MORE TRIVIA..
3pm ….Still not back yet..
3:10pm 3 hours now…
TRY the Live Feeds for FREE!
Click here for your: SUPERPASS – 3 DAY Trial!
This is not the official CBS Poll, go to this link https://www.cbs.com/shows/big_brother/americas_vote to vote for a evicted houseguest to have a chance at coming back into the house


Big Brother 13 Spoilers POLL CAST your VOTE!

Big Brother 13 Live Feed Image Gallery
Follow: @BigBspoilers and @Dawgsbigbrother on Twitter for recent crazed out spoilers. Theres also our Facebook page.
Share it YO!!
Tweet