RACHEL got SLOP for 2 weeks in the POV COMP
4:47pm HOH Jeff and Jordan Jordan tells him she's going to hang out for awhile and maybe have one glass of wine but she really doesn't feel like hanging out with Rachel tonight. Jeff: :yeah I really think you and Cassi would of bonded" Jordan: "I know I like her she's …… normal like us" Jordan starts to impersonate Rachel a bit. Jordan brings up how weird it is that rachel doesn't want any pretty girls in the house because of her Fiance.. Jeff agrees that it's very BLANK up. Jordan: "She needs to check her reltionship if she's going to be so insecure about it" Jeff: "So fellas YEAH does your girlfriend got the butt hell yeah".. Jordan wonders if maybe she should of talked to Dom last night.. Jeff doesn't think it's a big deal "It is what it is… argh I hate it when people say it's what losers say.. if Adam flips again man i dunno i'm going to flip".
Jordan: "Why are we trusting Adam when he's flipped on us again"
Jeff the whole house was rattled and I knew we needed the numbers.
Jeff thinks this is really BLANK that Dom won because if Cassi was left in the house she would keep Jordan occupied plus she would go after Rachel and Dom. Jordan says she's just going to talk to Cassi and tell her that
Jeff is finding it strange that everyone in their alliance has a BLANK when her and Jeff start talking to other people but rachel talks to Por all the time.
Jeff says that if they put up Kalia and Lawon the entire house will turn on them, "It'll be you, me, Dom, cassi and SHelly"
Jordan: "Dom will go with us over them" Jeff completely agrees.. he adds that it's a good idea to throw on the table. Jeff says he's positive that Brenchel are keeping por around because she will vote with them further in the game. Jeff is getting pissed at Rachel and brendon they are starting to do these sneaky side deals.
Jordan: "If porsche is in here longer than us i'll be mad"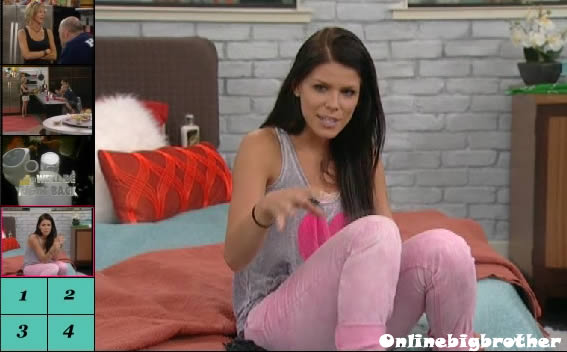 (PRODUCTION calls Brendon and Rachel to the DR)
Jeff: "WHAT they're going to get B/R side of the story first"
Jordan starts to impersonate Rachel, jeff tells her to keep her voice down.
Dani joins them tells them that PT (AKA part time AKA Dom AKA dominic) is going to make a deal with JJ that he will not put up JJ in return Dom will be safe and if he does get put up again Adam goes home.
Jeff asks dani if everything is cool with B/R, Dani says it is rachel has calmed down. Dani says that Rachel just get's so into it when she's in comps. Jeff can understand that he gets super competitive to. Jeff points out that Rachel's "social Game" is taking a nose dive in a big way. Jordan brings up what Rachel said after the elimination and how unnecessary that is. Dani: "She needs to shut her mouth"
They start talking about Por and how annoying she is. Jeff I don't want to hear anything that comes from Por not a single word. Jeff: "I know it's not nice to say but I don't even want to hear her voice" (Jeff covers his ears)
5:20pm Rachel and POrsche POrsche is saying that Cassi is getting way to close to Jordan that is a big reason why they need to get her out. They start talkign about Shelly and when Cassi leaves they need to start cutting deals with her. Rachel says they will offer her the golden key in return Shelly will not put any of them up the first week after the golden keys are finished. Porsche says she over heard people talking about Adan being America's player but she doesn't think so Rachel agrees says he's too stupid to be that. Rachel thinks it's Cassi because she was pushing so hard for Keith to stay it seemed weird. POrsche brings up that she doesn't know who all voted for her she's missing one person and think it might be Adam. She continues that maybe Adam is America's player and america voted her back in. Rachel isn't sure that is what happened they would of told the houseguests if there was a twist like that.
Big Brother 13 Live Feeds Can be watched on your iPhone and Android Mobile devices sign up -> Watch Big Brother 13 on Your iPhone or Andriod Phone
Share it YO!!
Tweet