3:30pm HOH Dani Jeff and Jordan
They are talking about who will be the replacement nominations. Dani is really pushing for them to put up Cassi saying that LAwon is usless they can get him out at any point she adds Kalia is with them 100%. They start counting the votes to figure out if they can get rid of Cassi. Dani volunteers to work on Dom. Jeff isn't sure about putting Cassi up worried about the votes. Dani reassures him they have the votes she'll work Dom and Jeff can work Adam.
Jeff is getting pissed off at what happened during the comp. Apparently she was really loud and acting stupid during the comp and it was distracting to everyone. Rachel said something to Jordan but she didn't hear so Jeff yelled back at Rachel then Rachel yelled something back at him. Jeff says that the shit with Rachel is slowly getting worse and worse and everyone in the house is keeping their mouths shut. Jeff tells Dani that the entire house can't stand her but everyone is complaining in whispers. Jeff is getting really mad about Rachel he's raising his voice.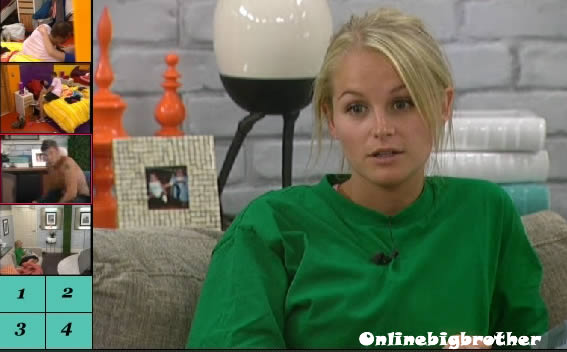 Dani leaves Shelly joins them. Jordan: "Cassi's gotta go I don't want her to go but she's gotta go.. I saw her with DOM right after they are close we need to split those 2 up" Jeff it's hard becuase our crew will disown us. Shelly I understand that and I know I have the votes to survive. Jeff counts out the cons about keeping Cassi 1) Our crew will kill us 2) we can't waste a HOH on lawon 3)Dom is going to start shit down there with the newbs. Shelly tells them that theres new hope in the newbie alliance she was just down in the fortune room. Shelly adds that Dom is going after rachel and Brendon she can guarantee it. Jeff mentions that if Brendon and Rachel win POV then JJ get backdoored especially of they have a bunch of enemies which they most surely will if they don't put Cassi and Shelly up.
Jordan is upset that Dom won she really likes cassi and wanted the 4 of them to team up. Shelly was really looking forward for the 4 of them making a run till the end.
Shelly brings up what Rachel said to Jordan (It's hard to piece together) Jordan didn't pick up a slop pass for 2 weeks so rachel did. After they had lost the POV Rachel said to Brendon something along the lines of "if the HOH isn't willing to grab a slop ticket to get POV then maybe her and Brendon should just quit" Jordan says she tried really hard to get the POV and it's not fair for people to think otherwise because it's not the truth.
Shelly I think what you guys fleshed out with Cassi yesterday was really good she felt happy about it she came to me and said she really trusted you guys and was happy to be able to wirk with you. Shelly then says the bottom line and I mean this from the bottom of my heart I want yo uguys to play your way.. your game… and I will help you get there any way I Can. Jeff: "your good 100% I really wanted Dom to leave then the 4 of us make a run for it". Shelly asks them if they are planning final 4 with B/R? Jeff and Jordan say no way in hell. Jeff: "I know they are cutting deals with everyone but we'll stick with them for now" (BTW Jeff has had enough of Rachel it's pretty obvious, JJ DO NOT LIKE BR). Jordan: "I like Cassi more than I like Rachel becuase she normal and nice like the rest of us"
Shelly leaves.
Cassi comes in offers to team up with them they say there's a lot for them to think about.. Cassi leaves.
Jeff tells Jordan no matter who she decides to nominate Jordan must not tell a soul until the second she has to. Jordan agrees.
Jordan: "I really want to keep Cassi"..
Jeff: "we would be killed..Dani, Kalia, B, R would all come after us…We cannot leave her and Dom together"
Jordan: "I really don't want to evict Cassi, why don't we do a deal with dani and try to get B/R out"
Jeff: " thats crazy.. I want Rachel out but it's too risky"


4:11pm Brendon and Rachel Arrive
Rachel: "Jordan i'm sorry for the comment i was out of line.."
Jordan: "I really didn't hear what you said Jeff did".\
Jeff tells them he didn't want Rachel to take the slop either he doesn't understand why she did. rachel explains that when she's playing a comp she's in focus mode. They start going over the pros and cons of gettign rid of Cassi. Rachel kind of keep to herself and eats. They agree to make sure they continue to have Adam on their side they don't want to see him heading a charge with dom. Brendon is sure that Dom will crumble when Cassi is gone and he'll stick close to DAni.
3:40pm Rachel and Brendon Rachel is sad because Jeff yelled at her during the comp and "Amercia hates her". HE's telling her that sometimes the lose sometimes they win they have to think before they fly off the handle. (Rachel snapped at Jordan during the comp and JEff yelled back). Brendon tells her she's a strong competitor but doesn't know how to play the social game, "why are you going ballistic with our own team". Brendon says once she's calmed down she needs to go apologize to Jordan its only week two and she's flipping people off and we'r sliding back to wear we were last year. Rachel argues that she should go up and tell Jeff she doesn't appreciate him talking to her in the tone he did. Brendon warns her that she keeps talking like that they will both be going home.
(The rift is fully there between BR/JJ now the only question is will we have to wait for another couple weeks or will Jordan pull the trigger now and not put cassi up.. )
Uncensored Live Feeds 3 day Free Trial
Share it YO!!
Tweet