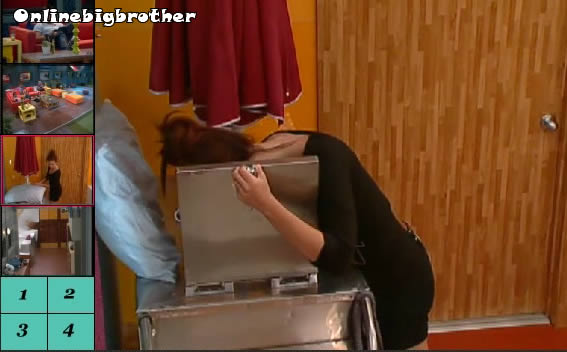 8:40pm Rachel is searching through everywhere trying to find her stuffed dog. Rachel found Mr Quakers..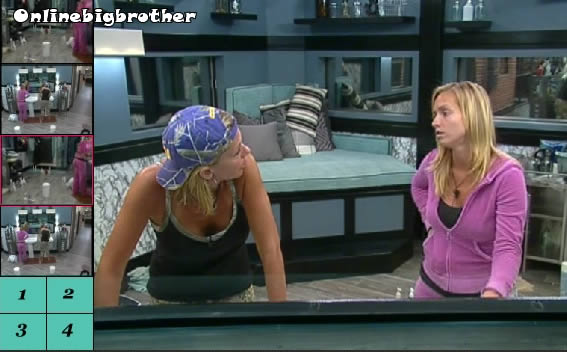 9:00pm Bathroom Porsche and Shelly Shelly tells Porsche that rachel found Mr Quackers. Porsche tells her they hid it in the HOH Room toilet tanks. Shelly saying that Adam is the 3rd person in the Rachel, Jeff and Jordan alliance she knows that now. Shelly thinks it's worth another shot talking to Adam to safe Dani. Shelly mentions that Adam told her if Rachel was in the final 2 he would vote for her. Porsche is shocked.. Shelly says she almost choked when he said that. Shelly says that all threw this game she's helped Adam out, told him what to do and gave him information. Shelly tells her that in the beginning of the game she thought Porsche was a liar but it was later that she found out it was Rachel feeding Porsche the lies.
Porsche says it all comes down to them being the HOH Winner this week. Shelly knows, she also knows that they're window of opportunity is closing if they want to have a chance to win in the end. Porsche says she's took a big risk talking to Shelly again after all that happened but she feels she can now trust her and they need each other in this game.
Shelly agrees… brings up some of the things she said about Porsche and apologizes for them.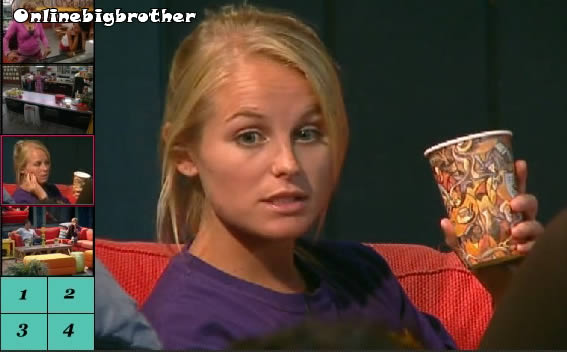 9:10pm Backyard Adam practicing for the comp with Jeff and Jordan on the couch Jordan thinks there is something up with Shelly. Jordan isn't sure about their alliances anymore Shelly may be brewing something with the other side. Jordan brings up Shelly's doubts about Adam, she thinks it's kind of weird that all of a sudden she's tell them that Adam might be up to something behind their backs.
Jordan gets called into the Diary Room .. Rachel steps out asks Adam how everyone is doing. Adam says Jordan is doing well, Shelly's alright, POrsche is very good and Kalia isn't so good. Adam thinks it just takes practice..
(ohh the paranoia)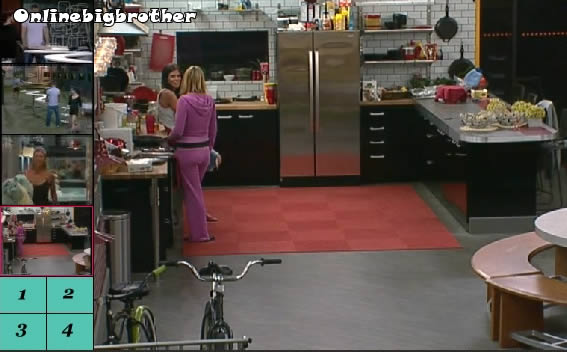 9:30pm Kitchen Danielle, Shelly and Porsche they are talking about how strange Rachel has been acting going in and out of the Diary Room then acting like she's hiding things. Dani speculates that Rachel was given a pregnancy test. Prosche doesn't think Rachel is pregnant she thinks Rachel is making it up because she's not the star of the show anymore. Danielle doesn't think Rachel Reilly was ever the star of the show she's more like a side show attraction. Porsche disagrees.
9:40pm Rachel, Jeff and Jordan They're all practicing for the competition. No one knows if this will be for the HOH or POV competition. Jordan keeps saying how her and rachel will be up all night practicing. Jeff is coaching them tellings them things like "Take Control", "ease it in", "Give it a bounce in the end" and "it's that last parts that's tricky"
They talk about POrsche being the best player on the other side. Rachel says they have to watch Kalia she's horrible at the game and is trying to watch them while they practice. Jordan agrees, she adds that the contest is Between Porsche, Jeff and Rachel they have to win it.
Rachel tells them she's getting nervous about Adam she thinks he might try some funny business. Rachel didn't have any Big Brother alliances last year so she's not sure if she can trust him. Jordan thinks they are solid with Adam, she getting bad vibes from the house though she thinks something might be up. rachel asks her what is grabbing her attention… Jordan doesn't answer brings up the competition and how Adam and Shelly don't need to win it because they are playing both sides.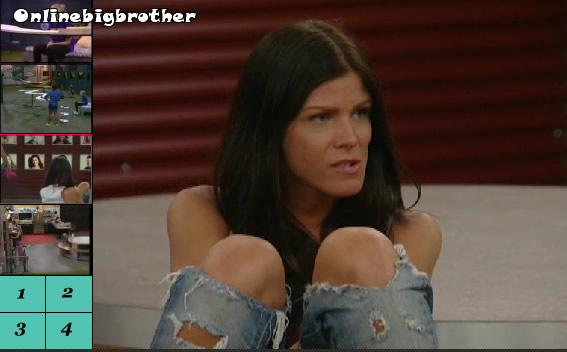 9:55pm Kiitchen Porsche and Dani Dani is telling Porsche she needs to really practice because Jeff, Jordan and Rachel will play all night. Dani says that they are practicing for a POV Competition.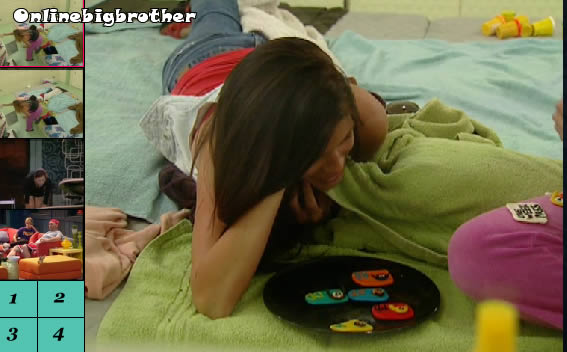 10:22pm Have nots Prosche and Dani Porsche is saying that everyone is in the backyard practicing. Porsche says that Kalia isn't even beign around her out there. Dani explains that Kalia will be their for Porsche but Kalia is also going to butt kiss Jeff and JOrdan. Dani points out that Shelly will do the same thing..
Porsche starts jokeing around tells dani she needs to tell Julie Chen tomorrow that they want to do The Amazing Race together. Dani laughs, Porsche: "Oh i'll just tell her when I get out" Dani laughs at porsche getting all excited about getting evicted and talking to Julie Chen,.
10:30pm Dani starts coaching Porsche what to do if she leaves. She tells her she needs to not be scared to make deals with people and to use things they've said against them. Porsche brings up that Shelly told her Rachel isn't coming after her and that Adam will vote for Rachel in the final 2. Giant sigh from Dani: "He's a f***** idiot… worst game player of the year"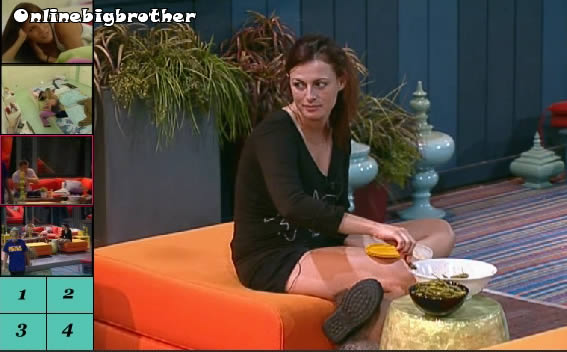 10:33pm Backyard Rachel, Jeff and Jordan Rachel telling Jeff that someone wrote Brendon sucks in the HOH Bathroom, "Why would they do that did you hear about that?" Jeff shakes his head tells Rachel not to worry about it.. they need to focus on wining the HOH and getting those people out.
Jordan is feeling very confident about this "HOH" comp she asks them who should win it out of her and rachel. Rachel isn't sure that the game they are practicing is for HOH. Jeff: "Ideally Jordan you win it.. but seriously if you can win it just win it" Jordan agrees just wanted to know that they all thought, she thinks they need Rachel and Jeff to be able to play in the double eviction.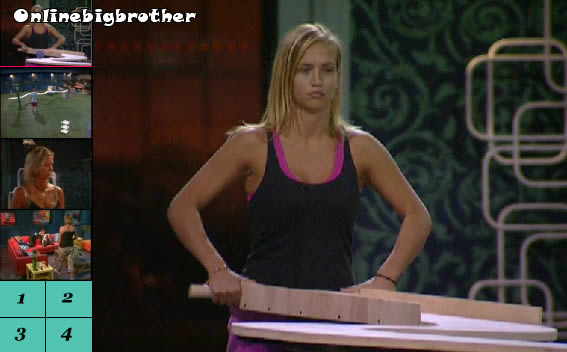 11:00pm Backyard everyone taking turns practicing. From what I can see POrsche and Jordan are the best followed by rachel nad Adam. Shelly hasn't practiced much since the beginning.. she keeps saying how bad she is going to do at this comp.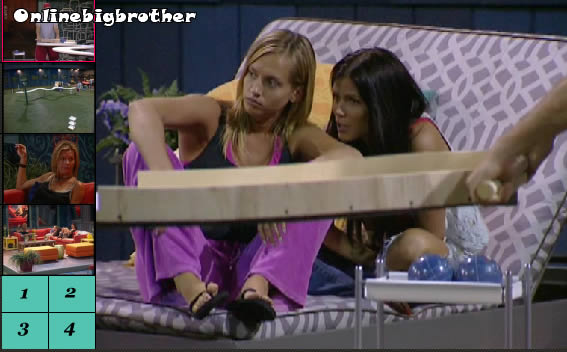 11:03pm dani giving Porsche some hints on possible games they might play that uses the "snake" (the comp they are practicing). She adds that you might not have to get it in the whole there might points around the hole.
11:20pm Shelly starts to practice on the snake.. she's very good probably the best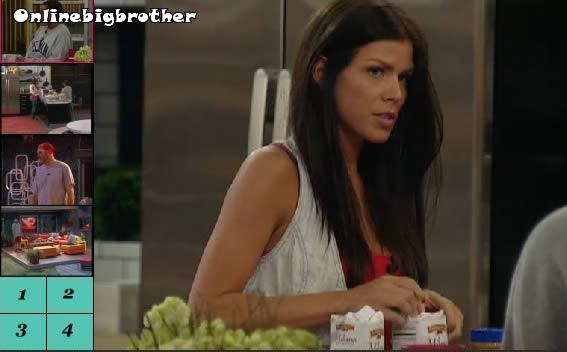 11:30pm
kalia says she had a casual conversation with Jordan and after Shelly told her that Jordan is saying that Kalia is playing both side. Dani is telling Kalia she has to watch out for Shelly she will turn on, "I'm letting you know Kalia you can't trust her". Dani adds that Shelly is playing the game to win.
Kalia is saying she's trying to rally the 4 newbs. Kalia is getting frustrated with this years Big Brother Cast she feels like she has to light a fire under everyone to get them to do something. Dani thinks it's a waste of time.. there is no way some of the players in this game will do anything, "it's almost like their purpose is to Push Jeff to the end.. You have to get Jeff out of this house or you have no shot to win.".. flip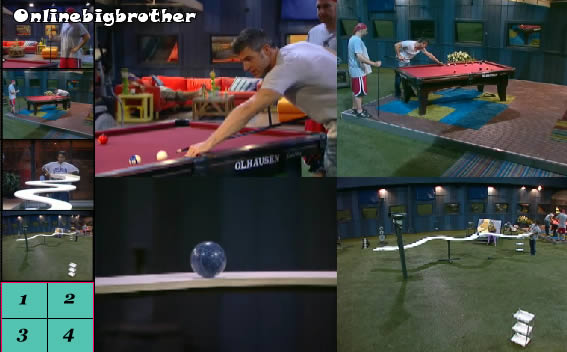 11:45pm everyone practicing
Check out the Big Brother 13 Polls