If you like this site and want to help us keep it running please consider donating, Your donations go directly to paying the server and bandwidth fees. Donate Link
3:16pm Jeff and Jordan Jordan is saying that BR are going around telling people that Jordan will win Big Brother 13 if they keep her in the house and that Jeff wants to take all the prizes and the money. Jeff says it's no big deal people like that on the show he'll talk to them about it it's no big deal.. Shelly told Jordan that BR are saying that Jordan has a deal with Kalia, Dani and POrsche.. Jeff is going to talk to BR before things get out of hand. Jordan: "they are trying to make us look bad jeff…they are telling everybody that I'm a super pawn and there putting it in peoples heads that Jordan is going to win if you don't get her out"
Jordan says that Kalia came up to her and asked her if she's been saying things about her and jordan was shocked becuase she hasn't.. jordan says that BR are really making the rounds.
Jeff tells her to calm down and not worry BR are just making a last ditch effort. Jeff is going to go upstairs and talk to Dani… "if things get out of hand we'll call another housemeeting or i'll go talk to brendon straight up"
3:21pm rachel and Brendon
rachel asks Brendon if he goes should she trust Shelly Brendon says YES (LOL) she may be playing both sides but she's not loyal to them.. Brendon instruxts her to play with everyone and not pick sides.. Rachel: "I'm not working with Dani.. I'm sorry I just cannot" Brendon says that is fine but she has to trust Shelly. (OMFG straight shooter)
Brendon says to her that there is alot of time until the eviction they have to observe how people are these next 24 hours and see who is changing their behavioour. Rachel tells him he needs to spell it out. Brendon says she not in a bad position right now. Rachel asks again if she can trust POrsche. Brendon says she'll have to trust her a bit. Brendon tells her she needs to keep her cool.
Rachel is happy she's getting this chance to play and she's grateful for all the help brendon is giving her but she also plans on playing her way and she plans on winning her way. (if this means vegas then we're in for some fun )
Big Brother 13 Live Feeds Can be watched on your iPhone and Android Mobile devices sign up -> Watch Big Brother 13 on Your iPhone or Android Phone
3:38pm Purple Room Jeff and SHelly jeff: " i'm one step ahead of all these people in this house, I told Dani if she heard anything to come to me immediately"
Shelly tells him that BR are really tryning hard they are targeting Adam and herself. Shelly reassures him she is a straight shooter and will keep jordan but she's not sure about Adam or lawon/kalia. Jeff makes it sound like he's in control of the house he's not worried BR are just trying to survive as long as Shelly is still on board he'll talk to everyone and figure it out.
They leave Jeff talks to Dani at the HOH stairs.. Jeff saying that they are now throwing him under the bus trying to get votes. Dani says what they are doing is ruining her game.. Jeff: "I just want to make sure that we're still cool" Dani: "Yes of course…" Jeff:"ok Cool"
3:40pm backyard adam and Jeff
Jeff: "they're pushing hard UH… adam: "yeah they are" (about BR getting votes)
Jeff: "the stuff i'm hearing isn't all that nice"
Shelly joins them starts to cry saying that Dani wrote something to Jose in her HO blog and it was really nice… Shelly fights back the tears saying she misses her daughter so much jeff tries to make her feel better but the straight shooter keep crying.. Rachel joins them dirty looks all around (not joking) . Shelly says that Dani gave a shout out to Tony and Jose in her HOH blog. everyone except for Rachel try to comfort her.. Rachel leaves to go to the DR.
3:52pm Backyard Dani, Jeff, Shelly Adam Dani saying that she is pissed right now.. She tells Shelly that rachel just came up to the HOH and is pissed off because she gave a shoutout to Shelly's family. dani: "She's saying that i'm doing it to emotional manipulate you and I just want you and everyone else to know that is not what i'm doing I give shoutouts to everyone in my blog…. i'm so made right now i'm shaking"
Shelly goes to give her a hug says that she never thought otherwise and she's very grateful for what Dani did. Jeff pipes in saying that what Dani did was kind and nobody outside thinks otherwise. Dani knows she's just pissed becuase rachel stormed into her HOH and is accusing her of emotional manipulating Shelly. .. Feeds cut (Rachel self destucts in 5…4…3…2…1…. KABOooooooooooM)
shelly is saying that she thinks it's super cool that dani did that and she appreciates it from the bottom of her heart. Rachel comes out with meat head she says she thought it was wrong what dani is doing tells everyone that Dani is manipulating people using emotions. Dani: "whatever i'm writing in my blog is my business.. ohh my GOD rachel.. why am I even talking to you GO AWAY.. IT NONE OF YOUR BUSNIESS WHAT I'M writing in my blogs" Rachel and Brendon are both onto her saying it's not fair what dani wrote and they thought that in the rules you cannot give shoutouts to people in your HOH Blog. Dani says that she gives shoutouts all the time if you go to CBS.com you and read her BB8 blogs left an entire sections for shoutouts. Dani stresses that Shelly has a yonf daughter it means a lot to her. Jeff and Shelly are both sticking up for Dani saying what
dani did had nothing to do with the game it was a personal thing and Dani did it to be nice. Brendon tells them to stay out of it this is between Rachel and Dani. Brendon keeps saying that production told him that he can't and that is why they fell dani is playing dirty.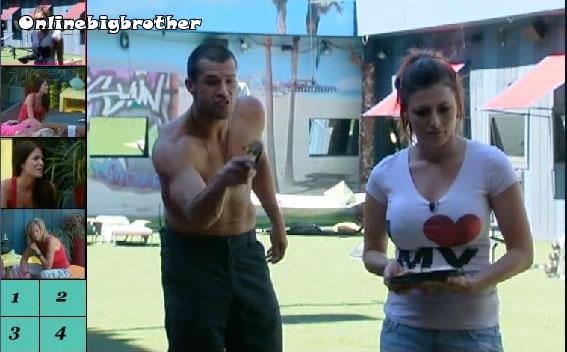 BR storm out.
dani: "you see what they are doing they are trying to turn it around and make me look like a bad person".. dani again explains to them what her intentions were. Everyone sides with dani.
Dani: "I'm trying to be nice to Shelly… why because unlike other people I actually like the players in this game"
Dani leaves to HOH after everyone tells her not to worry, Shelly gives her a big hug and thanks her again.
Kalia joins them tells them that Dani only put it in there for shelly. Shelly again deffends Dani saying she's very grateful for Dani doing it and she never thought once that Dani would do it for game. Jeff agrees (Rachel is blowing it BIG TIME)
4:03 Brendon comes backs outside talks to shelly says he's sorry
about what happened says its ok with him and rachel. goes back in everyone else in the backyard talking about what just happened.. Prosche goes to give shelly a giant hug.. shelly: "Don't feel bad for me I feel bad for Dani" Kalia says BR are mad they are talking it personally its a last ditch
effort. Shelly says she's sick to her stomach over all this.
4:05pm bedroom JJ
Jordan: "Ohhh man". Jeff says he's going to lay it out to brendon and rachel tell them what needs to be done. Jordan says he better not start anything jeff doesn't plan on it he's going to just talk.
4:08 Jeff and brendon in the living room..
Brendon says that dani is trying to manipulate jeff and the other players against Rachel.. jeff understands that brendon is trying to get votes but it's started to look bad and he did a great thing for his reputation by saving rachel but he can't tarnish it by blowing up all over the house and running peoples names threw the mud trying to get votes.
brendon says it's dani causing all this she's trying to make all this drama so the heat is off her next week.. Brendon: "You have to promise me to take her out next week" (lol)
jeff is saying that rachel is really emotional and he's not sure they can control her. brendon says the centre piece of all this drama is dani he keep reiterating that Jeff needs to get Dani out next week. jeff: "dude rachel has just as good of a chance to win this HOH but with her running around going nuts she's going to make enemies.. I don't think you guys are going about this the right way"
Rachel comes out of the DR Drying saying that dani is playing the game by manipulating peoples emotions, she tells them that production told her to talk to Dani to find out what was written in teh HOH blog and that's what she did and now Dani is making a HUGE deal about it. Brendon: "BLANK PRODUCTION they are telling you to go start BLANKwith dani" rachel starts to cry.. she thinks it's wrong for dani to do this to he and her fiancee. jeff: "what you did was the wrong thing to do everyone knews that" Rachel: "the way I did it was talk to her in private" \
Jeff: "If brendon leaves we need to be able to control your emotions and bite your tongue becuase we need you.. if we break up it's going to hurt us". Jeff pleads with rachel to really think about the things she does. Rachel starts playing the victim.. Rachel: "You can't use your HOH blog as a tool to manipulate" Jeff: "thats not what happeend what you did was wrong"
brendon thinks they should go apologize to shelly. Rachel: "no I was defending Shelly"
brendon says don't ever talk to dani or kalia then.
rachel is defending herself saying it's not fair what dani is doing.. Dani is making this a big deal
jeff says that right now Rachel is making it a big deal and it's not good. Jeff "Relax keep your emotions in check.. and if you are going to get your votes then get it.. keep it classy and filter
your emotions"
brendon: "what do yo mean we are being fair never once did we throw you guys under the bus"
Jeff explain that he knows but from what he's hearing things are getting a little silly.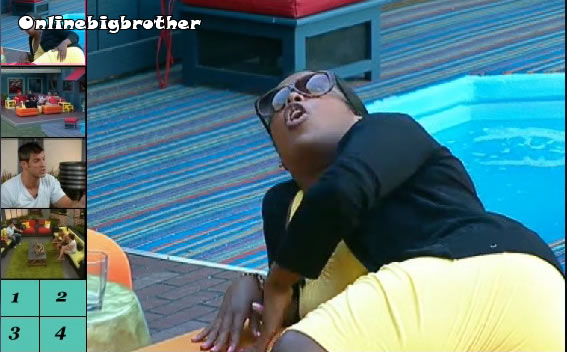 4:17pm backyard shelly, jordan, adam, lawon are talking about how BLANK crazy rachel is.. shelly:"that came out of nowhere from a nice comment from dani"
… Feeds cut.. Rachel and BRendon are self destructing BIG TIME..
Share it YO!!
Tweet