Get the BB13 live feeds on your Android and iOS devices. Sign-up for the 3 Day Free Trial
If you like this site and want to help us keep it running please consider donating, Your donations go directly to paying the server and bandwidth fees. Donate Link
1:50pm – 2pm Out in the backyard Jeff, Lawon and Porsche suntanning and talking about all the concerts they have gone to. Jordan joins them out by the pool. They talk about what they will eat tonight. Meanwhile, Brendon is in the kitchen making slop. Jeff, Jordan, Lawon and Porsche start playing the Who am I? game..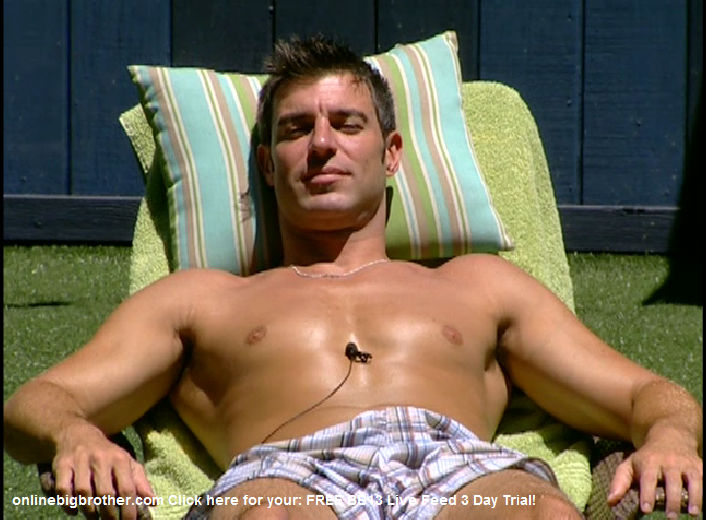 24/7 UNCENSORED Big Brother 13 Live Feeds!
Click here for your: FREE 3 Day TRIAL!
2:10pm – 2:20pm Rachel gets Adam to come into the havenot room to talk to him about the votes. Rachel says there are a few reasons to keep Brendon. Rachel says that Brendon and her are going to have a tough road to the end and keeping them in the game will ensure his safety and keep the target off him. Rachel says that Jordan has already won the game …and that she is playing the same game play this year too …and that no one will win against her in the end in terms of votes. Adam says that he has been wrestling with this decision a lot …and said that he was up last night thinking about it. They talk about how this will be a very important decision to make …and it will decide who you want to work with. Rachel explains that in the next week or two there will probably be a endurance competition that will be catered to a smaller person like Dani… and she will most likely win it and you could go up. Rachel and Adam both say that if it were a couple weeks from now voting out Brendon would be an easier decision.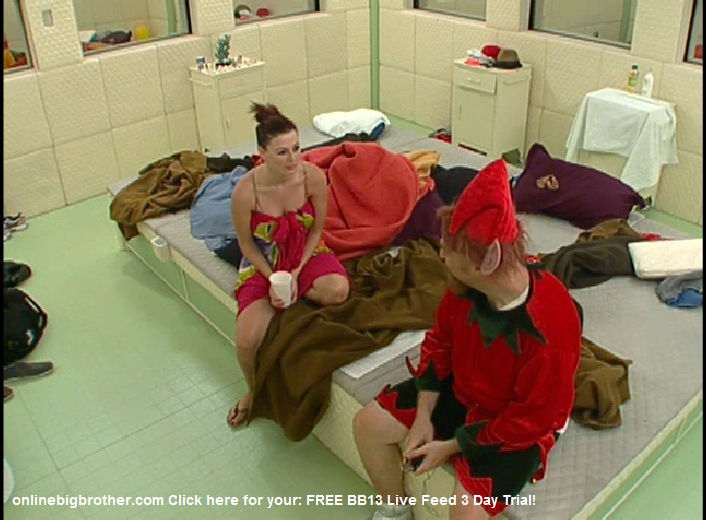 Adam says that he hasn't been winning ..but that it just hasn't been the ones that he's meant to win. Rachel says that her and Brendon cant win every competition. Adam says that Jordan has won before and she is playing the sweet innocent game. Rachel explains that if Brendon leaves Adam and Jeff will be the main targets. Rachel and Adam talk about how if there are just few guys left ..the girls will be going after the strong guys. Adam says that what Brendon did was romantic …and he sees why he did it. Adam says that he sees both sides ..having a strong player out helps and leaving a strong player in helps too. Rachel explains that you can't trust Dani. Adam says yeah you can trust her for a minute but after that she will stab you in the back. Brendon joins them. Rachel says that 100% people will target Brendon every week. Adam says that putting more targets in front of him is definitely a good idea because it will help him last longer in the game. Adam says food for thought … and tells her that she makes some good arguments. They end their conversation and leave the room.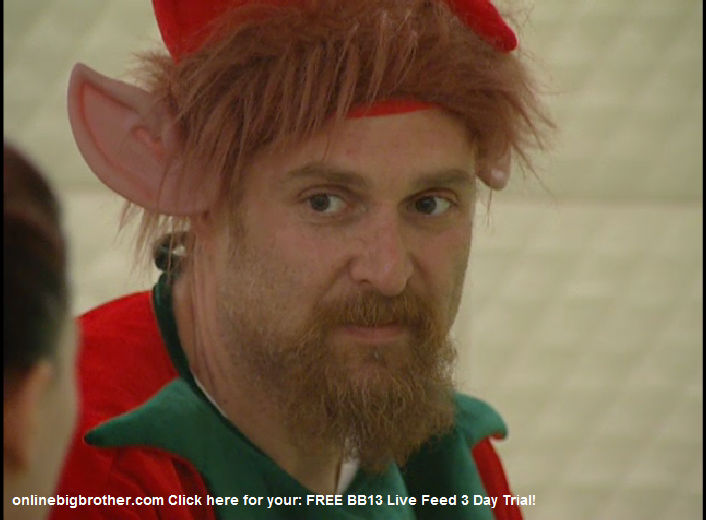 See What They Can't Show You On TV! SUPERPASS – 3 DAY Trial!
2:35pm Jeff, Rachel, Jordan, Lawon, Porsche and Adam are out in the pool talking about random things. Kalia and Jordan are in the candy bedroom talking about Brendon and Rachel. Kalia asks if her and Jordan are cool. Jordan says that of course they are. Kalia says that Rachel is going around telling lies and stirring up shit. Kalia says that she really was trying to be nice and help Rachel with her wedding. They talk about how Rachel and Brendon are going around trying to talk to people to get votes. Jordan says that maybe she should go talk to Shelly to see where she is at.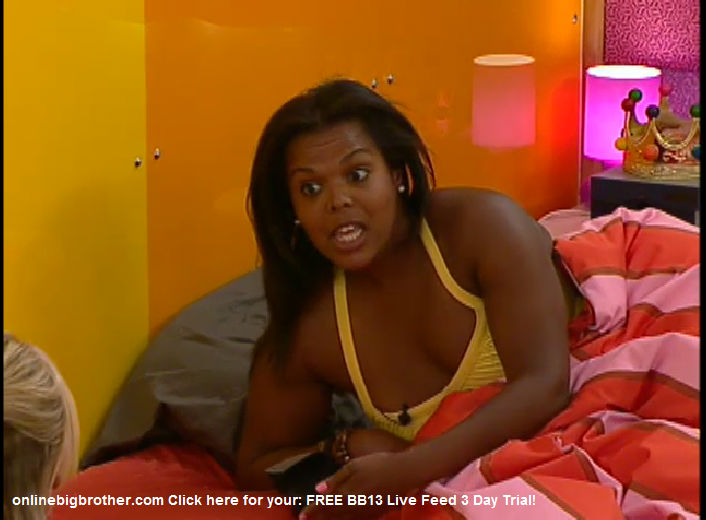 2:40pm Jordan goes and talks with Shelly in the lounge room. Shelly asks what is your long range plan ..are you working with Dani now? Jordan asks are you kidding me? Shelly says that people are saying that you made a deal with Dani. Shelly asks are you and Jeff not going to put up Dani next week if you win? Jordan says that she doesn't want to say. Shelly says okay. Shelly tells Jordan that no one can win against Jordan. Shelly says that her decision is about friendship or money. Shelly says that if she ever goes up against Jordan she will be the one going home ..that she can't win against her. Jordan gets annoyed. Jordan says that they have a week deal …one week that they won't put Dani up. Jordan says that Shelly can even go ask Dani. Jordan says that she would never ever team up with Dani or Kalia. Shelly tells Jordan that Brendon and Rachel told her that Jeff only cares about winning the money and that no one can beat Jordan if they go up against her.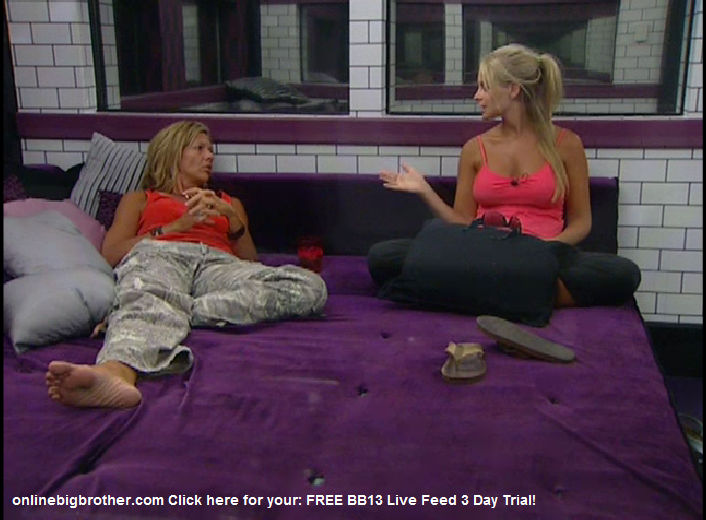 3pm Shelly tells Jordan that Adam will vote with her and that she is voting for Jordan to stay. Jordan tells Shelly about her conversation with Kalia. Jordan tells Shelly that they need to communicate more so that they know where each are at. Shelly tells Jordan that Brendon and Rachel staged the whole thing with the POV …they faked it all ..and that Rachel knew he was using it on her. Shelly says that she knows Porsche was going around saying stuff. Shelly says that she told a white lie to Lawon. Shelly says that she doesn't want to get to the final five and get screwed. Shelly says that if she wins she will put up Lawon and Kalia and then backdoor Dani. Jordan talks about what she thinks the competition will be like. Shelly says that she just had to talk to Jordan about what Brendon and Rachel were saying to her earlier… that it was bugging her all day. Shelly says that she thinks Brendon and Rachel are jealous of Jeff and Jordan. Big Brother then cuts the live feeds to the we'll be right back screen…
TRY the Live Feeds for FREE!
Click here for your: SUPERPASS – 3 DAY Trial!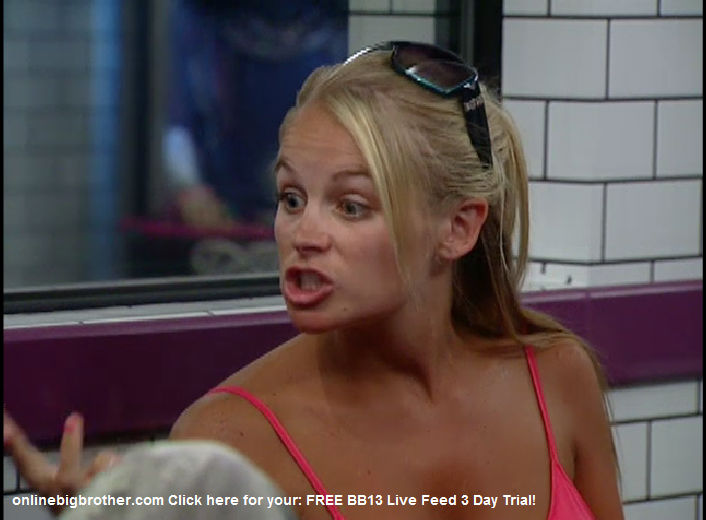 Big Brother 13 Spoilers POLL CAST your VOTE!

Big Brother 13 Live Feed Image Gallery
Follow: @BigBspoilers and @Dawgsbigbrother on Twitter for recent crazed out spoilers. Theres also our Facebook page.
Share it YO!!
Tweet