5:20pm Hammock Rachel and Brendon
If you like this site and want to help us keep it running please consider donating, Your donations go directly to paying the server and bandwidth fees. Donate Link
Moments before BR ran to the hammock Rachel was talking to Porche.. Porsche was basically telling her to get her BLANK together because she's BLANK up everyone's game.
Brendon tells her she needs to relax and stop caring what the other players in the house think of her.
Rachel does a full on BREAKDOWN if you want to watch the ultimate pity party get teh feeds and flashback. its insane this girl should not be on big Brother it's cruel to her, it's cruel to me and most importantly it's cruel to dawg.
3 DAY Free Trial
Rachel is screaming at him to leave her alone he doesn't listen, he goes up to her asks her if he made a mistake taking her off the block. Rachel says he did and he made a mistake asking her to marry him. Rachel: "nobody likes me I can't get a job nobody is going to like me when I get out of this house… people are going to hate me even more.. I'm not good for anything..I can't do life without you Brendon" (Buckets of crying buckets of brendon trying to make her feel better.
Rachel: "brendon i'm going to ruin your life please go home and never talk to me again".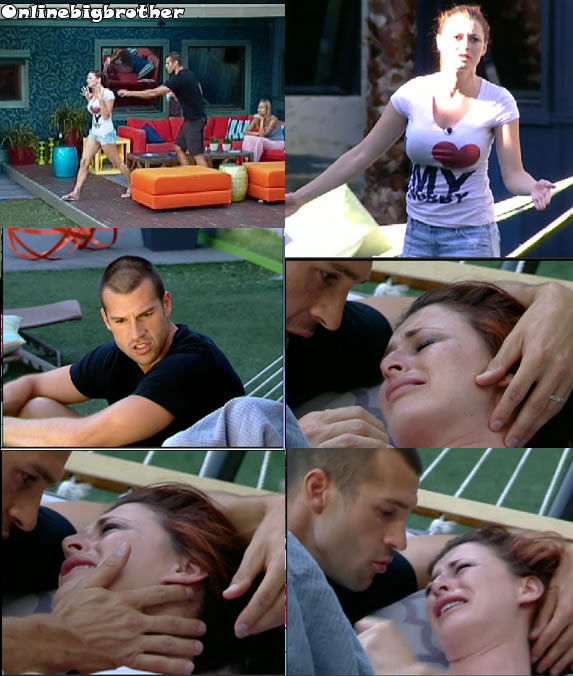 5:30pm kitchen Jordan, Kalia and LAwon
Jordan asks them what is going on. Kalia says rachel is having a full on breakdown outside in the hammock. Jordan: "I dunno whats going on i almost think this might be fake". Kalia thinks it's just that they are reaching the limits they know he's going home. Jordan explains to them that JEff went to talk to brendon and asked him to just go out classy get the vote he can get but don't try to run Jeff or Jordan's name threw the mud. Jordan says that Brendon swears that they were but we know what they are doing.
Kalia says that BR already have apologized to people. Lawon: "UHH who have they apologized to?" Kalia says they've only apologized to Shelly.
Jeff joins them..
Jeff says he told BR that they were out of line.. but like Adam was saying he thinks it's just angry in BR for getting split up. JEff and Jordan both say just to make it clear that what Dani did in her HOH blogs was not for game play it was a nice gesture and NOBODY took it otherwise except for BR. Jeff: "Now that nice thing dani did is tarnished" They all feel is was a shame because Shelly was missing her husband and daughter lately.
Jeff leaves..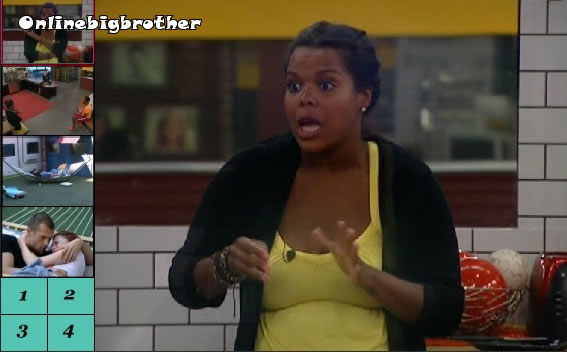 Jordan is saying that she feels that Brendon really makes it worse by enabling rachel to act this way. Kalia: "Your 27 years old you are tool old to be acting this way" Jordan: "If he does leave on Thursday we are going to hear about it the whole time". Kalia: "You know whose really going to hear it is Porsche.. she has no choice apparently according to them" (I feel sorry for my little Slurpee princess). Kalia: "I'm telling you I will be surprise that after he leaves she's not an absolute mess.. she's not only losing him but the whole house is in a different place than last week"
Jordan: "I told you it changes every week" Lawon: "It's sad though.. but i'm not sorry i'm not going to lie".
Jordan says that she feels brendon and Rachel are very shelfish its all "me me me" and she likes them but she thinks they have to get over the fact that this sin't all about them. Jordan: "Outside of hear it'll be totally different.. but inside they're a mess". kalia says when casting asked her about who she would not want in the house she said a guy like dick and a bimbo like rachel..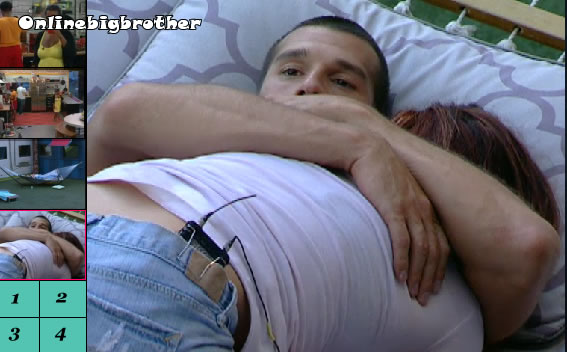 6:01pm Back together
6:10pm Team bacon survives another Rachel Meltdown unharmed
TEAM BACON FTW
Share it YO!!
Tweet