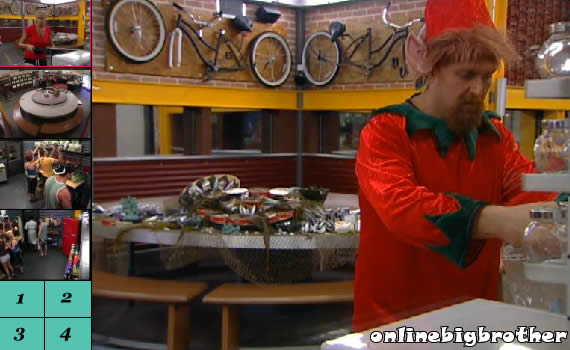 2:03pm Storage Room Havenots have to eat Sardines and Seaweed.
2:07pm Backyard Shelly and Jordan Jordan is eating slop with the same pissed off look on her face. Shelly is saying she thinks Dani is under the impression that Shelly is on her side. Shelly plans on using that and if Shelly wins HOH next week she'll put Dani up. Shelly isn't worried about Jeff and Jordan she says that they are the strongest competitors. Shelly adds her only goal this week is to make sure that Jeff is safe and she thinks she can do it. Shelly adds that Rachel is very easily manipulated and Dani is probably going to take out Brendon and see if she can work with Rachel. Jordan wonders if Dani is thinking about taking Rachel to final 2 because she thinks she'll win against her.
2:15pm Everyone milling about the kitchen preparing food, There's a lot of slop on the stove and Brendon is digging into the seaweed.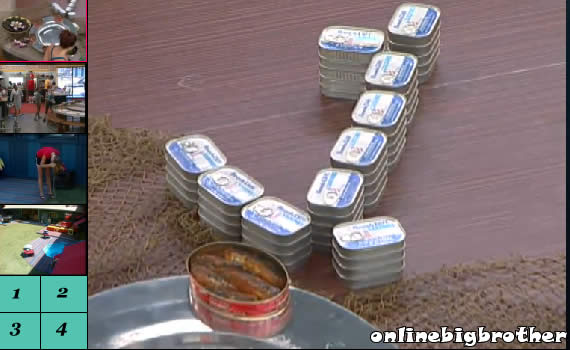 2:19pm Pacer and Boy George in the havenots.. talking about how dani is a liar and a cheat. (A standard pity party because they are not winning for the first time in 3 weeks) .. Feeds are cut when we come back
conversation shifts to Shely porsche is really trying hard to push forward that Shelly cannot be trusted. Rachel is believing her they both think Shelly is playing both side and is close with JJ. Porsche brings up that shelly has told 2 groups of people that she's 100% with them, "Obviously she's lieing to one group". Rachel now thinking they are getting too paranoid and maybe should take a step back and reassess. Porsche says she gets a really bad feeling about Shelly because Shelly is always talking about how honest she is and how she's such a Straight shooter when she's really a the houses biggest hypocrite. They start coming to the conclusion that Shelly is waiting out till Jury then she'll make her move and the side she's with will be known.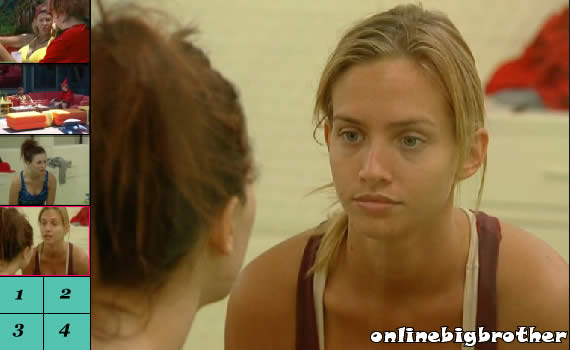 Share it YO!!
Tweet