Get the BB13 live feeds on your Android and iOS devices. Sign-up for the 3 Day Free Trial

TRY the Live Feeds for FREE!
Click here for your: SUPERPASS – 3 DAY Trial!
11am Lawon, Shelly and Brendon talk about real estate and the cost of renting. They talk about other random things, no game talk. At 11:20am Big Brother tells the houseguests that the lock down is over. Shelly yells YES!!! It's OPEN! Brendon goes to tell Rachel. Adam heads out side to have a smoke. Shelly starts sweeping up in front of the door saying she doesn't want all the dirt tracked inside. Jordan wakes up and goes to change her batteries and then heads to the bathroom. Adam, Lawon and Brendon start working out and stretching in the backyard.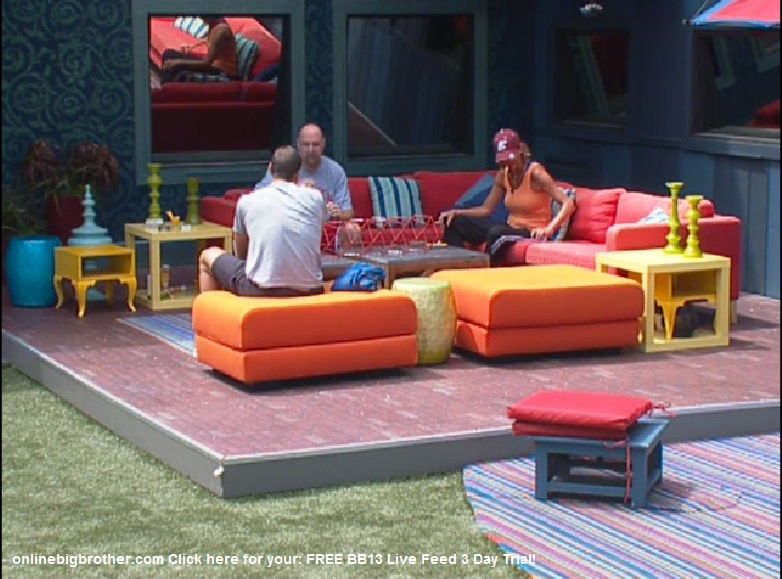 11:25am – 11:50am Brendon, Adam and Shelly talk about how the competition last night was made for short and fat people. Brendon says that all Kalia did was stick her ass on the wall. Muffin top! Brendon says that last season they made two competitions that benefited short people. Shelly tells Brendon to not let vengeance get in the way of his game. Brendon says that he knows how to separate it. Shelly says that last night Kalia came into the bathroom and said now everyone knows how strong I am! Brendon laughs. Adam says you got to give it to her, she used what she had to her advantage. They talk about wanting to play for the POV. Shelly asks if everyone will be individual and that 3 other players will be drawn. Brendon says that he will be pissed if the offer Dani a Pandora's box or a Diamond Power of Veto or something. Brendon asks doesn't that piss you off?! Adam and Shelly say that there is no way that competition was planned or geared towards her winning. Adam says why of all people would I get the elf costume?!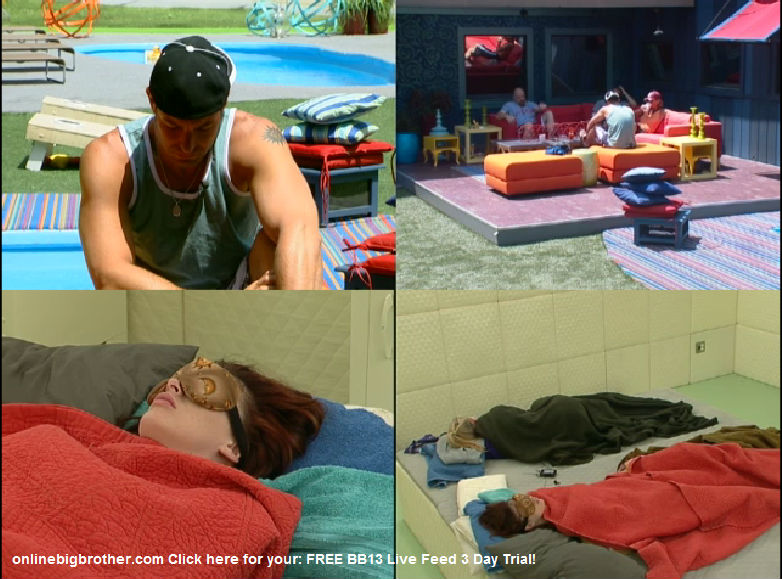 FLASHBACK – To watch all the drama!
Superpass – 3 Day FREE Trial
Jeff joins them out in the backyard. Brendon tells Jeff that wouldn't it suck if she got some power or something. Jeff says don't even get me started …that competition was given to her! Jeff complains about his bruises. Brendon says all the people that are down stairs need to get who's up stairs out. Jeff says we just need to all stick together. Brendon says we should convince Lawon to throw the POV. Jeff tells them all to not cut any deals. Adam says that Porsche thinks her and him are going up on the block. They talk about how Porsche adds her own spin to everything. Jeff says that when Porsche talks he doesn't listen. Brendon says that Dani is going to try and split us up… if any of us goes …we need to just stick together and get rid of her. They talk about how she better not win the veto. Jeff says yeah if you have two tattoos on your hip you win. They laugh. Adam says damnit I should have gotten that tattoo. Brendon says that he will be damned if any of those mother BLANK wins. Brendon asks who goes around before the competition making deals, then wins it and changes the deal. Shelly says that she thinks this POV will be a prize / penalty one because they know its an important one to win. Brendon says yeah maybe…. and if its a physical one, I'm excited. They talk about past season competitions.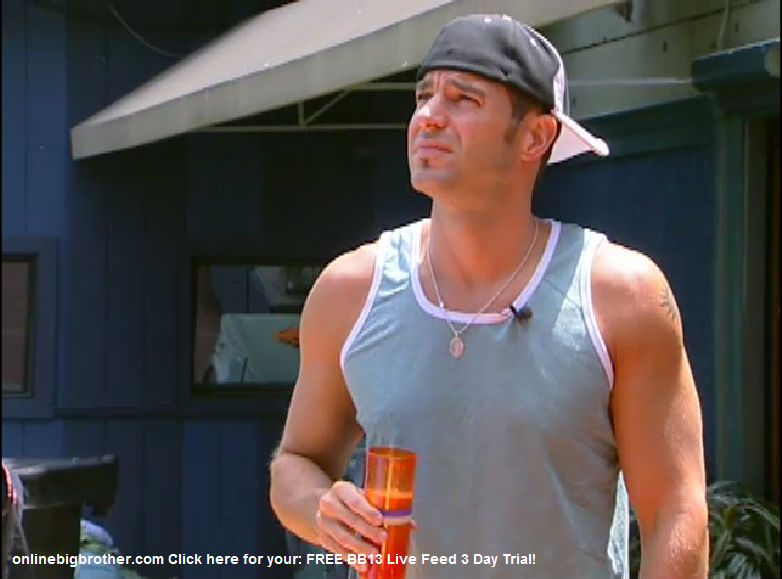 11:50am – 12:15pm Adam says call me in already ..lets get this show on the road already! Adam wants his elf costume. Lawon and Adam talk about how hard it will be to adjust to reality again. Adam start practicing his elf dance …just in case he doesn't have a job when he gets out he can find work as an elf. Big Brother then cuts the live feeds.
See What They Can't Show You On TV! SUPERPASS – 3 DAY Trial!
1pm When the live feeds come back,the houseguests are on an indoor lock down. Dani is no where to be found. She must still be inside the house. Rachel is working out on the elliptical, Shelly is suntanning, Adam is wearing his elf costume, Jeff and Brendon are in the pool, Kalia, Lawon and Porsche are sitting on the backyard couch talking about food and other random stuff. Jeff and Brendon are playing with the ball and hoop in the pool. They splash Adam and he says don't get the elf suit wet! Jeff says WHHAAAA!! Adam says that if his girlfriend has an elf costume when he gets home, he is going to punch her. Jeff and Brendon joke that he and his girlfriend are is going to have sex in their elf costumes. Adam says that he could put a slit in it real quick!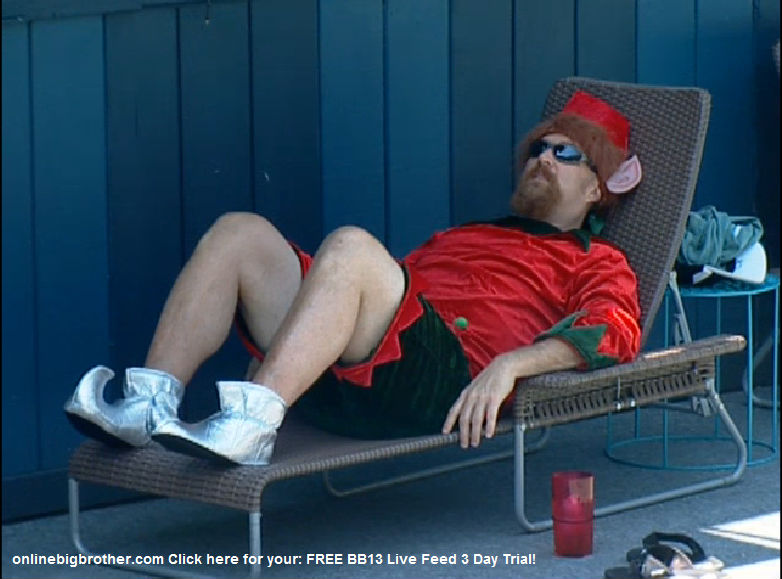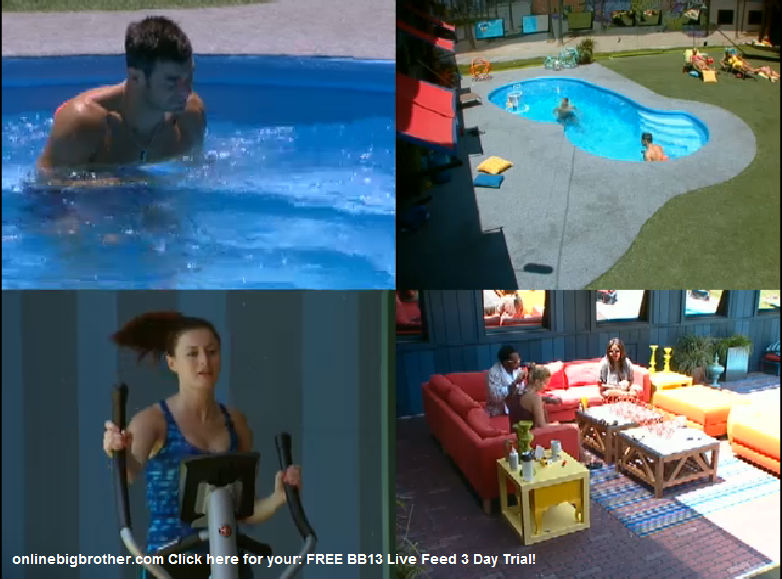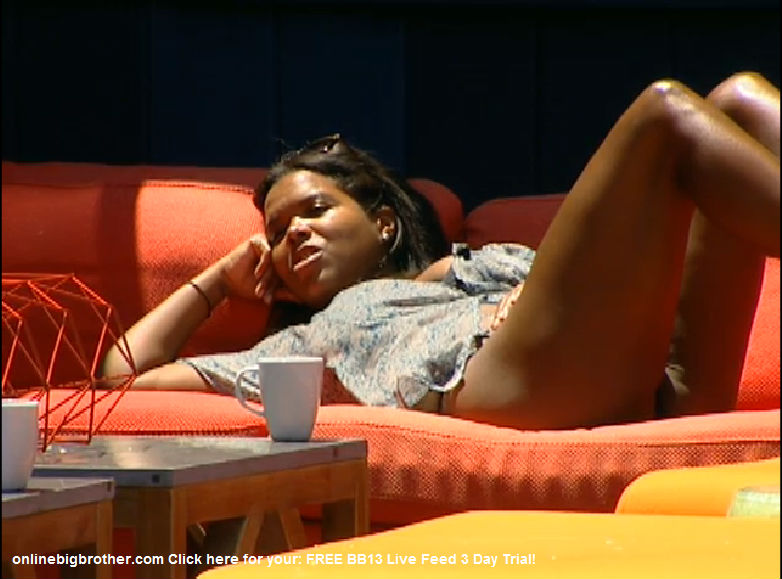 1:10pm – 1:35pm Adam says that if his girlfriend still loves him after this …he knows she is the one! Afam then runs into the yard like an elf to grab the ball for Jeff and Brendon. Adam is really taking wearing the costume well and getting into acting like an elf. They will be able to hear Adam coming now because of the bells on his elf shoes. Jordan tells Adam that he reminds her of some character from Buffy the Vampire Slayer. They are getting Adam to say phrases in his deep voice. They keep talking about and repeating lines from the movie Elf. Meanwhile on the backyard couch, Porsche is talking about the worst period she ever had to Kalia and Lawon. Adam tells Big Brother to open the doors so that he can eat. Big Brother then cuts the live feeds again.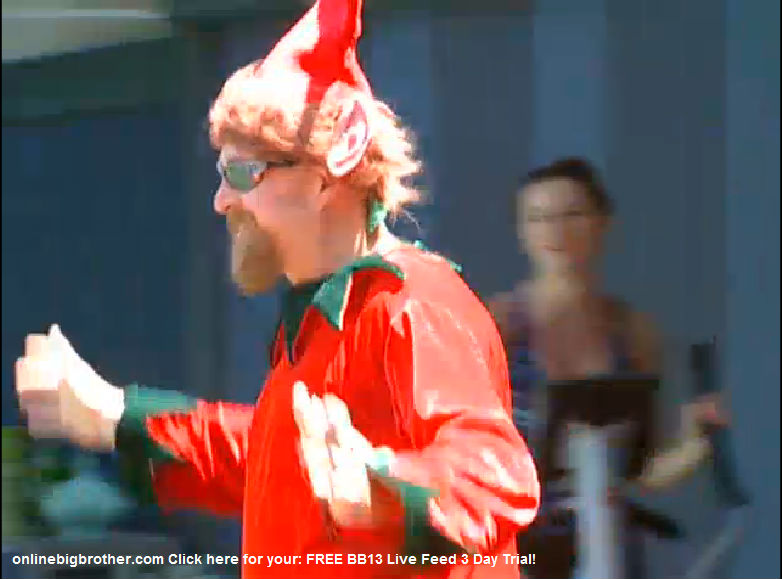 1:45pm The Live Feeds are still showing the We'll be right back screen… The nomination ceremony is most likely happening now since they have been on an outdoor lock down without Dani.
If you like this site and want to help us keep it running please consider donating, Your donations go directly to paying the server and bandwidth fees. Donate Link
Big Brother 13 Spoilers POLL CAST your VOTE!

Big Brother 13 Live Feed Image Gallery
Follow: @BigBspoilers and @Dawgsbigbrother on Twitter for recent crazed out spoilers. Theres also our Facebook page.
Share it YO!!
Tweet