3:20pm HOH Dani and Adam
Dani tells Adam that he was BR target last week before they tried to make their big move and backdoor Jeff. Adam knows that, he asks her to not backdoor him at least let him play POV. Dani tells him that he is not anywhere on her radar. Adam says his first goal this year is to get into the jury and be able to decide who the BB13 winner is, he understands this game and will pick the winner based on game-play. Dani says that is the way she will be in the jury, She mentions that they are both big fans of the game and they know true game players should be rewarded not the people who are the most popular. Dani points out that during the HOH comp few people were cheering for her and it really should her how many people disliked her in the house. Adam says him and Shelly said some things. Dani remembers hearing him but also adds that the were drowned out by the others. Dani says she isn't going to stay up in the HOH and tell people to throw the comp and bully them into doing what she wants this week. She wants Adam to make his own choices and to fight for the comps if he feels he needs to. Adam makes a comment that he respects that and he knows they are both straight shooters. (oh man she's a straight shooter now to)
Adam: "If you are here next week you are not the target for me"
Dani "Cool thanks… Your the best" They hug and Adam leaves.
3:24pm HOH Kalia and Dani Kalia walks in "I've Come to cut a deal" (Kalia lets loose a HUGE belch when she walks into the HOH no joking). They both are not getting Shelly right now. Dani says that Rachel is making up lies about Shelly in the hopes of putting the target on her. Dani still isn't sure where shelly is there seems to be SO much talk coming from her something is fishy. Porsche walks into the HOH. Dani tells her to give her and Kalia 10 minutes. Dani makes a comment how funny it is that Porsche want to be her friend now were a couple days ago porsche was a BLANK. Dani and Kalia are starting to unravel all of Shelly's lies.. Kalia is saying that Shelly was telling her one night not to trust Lawon and Dani because she's been hearing things from about dani and she thinks that Dani is playing a dirty game. Dani says she's getting a little sick and tired of Shelly entire straight shooting speech and how she needs to leave this house with her head held high. Dani adds that Shelly just doesn't add up right now. Kalia says that she is clearly floating around talking to all side, but they wonder which side she really is one. Kalia: "She's the biggest liar in the game.. she gave me a entire long speech about not trusting dani and how dani is a liar". Dani thinks that Shelly is the type of player that you'll want to drag around till the final 4 or 5 then cut her loose she won't win anything and will just float around causing BLANK. Kalia brings up the next week HOH and how her or lawon need to win it. Dani loves lawon but she's not optimistic that he's going to win anything she feels that maybe he'll win if it's a quiz but she's not sure if Lawon will try. Kalia thinks Lawon has a very good chance of winning a quiz, Dani thinks the next HOH will be a quiz. Dani: "you and I have to be on the same page.. I will NEVER go behind your back… We need to have a understanding it's us to the end if we don't know now that we are together these people will get into our heads and we are dunzo" kalia agrees. Kalia says her and lawon were talking earlier today and they've been trying to figure shelly out. Kalia thinks that Shelly is very dangerous player because she's floating around stiring BLANK with all groups. Thats the game she is playing. Dani wants to know if Kalia had to put up Jordan or her who would she pick. Kalia answers that it would be Jordan.
Kalia comments how crafty Shelly is when he engages in conversation, Kalia thinks Shelly is trying to get her to reveal that she's really rich when she's not. Kalia thinks they need to watch themselves around Shelly. dani agrees. BR come up Kalia leaves.
3:35pm rachel and Brendon Purple Room BR is crying because life isn't far
(really these 2 are so pathetic I'm not going to type out all they said) Rachel took her ring off and is sad. Brendon is trying to comfort her telling her not to listen to all the "mean" girls like Cassi and Kalia. Rachel adds that if Brendon goes this week Jeff will not work with her she will be left with Pacer. Rachel points out how Jeff treats Jordan how he doesn't let her talk game to anyone and how everything she does is censored by him.
3:45 HOH Dani and BR (If you like to see BR scramble and give dani a BLANK reason to keep them then this is the time to get the feeds.. )
Brendon and Rachel come in looking scared and desperate they offer her up the most ridiculous reason to keep them its insane.. enjoy.
Brendon wants to make sure Dani is still cool with them, Brendon felt very hurt what Dani did and he really felt they had a friendship. Dani explains that they did she never did anything against them she did something that she thought was a good move in the game she thought that her PT and BR would be able to win it if they took Jeff out when they had the chance. Brendon: "it felt like you chose Dom or use" Dani explain that Brendon and Rachel are a couple why couldn't she have a pair to team up with. Dani points out to them that if she hadn't won HOH nobody would of talked to her and her ass would be up on the block and going home. DAni: "The things you said to Dominic served no purpose but to hurt him and me" she adds that her and Dom had talked about it all and he knows where I am at and they are cool about it.. Dani: "but the things you said to him only served the purpose to hurt him HE WAS GOING HOME ANYWAYS… you guys played a very nasty game last week". Brendon: "I'm sorry but everyone was doing it" (yes he did say it like that) Brendon says that dani knows that the next HOH will have some strong competitors playing and if she takes out BR or JJ they will be against her. (he's trying to tell her that she has no one so if BR go home she's screwed). Brendon: "You know you have kalia on your side" (he smirks, seriously he's a f**ktard) Dani asks why is everyone her friend now but when she was up on the skies not a single person was cheering for her. Rachel: "you understand why i wasn't cheering for you"
Dani: "If i didn't win i would be going home.. I told Dom before he went home that there was no BLANK way I was going to drop from an endurance comp and I didn't"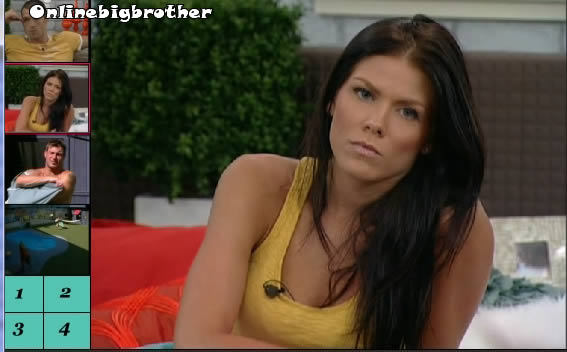 Brendon warns her that the friends she has right now are useless and liars he throws kalia and Lawon under the bus saying they run around with everyone telling secrets, "they'll throw every comp because there chicken BLANK" Rachel says if dani wants to work with them they will go far all 5 of them. (LOL f*ck and she's saying this with a straight face). Brendon: "I don't want the 5 of us to go to war with each other then a lawon or Kalia wins it" Rachel is really pushing that a floater is going to win Big Brother 13 if they take out BR. "If we all work together we will get far in this game and prevent a floater from winning" Dani: "I really dunno what you are trying to say.. people have different tactics"
Dani brings up what rachel told her yesterday day, "you said if i take one of you out this week then I loose 3 votes in the jury" dani adds that she doesn't want to play with people that make game decisions like that.. "why would I keep yo in the jury if you threaten to convince everyone not to vote for me"
Rachel stutters : "I said that because is was listening to someone else and I was just… i dunno i was scrambling" Dani doesn't understand why their tune has changed so fast now that they don't have the power. There entire argument is that they do not want floaters to win big brother so that is why they need to stay in the game, they continue drilling this into Dani for about 15 minutes. (LOL COMEDY GOLD )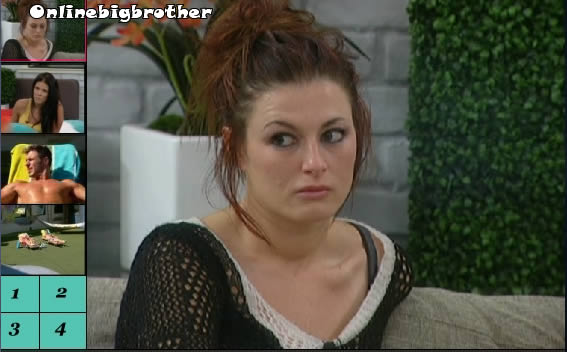 Rachel says that regardless what happens BRJJ will be the targets, Dani completely disagrees. Says that the house is scared to death of her. Rachel : "you know that the power shift every week in this game so your in power this week but next week you will not so you want to keep yourself in a strong position"
Rachel: "I'm 100% team take out floaters lets do this as a 5 person alliance" Brendon says if he had taken Britney out last year he would of won America's favorite (BLANK that ) because he made a decision to target Matt because Matt took out Rachel. He's doesn't want to make mistakes because of emotion and he fears Dani might do the same. They bring up if JJ has come up and offered dani a deal, Dani says no deals have been talked about. Brendon: "I'm 70% that JJ will keep there word" Rachel: "Umm no JJ will keep their word" Brendon: "ohh ya ya you know what I mean" They tell her they want to be friends outside the house, "we have the loyalty to stick together in this house.. " They push that Dani is going to be America's favorite because of all the big game moves she's done. they leave. (you can hear the audio still as BR walk down the stairs brendon: "Sorry if BLANK up"
Br leave and Dani says "I DON"T CARE ABOUT AMERICA'S FAVORITE… good god" (makes a gun out of her hand holds it against her head)
(she didn't buy any of there BLANK sweet sweet sweetness)
4:44pm everyone getting ready for what assume is the Nominations ceremony BR are going up, tonight Rachel will cry and Brendon will yell while the rest of us laugh.
4:53pm Nomination ceremony underway
Share it YO!!
Tweet