SEE what they CAN'T show you on TV! 3 Days FREE No Commitments

11:45pm Ragan and Enzo Cabana Enzo is telling Ragan that Rachel was told by Brit that he is the sab and he's not. Ragan tell him to consider the source, he explains that Rachel and Brendon want to get us all fighting each other. Lane says that Rachel and Brendon are saying he's the saboteur. Ragan: "you have to keep in mind that everything Rachel and Brendon say is complete bullshit they want to get us fighting". Enzo: "I dunno yo she's only 22 i don't want to start anything". Ragan: "listen please look up the source, if you open up the national enquirer and it said that aliens attack Houston would you believe it?" Lane and Enzo agree. Enzo: "I think the sab is bullshit why would someone be the sab this late in the game.. I swore on my family.. man I shoulnd't do that but I did yo.." Enzo has second thoughts of calling her out he thinks he owes her to pull her off to the side and talk to her straight up, he doesn't want to start anything huge. Ragan offers to talk to her. Enzo tells him not to worry he's not going to go crazy he just wants to talk to her.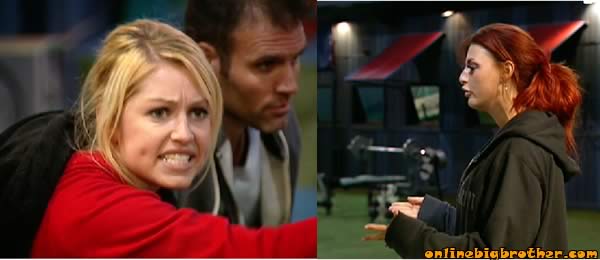 12:00am Backyard Brit and Enzo Enzo talks to BRit and aks her what was said about him. Brit says she never told Rachel that Enzo is the sab. Enzo thinks Rachel is trying to stir up shit. Brit tries to explain that she thinks that Rachel is the sab. Lane walks out and tells them that Rachel is saying that Brit is telling her and Brendon what he says. They are trying to make people think he is the saboteur.
Rachel storms out and confronts Brit says that she told her that Enzo was the saboteur. Brit stands her ground and tries to explain that she said that Brendon said that Enzo might be the saboteur. They got back and forth for some time Rachel saying she said it and Brit trying to explain what she meant. Rachel doesn't understand why Brit would try to talk her man that enzo is the sab, Rachel thinks that Brit it the sab. Rachel keep going about Brit saying Enzo was the saboteur, Brit: "I swear on my life i never said that and i will stand her and look you in the eye and swear all night long.. I DID NOT SAY THAT". Brit starts to yell she doesn't understand why rachel would twist her word like that. Brit turns to enzo and tells him she never said SHE though the was the saboteur. Enzo: "yeah OK OK i just wanted to speak my case please don't yous get all upset about it I just wanted to plead my case. Brit says she doesn't even think there is a sabetour she thinks it's America. Brit doesn't know why Rachel is coming after her she thought they had a good talk and were on good standing. Brit felt they had a good conversation about Brendon, the house dynamics and the outside and then BRit gets called into the DR and when she comes back people are saying you're spreading shit about me. Enzo: "Please cmon everyone like I would say that corny shit that the sab said yo.. I think no won in their right mind would pick to be the saboteur". Brit asks Rachel why is she doing this to her why is she throwing brit under the bus in front of everyone? Rachel says she has no reason to lie she's not in the house anymore, She tells Enzo to believe whatever he wants. Rachel gets up and leaves.

Just want to thank "blah" for adding a great recap of this fight in the comments heres the Big Brother Update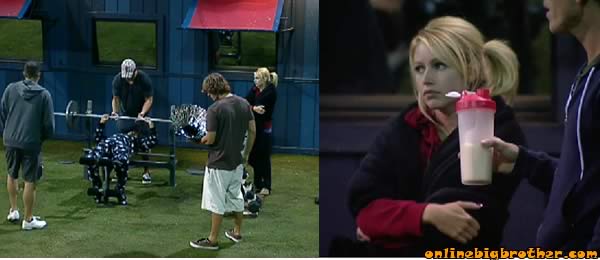 After Rachel leaves Enzo tells Brit that Rachel is just in the house to cause shit and drama. Kathy chimes in that Rachel just got a contract that says she has to cause shit (LOL go Kitty Kat). Everyone is in the backyard except for Rachel, they all are agreeing that Rachel is the saboteur. The lipless man (hayden) reminds them that the saboteur's last message said, "You have gotten me out of the house, not out of the game".They are pointing out that Rachel has only been in the house for a little bit and she's already causing chaos. Kathy suggests they go to bed early, Enzo seconds that. Brit tells them she's not going to back down and watch Rachel drag her name through the mud she'll stand and fight. Lane tells her that she's a feisty one. Brit: "I'm 100% convinced that Rachel is hear to start shit in the house. Ragan points out that Brendon and Rachel's game since day one has been to cause drama in the house. Brit walks up to enzo tells him for the billionth time that she never said she thought he was the saboteur. Enzo telsl her not to worry he knows whats going on, Enzo: "You did good kid you didn't cry and you stuck up for yourself" BRit mentions that Rachel is doing this so word gets back to Brendon and he puts her up.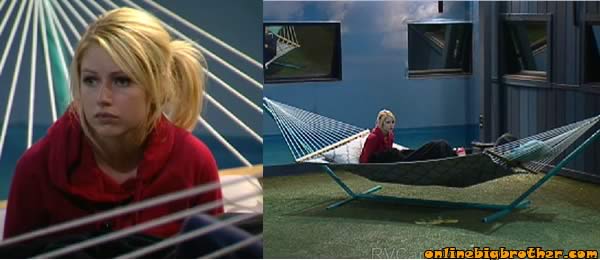 12:20am Hammock Brit and ragan
ragan is telling her that rachel is in the house to turn everyone against each other because she can't stand us and we can't stand her and her "boyfriend". Britney: "It just pisses me off Ragan because whether they talk or not, Brendon is going to hear about it and I'm going to be on the block." Ragan thinks they need to just stay away from her for the remainder of her stay. Brit is surprised that she would try to make it look like she's been talking shit about Lane. Brit thinks it's funny that when she asks Rachel what she was saying about Lane Rachel couldn't come up with anything. Ragan says he's thought about it in length and the only reason he can think why Brendon is after him is because of rachel. rachel got pissed at him because he started becoming close friends with the other girls in the house. Brit wonders who will be next, Ragan thinks it'll be Matt. Brit asks Matt if he's talked to Rachel. Matt says he's talked but they only have a normal conversation. Brit: "Yeah thats what i had with her and look what happened" Brit decides to head inside to talk to enzo.