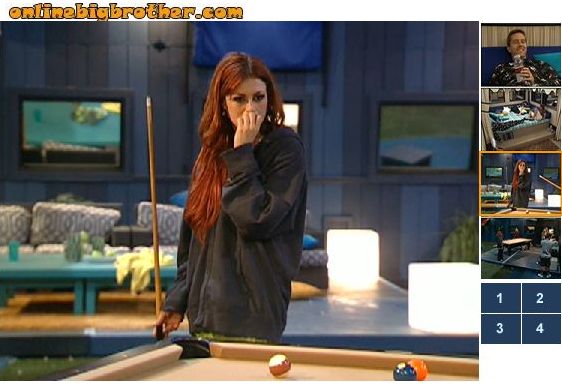 10:25pm Britney and Rachel are playing pool and talk about Britney's conversation with Brendon. Britney says that she doesn't want to go up, but if Brendon is honest in what he said to her, then she won't, but who knows. Britney says that it's going to be crazy and that she has no idea what he's thinking about. Rachel says well he has 24 hours away to think about it. Britney says that this is like the worst 24 hours to be away though. Rachel says that she thinks that maybe she will be able to tell Brendon all her thoughts because in the past when the twins were playing together they got to discuss game in private. Rachel says that it seems like there hasn't been any drama. Britney says that there has been no drama at all. Rachel says that this is not her night at pool. Then Rachel sinks a ball and cheers Britney wins the game of pool against Rachel. Enzo and Lane are next to play. Britney and Rachel go over to the couch to talk. Britney asks Rachel more about what life is like in the jury house but Rachel says she is not allowed to talk about it until midnight.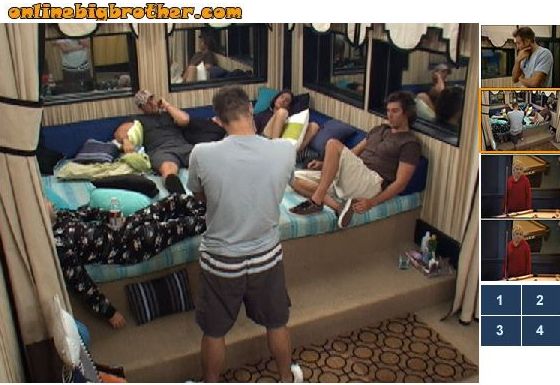 10:40pm In the cabana room Matt, Ragan, Kathy and Hayden are making fun of Brendon and how they hate to listen to him and all the things he says. Meanwhile in the backyard, Britney tells Rachel that she thinks Brendon is making a lot of his decisions based on what he thinks Rachel would do. Rachel says that all she wants to do is hug him and talk about him. Rachel says that it has only been 2 days and that she doesn't know how she has gone this long without Nick. Britney says that it's been 52 days and you weren't here when I started crying when I realized my little brother's first day of senior year was coming up.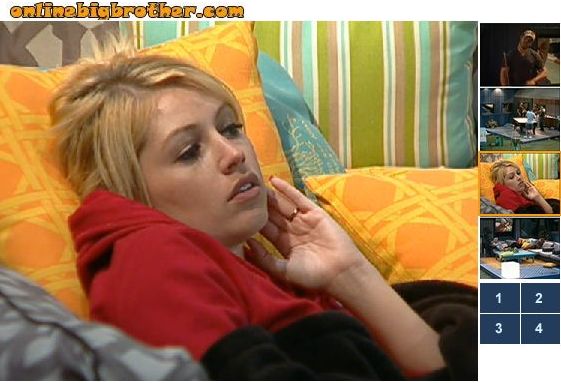 Rachel says that she really wants to get on the Internet and find out what's going on, she says that she doesn't want anyone to hate her. Britney tells Rachel that it wasn't personal; she should be flattered that people were so scared of her. Rachel says that it is flattering to know that people want to get rid of you because of your competition skills but also I wonder if you and I would be more friends. Rachel talks about how much she loves Brendon. Rachel says that the saboteur's messages are so hit and miss. Britney says that they are dumb. Britney says that she isn't feeling well from being a have not and keeps telling everyone that she is just in a bad mood because of that.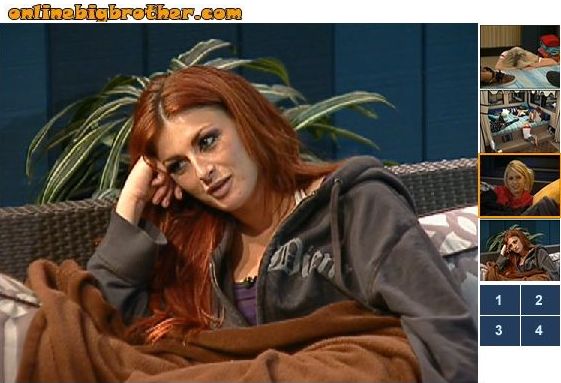 10:50pm Enzo is out of the pool tournament and throws his pool cue across the yard. Hayden and Matt are next up against each other….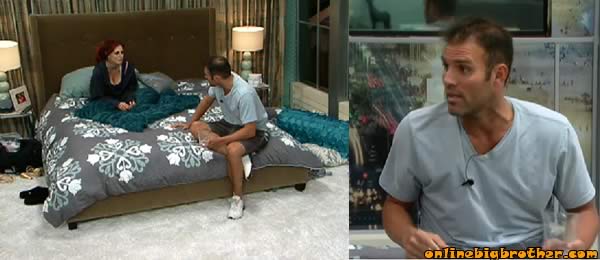 11:10pm HOH Enzo and Rachel Rachel tells him that Brit is saying he's the sab. They both agree that Brit is not to be trusted because she stirs up shit. Enzo is very pissed that Brit has said that he wants to go off on her but is feeling like he should keep it under control because she's just a "Little Girl" Enzo tells her that Brit is probably the sab thats why she's pinning it on other people. Rachel doesn't think brit is smart enough to be the sab. Enzo is thinking he better confront Brit and really stick it to her but he's not sure if he should wait until Brendon gets back before he does it. Rachel offers to go do it right now, She suggests another house meeting. Enzo: "I'd like to put her out there and see if she has the balls to say that. I will put her on the spot." Rachel thinks Brit will cry, Enzo doesn't want to make her cry. Enzo explains he has a thing going on with Brendon and HAyden. Rachel tells him they need to keep winning HOH's and start taking that side out. Rache warns Enzo that matt and Brit try to get other people to fight it out while they site in the sidelines. Enzo doesn't have anything bad to say about MAtt he's never put enzo on the block nor said anything against Enzo.