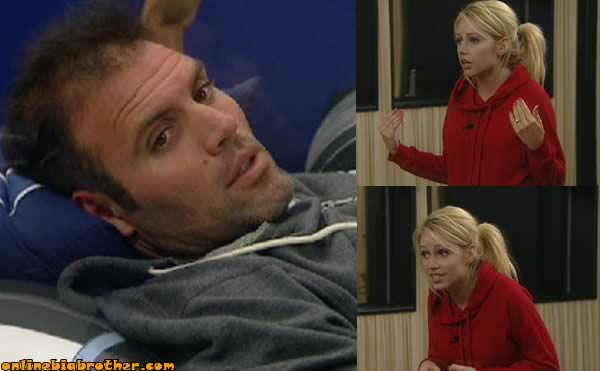 SEE what they CAN'T show you on TV! 3 Days FREE No Commitments
1:05am Cabana Room Brit, Matt and Enzo Brit rehashes the entire Rachel conversation says that because of what she is saying it is placing a huge target on her. Brit tells him she certainly did not say Enzo was the saboteur and Rachel twisting her words makes it obvious that she is doing this to stir up BLANK. Brit continues, she never said that Brendon thought enzo is the saboteur all she said is that her and Brendon brainstormed scenarios. Matt suggests that when Brendon comes back she needs to talk to him One on One and if your storied mesh up then cool if not call a house meeting and get it all out in the open. They start talking about Rachel already causing 2 major fights in the house after 10 hours. Brit: "It pisses me off because it put me in the line of fire". Enzo: "Yeah and she goes into the DR after each blow up". MAtt Leaves. Brit presses enzo to tell her how it all started. Enzo says he was up in the HOH and she started talking mad BLANK and it came up. Britt tell Enzo she doesn't want him to think her or Brendon said you were the sab, Brit mentions that everyone even enzo has had conversations about who the sab it. Enzo basically says "yeah" the entire conversation. Enzo doesn't understand why everyone is getting all hyped up over all this sab BLANK, he thinks it's BLANK, the corny messages and the stupid pranks. (I was wondering the same thing) They both are agreeing there is no saboteur just production.. but if there was a saboteur Enzo thinks it's Rachel. Brit wants to have a conversation with Brendon and Enzo when he comes back so they can clear it all up. Enzo: "Yeah man whatever yo" They go over and over about how enzo isn't the saboteur.
1:20am Hammock Brit and Lane Brit tells him that she's positive she'll go up and go home. Brit counts the votes says lane has Enzo, Lahty and Hayden. Lane tells her he has no idea those people will vote for him, Those are his boys but they never talk game to him. Brit really doesn't want to go up against Lane because him and her are close. Lane says that Brit will have ragan on her side. Brit tells him that Lane is her original buddy in the house, lane laughs asks her is it because he tried to make out with and she shot him down that means they are buddies. Brit smirks says your so mean to me. Lane: "Ladies like the jerks". Brit mentions that if Matt goes up she'll be the swing vote but she's sure it'll be here that goes up. Lane asks her why she's so worried about being separated from him. She tells him she doesn't want to lose him in the game. Lane: "We'll see each other in jury house". Brit knows, she wants to play the game with him some more. Lane ask her again about making out Brit declines, Lanes mentions he has a girlfriend so it really doesn't matter. Brit sarcastically says: "Sure you have a girlfriend". Brit goes over the conversation with Rachel tells Lane that rachel can say brit is saying BLANK about people but to say brit is talking BLANK about Lane is just plain dumb.
1:30pm Have nots room Ragan and Matt Talk is on the HOH comp this week, they go over what has already been given and believe that this week will be a quiz. Ragan is feeling good about his chances to win, Matt tells him they need to win it more then ever. Ragan tells him that the house has gone crazy and he feels like it's just the 2 of them right now. Matt thinks there is a decent chance he's going up this week, he believes that was Brendon's plan all along. Ragan ask him which player he trusts more Brit or Lane. Matt says he loves them both but he would say that Lane is closer to him, MAtt adds that he never really talks game to Lane but they are still close. Matt is worried if he loses Brit it'll be just him and MAtt, Matt tells Ragan he's the only person in the house he trusts. Brit joins them and they start going over the Rachel/Ragan fight. Ragan is a little pissed about her Gay comment.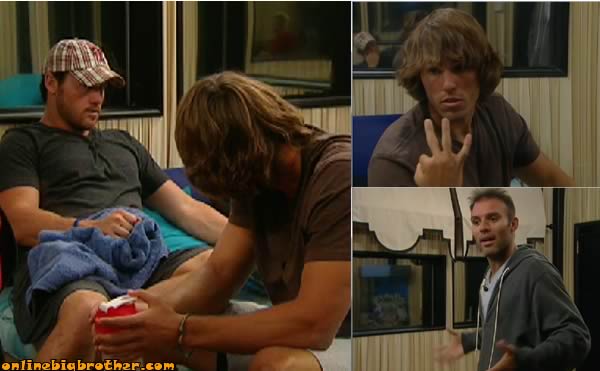 1:40pm cabana Room Enzo and HAyden They're talkign about Matt and how he's getting too deep with Ragan. They Believe that the only way to get Ragan out is for the 2 of them to do it. Hayden brings ups that Rachel told him that Ragan and Matt were trying to get Hayden out when he was up on the block with Kristen (The simple fact that Hayden believes Rachel said Matt did this shows you how BLANK this game has gotten in the last 20 hours) Hayden is getting pretty fired up about this says they need to take Matt out. Enzo thinks they should watch Matt for a bit before they put a hit out on him. Hayden: "We only have till tomorrow" Lane joins them and Hayden fills him in. Enzo: "So what do yous think matty has flipped sides" Brit comes in starts talking about the rachel conversation. They all agree that Rachel is a nut case and she's the sole source of the drama. hayden points out that Brendon has been alright these past couple days now that she's gone plus the house has been quiet and peaceful. Brit leaves and the brigade starts worrying about Matt. Enzo says that Matt has been acting nervous around them lately and he only comes in and talks to them for a bit then runs off to be with Ragan. Lane listening in and agrees that Matt has Flipped (looks like the DPOV will be played tomorrow err I mean later today) Enzo brings up that he doesn't trust brit or Matt but he thinks Matt is worse. HAyden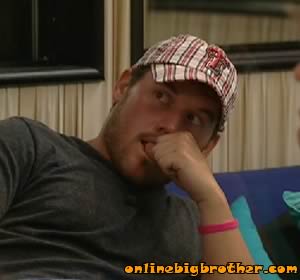 agrees. They thinks that Matt will be going up this week and they need to make sure he's not saying anything to Ragan about their brigade alliance. Lane adds that he can control and mislead Brit but with matt he can't. Hayden offers up the thought that maybe rachel is lieing to them, but Hayden can't figure out what her motives would be (ummm she wants matt do go home) Enzo: "I think matt has flipped he didn't want to be with me and Lane becuase we never win and ragan/Brit win so he's stuck to them". Lane mentions that matt and ragan have a very close relationship in the game, lane: "Ragan was crying at the thought of Matt going up". Hayden warns them that matty's plane is to go to final 5 with the brigade and Ragan and then start taking out Brigade member until him and Ragan reach final 2. Hayden thinks theres a good chance of Matt and ragan winning the comps. Lane tells them it all boils down to Matt not wanting to do any harm to Ragan. they are all getting really steamed about matt, HAyden says he trusts matt the least in the house, even trusts caveman more. hayden brings up possible final 6 scenarios thath MAtt would have. They agree that it'll be Brigade + Ragan + Brit, matt wants ragan and Brit because they can win the HOH comp. if they win it they will start chiseling away on the brigade. Enzo is convinced: "lets put out a hit on that donkey" hayden mentions they need to get a brigade shirt for kathy. they laugh that Kathy is brought up from the minors to compete with the pros. Enzo and Hayden think that Brendon is putting Matt up they won't need to say much to him. Lane chimes in that Matt has done much more damage to the brigade then Brit has. lane thinks matt may have seen how close the 3 of them are getting and thats why hes exploring other options. hayden points out that he's seen matt change over these past 2 weeks. They start to wonder what other deals Matt had cooked up, especially with Brendon. They all agree that Matt needs to go out this week. .. feeds cut
(there you have it the brigade has fractured, Matt will use the DPOV and tomorrow is going to be epic.. what a awesome season :) )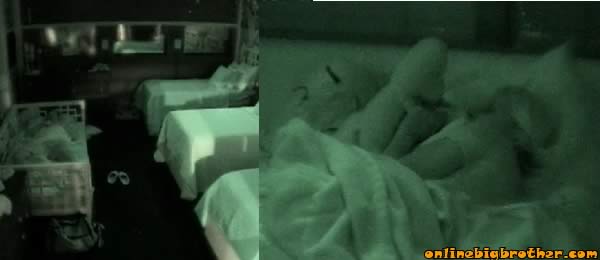 2:58am Lights out
3:25am In the Taj bedroom Hayden and Enzo are whispering with Kathy. Hayden says that Rachel knows a lot of stuff. Enzo is angry with Brit for saying he was the saboteur, he says he swore on his family I'm not playing these BLANK games! Enzo tells Kathy that Matt, Ragan or Brit would put her up in a heartbeat. Enzo says they trust Brendon because he has no one else in the house. Kathy tells them she totally agrees. Kathy says that they need to get Britney up on the block and get rid of her. Kathy says that she doesn't want to go home before Britney goes home. Kathy says since day one she has been saying Britney is dangerous! Enzo says she cries to everyone, she uses that to her advantage. Kathy agrees and says Brit is a spoiled brat, she mentions all of these places she has been in the World. Kathy says Britney doesn't need the money! Kathy says that Britney is a spoiled brat, just like Brendon said. Kathy says that she latched on to Lane. Kathy says that Britney's whole life she has probably cried to mommy or daddy and got her way. Kathy says that Britney has it made; we have to take things like that into consideration. Enzo says so if you got to the final two it doesn't matter what you did to get there even if you only won one competition, you got to the final two.
Watch everything LIVE as it happens!!
Superpass – 3 Day FREE Trial
3:40am – 4:10am Kathy says that Britney drives six hours to Dallas just to shop. Kathy says she only makes it to Dallas once a year because it costs so much in gas to get there. Enzo says that at this point he thinks Brendon wants to vote Matty out. Enzo says they have to go up to Brendon and tell him that Rachel wants Britney and Matt to be up on the block. Rachel told Enzo to make sure Brendon knows that. He says they have to tell Brendon everything. Enzo points toward the have-not room and says they're trying to play games with us. Enzo wants to beat Britney to Brendon. Enzo says that he doesn't want her to get a chance to talk to him and try to sway him. Enzo tells Kathy that he trusts Brendon. Kathy says that Lane is getting her vote to stay this week. Enzo says that Lane is safe this week. Kathy continues to throw Britney under the bus. Enzo says he is ready to get her the BLANK out of here! Hayden agrees. Kathy says that Britney doesn't do the laundry either, she does her own but that's it. Kathy says that she doesn't do nothing, nothing… because she is too busy.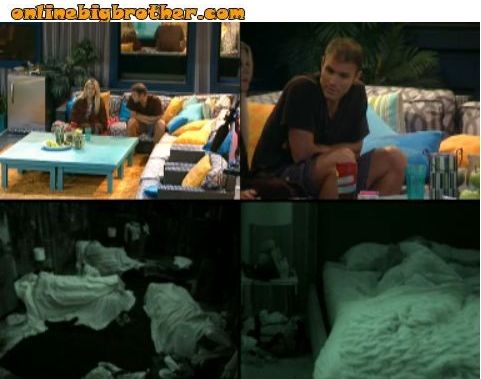 Kathy says that she wants to go for a smoke. Kathy says that she doesn't want to go out there by herself, and they'll say she is the saboteur. Kathy asks Hayden and Enzo if they want to come out to the backyard with her while she smokes. Enzo goes with her. Kathy tells Enzo that Britney treats her like a maid. Enzo says that they have got to get out Britney out but he thinks that Brendon is going to put up Matt. Kathy says that Britney is intimidated by her, she doesn't get why because I am 20 years older than her! Kathy complains that Britney is always asking everyone about their personal lives in hopes that those questions could come up on a quiz. Enzo says Lane better watch out for Britney! Kathy says that she thinks Lane's game will improve when Britney leaves. They talk about how they think Lane is blind when it comes to Britney. Enzo says that he wants him, Hayden and Kathy to go to Brendon tomorrow and remind him about all the bad things Ragan and Britney have done to him in this game. Enzo says that they need to make sure he puts Britney up in Ragan's place on the block; they don't want to give her a chance to cry to Brendon and sway him. Enzo says again that Rachel likes him. Enzo says that Rahel wouldn't lie to him about Britney saying he was the saboteur. Kathy finishes her smoke and Enzo and her go inside to head to bed. Enzo says Britney is not going to win Big Brother! Enzo says we are going to do this Kathy! Enzo and Kathy go to bed … all the house guests are now asleep.
6:30am All the house guests are still sleeping…
8:27AM EVERYONE SLEEPING