3:40pm Monet and Enzo are talking in the Have not room. Enzo says that he thinks Kathy would be a great replacement nomination …. ..then he says that Andrew would be an even better choice. Monet says they wont do that, ..they want to put up someone who's guaranteed to stay. Enzo says that they better not put him up as a pawn because he will go after them next week. Enzo says that he wants HOH …but not just yet he wants to watch people and see what everyone is like and then get HOH, put two people up and back door someone. Enzo thinks what if they put up Matt or Lane?! Then Enzo says he's confused. Brendon says it has to be Kathy. Enzo says I really want to see if they put up someone popular. Monet says that they will put up someone who will get more votes to stay than me. Monet says why don't they put up Kristen …shes tight with them. Enzo says this is confusing …I don't see no one else …it has to be Kathy. Enzo says because if Kathy goes up … we could.. .(and the feeds cut to the we will be right back screen.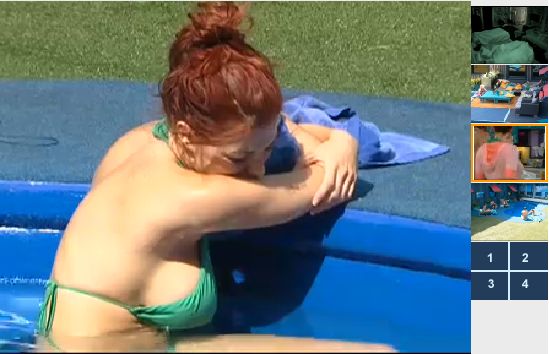 Andrew is asleep in the bedroom with his sunglasses on. Kristen and Hayden are in the lounge room talking about Rachel and Brendon. Kristen says that it is a good thing that Brendon and Rachel are the ones in spotlight …it takes the eyes off of them. Hayden tells Kristen that the Brendon and Rachel BB showmance is disgusting. Kristen laughs. Hayden asks if she agrees… and Kristen says yes. Hayden says that its just in bad taste. Ragan joins them in the lounge room. Hayden and Ragan start talking about about random stuff while Hayden and Ragan do sit-ups.




4pm Brendon and Rachel are laying in the HOH bed cuddling …and Big Brother tells her to cut it out. Rachel sits up smiles and asks knock what off …being cute? Rachel says I have all my clothes on …I'm being good. Brendon says what now they want to tell us what to do?! Brendon and Rachel are now taking a nap. Meanwhile in the storage room Hayden and Lane have a really brief conversation. Lane tells Hayden that Rachel told him he's safe because they already have a deal not to put each other up. Hayden says he hasn't gone up there yet to talk to them. When they walk out, Lane says he doesn't care who goes up as long as the four of them are still here next week.

4:15pm Big Brother cuts the feeds and tells Brendon that he isnt allowed to take a nap in the HOH room. Rachel and Brendon leave and go down to the have not room. Rachel lays down on the floor and Brendon gets into the cot. Matt comes in and asks what is happening in here. Rachel says cuz its happening in here … why be a have ..when you can be a have notty…  Matt leaves.


4:30pm – 4:40pm Matt and Monet are in the kitchen talking about the results of the POV and what might happen.  Matt tells Monet that he told Rachel it is in her best interest to put up someone weak.  Monet says that she thinks they need to convince Rachel to nominate Andrew as the replacement.  Matt agrees.  Matt tells Monet says that his idea is that they all need to threaten Rachel and Brendon by saying if they are put up as a pawn, they will then put up one of them as pawn if they get HOH.  Monet says that she really hopes Rachel puts up Kathy. Matt says that Monet would have the votes to keep Monet if Kathy goes up.  Matt tells her that he told Rachel that if Rachel nominates someone …that they could then ask Rachel to be the pawn another time in the future. Matt tells Monet to go up to HOH and talk to Rachel and Brendon and to make sure she doesn't threaten them too much.  Kathy and Andrew come into the kitchen and start killing all the ants with the bug spray… Kathy goes crazy with the spraying.