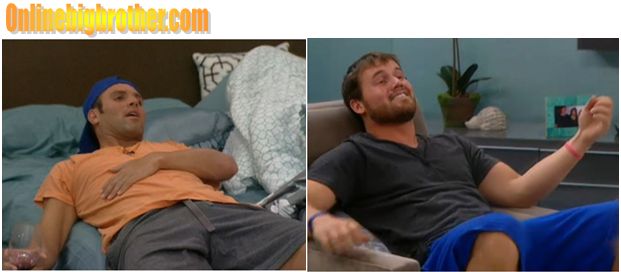 Sign-up NOW and get the first 3 Days FREE

2:20pmRachel says that they aren't thing strategic, we are probably the smartest people in this house and we aren't thinking smart. Rachel says expect the unexpected. Brendon gets mad and says I KNOW I KNOW DON'T FUCKING TELL ME!! Rachel says we have to think of America and TV too …they aren't going to want us to keep winning week after week. Brendon wonders if the should put up Lane … but that he would be pissed. Brendon says that we need to nail down Matt and Brendon says and Enzo …we need to tell Enzo that if we don't put him up …he needs to keep up safe. Rachel says that we need to talk to Hayden again…. Cuz he will be mad if we put up Lane. Brendon says its between Lane, Enzo and Matt. Brendon says go through the votes his (Brendon), Ragan, Kathy, Hayden, and Kristen … Brendon says that he will tell Matt that we will guarantee Matt that we will go up only as a pawn and that he'll be safe next week. Brendon says we know Monet is going home. Rachel says that Britney knows the only way she is safe is if she gets Monet to stay.





In the have not room, Britney and Monet are talking. Britney & Monet are talking about what they should do about the replacement nominations. They discuss who they need Rachel and Brendon to put up. Britney thinks that they have enough votes to keep Monet safe. Britney says that the best case scenario would be for her to put up Hayden but doesn't think she will do that because they would be put up one of their own. They don't think Hayden is officially part of the Rachel/Brendon alliance. Britney says that they should go to everyone and tell them that If they vote this specific person out we will go after Brendon/Rachel and you won't have to get blood on your hands. Monet agrees. Britney says that she is sick of looking at Kristen's face… that she is a floater and all she does is suck off of Rachels power. Monet says yeah. Britney says that she is going to go up there and see where their heads are at … and figure out what they are thinking. Britney leaves the have not room and Monet lies down like shes going to take a nap.



SEE what they CAN'T show you on TV! 3 Day FREE Trial
Lane and Rachel are up in the HOH talking and Kristen joins them. Rachel says I think everyone is going to vote out Monet. Right?! Both Kristen and Lane agree that that is the way the house will vote. Kristen says it just sucks that you have to put someone else up now. Rachel says it just sucks though. The recap the POV competition what happened. Rachel says though no matter what who ever goes up against Monet … Monet is going home. Kristen says yeah but no matter what that person is going to be offended. Lane leaves. Kristen says I have your back I will not let Britney get to you or me. Rachel says all the girls are going after each other and the guys are just sitting back. Rachel says someone on our side has to win next week to make sure Britney cant come after us. Kristen says she is going to be fierce. Rachel asks do you think Britney will still campaign to keep Monet. Kristen says yeah but I think everyone knows we need to get Monet out and it should just be a clean sweep. Kristen says if she won HOH …she would put up Britney but who else …she wouldn't want to put anyone else up. Rachel says she has idea of who to put up …but that she was listening to Ragan …and says he is a genius … he had it right what he was saying. Kristen says it only leaves Matt, Kathy and Lane … but Lane is strong. Kristen tells Brendon that she is so mad and wants to win HOH next week. Kristen says that she is not a floater that she just stays out of peoples business and is friends with everyone … but she is not a floater. Rachel agrees and says that Kristen is a fierce competitor.





3pm – 3:20pm Britney comes up to the HOH to talk to Rachel. Kristen and Brendon leave the HOH. Britney says she only wants to talk for 2 minutes. She says that she is really sorry that Rachel has to now put someone else up now. Rachel asks … you can tell me the truth but if you won HOH next week would you go after me and Brendon. Britney says no …you know who I want to go after… I want Andrew out. Britney says that Monet is willing to do whatever it takes to stay and that she would cut a deal with you. Britney gives her word that she would not back door Brendon. Britney says that if Rachel gets Andrew out this week and saves Monet ..she will do and promises anything that Rachel wants … she will guarantee safety for a week … 2 weeks … 3 weeks … whatever it takes.  The feeds cut to the we will be right back screen…

Watch it happens as it happens!! Superpass 3 Day FREE Trial
3:35pm When the feeds come back Andrew is up in the HOH with Brendon and Rachel. Andrew says that Rachel should really backdoor someone. Rachel says that she wont because she doesn't want to play dirty. Brendon and Rachel tell Andrew that Monet has to go this week and that whoever goes up is a pawn. They tell Andrew that he should tell people that Rachel is considering putting him up so that it looks like they're not in an alliance. They tell him to act worried and not talk to them as much. Andrew agrees and leaves. Andrew says that Monet is the most important person to get out …but the question is …who are you putting up.. Andrew then leaves the HOH. Brendon says that he would go up …just to avoid conflict but that he doesn't trust people. Rachel says are you kidding I would never take that chance. Brendon says I wouldn't do it I'm just saying … Kathy says that if just blows her mind that Britney was trying to make a deal with Rachel to save Monet.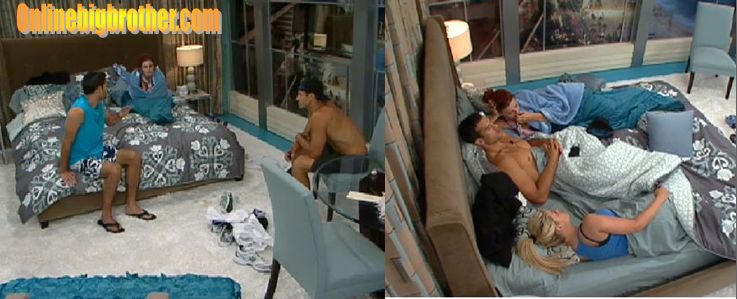 3:30pm Brendon and Rachel talk about what Britney said earlier. Rachel says that its all a cat fight between the girls. Brendon says well stay out of it them. Rachel says but I am part of it. Brendon says well take yourself out of it and don't involve yourself. Kathy comes into the HOH. Brendon, Rachel and Kathy talk about how Britney was rude to Kathy the other night and how she apologized for how she acted. Rachel explains how Britney wanted her to back door someone and Rachel says again that she will not do that in this game. Brendon says that he definitely can not trust Britney. Kathy and Rachel agree. Rachel says that Britney and Monet are trying to run out Kristen and Andrew. Rachel thinks that they really want to get out Kristen …and then they will go after her (Rachel).