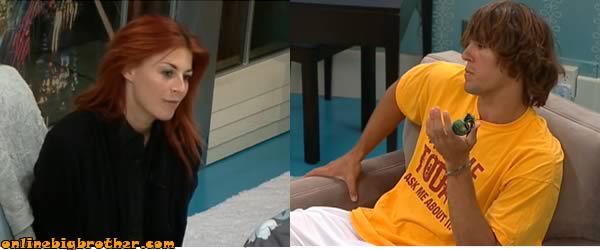 6:45pm Hayden and Rachel HOH Hayden tells to her that Brendon has apologized and he explained some things to him and Kristen. Rachel says everything she's done in this house is not personnel it is for game. She wants to see them fight for it she wants to be with competitor (fuck she keeps saying the same shit yo) He tells her he isn't a person with a bad temper he's pretty even keeled, but he knows what it feels like to have your emotions running high. He was really surprised at her taking that Jab and him and Kristen, he thinks there would be better ways for her to have dealt with the whole nominations. Hayden knows that either him or Kristen will go regardless if they win POV. rachel doesn't think it's 100% been decided. Rachel again tells him she's making the big plays in this game she had to make a big move because she a big player, Her game moves doesn't reflect on how she feels about him as a person. Hayden is easy going tells her he understands they hug and he leaves.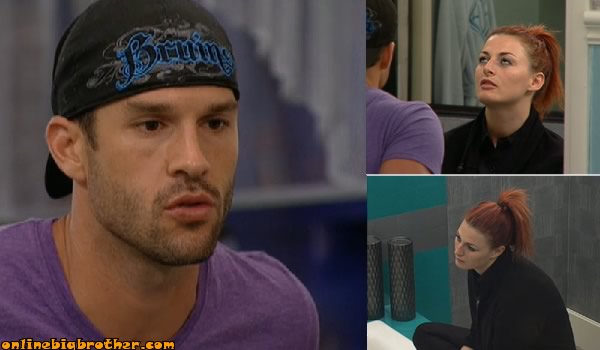 7:20pm HOH ROOM Brendon and Rachel Still arguing over Rachel's speech where she told Kristen and Hayden to "Bring it on" Same kind things are being said that was said 30 minutes ago. rachel is defending herself more though she tells him she's a power player and she needs to make power moves. She explains to him that the target on them is already too big so theres nothing she can do to make things worse. He wishes she would let him help her and give her input in things that will effect both their games. She tells him that everything she has done was his idea, she blames her first HOH nominations on Brendon, she wants to handle this HOH her self, "It's not lilke i went downstairs and told everyone to fuck off look at me i have HOH" Brendon is tells her she came across as arrogant during the last HOH and this HOH and that effect their game. Rachel tells him the decisions she's making is to better them not to throw him under the bus.
What am i suppose to do bake everyone cookies and sing comb by ya with them this is Fucking Big Brother.. Brendon says he knows she's watched many more shoes then him but all he's saying is that from a outside observer hows she's acting is arrogant and mean. She tells him to stop running around apologizing to people. Brendon doesn't want to play like that being a bully. Brendon, "Your not being a bully!" Rachel: "all I said was bring it on, It's not that bad…. In retrospect… it was kinda funny."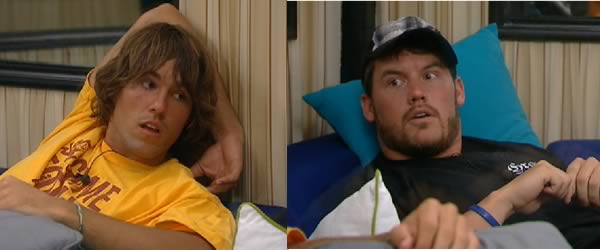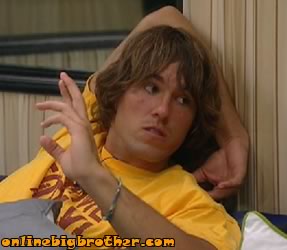 7:38pm cabana room Hayden and Lane yo talking mad game.. Hayden tells lane that Kristen is going to hate him to the core after this week. lane agrees he says that Monet is really going to be made as well.. Maybe more than Kristen. Hayden tells Lane that they need to start now pounding into Rachel how close Kristen and Kathy are. They need kathy to go up, Hayden wants to try and explain to Rrachel that nobody wants to evict Kathy so she's the perfect pawn then when Rachel Nominates Kathy "BAM" the brigade has the votes and they keep kristen. Lane chuckles "that will be huge".. They wonder when they are going to drop the bomb about the brigade.. lane thinks they might have to if they all vote out Kathy. Lane mentions that Rachel and Bbrendon are going to be pi$$ed because they talk to Matt the talk to hayden they talk to enzo but not to me cause i'm a target. Thats why I don't go up there and brown nose them cause I know those f**k*rs are talking mad sh!it about me. Hayden wonders about Ragan. Lane "He's playign everyone mane" Hayden "Yeah he is I don't think he'll last long" hayden asks why was lane so high on the list when she was pulling keys, Lane: "I have no f***king clue man" …. they get up and head to the kitchen.. Brigade still tight yo..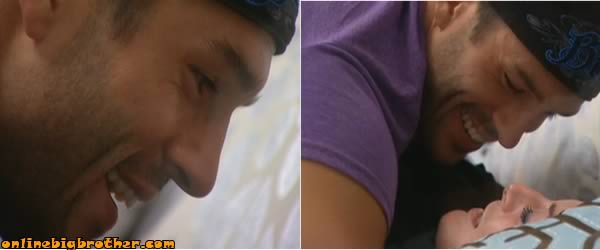 7:57pm HOH Sorry folks Brendon and Rachel made up and are now kissing on the live feeds.
Share it YO!!
Tweet