SEE what they CAN'T show you on TV! 3 Day FREE Trial
6:05pm HOH Brendon and Rachel Apparently Rachel pissed everyone in the house off with her Nomination speech. She told everyone in the house to bring it on and try and stop her. Brendon is freaking about what she said, he's saying she's destroyed their game and the only way to repair things is to stop acting like she's against the house. Brendon goes on about how they are strong players but they can't keep this up forever. He points out that every single person downstairs is gunning for us now because of how you are acting. Rachel doesn't say anything. Brendon continues to really give it to her.. She looks pissed maybe they will break up :) He tells her she's being stupid right now she has to let go with what has happened yesterday.. if they don't do it she's dragging them down. He tells her that he love sher so much he know she's not like this he knows she's not egotistically like that, "Why are we working hard to be nice to these people when you go off and do a speech like that.. I have to fight for HOH next week or we're gone" Brendon "They're human being's you can't be treating them like that, You've basically told the entire house to fuck off". He continues the only way that you can save us is if you go down and apologize to everyone.
6:15pm Taj Hayden, Kristen and Kathy. Look devastated and shocked. Hayden tries the make the best of it tells them they can't expect to win this game if they don't go up onces in awhile. Kathy mentions how bad the jury house will be if your stuck in there with b/r… Kathy gets called in to change her mic. Kristen and Hayden start to talk game they know the only way for them both to survive is for kathy to go up and Kathy knows that. They have to win POV and they have to convince Rachel to put Kathy up.. hayden isn't sure if they can do it but it's there only chance.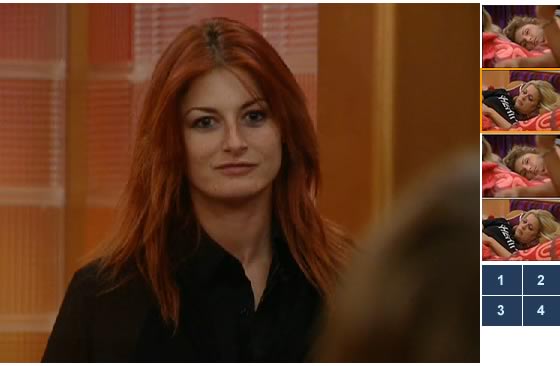 6:27pm Taj Rachel walks up to them in the taj and tells them what she said was not personnel but it was game. She says sorry (no part of her apology sounded sincere)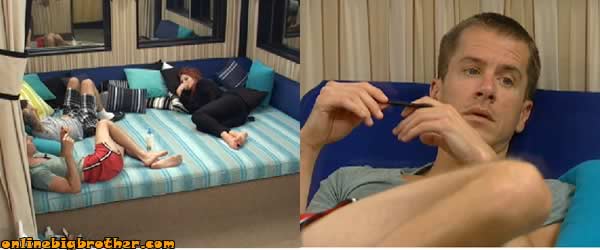 6:40pm Cabana Room Ragan, matt and rachel talking about the movie some of the houseguests won to watch, its the new movie with Will Ferrel, Marky Marky and THE ROCK.. Ragan says it's good that a lot of people with big hands won so they can take alot of candy. Matt thinks the movie will SUCK. Rachel wonders were the movie will be she thinks it'll be in pandora's box.. Matt thinks it would be cool in the cabana room….

Share it YO!!
Tweet