SEE what they CAN'T show you on TV! 3 Day FREE Trial
8:15pm POV competition is setup outside for the houseguests to practice Everyone is waiting in line to give it a shot. basically it's like a giant pinball machine without the side paddle you pull back on a piston and fire a ball up onto the course.. Its early but from what I can see Hayden and Lane are doing the best. Apparently they were told by production that they can only practice for a limited time.. they start bashing Lydia from Big Brother 12.. everyone laughs. The general opinion is it's 99% a crap shoot.. Lane thinks he found a sweet spot but everyone else thinks it's just a random game. Rachel being friendly to the girls asking Kristen to come out and play with them .. giving them complements when they do well generally being as fake as she can.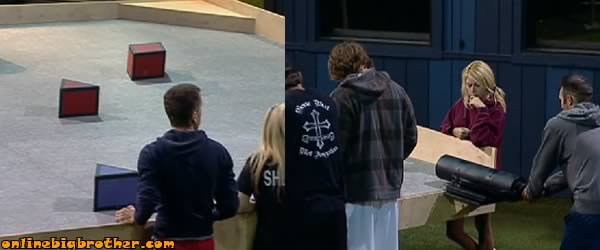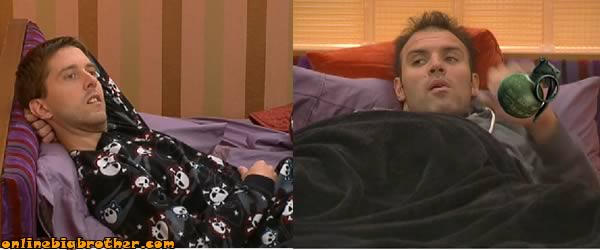 8:41pm taj room Matt and Enzo Both are worried what would happen if kathy one. The POV competition is a crap shoot contest anybody can win it. Enzo is concerned that Rachel and Kristen are all friendly now yesterday they were screaming at each other. He asks Matt if she's acting.. Matt isn't sure. Enzo says if Kristen win we gotta talk them into putting up Kathy. Matt says they have no other choice.. he thinks that Lane will go up or possible himself. Enzo says they gotta start working kathy to not use the POV if she wins it. Both agree that it's going to be a tough one to pull off if Kathy wins the POV. Enzo: "you look like your about to give up whats your wife doing on a friday night when your not around" Matt has no clue he mentions it's his bday tomorrow. ragan joins them. Matt asks him if he knows whose going up if one of them on the block wins POV. ragan has no idea, Matt asks what if kathy would use it if she won. Ragan is pretty sure that she'll take kristen off. Matt says i can't believe kathy would use the POV that is so ballsy. ragan "who really knows what will happen things change fast here "

** they were told the POV players are picked in the morning **

9:28pm Cabana Matt explaining to Hayden and Lane that the POV is going to be about points. They ask him how he knows, "just a hunch" Matt begins to explain.
"Its all going to be slots "
"The highest point in the middle then lower.. lower… lower "
"Everyone is going to go an the lowest goes out"
"You need to watch how kristen was doing it, she's hitting it in the middle"
Hayden thats my plan.. he explains some angles he's been trying hit it on the top then it can only fall one of three ways all of which are favorable (they're explaining to each other drawing things out with their fingers on the cabana room blanket) They break up their strategy talk.. lane says he's heading to the shower asks Matt if he wants to join him…

9:45pm house guests are either in the backyard playing with the POV or in the kitchen doing dishes/cleaning up.