POV Holder:
Frank
Next POV:
Aug 18 (Saturday)
POV Used
Yes
POV Ceremony
Aug 20 (Monday)
HOH Winner:
Shane
Next HOH:
Aug 23 (Thursday)
Original Nominations:
Boogie And Frank
Current Nominations:
Boogie And Jenn
Have Nots
No Have Nots This Week
Last Evicted Houseguest
Wil
HOH temptations
Britney Safe this week, Boogie gets 10grand
3:13pm Cam 1-2 Chit chat Britney, Danielle, Shane, Joe
Danielle says she was spanked by her parents for telling her brother that the milk man was his father.
Britney explains a story when she was a in the 8th grade and a girl in her class started a rumour that she had Breast implants. Joe: "Thats why they call you t!ts.."
3:32pm Cam 1-4 Arcade Frank and Jenn Watch with FlashBack FREE TRIAL!
(*Note during this conversation Frank brings up that Big Brother is his Dream and winning it is Dream 4 times. If you are participating in the Make Frank's Dream Happen Drinking game Drink drink drink drink)
Frank says that Jenn is number 6 in a group of 6. DDBSJ will vote her out as soon as they can. Frank says he's 2 for 3 in the HOH's he's got a good chance to win it.. His plan is to get Dan out, he think Dan's the shepherd and the rest of them are sheep if he can get him out the other players will scramble.
Frank don't hold it against me for trying to get the votes for Mike it's nothing against you You know I love you girl. He goes on to explain Ashley and how she felt last night. Ashley is concerned that she lost Jenn as a friends and AShley doesn't think Jenn understands why she was trying to get the house to vote her out. Frank makes it sound like the conversations Jenn had last night with AShley ended poorly. Frank wonders if there is anything he can tell Ashley to make things better.
Jenn: "I plan to talk to Ashley.. I felt that it ended off on a positive note. I don't know what she said to you as opposed to what really happened" (Jenn's tone = Not Happy)
Jenn: "I had 3 people campaigning against me 1 of them I know was saying things negative about me and he was my coach.. you guys made me felt expendable worthless and not part of the team.. I'm a good social player and that is what is saving me"
Frank mumbles about says they were just doing what helps their game, it was a game move nothing personal.
Jenn doesn't accept his BS tries to explain to him that her former teammates are all her out.. she had 3 people campaigning against her.." If you can find the fairness in there please explain it to me because there is none. In terms of AShley you don't need to speak for her I can speak with her or she can come to me directly she doesn't need to work with you" (Biam Jenn sticking to her guns)
Jenn continues tells him the reason she's staying is DDBSJ want Boogie out.. right after nominations Shane never explained to her what he was doing so she got to work and so did Frank. Jenn remembers Frank telling them all to get Joe on their side little did she know at the time Frank meant get Joe on our side to vote against her. "Thats a tough PIll to Swallow frank." (damn they f**** her)
Jenn: "How can I work with people that were trying to get me out of the house.. I can't trust Ian, Frank or AShley..I have nobody in this game" (Theres a help wanted ad @ Team Powerhouse all you need to do is be able to haul bricks)
Frank: "We're teammates with Mike to.. Boogie gave Ian $3000 dollars and kept him safe the first week Ian owes Boogie his vote" Frank goes on and on about how he owes Boogie a vote because Boogie fought so hard for him when he was on the block. Jenn points out that she voted for Frank the first week and if she hadn't he would have gone home.
Frank: "You're a grown woman you have to know that Boogie is our best chance to make it in the game.. I don't know what they told you but nobody said anything negative about you.. they are trying to pull you away .."
Frank: "You got to see we're trying to make the smartest decision we wanted to move forward.. I know you've had my back Jenn. "
Jenn :'That doesn't matter.. you guys did all sorts of stuff even talked about trading me"
(They talk in circles for a bit and leave on a good note. Jenn never backs down once)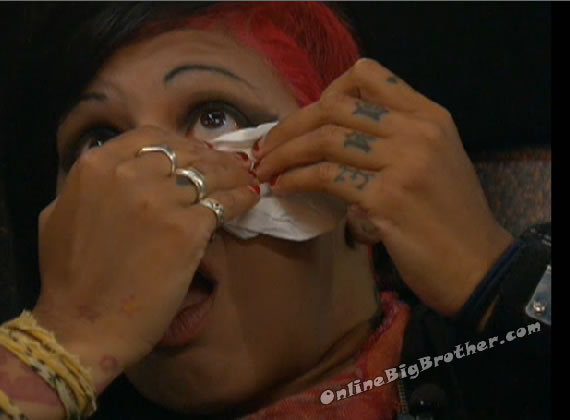 3:57pm Cam 3-4 Jenn and Ashley
AShley is claiming that everything that happened to their group was planned by DDBS. Ashley explains that she stopped playing this game personally and she decided her best chance to move forward in the game was to keep Boogie in. Jenn is fine with Ashley rolling Frank and Ian, Jenn will have to do her own thing . Jenn brings up the negative things Boogie and Frank said about her. Ashley denies those things were said. Jenn interrupts says she knows they were said, She doesn't want to play he said she said.
Jenn you can roll with whoever you want to roll with and i'll figure out what I am going to do but I still really like you and still want to hang out with you.
Ashley: " I like you to and I still want to work with you.. I don't fit in with Them" (DDBS)
AShley is pissed that Britney is going around insulting her by saying DDBS isn't working together, "Does she think i'm a f****ng fool.. she's trying to save her a$$ incase I win HOH"
Ashley I still want to work with you I don't think we have any other choice..
Jenn: "Those guys have really made me feel worthless at times.. I understand that Boogie wins competitions and is strong.. but I was your homegirl"
AShley: 'Your homegirl turned her back on you I can see why you are mad"
Ashley: "I know everyone thinks I'm slutting it up with Ian and Frank.. This place.. I do things to pass time"
Jenn more or less tells her they are still friends but not allied in the game anymore (I doubt seeing this last long) . Jenns says AShley has Frank and Ian and they will take care of her. AShley point out that Jenn has Danielle and Britney. Jenn: "I have Danielle not Britney"
AShley never believed in the Girls Alliance because Danielle and Britney Ashley doesn't know why Danielle doesn't like her.. she thinks that maybe she thought that she wanted to keep JOJO over her.
Ashley brings up that Janelle was trying to get a coaches alliance started and they were each suppose to bring one player with them. It was easy for Dan and Britney to decide but Boogie couldn't so he didn't go through the alliance.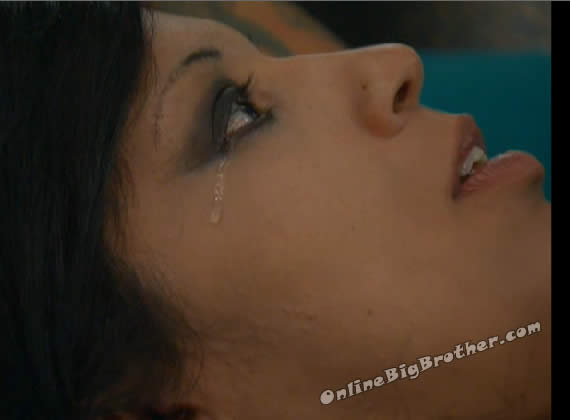 Frank bringing up the reason why Boogie went to sleep last night, Boogie felt like Joe wasn't giving the answer until the morning. Frank heard the people in the HOH laughing and screaming about Boogie sleeping because he's got other people to do his campaigning.
Joe: "even though I consider it distasteful what we were doing upstairs.. it was clearly a joke.. and taken out of context"
Joe explain that they were saying Boogie is so good he has 3 other players doing his campaigning while he sleeps.
Frank gets heated says that makes him look bad… Frank brings up how Joe told the HOH crew about their conversation last night. Joe had told Frank he was votign to keep Jenn. Frank "you said I didn't take that well I thought our conversation went well .. that makes me look bad)
Joe says Franks is getting only part of stories, he goes on to explain it..
Joe: " I was offended with what you and Boogie did when Janelle went out.. You guys were high fiving"
Frank was cheering to get rid of Janelle because Janelle was targeting him.
Get The Live Feeds for your iPhone or Android Phone! Comes with a regular subscription to the Live Feeds
Subscription Link
4:45pm Cam 1-2 Dan and Britney (Image LINK)
Dan: "If we win HOH and No wizard powers we can make a run at it"
britney agrees.. as long as they win the Next HOH.
4:46pm Cam 1-2 Ian and Frank (Image Link)
Frank rehashes his conversation with Jenn.. he pretty much covers it all hard to hear what they are saying I'm sure Frank mentions something about be on Big Brother is his Dream and he deserves to win because of that. (I'll assign this frank conversation 2 dreams which equals 2 drinks)
Boogie joins them.. Very difficult to hear what they are saying with the planes flying over head.
4:57pm Cam 1-2 Dan and Britney
Dan: "Think we'll lose Jenn"
Britney: 'I dunno.. I told Danielle to go talk to her"
5:30pm Cam 1-2 Dan and Britney Backyard
They agree that JAnelle was a good person to hang around in the house with. Dan doesn't understand why Danielle got so upset with janelle. BRitney says that Danielle is very easy to upset and britney thinks Danielle is insecure about her body so anything that is not glowing praise will upset Danielle. … Feeds Switch to Danielle, Jenn and AShley in the kitchen talking about teaching and playing with playdough.
6:02pm Cam 1-4 indoor lockdown..
Cam 1-2 Girls are playing with the playdough
Cam 3-4 Frank and Boogie are chatting and showering in the bathroom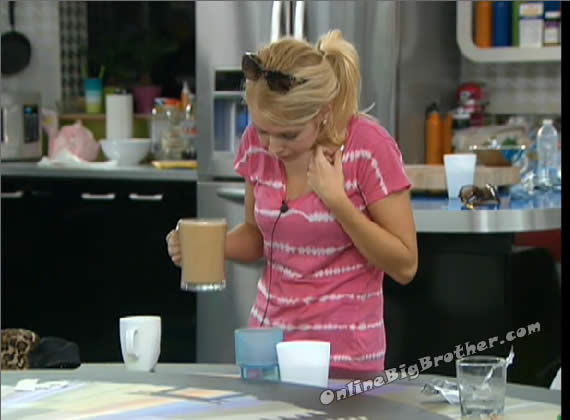 6:10pm Britney + her GIANT Coffee.. it's the size of her head