POV Holder:
Next POV:
July 28 (Saturday)
POV Used
POV Ceremony
July 30 (Monday)
HOH Winner:
SHANE
Next HOH:
Aug 2nd
Original Nominations:
Ashley and Joe
Current Nominations:
Have Nots (Cereal & Salmon)
Joe, Ian ???
Coach Competition Winner
Janelle (Wil SAfE)
Next Coaches Competition
August 3(Friday)
Last Evicted Houseguest
JOJO
Power of Veto Players: Ashley, Joe, Frank, Danielle, Wil and Shane
Host of the Competition: Jenn
10:20am When the live feeds come back from TRIVIA… Ashley is excited because she was given new shoes for the POV competition. She says maybe the competition is something sticky. "Yay, New Kicks" The others go into the storage room to grab their shoes. Shane and Danielle are the last to leave the storage room. She goes to grab him and he tells her to get out of here. Danielle calls him a jerk. He says he is not a jerk and leaves the room.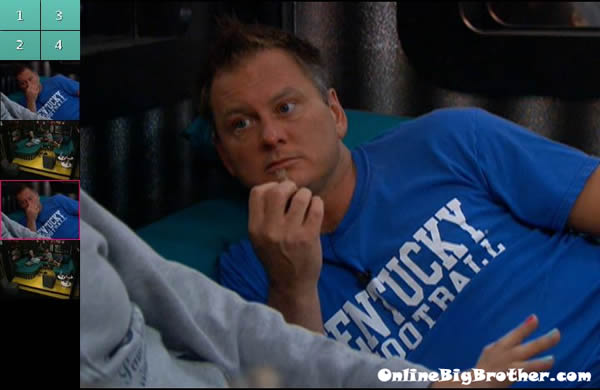 Ashley, Janelle and Joe head into the arcade room. They comment on how loud Frank was during the POV picking. Joe says that he just saw Frank and Shane say "We did it!" Joe says that he cant wait to expose Frank and Shane. He says that he can't wait to expose him to the others that they are working together. Joe says he is going to warn Ian & Jenn that Frank is working with Shane. Joe says that that he is pissed because he was the one that lead the charge to get Frank the votes. Ashley asks who did? Joe says I did! Ashley says oh right. Ashley says that she is so happy that she got to pick Wil as house guest choice. Ashley says TRIXIE RISES FROM THE ASHES AND KILLS THEM ALL!! Janelle says that she feels like this is their time to win this one! Ashley says Frank is just as bad as Willie. She says that she wants to get Frank, Shane and Ian out!
10:45am In the bathroom, Frank is talking to Danielle about Janelle floating to who ever is in power. Ashley comes into the bathroom. Frank asks Ashley why she didn't pick him for house guests choice? Ash says she has faith in her team. Frank tells Ashley that her team threw her under the bus. Ashley says that she just doesn't know. She says that she doesn't know who to trust. Frank asks her why she picked Wil, you know who he is going to use it on if he wins, he is going to use it on Joe.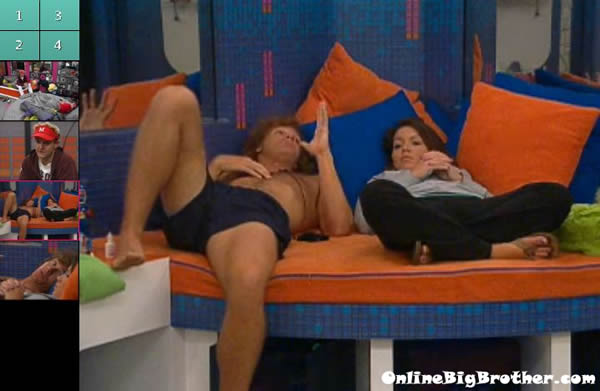 Frank is talking to Danielle in the bathroom. He tells her that he is not playing with them anymore, he is with Shane now. He says that he is going to do everything he can to make sure Joe and Ashley don't win the power of veto. Frank says that he is an honest person and that Joe isn't. He says that he doesn't trust him. He says that he was talking to Britney and Shane last night and he told them that he would go out on to the balcony and let everyone know he is with them. He talks about how he is going to fight for the veto, but that he would like Shane to win because it puts a bigger target on Shane. Frank says that he trusts Britney and that he hopes he isn't making a mistake. Danielle says she hopes he trusts her too. Frank says that he doesn't hold a grudge against her.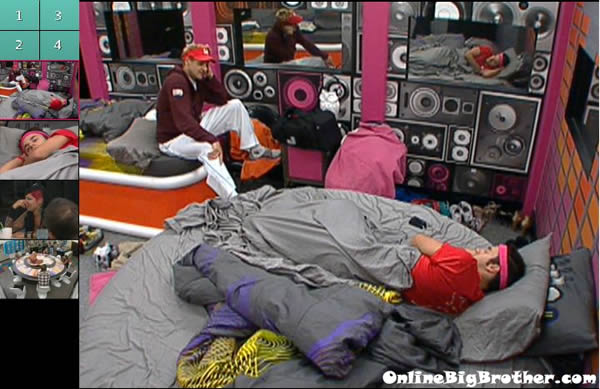 11am – 11:10am Mike and Dan are in the stereo room talking about whether or not they will enter the game. Dan wonders if they will get the option to enter the game. Mike says that he isn't sure what he would do if he would enter the game. He says that if he still has three players then he would. He says that he has to play a little different now, a little more conservative because he has a daughter. The conversation turns to talking about Britney. Dan comments on how Britney is good in competitions, she beat him twice. They talk about how Janelle and Britney don't like each other very much. Jenn gets called to the diary room and Mike and Dan says that must be it …we're starting soon. Mike Frank and Dan are now in the bathroom. Mike tells Frank to win this to keep the nominations the same so that we can have a nice relaxing week.
11:35pm They are all sitting around talking and getting ready for the competition. Jenn tells a story about how she was wearing an Erase Racism T-shirt to watch a friend play at a show. She says a skin head came up and cold cocked her in the face. She says that a huge fight broke out and he was beat to a bloody pulp. She says that she was with 20 of her friends, they grabbed him and she punched him twice. She says that they then all went outside… She says that she is not proud of fighting but that she was young. The conversation turns to talking about skin heads and racism.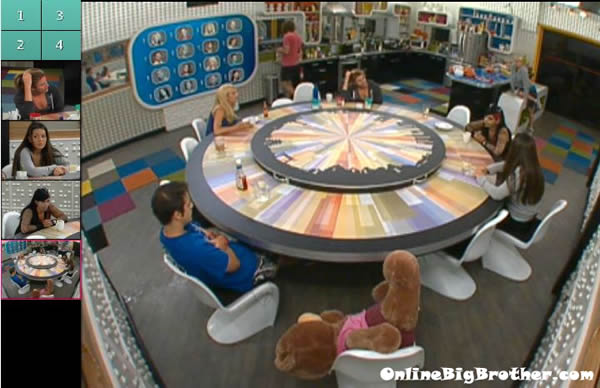 11:50am Up in the HOH bathroom, Danielle and Britney are talking. Britney says that if we back doored Frank, then Janelle and them will come after Shane. We need to get rid of Ashley. Danielle says that maybe we just need to win it and keep the noms the same. Danielle says that Frank kept saying over and over again that he is done with them. Britney says well maybe he is .. I just don't know because I keep seeing him sitting and talking to Wil. Britney heads to the diary room. Danielle goes and lies in the bed with Shane. Shane says that they have 3 chances to win the POV today. Shane says that he really thinks he can trust Frank. Danielle tells him that earlier Joe and walked into the bathroom and Frank said to him that he is a straight talking motha fu*cker!
12pm They start talking about the type of power of veto competition it will be and wonder if it will be a spelling comp. Shane says that he already has a few words that he would do like success because it can be unsuccessful, or successfully.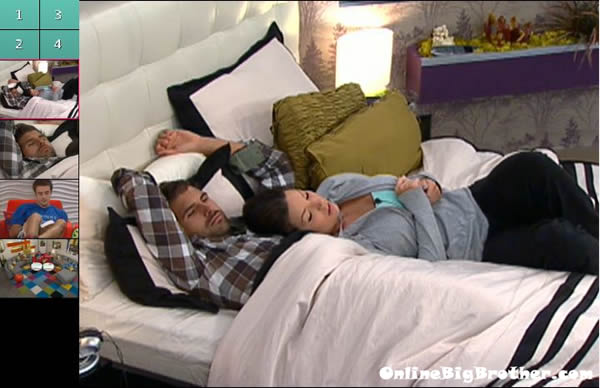 12:15pm Frank and Wil are talking in the kicks room. Frank tells Wil that he can't trust Joe because he threw me under the bus not even three hours after Shane won. And when I won HOH last week, he was up there within two hours wanting to work with me. So I can't trust him. Frank brings up how Joe is also talking about him saying that he (Frank) is the one that said I wanted to get out the floaters like Ashley. Now Ashley is coming up to me telling me that I was the one trying to get rid of her when its not true. Frank tells Wil that if he wins the POV he can't take Joe off… if he does then they will be coming after you. Wil tells Frank that he wants to work with him. Frank says that if you use the veto to take off Ashley then at least Shane will know that you are willing to play ball. Wil says that he has no intention of voting for Frank or putting him up on the block next week.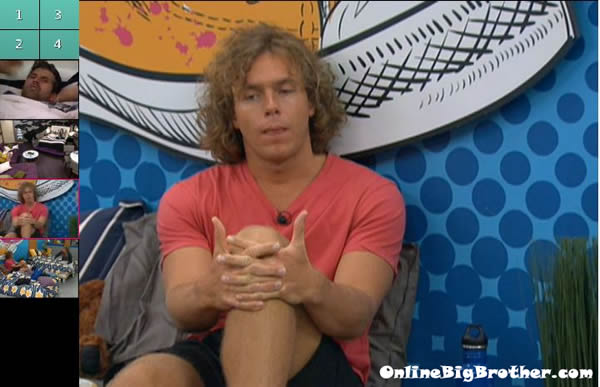 Meanwhile up in the HOH room the Showmance continues to grow..
Watch what happens, AS it happens: Big Brother 14 Live Feeds!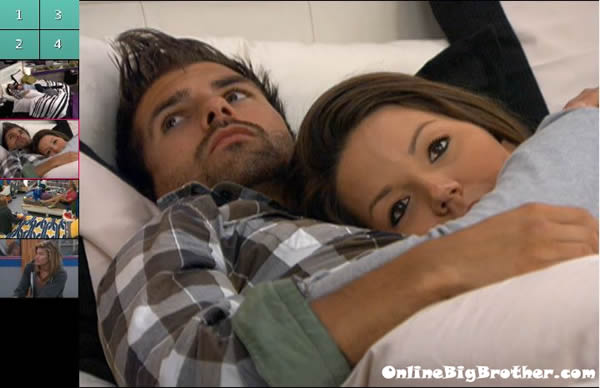 12:30pm Frank leaves the room. Wil tells Janelle that he basically just got threatened by Frank saying that if he doesn't take off Ashley they will all be gunning for me. Janelle says that he is a fu*cking idiot. Wil says that he already made a promise to Joe that he will take him off, so I will if I win. Janelle says yeah fu*k them you need to do what you want to do. Wil says can you believe he threatened me, the worse thing we can do is lose Joe. Janelle tells Wil to try to make some deals.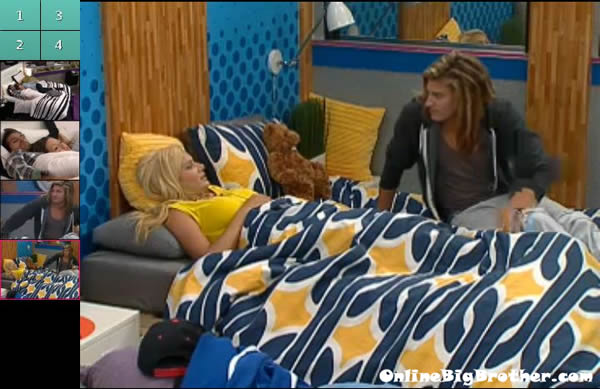 Share it YO!
Tweet