POV Holder:
IKA
Next POV
?
POV Used
No
POV Ceremony
March 17
HOH Winner:
IKA
Next HOH:
March 20
Original Nominations:
Paul & Heather
Current Nominations:
Paul & Heather
Last Evicted Houseguest
Kyle, Anick
Have Nots
Jon, Allison, Paul
10:40pm Arlie and Sarah Hot tub
It's raining outside so they decide not to stay
Arlie asks her if she's good with voting Paul out. Sarah says yes she just wanted to make sure the group had a chance to talk it over and she's glad they did.
Heather joins them but they are already leaving. Heather by herself looks up at the rain says she likes the rain but her boyfriend hates it, "The only thing we disagree about.. like ever" (Ahh.. )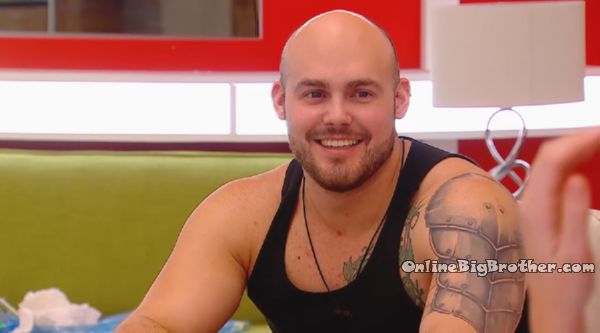 10:54pm
Some of the house guests are getting ready for bed. Andrew is in the kitchen with Sabrina, Allison and NEda. HE's happy cause as of right now he's getting his own way.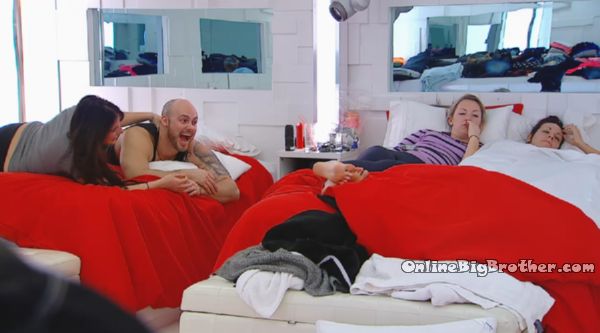 11:09pm Bedroom Andrew, Sabrina, Heather, Allison, Kenny and Sarah
Random chit chat. Some talk about Fart in your mouth Girl the hit song for Big Brother Canada 2.
Sarah calls the younger girls "the gremlins" because they are only active at night. Jokingly asks the Gremlins to please leave them alone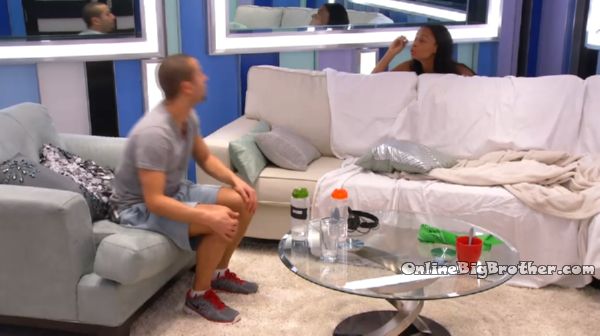 11:15pm HOH Adel and Ika
IKA says if the girls win HOH they will be putting up Paul. IKa adds that Sabrina has been mentioning Adel's name a lot.
IKA cannot stand Sabrina, says that Sabrina has gotten so paranoid, "She told me she doesn't want to win this HOH and if she does win she's playing it safe"
Adel wonders who else beside Paul. Ika says it's the new girl because the new girl land Andrew are close.
If Adel thinks he's going up he'll tell Sabrina he'll use his power and put up Sarah. Adel and IKA believe that Sabrina and Sarah are very close.
Adel says the second tweet he got when he won the contest was , good work Adel for seeing through Sabrina.
Adel calls Rachelle a "Fergazi" or fake diamond
IKA says she doesn't have any close girls alliance.
Adel can't stand any words that come out of her mouth.
IKA says she has to be nice to Sabrina right now because she will turn the entire house against her.
Adel – "She is such a manipulating devil"
IKA – "I Thought she was close to Rachelle but now she is close to Sabrina. IKA though the was close to Neda but know she's been seeing Neda so close with Jon.
Adel says he's been talking to Jon and Arlie lots.
IKA – But they talk to Kenny
Adel adds that Arlie, JOn know that the big fish have to go.
IKA stresses that Big Jon is with Kenny he can't trust them
Adel doesn't trust them he's just giving them information, "they are all ratchet a$$ hoes"
Adel says he promised Arlie and Jon that I would vote for them in the jury. He laughs says IKA is the only one that has done something for him in the game the guys have done nothing he's got IKA's back.
Adel is worried about Sarah, Ika isn't worried Sarah promised she is voting out Heather.
IKA – This is the only secret Alliance there is"
Adel – "everyone knows about me and Paul and the other alliance but nobody knows about us"
(At one point IKA hides behind the couch tells Adel this is so if anyone comes in she won't be seen)
11:41pm Kitchen Sabrina, IKA, Rachelle, Andrew and Allison
talking about Aaryn from last years and all the racist things she said.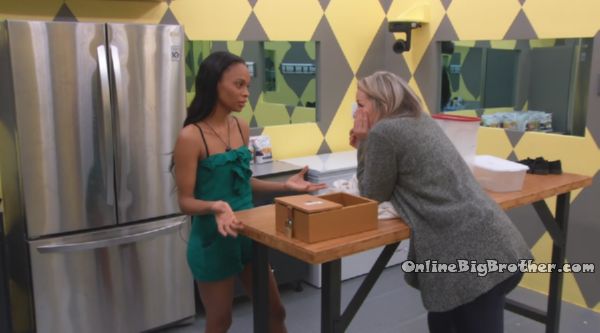 11:45pm Storage room Allison and IKA IKA wants to know where Allison is voting so that she can at least prepare what to say if it's a tie. Andrew walks in.. Ika wants at least 5 minute heads up she promises she will not be mad.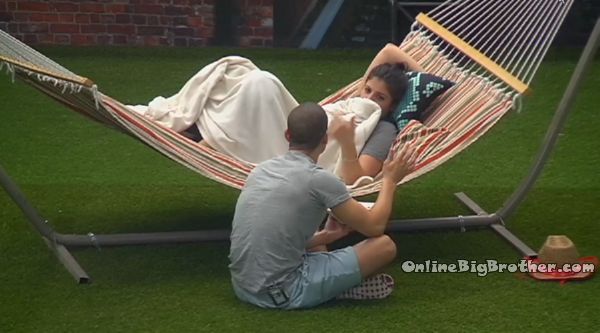 12:00AM Hammock Adel and Sabrina
Sabrina telling him he has to use his power or it's useless. Adel explains the only reason he told people about his power was in the case where PAul leaves he ha 0.00% alliances in the house.
Adel points out if someone puts him up he'll use his power and put the person best friend up as a replacement.
Adel would rather face the girls in the end than the boys
Adel – "I know if I'm against a stallion or a buck I'm going to get kicked in the teeth"
Sabrina tells him if he goes up it'll be solely because the HOH wants to flush his power. Adel says if he wins HOH he's taking a shot at their crew (BoyS) Sabrina asks him why. Adel explains he's got no crew in this house they've been in the house for 20 days and he's got nobody. He's hoping if a big move happens fighting will start in the house and someone will come up to him and say "Hey you wanna join our crew"
Adel again stresses all he's got is this power and if he goes up he'll use it to take out the HOH's best friend.
Adel – "I don't want to use my card I would rather not"
Andrew joins them picking his nose.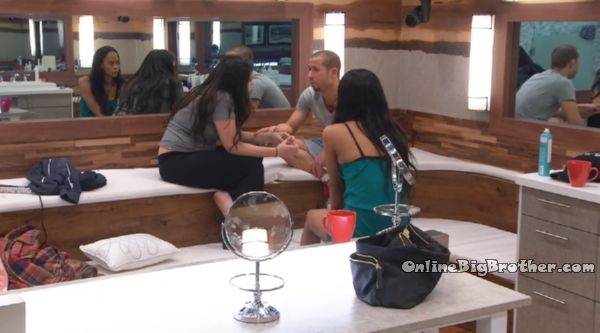 12:22AM Sabrina Adel and IKA
Sabrina and Adel make a deal not to put each other up until Jury house.
IKA clarifies says if we don't f** with you you won't f** with us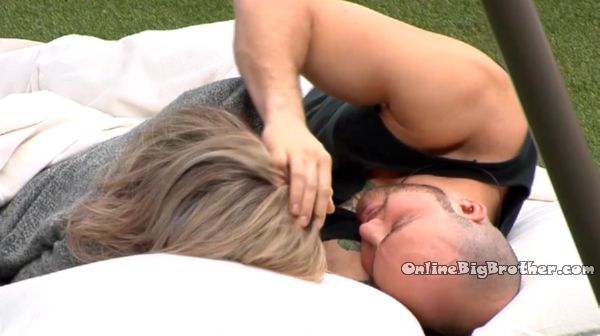 12:30AM Andrew and Allison backyard
Allison thinks IKA knows she's voting with the guys. Allison asks if it's going to be a tie. Andrew says the vote is 6-4 PAul is going home. Allison hopes Paul goes home other wise they are screwed. Andrew doesn't think they are screwed just thinks it'll be a bit tougher.
Allison – "I don't feel pretty here.. theses girls are crazy"
Andrew says he thinks she's beautiful
Andrew tells her to trust him she is safe next week the only girl that would put her up is Rachelle.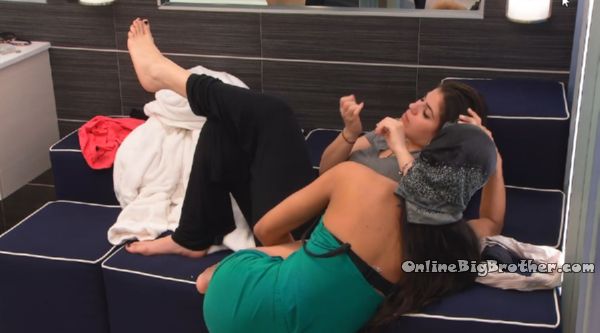 12:45AM Sabrina and IKA HOH Bathroom
IKA saying that she doesn't trust Neda and Sarah they knew about Adel's power Jon and Kenny must have told them before the girls did.
IKA thinks she is the deciding vote, She's a bit worried about Neda. IKA wants Sabrina to go up to Sarah and ask her who she's voting for. Sabrina thinks IKA should do it.
Sabrina points out that Sarah has been with Kenny all day perhaps she is going to vote out Paul.
Sabrina and IKA agree if they don't have the votes to keep Paul they need to make sure they stay in the good books with Heather.
Sabrina is going a good job of playing dumb and making IKA think she has no idea what Sarah is doing.
Sabrina suggests if Sarah has flipped they tell the girls to vote out Paul that way Heather is still on their side and so are the boys. IKA – "I really want Paul here"
IKA stresses when Sabrina goes to talk to Sarah to not make it sound like it's OK to vote out Paul.
Sabrina says she heard that someone told her Adel told IKA about his power. IKA – "I did not know.. he never showed me a card he never told me anything"
Sabrina mentions it was Adel that told the person that told her.
IKA is starting to get scared, says it's pathetic that only week 3 and the girls alliance is already fractured. "If this happens there was no girls alliance"
Sabrina has noticed that Sarah goes back and forth a lot. Ika says Sarah told her she is good, "Is she lying to us"
They decide to go see if Sarah is up to ask her who she is voting for.

(Video coming.. it's long)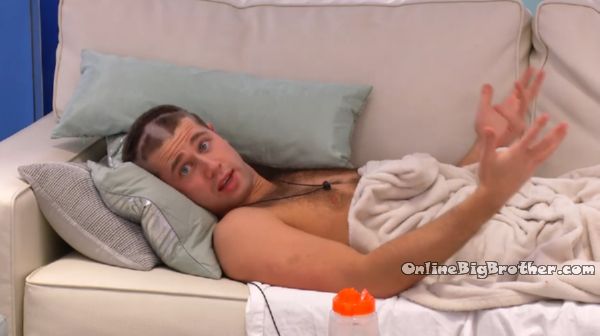 1:24pm HOH Arlie Sabrina and IKA badgering Arlie enough about how is staying and going and Arlie gets confused says Paul is going. He corrects himself says Heather.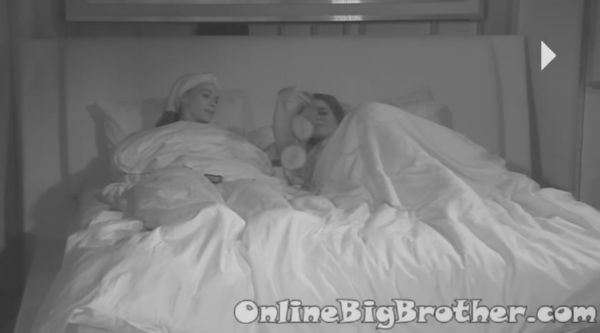 2:00AM HOH Sabrina, IKA and Arlie IKA is going over her tie breaking speech. Ika says if Sabrina wins HOH she should put up Allison and Paul.
IKA calls Andrew "Nose Picker" says one reason to keep Adel around is because he cooks and doesn't pick his nose. Adds there's another person in the house that cooks all the time and picks their nose all the time.
Sabrina says he's a manager of a restaurant.
IKA – "I would never eat at his restaurant .. Nose Picker"
IKA tells her they need to get Kenny out of the game. "You have no chance with him in this game"
IKA says Sarah will vote Andrew out.
They run through a bunch of scenarios if Andrew or Kenny win HOH. IKA is worried but thinks Adel is the bigger target.
IKA says out of Neda or Rachelle she would vote out Rachelle because she doesn't do anything, "I'm not attached to them".
Sabrina wants to know who Adel will put up.
Ika says Adel will put up Andrew and Kenny. Ika doesn't like Andrew and thinks the house will vote him out. She tells her "the boy" Sabrina likes is a complete a$$hole and he's going to go home, "He plays with your emotions"
Sabrina defends Andrew says he's area really nice guy.
IKA -"He's only going to get worse moving forward.. Imagine what he'll be like when his neck is on the line"
Ika asks if Andrew and Rachelle are on the block who will she vote for.
Sabrina = "I would vote Rachelle to stay"
Ika feels bad for Paul because nobody talks to him. Sabrina calls him boring but says she tries. IKA – "The way we are treating Paul.. it's a little disgusting"
IKa thought Andrew was a good person before and she defended him when Paul called him racist, she takes it back that he was a nice guy. IKA thinks Andrew is a sexist and a bully. Sabrina doesn't think he is sexist, says "one" thing doesn't make you a sexist.
2:46AM Everyone sleeping… here's the picture
Want to watch the Big Brother Canada 2 live feeds? Bypass the geoblocking with HideMyAss VPN and be Canadian Anywhere:

(It's tough to watch Big Brother Canada from the US. Circumvent the Geo Blocking and watch the Show and the Live feeds straight off Slice's website. Using a pay VPN is very easy and free of malware, I do not recommend using a free service as these are notoriously trouble. $11.00 A month Sign up here
[polldaddy poll=7877882]