POV Holder:
Jessie
Next POV
Aug 10th
POV Used
YES
POV Ceremony
Aug 5th
HOH Winner:
GM
Next HOH:
Aug 8th
MVP:
AMERICA
Original Nominations:
Candice, Jessie and Amanda (MVP Nom)
Current Nominations:
Candice, Spencer and Amanda (MVP Nom)
Last Evicted Houseguest
David, Nick, Jeremy, Kaitlin, Howard
Have Nots
no have nots this week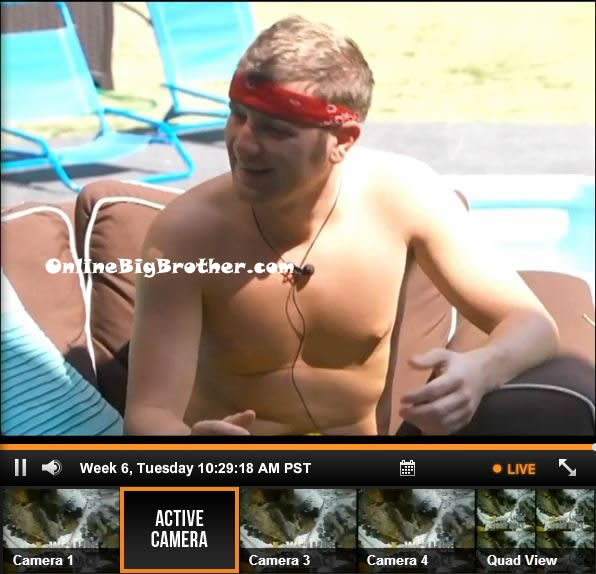 10am – 10:50am Big Brother wakes up the house guests. When the live feeds return Judd and Helen are in the bathroom. Judd heads out into the backyard where Andy is sitting on the couch. Judd asks Andy if Candice thinks she is safe. Andy says he doesn't think so. Judd comments that she only offered that she could cook for me. I would think about it if she at least offered me something good like being loyal to me or something. Andy says that Candice said she was not going to campaign because she isn't that type of person. Judd says look at who your up against it wouldn't be hard to campaign. Andy agrees. Judd comments at how bad it would have been if Ginamarie really had nominated us. Andy says oh yeah. Judd says we can't let Ginamarie win another HOH. I told you it would be a fiasco. She is loyal as sh*t though. Andy says Ginamarie can't be promising everyone safety though we're running out of people. Helen comes out into the backyard and starts running. Judd wonders why Ginamarie didn't automatically think I wouldn't vote out Candice. People don't think we are close do they? Andy says no. Andy says from a personal stand point I like her but from a game point she has the worst game. Judd laughs at how he thinks its weird Gina got photos of herself. I don't want photos of myself, why would I want that?! Andy says yesterday I saw Ginamarie kissing Nick's photo. Judd says Ginamarie said he (Nick) should be scared when I get out of here.. Andy comments on how Ginamarie said to Jeremy and Kaitlin so you are in love. Judd laughs. Judd and Andy discuss past seasons of Big Brother and who's won America's Favourite. Andy comments that he thinks he will go back to sleep.
Use the Big Brother Live Feeds to FLASHBACK to SEE what they can't show you on TV:
BB15 N!p Sl!ps / N*des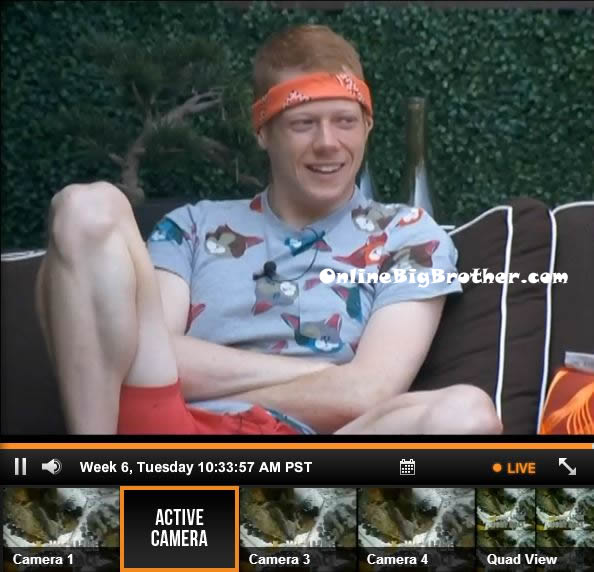 11am – 11:30am Aaryn is now awake and in the kitchen. She heads outside and Helen asks her if she can talk to her. Aaryn says yeah. Judd starts to come out and Helen tell Aaryn she will talk to her later. Aaryn heads inside and Judd and Helen talk on the backyard couch. Judd asks if there is anything new game wise. Helen says no just feels she doesn't want to vote out Candice because she likes her but I don't want the house against me. Some times you just have to do what the HOH wants. Helen talks about she wants Spencer to go to jury and says that when Candice called him out she felt awful – it was a public lynching. Aaryn joins them. Helen talks about how well Spencer handled it. She says that she loves Spencer. Aaryn comments that Candice said she is going to give one more "keeping it real with Candi" speech. Judd thinks she will do it the night before. Helen thinks it will be during the live show. Aayrn says that she is scared and thinks she will be doing some under the bus throwing. Helen says that she is going to bring up how me, Elissa, Amanda and McCrae are working together. Judd says she wouldn't do that would she, she's your friend. Aaryn asks do you think she knows she is going home? Helen says yes. Helen tells Judd and Aaryn that Elissa pulled her aside last night and told her that Jessie and Candice are crazy. Helen says it's good that she has finally come around.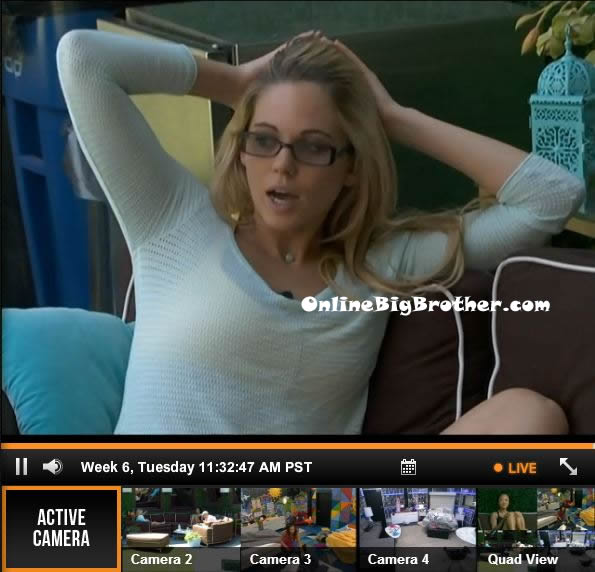 11:45am – 12:10pm Aaryn says that Ginamarie is really scaring her. She says that she had a full on panic attack and cried in the cockpit room about what Ginamarie was doing. Aaryn says that when Ginamarie called Judd into the HOH room before nominations it scared her. Helen heads inside and Judd asks Aaryn what Helen was talking to her about. Aaryn says that it was just her apologizing to me about what she had said in the diary room sessions in the beginning and how now that she has gotten to know me she likes me. Helen comes back out and Judd heads inside. Helen talks to Aaryn about how she wants to work with her and how its the only way they will be able to get some of these people out and go further in the game. Judd joins them again. They talk about how worried they are about Ginamarie being in power again. Aaryn says that if Ginamarie got in power again she could really ruin a lot of the things we have worked so hard for. They discuss how showmances ruin your chances of winning the game. Judd says that he and Jessie were a never-mance. The conversation turns to talking about whale hunters and the Sea Sheppard's that try to stop them.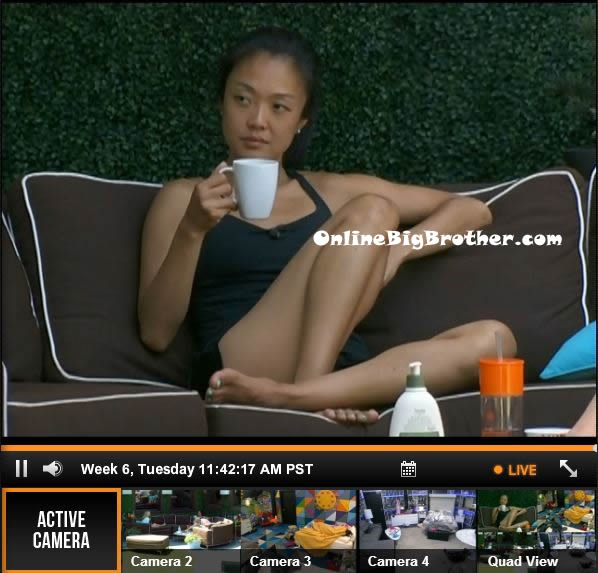 12:15pm – 12:50pm Jessie joins them outside on the couch. They talk about random things. Judd gets called to the diary room. Jessie asks Helen if she feels good about voting out Candice. Helen says we will still be friends after the game. I will miss her. Do you think she knows she is going to be going? Jessie says for sure she knows she's going. Jessie says if I don't win HOH next week I will be going home after this week. Helen disagrees and says Elissa, Amanda, Ginamarie, Judd could all go home. Jessie says but some people have the votes to stay and others don't. Helen thinks she could win this week HOH. You won the veto. You won the veto based on your relationship with Judd. That's still winning if you know what I mean. They talk about how if the HOH is a knock outs competition it will really show whos working with who. Helen asks how do you think Spencer is doing? Jessie says I'm not really concerned about him. He is doing a great job of laying low though. Helen and Jessie continue to talk about random things about their outside lives.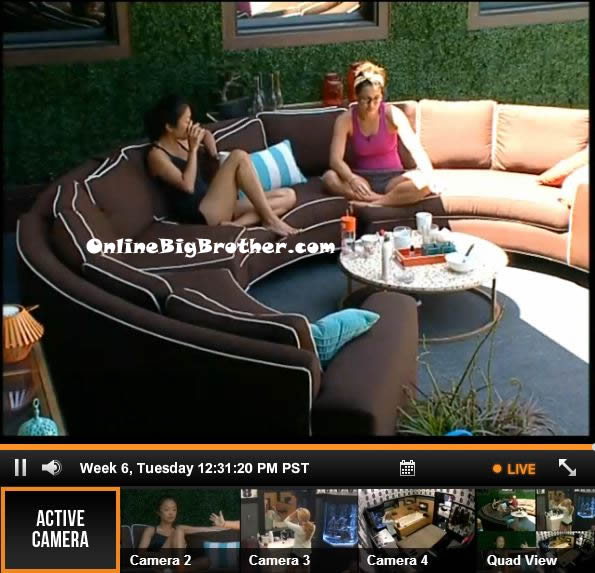 1:10pm Candice is in the bathroom getting ready for the day. Meanwhile out in the backyard Judd joins Helen and Jessie on the couch again. Aaryn is working out. They talk about how they want to drink before Friday when they think they will definitely have a havenot competition.