POV Holder:
?
Next POV
?
POV Used
?
POV Ceremony
March 24
HOH Winner:
Racehlle
Next HOH:
March 27
Original Nominations:
?
Current Nominations:
?
Have Nots
Adel, Sabrina, Heather, Arlie
Want to watch the Big Brother Canada 2 live feeds? Bypass the geoblocking with HideMyAss VPN and be Canadian Anywhere: For ONLY $11.00 A month Sign up here

8:40am Big Brother wakes up the house guests. In the bedroom – Ika, Jon, Neda, Allison are talking about when the nominations will be. Ika says the nominations will be tomorrow. Allison comment on how sleeping in the same bed with Andrew, he doesn't just snore he flails around whenever he moves. She says he woke her up ever time. Ika tells Adel that because of his hair cut he looks like a pedophile. Allison asks Ika if she has any idea what Rachelle is going to do. I am kind of scared. Should I be? Ika says she kind of knows what Rachelle might do. Ika warns Allison to not tell anyone what she tells her because it will get around. Allison says I don't see why I am a big threat. Ika says I don't think you are but people see you as being close to Andrew. Ika says I think Heather is her main target. Let Heather sink her own ship because I am sure she will. Allison says by doing that does she not realize she's taking out the girls? Ika says I am pretty much at the bottom of the girls. Allison leaves. Adel says everyone is going to lie through their teeth. Is Heather back being friends with Sarah? Ika says I can't work with stupid. Adel says Rachelle is a stupid little kid. Ika says why go after Heather, she can barely dress herself. Adel says let her put up Heather and Allison. Some of the guys will vote to evict the new girl because of how close she is with Andrew.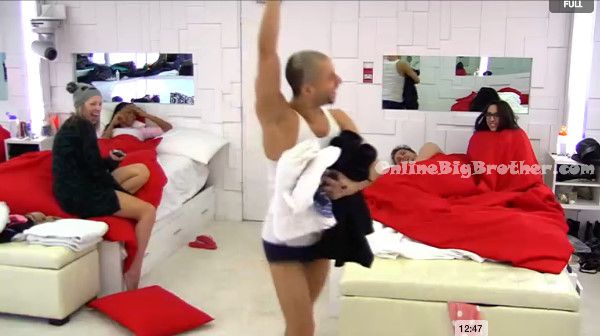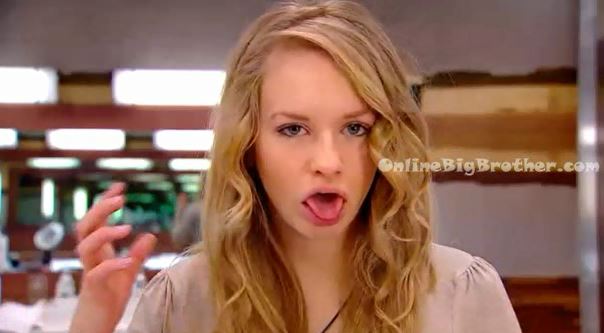 In the bathroom – Heather talks to Andrew. Heather tells Andrew that he wasn't Ika's target. Andrew asks who was the target? Heather says that if I came off the target was going to be Kenny. Heather says that she thinks they're awesome. Thanks for keeping me around! Andrew tells her I wanted Paul gone, it wasn't your time to go. Now you can work with me. Heather says I'd love that! Andrew tells her not to let people get to her. Andrew leaves. Heather hears the house guests scream when Rachelle is called to the diary room. When Heather hears them she makes the face in the photo above.

Out in the hot tub room – Sarah, Kenny and Arlie are talking about Sabrina on slop. Kenny says we are going to have a lot of patience with her. It was literally 2 minutes of her being on slop before she started complaining. Don't EAT AROUND ME! They head back inside. Andrew gets his pea coat that big brother hadn't released to him yet. Andrew holds up the pack of smokes that was in one of the pockets and says what now b***hes! Andrew, Kenny and Jon run out into the backyard screaming. (They were all out of smokes and now have a pack.) They head out to the hot tub room and talk game. They talk about how Rachelle said she wasn't going after big competitors. The guys high five and talk about playing it cool.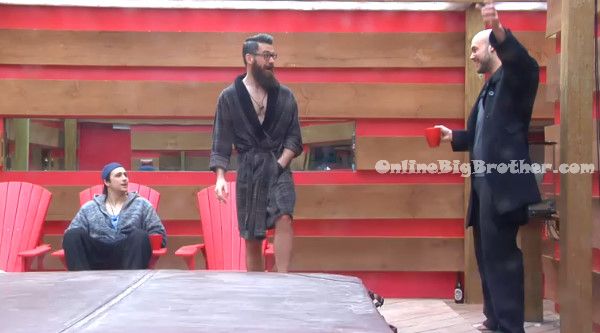 9:55am Sabrina and Sarah head out to the hot tub room to talk. Sabrina says originally Rachelle was going to put up Ika and Heather but Adel swore on his Khron that he would use his veto power to save her. Sabrina says that Adels power runs out this week so we just can't put up Ika this week. Sabrina says the plan now is we put up Allison and Heather and who ever wins the veto then no one uses it and Heather goes home. Kenny joins them. Sabrina says that she is not going to let Ika attack Rachelle like an animal. I am going to talk to Allison and promise her she will not going home.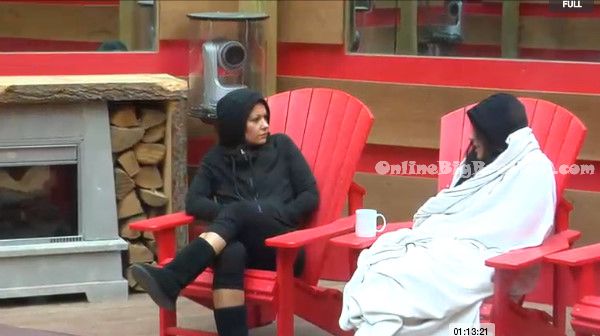 10:05pm – 10:25am Big Brother blocks the live feeds .. The house guests think that Rachelle is going to get her HOH room now..
10:30am The live feeds return and Rachelle has gotten her HOH room. Jon is dancing around while listening to her HOH music. Arlie, Adel, Allison, Kenny, Neda and Sabrina are all sitting on the HOH couches hanging out. Adel is reading her HOH letter.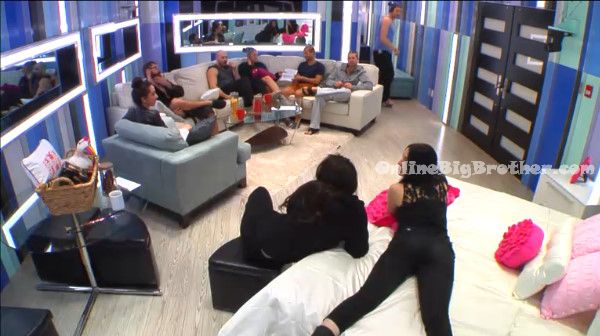 Allison talks to Andrew telling him that she's worried she's going up on the block.
11am Big Brother tells the house guests that the house is off limits. Rachelle and Sabrina head out to the hot tub room to talk about her nominations. Adel then joins them and Sabrina asks him if he would use his veto power to take anyone off the block. Adel swears that he won't use it this week on anyone. He says as long as I don't go up, then I won't use it. Rachelle and Sabrina promise him that he isn't going up. Adel says next week is my last week to use it and if I am not up on the block and if the whole house wants me to use it to make a power move then I'll use it.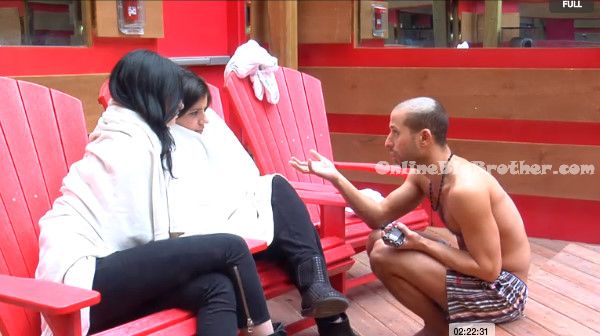 11:10am – 11:30am Ika and Sarah are sitting by the pool talking. Ika is explaining to Sarah how she wanted to go after Kenny but that the other girls were too scared. Sarah tells Ika that she knows Ika and Adel have something.

Stay connected and interact with other Big Brother Fans on our Facebook page.
And Follow: @BigBspoilers and @Dawgsbigbrother on Twitter for the most up to date spoilers.