POV Holder:
?
Next POV
?
POV Used
?
POV Ceremony
March 24
HOH Winner:
Racehlle
Next HOH:
March 27
Original Nominations:
?
Current Nominations:
?
Last Evicted Houseguest
Paul, Kyle, Anick
Have Nots
Adel, Sabrina, Heather, Arlie
12:15AM Hot tub Room Adel IKA and Arlie
Heather tries to join them but IKA order her to leave. On her way out she fingers IKA. Great capture via @Bmcooney
(Best to watch these fight videos as my text does not do it justice)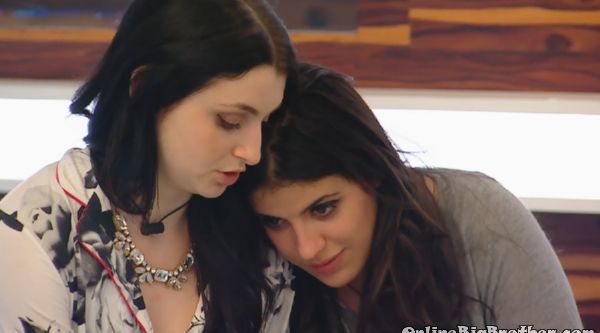 12:22AM Sabrina and Racehlle POOLSIDE
Sabrina says that IKA is trying to make them think that Sarah is the brains behind the operation to keep Heather. Rachelle says for now she trusts NEDA but doesn't trust IKA.
Sabrina says that Heather is going next week followed by Heather.
Sabrina says now all they have is each other. Rachelle thinks Sabrina has the boys to. Sabrina says to an extent because she went against them today.
Sabrina says the boys wanted Heather to win so that she would put up IKA.
Sabrina warns if they don't take IKA out this week then next week she can compete and if she doesn't win the HOH they are dead the boys will take them out.
Sabrina wonders if Adel will use his veto on Ika
Rachelle thinks he'll wait and use it one him, "
If he uses the veto I will be f****"
(The current plan is to put up Allison and Heather and try to Backdoor IKA. Sabrina may wants Allison gone)
12:30AM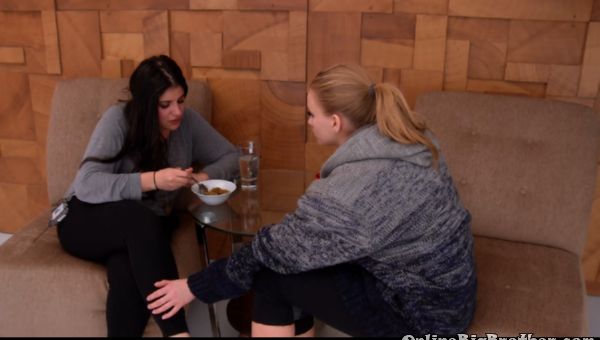 12:36AM Heather and Sabrina
Heather says she's nots a bad person..
Sabrina – "you told me to s*ck a d1ck"
Heather – "no I told Rachelle to su*k a d!ck because she was being mean to me"
Heather says she's not the type of person to make up things.
Sabrina starts to cry because the slop is so gross. Heather says slop is rough to be on but she'll be there for Sabrina. Sabrina thanks her being cordial.
Heather – "IKA told me a lot of sh!t before she tried to kick me out of this house.. that is why she is so mad"
Heather says that IKA told her that Sabrina and her were not close.
Heather adds that IKA told her Rachelle and Sabrina are close and that Sabrina and Rachelle use to make fun of her.
Sabrina wants to bring IKA in and clear it up. Heather doesn't want to IKA just was trying to get her out of the house.
Heather says from what IKA todl her Rachelle has your back 100% but IKA also mentioned that Rachelle and IKA would also talk about Sabrina. Now IKA says whatever she tells Rachelle goes to Sabrina.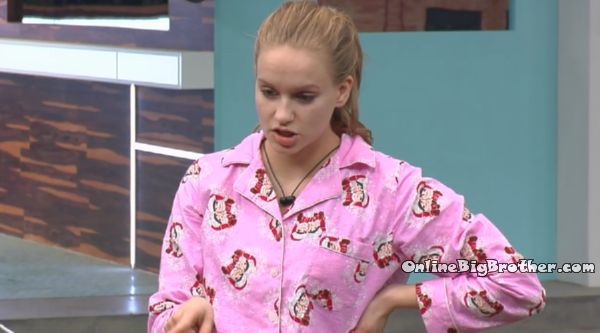 1:06AM IKA and Sabrina
Sabrian confronts IKA about what Heather told her.
IKA Swears on her kids that she never said these things, Says that Heather is making stuff up. IKA now claims that she only was with Heather those nights in the HOH because she was going home and IKA was picking her brain, "what else can I do for fun"
IKA says Heather was telling her that Andrew is using Sabrina and doesn't like her.
Ika lists of a bunch of dirt that Heather told her about Sabrina and Andrew. Heather told her she likes the new girl but doesn't like Rachelle. She said she liked Sabrina but isn't sure she can trust her.
IKA again and again claims she was only picking Heather's brain because she thought Heather was leaving.
Sabrina calls Heather over asks IKA to please let Heather talk and not get too heated.
IKA – "I'll punch her in the face"
Heather comes by and IKA says she's not going to talk to Heather.
Sabrina asks for clarification about somethings Heather is saying. Sabrina brings up when was crying did IKA say Sabrina was searching for attention.
Heather corrects them says that she said "It could be seen as emotional" not that Sabrina is crying for attention.
IKa start yelling at her "Did I say that DID I SAY THAT"
Heather is trying to explain. IKA continues to yell "Did I say that DID I SAY THAT"
Sabrina asks her to be quiet and let her finish
Heather no I didn't say you said Sabrina was a emotional wreck and cried for attention.
IKA – "You are a liar"
Feeds cut
Heather – "Don't f*&** call me a liar.. this is bullshit you lied to me"
Heather – "IKA shove it up your a$$"
IKA – "Take your pimple limps and leave b!tch"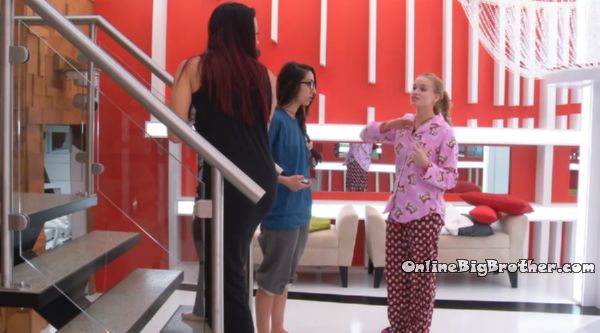 Heather leaves inside tells Sarah and Neda that she just told Sabrina all the crap IKA told her about Sabrina and RAchelle and now IKA is freaking out.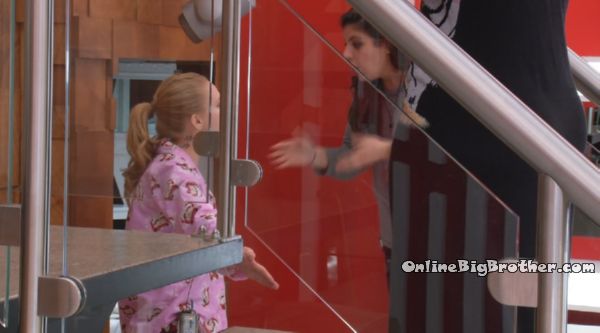 Sabrina comes back in Apologizes for laughing when Ika called her a pimple lip b!tch, Heather doesn't care about that says she's not going to talk to someone that calls her a liar and yells at her.
Heather – "I'm not going to stand in front of IKA while she's making fun of me"
Heather – "why did you make me go over there she's so mean to me"
Heather – "She's a evil B1tch"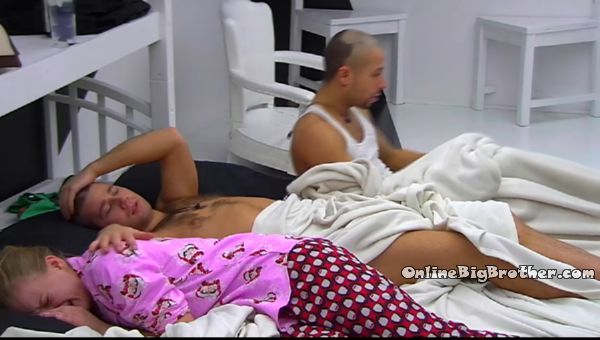 IKA chases Heather down and Heather runs into have nots to cry
IKA – "Good let her cry she's a f*** liar"
Adel comes out and tell them all to chill out.
Sabrina brings up how Heather said IKA told her Sabrina makes fun of heather eating all the cookies. Ika says she's a liar IKA never said those things. (They are both lying but IKA is lying more.. LOL)
1:26am Storage room IKA and Sabrina
IKa keeps going off that Heather is a liar. Ika says Sabrina knew she was going to go off on Heather that is why she pressed they talked.
IKA – "Ratchet a$$s pimple a$$ b!tch"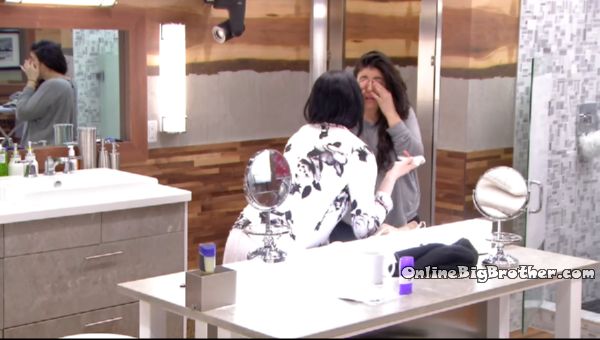 2:00AM bathroom Sabrina and Rachelle
(Conversation starts on the hammock and ends in the bathroom)
Talking about getting IKA out..
They are worried Adel will use the veto power on IKA. Rachelle thinks it would be "Kinda Dumb" if Adel did that.
Sabrina – "You know IKA is going to flip when you put Allison and Heather up and not Kenny"
Rachelle – "My HOH not yours"
Sabrina – "She told Heather she hated you"
Rachelle – She's crazy
They start going over schemes to prevent Adel to use the power on IKA. Racehlle feels confident he won't. Sabrina wishes Sarah would have won HOH because then they could have gotten Sarah to do all this dirty work.
Rachelle – "I don't care about the dirt"
Sabrina – "So you don't care if she hates your guts"
Rachelle doesn't
they head inside and can hear IKA yelling in the diary room.
Sabrina wonder if it'll be better for them to take out Heather right now. Rachelle thinks next week she will be the target. Sabrina doesn't she's convinced it'll be Allison, "Trust me".
Sabrina's main worry if they take out IKA she will go around and tell everyone the things they say.
Sabrina points out how NEda was pretending to be shocked at the fight between IKA and Heather.
Racehlle is thinking maybe getting Heather out is best then they can use the guys to get out IKA.
Sabrina counts the votes to evict IKA the following week. Jon, Sarah, Andrew, KEnny, Allison, Arlie against me you NEda and Adel and we don't have to expose ourselves.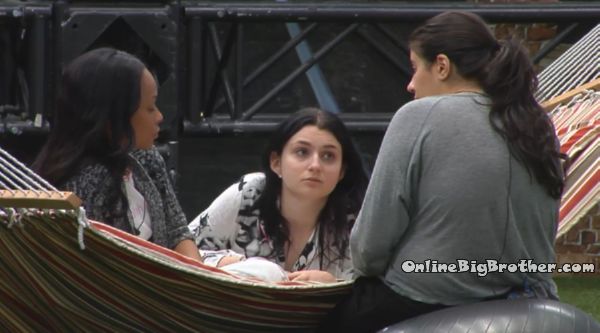 2:20pm Hammock IKA, Racehlle and Sabrina
Ika is trying to talk them into taking out the guys instead of Heather. She says that was a big mistake she made.
IKA says there is a guys alliance and the new girl wit with them, "They are coming after our alliance.. they are not going after Allison YET.. they are coming after us first"
Sabrina says if Rachelle targets the guys they will be coming after her.
IKA – "If you put Heather up it's a complete waste"
Rachelle tells her she's thinking about putting up Heather and Allison. IKa wants Andrew up, "So what you are saying is we're leaving 6 strong players in the game"
Ika tells them that Jon has telling her if she had put Andrew up he wouldn't have been coming after her. JOn also told her Kenny felt the same way.
IKA wants Kenny and Andrew nominated. Sabrina explains POV will be played and either Kenny or Andrew will come off. Since the guys have the votes they can evict whoever is the replacement nominee. IKA suggests if that happens they put up Jon and make it difficult for the guys. Sabrina says Rachelle can't because she swore with Jon she would never put him up.
IKA – "Oh that is why he was so happy today"
IKA wouldn't mind the new girl leaving over Heather, she suggests putting up new girl and a guy on the block.
IKA strongly wants to take out the guys says she would have done it but she wanted to keep Paul so that they would have the numbers. Racehlle says the guys are not going to put her up so why make a target out of her.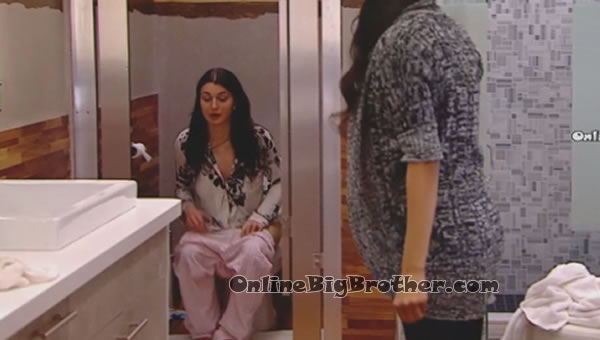 2:50AM IKa and Racehlle
IKa suggesting Rachelle puts up Sarah and Heather
Want to watch the Big Brother Canada 2 live feeds? Bypass the geoblocking with HideMyAss VPN and be Canadian Anywhere:

(It's tough to watch Big Brother Canada from the US. Circumvent the Geo Blocking and watch the Show and the Live feeds straight off Slice's website. Using a pay VPN is very easy and free of malware, I do not recommend using a free service as these are notoriously trouble. $11.00 A month Sign up here
[polldaddy poll=7898587]