POV Holder:
Kenny
Next POV
?
POV Used
Yes
POV Ceremony
March 10
HOH Winner:
Andrew
Next HOH:
March 13
Original Nominations:
Paul & Neda
Current Nominations:
Paul and Kyle
Last Evicted Houseguest
Anick
Have Nots
Rachelle, Neda, Heather and Sarah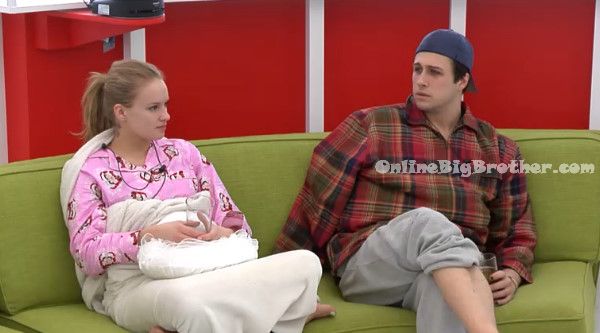 Want to watch the Big Brother Canada 2 live feeds? Bypass the geoblocking with HideMyAss VPN and be Canadian Anywhere:

9:50am Big Brother wakes up the house guests. In the living room Arlie, Andrew, Heather are waking up and talking about random things. Andrew leaves and heads up to the HOH room. Andrew talks to Kenny about how annoying Arlie is being already. In the storage room – Paul and Adel are talking. Adel says we need to win this HOH today or we're out. Paul says if we don't then we strategize. We come as a package now and everyone knows it. You never know if someone wants to flip the house we're two votes. In the bathroom – Ika and Heather talk about the cold showers. Ika wants to just use a wet towel to wipe her pits instead of taking a cold shower.
Out in the hot tub room – Andrew and Kenny talk about how the HOH competition is tonight. They talk about their goodbye messages and how mean they were. Kenny says my goodbye message to Kyle was mean. Andrew says mine to Kyle wasn't super overly mean but Paul's was pretty mean. Andrew says its not going to be half as mean as its going to be when we finally get rid of him.
10:50am In the bathroom – the girls are getting ready for the live eviction/HOH tonight. Sabrina tells them that they really can't be fighting any more. Neda agrees and says we need to enjoy our time here in the house. Sabrina comments on how yesterday was hard for Ika. Ika says thanks for reminding me.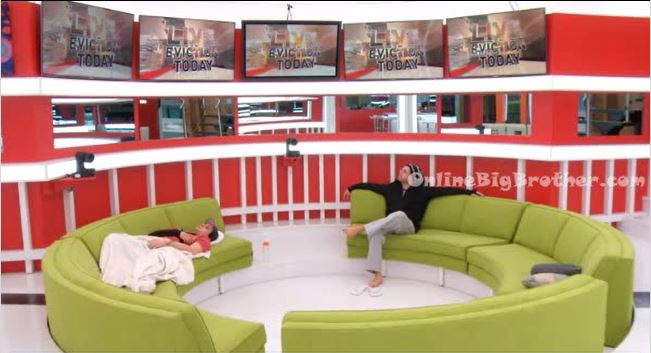 11:20am – 11:30am In the HOH room – Andrew talks about how he has an hour left in the HOH room before he has to move out of it. Andrew tells Kenny to just win it tonight (HOH). They talk about what the HOH competition might be. Kenny says if its a A or B question comp or True / False it is A or True always. Andrew says I can't compete. Kenny says oh yeah. Andrew tells Kenny to run it by the others. Meanwhile in the storage room – Sarah is talking to Sabrina about how she thinks we're good with the guys. Sarah says even if the guys start taking out the girls at least we aren't the first to go. Sarah talks about how Ika's tearing us apart. Rachelle joins them.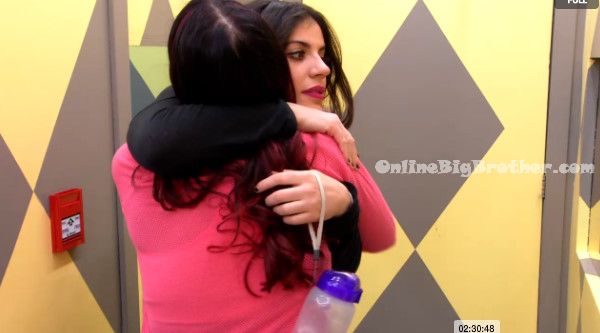 11:30am – 11:55am Up in the HOH room – Kenny, Andrew, and Arlie discuss needing to win the HOH tonight to stay safe. They talk about trusting Jon and going to the end with him. Arlie comments how how Jon brought up last night how much he liked being brought into their discussions. Arlie says we should do that more often. They agree. Kenny says that Ika and Heather are trying to strategize but failing miserably at it. He says that with Neda I just don't know where her head is at. Andrew comments on how the girls are falling a part and how one in particular ..the one we thought was of the highest caliber .. have you noticed any thing different about her. I am not going to say her name but she likes to eat a lot of candy. Kenny says that he hasn't really noticed it. Andrew says I have and I think that is really going to start to affecting them.



12pm – 12:30amBig Brother tells the house guests that the live eviction will happen in 4 hours. Big Brother tells them that the nominated house guests must have their bags packed and placed in the storage room and their small bags placed by the stairs in 3 hours. In the main bedroom – Paul, Kyle and Adel devise a plan to create confusion and chaos in the house to take the attention off of them. The plan to use the fights between the girls to stir the pot more and keep the girls fighting. Adel comments on how he and Paul are in a great position. Kyle asks what about me? Adel comments how Jon's shoulder is f**ked.. I don't care if he's here for the next two months. I don't even know why the doctors let him back in here. That will take weeks before it doesn't hurt to move it.
12:35pm – 1pm All of the house guests are sitting around the living room couch talking and joking around.
1:10pm- 1:20pm The live feeds are blocked for a few minutes and when they return all of the house guests are on a bedroom lock down. SABRINA says they're changing COUCHES around does that mean we're going to have a TWIST tonight? Big Brother tells them not to talk about production. Sabrina starts talking about her past relationships.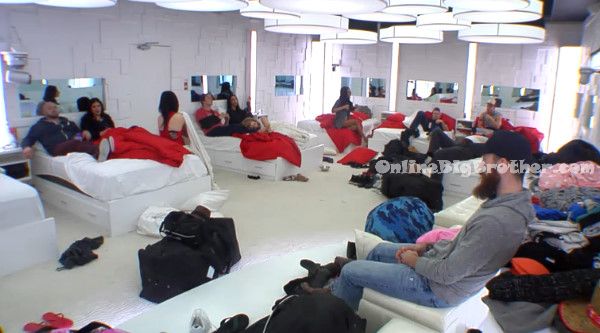 1:30pm – 1:45pm Big Brother cuts the live feeds…
2:15pm Still blocked.. and likely won't be back on until after the live show tonight.
Check out the NEW OBB Forum
https://forum.onlinebigbrother.com/
Stay connected and interact with other Big Brother Fans on our Facebook page.
And Follow: @BigBspoilers and @Dawgsbigbrother on Twitter for the most up to date spoilers.