POV Holder:
Kenny
Next POV
?
POV Used
Yes
POV Ceremony
March 10
HOH Winner:
Andrew
Next HOH:
March 13
Original Nominations:
Paul & Neda
Current Nominations:
Paul and Kyle
Last Evicted Houseguest
Anick
Have Nots
Rachelle, Neda, Heather and Sarah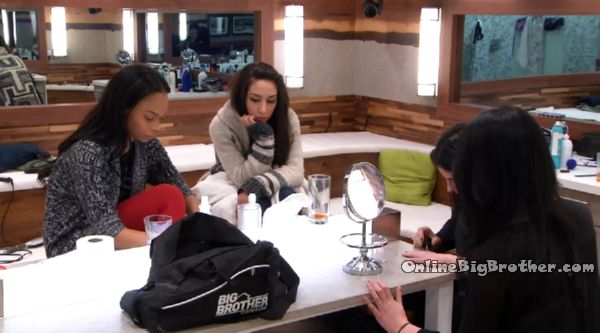 9:09pm Bathroom Neda, IKA and Sabrina
Sabrina saying that the boys and the girls are both scared to make a big move. She adds that last year nobody tried to get rid of Emmett and Jillian because they were too scared. IKA asks her if she is ready to make a big move. Sabrina says no way she's way too sacred.
NEDA asks what a big move is. IKA and Sabrina say a big move is getting rid of one of the strong players.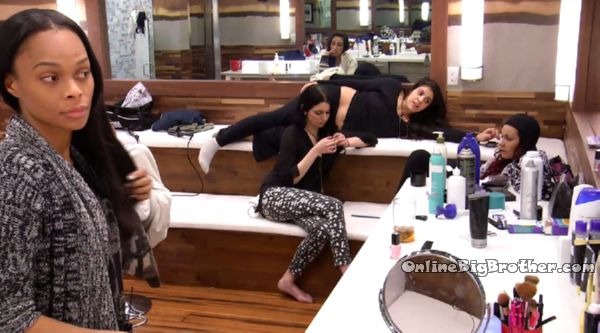 9:32pm Bathroom Sarah, Rachelle, Neda, Sabrina, IKA Talking about Heather. Sarah is really annoyed by her. IKA claims she's not bothered by Heather yet she keeps talking about how annoying her voice is. Sarah says the punishment punish them more than it punishes the guys.
IKA says that Paul told her he's done being crazy. Sarah – "I can't wait to say goodbye for real"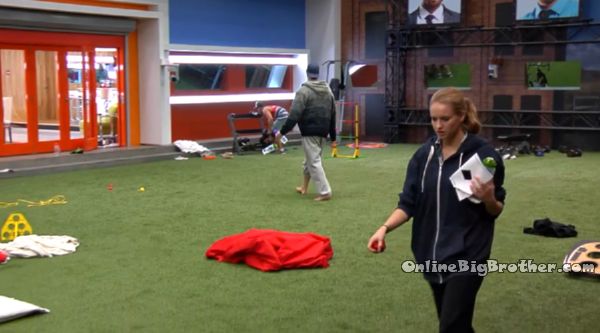 10:38pm Heather, Jon, and Adel clean up the backyard Heather is being very nice to JOn and Adel the guys reciprocate.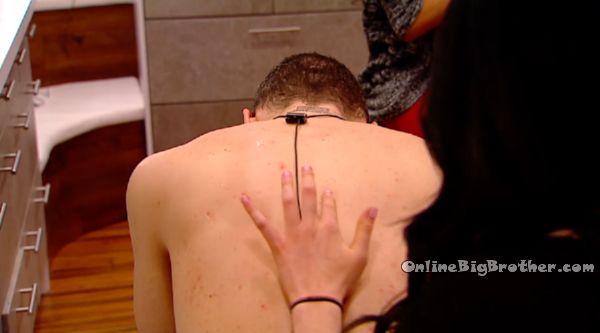 10:40pm Racehlle applying pimple cream to Kenny's back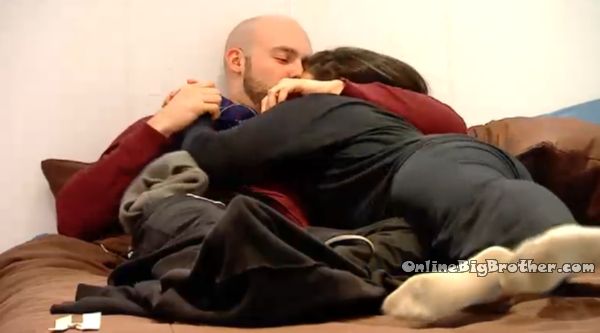 10:46pm HOH Andrew and Sabrina
Andrew says he's pissed but there is nothing he can do (I think because of the penalty) . Sabrina is worried that Kenny is mad at her. Andrew says Kenny is alright he's just being grumpy right now. Sabrina is thinks she was being annoying last night says she was joking around last night.
Andrew – "He's not upset with you at all"
Sabrina – "I'm really happy you are in this house "
Andrew – "I'm really happy you are in this house to makes it bearable"
They move onto the HOH bed where they cuddle close. At one point Andrew kisses her on the head.
)
)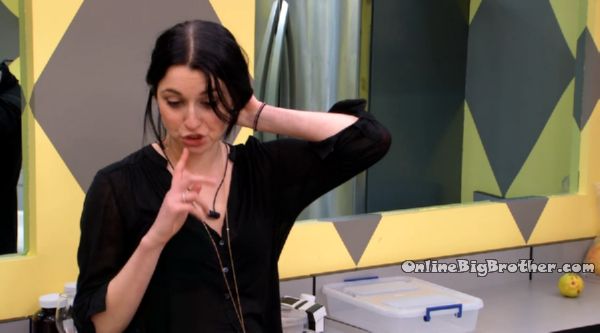 11:00pm IKA and Racehlle in the Storage room
Rachelle says she thinks IKA is playing a truthful game. IKA says it's hard because she feels she's nice to everyone and the one time something happens everyone leaves her. She points out that only Adel came to talk to he.
Rachelle – It's So annoying why can;t the girls trust each other
Rachelle and IKA agree that Sabrina talks a lot. Rachelle says she knows everything she tells sabrina gets spread around.
IKA – she's smart.. notice how she words things.
IKA – I don't think me taking one thing would warrant someone calling me a f** b1tch and telling everyone in the house. Rachelle swears that she is 100% loyal to IKA.
IKA – "Sabrina is telling me what you girls are saying behind my back"
Rachelle points out that she's been trying really hard to be quiet all day especially around Sabrina.
Rachelle wonders why Sabrina is turning on them. "Why is she doing this"
IKA – "I don't know.. I think she does like us"
IKA says that Sabrina isn't in the girls alliance. Rachelle agree they think if they are up on the block with Andrew Sabrina will not vote to keep a girl.
They both agree there are only two girls that are safe Sabrina and Sarah
IKA – Thats what Kyle told me.
)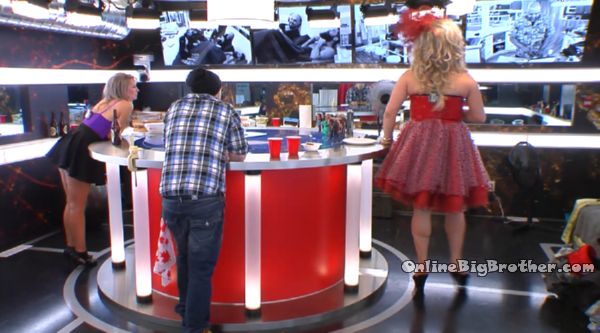 Forgot about these guys…
11:51pm Neda and Jon Bedroom Jon is under the covers in his bed, Neda is bundled up under the covers in hers. Neda is crying and Jon is trying to comfort her with words. Saying for her not to worry it's just a game.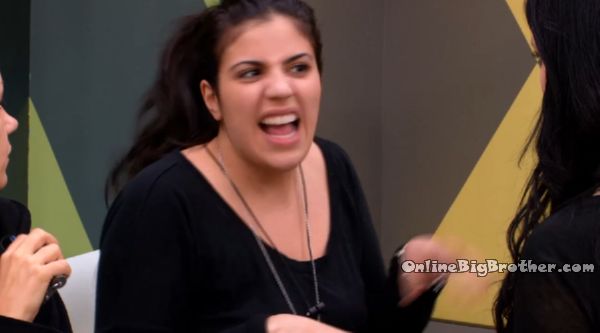 11:55pm Sabrina, Rachelle and Sarah They start talking about IKA and unraveling some of the things IKA said. Sabrina of courses starts to cry.. They all figure out that IKA is saying things behind people's back.
Sarah says she doesn't feel bad for yelling at IKA anymore. Rachelle tells Sabrina not to say anything to IKA for she will be F****
Sarah says that Heather and IKA were calling her a pill popper because she takes gravol for her stomach.
Sarah about Heather "I hate that B1tch"
Sarah leaves
Rachelle tells Sabrina she like her sister in this game.
Sabrina – "I want her out.. what a horrible f*** human being"
Sabrina – says Ika has the balls to make fun of Heather when she is exactly the same.
Sabrina – Noppbody likes her
RAcehlle – Neda likes her
Sabrina says she's going to put up IKA if she wins HOH.
(This is insane dude these girls are turning on each other so many times it's insane.. I have no idea where their allegiances are. I kinda believe IKA more than Sabrina but all these girls are believing Sabrina) By the way Sabrina did says some of the things IKA is being blamed for making up. If you watch the video of IKA crying here https://www.onlinebigbrother.com/sabrina-isnt-attracted-kenny-anymore-sarah-type-likes-aes/
12:20AM HOH Sabrina, Andrew, Arlie, Kenny, Racehlle, Sarah
Sabrina cries tells them about IKA spreading lies trying to get Rachelle against Sabrina. Arlie says IKA is a b1tch everyone knows that.
12:10am Bathroom the three bandito Kyle was listening in on Sabrina, Sarah and RAcehlle in the storage room.
Kyle – "lets just say i'm going to f** them over tomorrow.."
He explains that IKA is going to go soon, "There's a big Sh1t storm in the girls"
Kyle – If you guys f** over the guys theses girls will scramble.. IKA is f*** and Sarah doesn't like Heather.
Adel says Sabrina and Sarah are close.
Kyle adds that NEDA is also f*** with the girls allaince.
Kyle – "Whats going on is I'm going to be missing a catastrophic meltdown"
Kyle leaves says you can change the game of big brother with one word and ripe down alliance with 2 sentences.
(LOL the 3 banditos to the rescue)
)
1:05pm War room Alison getting down
)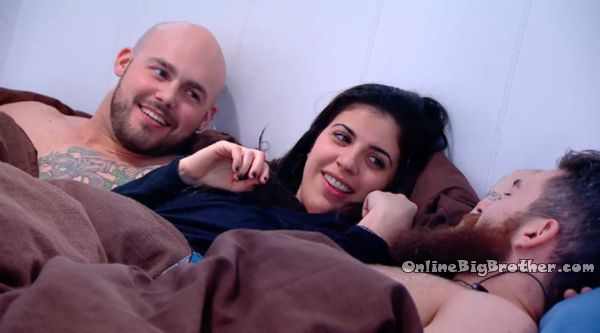 1:30AM HOH The happy threesome is back.. (Video is coming)
)
1:45AM Arlie and Jon are the only ones up, topic is about relationships.