POV Holder:
IKA
Next POV
?
POV Used
No
POV Ceremony
March 17
HOH Winner:
IKA
Next HOH:
March 20
Original Nominations:
Paul & Heather
Current Nominations:
Paul & Heather
Last Evicted Houseguest
Kyle, Anick
Have Nots
Jon, Allison, Paul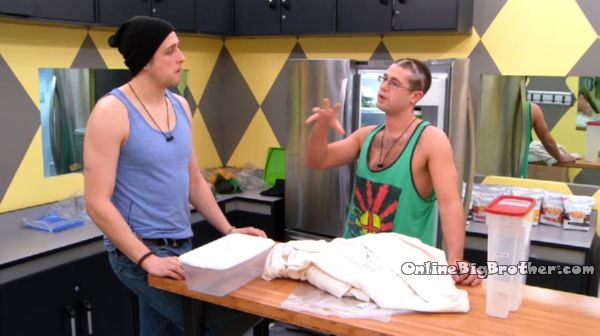 8:42pm Storage room Arlie and Jon
Arlie saying that Deli (Adel) is going to start trusting them more once Paul goes. Jon says that Kenny can stay close. Arlie doesn't think Kenny will have a choice.
Arlie mentions how Deli really wants Kenny gone. Arlie tried to plant an "Andrew seed" but Deli didn't buy it
ARlie – "I'm just going to let Deli say what he wants"
8:50PM Paul and Adel trying out the ping pong table
KIenny, Arlie, Paul and Adel all play.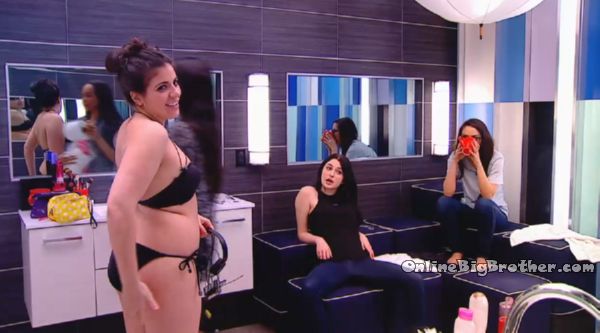 9:01on HOH Sabrina and IKA
IKA – "Heather you were so blind plotting and scheming in this house that you failed to see that everybody was plotting and scheming against you"
IKa claims Heather is to blame for being evicted tomorrow. Sabrina agrees says Heather was spreading lies about her.
Sabrina does her goodbye speech to Heather. "Hey Heather I'm really happy that I'm recording your goodbye message because i'm the one that wanted you there most of all. you were the one telling my best friend in the house that I was plotting and scheming against her.. I wasn't plotting and scheming about IKA I was plotting and scheming against you and now you'll be watching from home enjoy your cookies"
Sabrina tells her that Heather is saying that Allison isn't her target anymore she's after someone else. IKA doesn't care say Heather is going home tomorrow.
Rachelle and Neda join them. Sabrina explain the them that Allison will most likely be voting out Paul. Sabrina doesn't blame Allison for doing that she was dropped into the game late.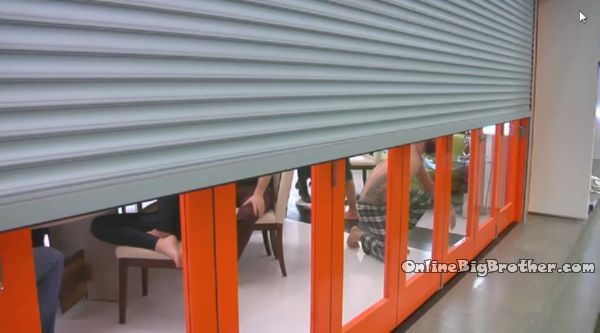 9:40pm Backyard opens up
Nothing there which probably rules out a large physical competition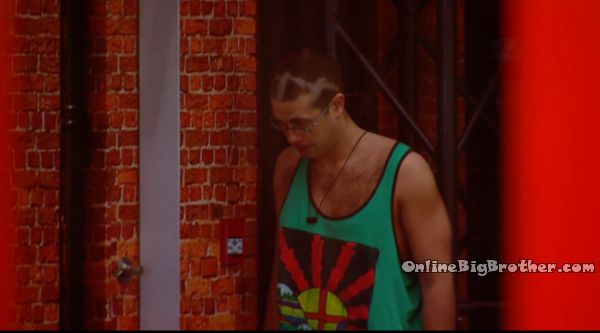 9:40pm Hot tub
Sarah saying tomorrow she's going to make the first big play, "Thats what i'm here for"
Arlie waits at the exit to scare her.
Kenny waits at the kitchen and scares her again..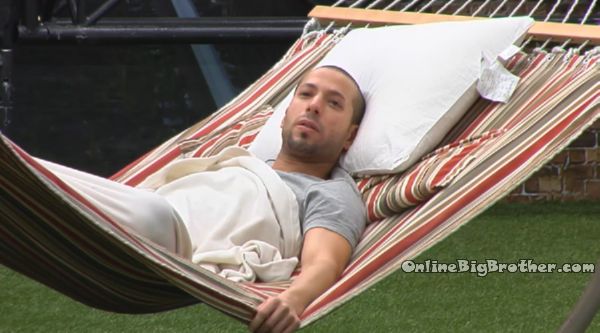 9:50pm IKA and Paul
IKA tells him she feels sorry for Paul. SHe tells him that PAul is staying for sure unless Adel flips his vote. Adel swears he won't be.
Adel – "You know if I Win HOH everyone in this house is going to sh1t his pants"
IKA says when he wins they will put on the other houseguest clothes and make fun of them. IKA leaves..
Adel starts talking to the evicted houseguests like they are watching.
Adel – "Canada has My back and Canada has Paul's back"
Adel says if he wins HOH he'll be taking down one of the "Big Dogs"
Adel calls their old group the three not what to do's in Big Brother.
Adel predicts if Heather goes this week Allison will go next week.
Adel starts studying the Mugs they've received and the competitions.
It doesn't sounds like Adel is 100% sure Paul is saying he thinks there's a good chance but he's smart enough not to keep his hopes up.
Adel – "If I win HOH tomorrow you better look out Kenny and Andrew"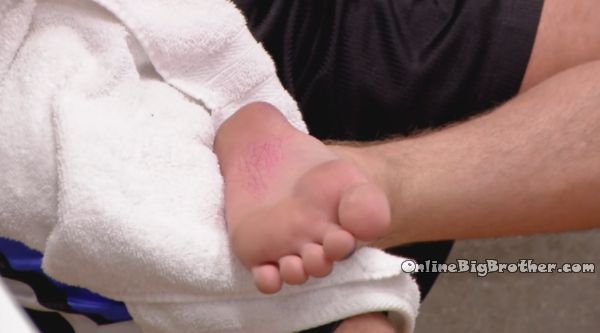 10:06pm Arlie and Jon bathroom
Jon asks if Adel is working with IKA. Arlie doesn't know says it doesn't matter.
Neda joins them and pulls a piece of glass out of Arlie's foot.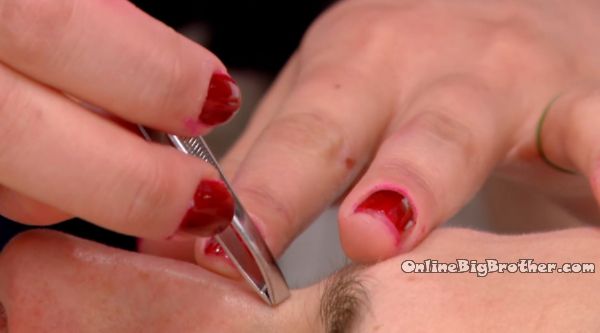 10:09pm Jon and Neda
Jon tells Neda she needs to spend less time with the girls.
Jon mention how "They" came up to him and asked him if he could get Neda to vote out Paul and he told them no.
Jon tells her the boys are going after IKA or Rachelle.
Neda rachelle and Sabrina are close with IKA
Neda tells him if Kenny leaves everyone will start targeting Jon. Jon disagrees thinks that Andrew would go over him.
Neda says she's been trying to hang out with people other than IKA and Rachelle but who else is there. Jon says for her to start hanging out with Sarah and Sabrina.
Neda – "Sarah sketches me out"
Jon really stresses that she needs to start moving away from IKA and Rachelle
Jon "I might want to win this HOH.. I'll put up IKA"
Neda says he'll have to do whatever the boys want him t. Jon says he'll do what he f*** wants to do.
Jon says Andrew will go not this week coming up but the following week.
Neda wants to get Andrew out, "Ika's not the one holding the girls together it's Sabrina.. you take Sabrina out and the girls will be much easier to pick off"
Jon – "Maybe I can chop the head off of that right away I don't know"
Neda badgers him to say which girl is going to flip he won't say, says he doesn't know.
10:30pm Heather and Jon
They wonder what the HOH will be.. Jon hopes it's endurance.
Jon says the only girls he really has talked game to is her. Jon will be voting for Heather to stay he adds that all the guys Less Adel will be voting for Paul to leave. "no Mind changing whatsoever"
Heather – "Thanks Jon"
Want to watch the Big Brother Canada 2 live feeds? Bypass the geoblocking with HideMyAss VPN and be Canadian Anywhere:

(It's tough to watch Big Brother Canada from the US. Circumvent the Geo Blocking and watch the Show and the Live feeds straight off Slice's website. Using a pay VPN is very easy and free of malware, I do not recommend using a free service as these are notoriously trouble. $11.00 A month Sign up here
[polldaddy poll=7877882]