POV Holder:
IKA
Next POV
?
POV Used
No
POV Ceremony
March 17
HOH Winner:
IKA
Next HOH:
March 20
Original Nominations:
Paul & Heather
Current Nominations:
Paul & Heather
Last Evicted Houseguest
Kyle, Anick
Have Nots
Jon, Allison, Paul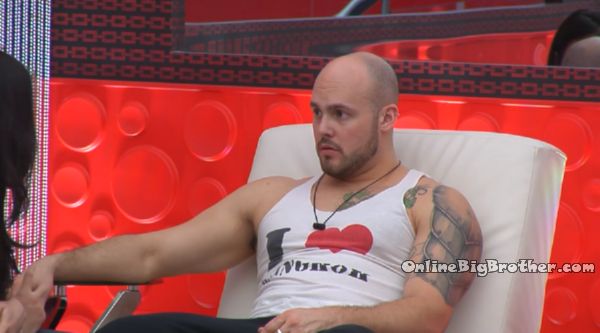 10:52pm upstairs corner couch Andrew and Sabrina
Andrew is saying that IKA is being a "F*** b!tch"
Sabrina – Once we get rid of her we have the votes.. Allison has to go after IKA
Andrew – That's fine
Sabrina – She ha a missions and a limited time.
Andrew – OK i'm 100% with whatever you want to do all i'm worried about is sending Paul out
Sabrina says Paul is going.
Sabrina stresses she wants Paul gone, followed by Adel, Ika and Allison
Andrew – "I really hope Allison will side with us"
Sabrina – "I'll talk to her"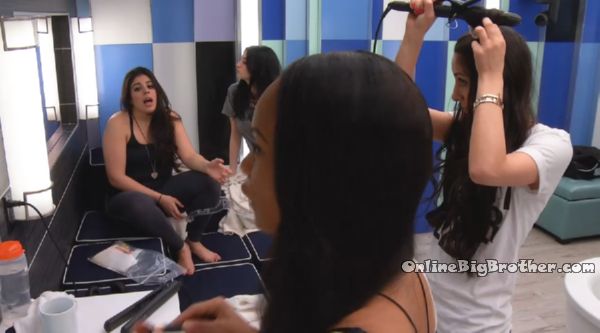 11:00AM HOH Sabrina, Neda, Rachelle, and IKa
Sabrina says Andrew told her he said "I obviously love you will be good either way".
She laughs at him for saying to her he'll be fine with her no matter who she votes for
Sabrina explains she told Andrew she'll have to keep her word and vote out Paul just like "everyone" else is keeping their words and voting out Paul.
Sabrina mentions how Andrew wanted her to tell a certain someone if asked who they want to stay to tell them Heather.
Sabrina – "I wonder who someone is.. Miss Suck a d!ck.. a big blonde one"
Sabrina says that Andrew calls her gorgeous to try and soften her up.
Feeds cut to Andrew and Sarah.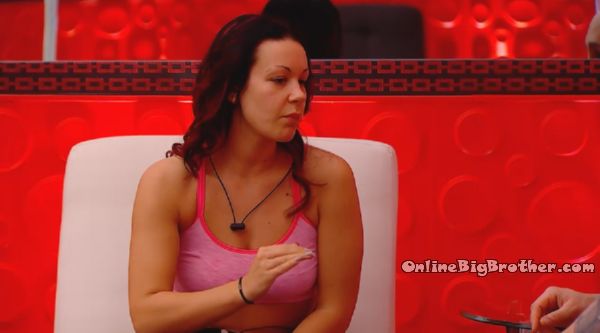 11:01am Andrew and Sarah
Sarah is saying that it may be better overall for them to vote out Heather. She still wants Paul gone but she's been thinking to try to get one more week out of the girls trusting her, Sabrina and Allison before they expose everything.
Andrew is worried that Paul wins HOH he'll target Andrew and Kenny.
Sarah – "You have me, Arlie, Jon, Sabrina, Allison, Sarah, you and Kenny all gunning for HOH and they will not put you guys up"
Sarah says Kenny is open to discuss keeping Paul this week.
Andrew disagrees fully with keeping Paul but he'll go with the group if that is the conciseness.
Sarah – "I'm changing my mind about getting Allison out so soon.. she needs to keep trust with the girls this week cause if you or Kenny win Veto Allison or I am gone"
Sarah points out that Heather is so far up IKA's a$$ she will go back to IKA even if the girls all vote to evict her.
Sarah – "I'm not against voting out Paul"
Andrew – IKA is being a f** b1tch to me.. f*** her "
Sarah – "I know.. "
Andrew – She has to go next week
Sarah – I promise you if one of us wins HOH she'll go next week
Sarah – "it's not fair because i'm the one getting f*** exposed.. Sabrina is sitting pretty like it's not big f** deal.. If I do it and Kenny or you win HOH then I've exposed my self for no reason
Andrew – it's not for no reason.. it's insurance.
Sabrina joins them..
Andrew says it doesn't matter that Sarah is exposed the girls will all still want to target Kenny or Andrew first.
Sarah – I haven't change my mind final 5 alliance is still my priority
Sabrina says Allison just swore to her she's voting with the boys.
(Sounds like Sabrina and Andrew talk Sarah into voting out Paul again)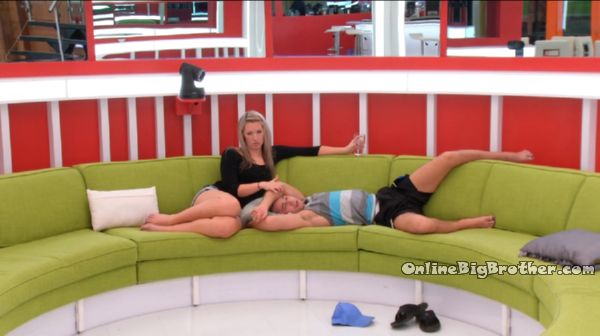 11:20pm Cuddling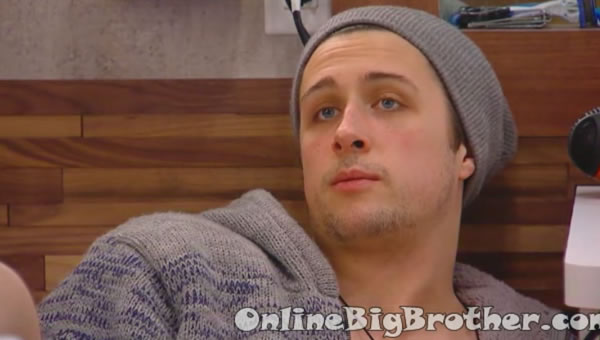 11:22pm Jon and Sarah BAthroom
Sarah – "I know why it's good for the girls to vote with them and I know why it's good for the guys"
Sarah – "I just don't know what is best for me"
Sarah I kinda feel like you and Kenny are my boys I want to protect.. me siding with your guys kinda technically protects Andrew.
Jon explains if Paul wins HOH it'll be Andrew and Kenny going up and if Andrew wins POV Kenny will go home.
Jon knows if Sarah goes with them they will have her back 100% and he'lll have her back regardless of what she does.
Jon – "This is big brother you roll with the punches you roll with the decisions you make and you roll with the decisions other peoples make"
Sarah – you are not going to tell Neda right
Jon – she's sketching me out a little bit
Jon – on my dogs life I will not.
Sarah – I just feel that the chances that the guys winning the HOH are higher
Jon – A lot higher..
Sarah says if she goes onto the guys side there are a lot more targets before her and Jon are in trouble.
Sarah – "The girls don't trust me anyways.. "
Sarah – "IO just feel that I've built more trust with you Kenny and Arlie than with the girls so why am I going to possibly send one of you home even by default"
Jon – I hear you 100%
Jon mentions that things he's told NEda maybe are getting leaked but he doesn't want to talk about it yet until he can talk to Neda.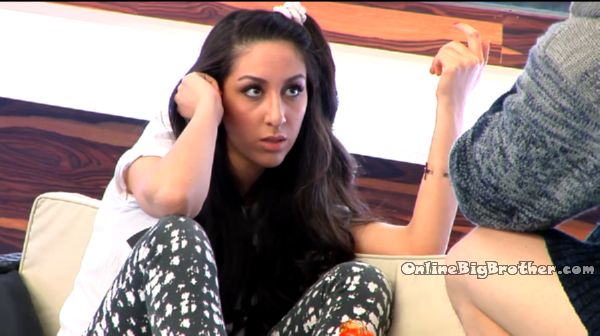 11:33pm Poolside Jon and Neda
JOn says it's gotten out that he doesn't like Andrew.
Neda – "I never said that she(IKA) said you told her.. why the F** would I say that"
Neda – "IKA said you went up to the HOH and you said you never trusted Andrew"
Neda – "I would never say that, i'm pissed off now"
Neda – "well that sucks I thought I could trust IKA it's tripping me out"
Jon – I suggest you don't spend too much time with IKA "
Jon explains IkA told Andrew and Andrew told a group of people
Neda – "I've heard from a group of girls that you don't like Andrew
Jon – "Unless it's obvious I don't know why"
Neda doesn't think it is obvious
Jon warns them about Racehlle and IKA
Neda – "I don't put my trust in anyone except for you"
Jon – "Do you think Arlie is jealous of us talking."
Neda – Doesn't make sense because Kenny and Sarah are close same with Sabrina and Andrew"
Jon Asks her if Paul goes home this week what will she do.
Neda doesn't know.
Neda asks what is going on in Sarah's head, Jon says she'll talk to him later.
Jon says that Andrew is being targeted by a lot of people
Jon is saying that Paul knows Adel's power.
Neda wants Paul to stay in the game because he'll be a target for the boys.
Jon – "I'm telling you are in no danger"
Neda – I think Canada hate Canada
Jon – I do to
Hes's a douche bag
Jon – He's a loser
Jon – Honesty I think right now it's completely up in the air
Neda wants to know what girl is thinking about flipping, she asks if it's Sarah
jon won't tell her.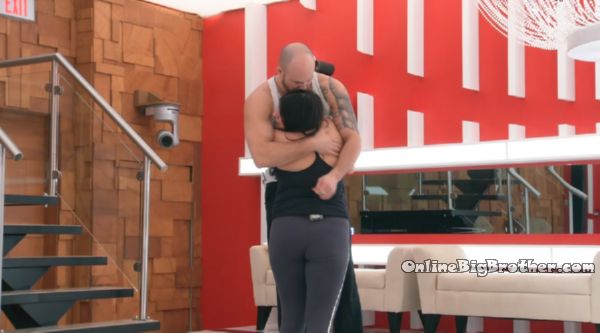 11:36pm Have nots Sabrina and Andrew
(Before this conversation Sabrina was chatting with IKA and the HOH girls.. she's playing both sides Failry well. She's literally running from room to room telling each side a altered story)
Sabrina wants to know what Sarah is saying to him.
Andrew says she is worried about getting exposed. Sabrina points out that Sabrina is the only one that has pull with the girls is Sabrina the girls don't trust Sarah. Sabrina – "Allison 100% is voting for you guys"
Sabrina tells him that everything will be fine..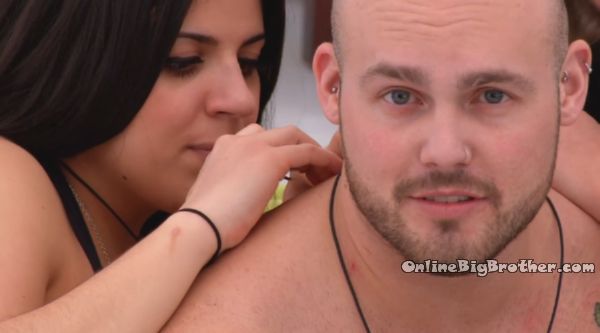 12:10AM Allison and Sabrina tweezing Andrew's body.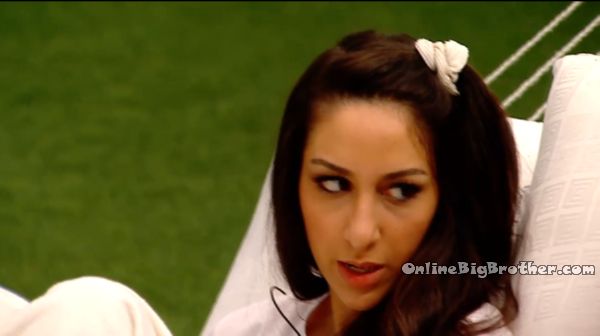 12:10AM Hammock Rachelle and Neda
Neda is saying that Jon doesn't tell him anything. She says he uses her to pass along information.
NEda says Andrew and Kenny are running sh!t but not Jon .
Rachelle – "Well Jon is kinda with them
Neda – "He's telling me what I want to know"
Heather still thinks that it's Heather going arouind spreading lies..
12:23AM Jon Joins
Neda says that Sarah and Kenny's closeness is starting to surface.
NEda – "I thought her and Sabrina were really tight
Jon – "NO"
Jon – I got your back 100% the whole time
Neda says the same.
Neda says that she liked Arlie and trusted him up until she heard what he told to Jon.
Jon – He was just looking out for me
Neda and JOn agree that Kenny is so smart he knows everything about the game.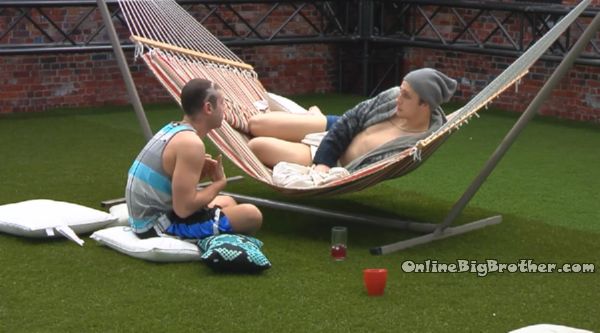 12:34AM Arlie and Jon
Talking about using Adel's power to get someone out of the house and not have any blood on their hands.
Jon – "Right now we're jury house guaranteed"
Jon says everyone in the game is being stupid, He cannot believe that they goit all these people together that are messing p so much.
Arlie explains they have been flying low on the radar because everyone likes them they are the fun loving guys the goof balls.
They agree once Andrew is gone they can pull Kenny in but not too close. Arlie mentions how Andrew and Kenny thought they were going to run through this game and it doesn't happen like that just like last year with Tom.
Jon says if the girls do win HO they will be going after Sarah again. Arlie – Heather and Kenny will be the outsiders"
Jon warns him that Sarah is really into Kenny, Arlie – "I'm 100% good with Sarah"
Arlie says Sarah is 100% onboard with jumping ship on the girls and once Paul is gone that will be her time
Arlie is worried about Allison's vote
Jon – "I want her gone"
Arlie says Adel wants Kenny gone over Andrew but they can sway that.
Arlie – "I want Kenny and Andrew to win HOH this week.. they want to put Adel up to flush the power
They agree they can convince the boys to not put Adel up.
Arlie – Andrew and Kenny want IKA gone next week.
Arlie – Once Andrew goes I'll have influence on new girl.
They agree everyone is good with them except for Sabrina and Rachelle.
Arlie – I Hate Sabrina
Jon – Hate her
Arlie – with a passion
Jon – She's the most annoying girl
Arlie – Paul has to go this week.
Jon – Has to.
They count the votes, 6 to 4
(Arlie, Jon, Andrew, Kenny, Allison and Sarah are voting to evict Paul. Sabrina, Racehlle, Neda and Adel are voting out Heather)
Arlie – "That will be so funny for IKA.. she's going to be such a b!tch to"
(Video Coming)
12:30AM Storage room Neda, Racehlle and Sabrina
Sabrina says that Andrew told him he's been making out with the girl every night.
NEda – 'Just so you know Jon thinks the new girl is going to vote with the guys"
Sabrina says that Allison I in love with Andrew she will do whatever she says.
Rachelle says the new girl is with the guys since day one. They decide to go count the condoms to see if Andrew and Allison are having s$x.
They count 14 condoms.
(Video Coming)
1:20am HOH Arlie and IKA
1:30AM Bathroom Allison and Andrew
Allison calls Andrew a beast.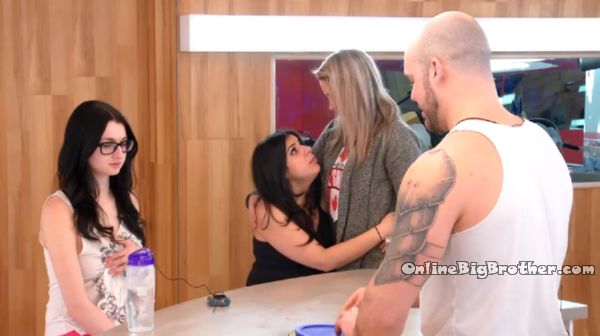 "I'm the Fart in your mouth Girl"
Racehlle – "I'm the fart in your mouth girl when i'm on the grass in the big brother house..I'm the Fart in your mouth Girl"
Andrew sings a verse "I look sweet on the outside smells like something died on the inside i'm the fart in your mouth girl"
(RAchelle is fart in your mouth girl)
1:55 AM Andrew sings "I don't wear a bra after 9 o'clock I'm the fart in your mouth girl"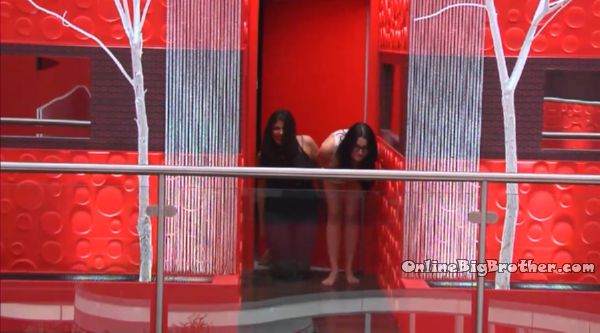 1:58AM
After leaving Andrew and Allison alone in the kitchen Sabrina and Racehlle creep out of the bedroom to see if they are "Making out". They giggle and run back in slamming the door and waking a bunch of people up including Sarah.
2:00AM Allison and Andrew Hammock time
Andrew says he gets distracted by her bum thinks it looks nice. HE asks her if she thinks it's possible for someone to be in a showmance. She says she does think it's possible and she is interested.
Andrew – 'Sop that means we have to win alternating HOH's"
Andrew says Sabrina really likes Allison she has nothing to worry about, "She's one of the most trustworthy people in the game"
Allison – "I want to get closer with Sarah"
Allison thinks Rachelle hates her.
Allison tells him he wouldn't have gone for her in the real world, "I'm geeky"
Andrew says he would totally, explains how much of a hardcore video gamer he use to be, "I probably could get into a couple games"
Allison stresses she single, when she left they broke it off.
Allison says she's been trying to get closer to Heather. She started talking to her today in the bathroom to build up a relationship.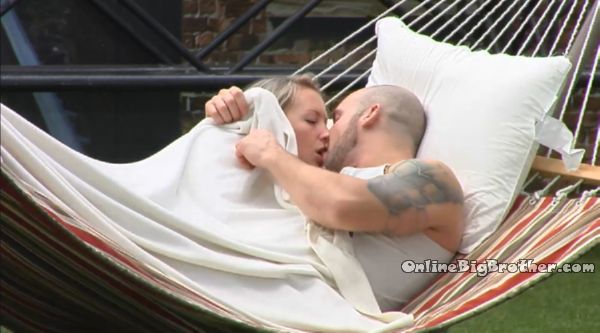 3:06AM Andrew and Allison kissing on the hammock He tells her he can't get up for awhile implying he has a boner
Want to watch the Big Brother Canada 2 live feeds? Bypass the geoblocking with HideMyAss VPN and be Canadian Anywhere:

(It's tough to watch Big Brother Canada from the US. Circumvent the Geo Blocking and watch the Show and the Live feeds straight off Slice's website. Using a pay VPN is very easy and free of malware, I do not recommend using a free service as these are notoriously trouble. $11.00 A month Sign up here
[polldaddy poll=7877882]