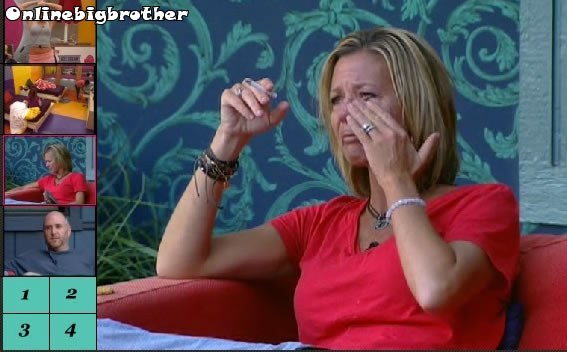 5:30pm Shelly and Adam Shelly is upset with how Jordan has been acting lately. Shelly doesn't understand why JOrdan and the vets spent all this time taking out the newbs and didn't care that once JR are on the losing side they freak out and say it personal. Shelly brings up that Jeff wanted them to stick together like the brigade. Shelly thinks that fine but when your a 5 person alliance and your the odd person out it doesn't sound to go. Shelly brings up that Brit and MAtt both were evicted. Shelly "when you have 3 people on your side a 5 person alliance is a good idea"
Shelly starts crying because Jordan is taking it so personally, they are calling her a bitch and saying "Vote that BITCH out" Shelly wonders what Jordan's family will think when they find out all the cussing she's doing. Shelly: "When Jordan calls to apologize I won't answer" Shelly says he came to this game to make big moves and win not to ride on jeff until final 5 and get cut out. (that is how Adam was playing) Adam mentions that there is no rule book for big brother ever person plays the game that draws upon their strengths.
Shelly: "If they think they've seen ruthless they're mistaken i'm going to win that Veto and see their asses out of this house.. I'm not going to roll over"
Adam: "It's so ironic week 1,2,3 they (JJBRD) didn't give 2 shits about us and now the shoe is on the other foot they all take it personally"
Adam: "They were daggling those keys over our heads and made us jump up like a dog for a bone"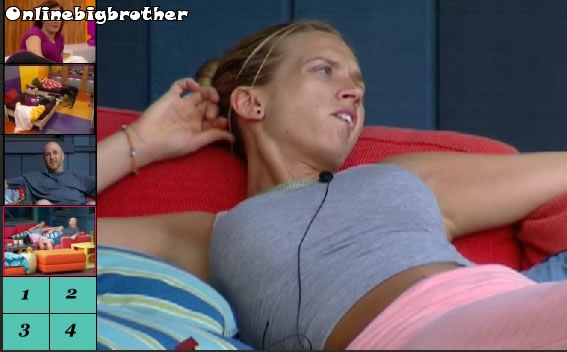 Porsch and Kalia joins them
Shelly: "They just want me out".. Porsche: " doesn't matter We want you in". Porsche tries to rally them.. she explains that they need to win the veto and keep them 4 in the game, if they lose the veto they lose a number for next week and the odds are worse for HOH.
Shelly tells them not to be worried if she doesn't win veto she goes home they are all safe.. Shelly: "I'm the evil one for Jeff leaving remember"
POrsche: "Shut up with that Shelly you need to focus.. nothing has changed we have to win VETO"
Adam brings up that Jordan is not good at comps and Rachel doesn't do well under pressure. Kalia: "is there anything we can do to throw them off"
Shelly leaves..
KPA talk about how they need Shelly to suck it up they need to win that veto.
Shelly comes back.. Porsche says she will give Shelly and adam the 5 g's if they win the veto and keep the nominations the same. Kalia asks Shelly what happened inside that made her so upset. Shelly explains that JR are calling her a bitch and bashing all 4 of them int he bedroom. She suggests they take a listen next time they are over there.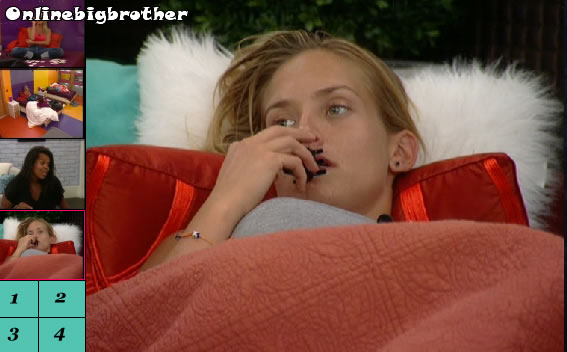 6:06pm HOH Kalia and POrsche Porsche they were calling us all bitches they are ripping us all. Kalia says the most important is for you and me to be here.. Kalia: "This entire game Shelly played both sides.. it all caught up to her" (Kalia is talking like she wants Shelly gone.. LOL ) POrsche tells her that JR are just blowing smoke up her ass. Porsche points out that She is the HOH and JR haven't talked to her yet they just bad mouth her. Kalia knows but she thinks JR know they are going up so they didn't see a reason to talk.
Kalia says JR came to her and offered a deal. Porsche: "whatever deal they made before the Pandora's box doesn't matter". Kalia says it was before the twist but it's still valid. Kalia is suggesting that they do a deal with BR that more like a insurance policy. She still wants them to Nominate JR and they will all bust their asses to win the veto but in the case that JR win the veto and SA go up then Shelly will go home. This leaves Kalia/ADAm to play in the HOH and if JR win the HOH then Adam will go home. Porsche: "Do you have a final 3 with JR because if adam goes up i'll be going up next to him"
Porsche agrees they can take the deal but what does it really matter since what are they offering JR and what are they getting in return. She doesn't trust JR at all at this points and she trust Adam and Shelly much more. Porsche: "You know they won't hold their word to anything.. "
Porsche says that she made a mistake taking the money.. Kalia tells her to stop thinking that way when it comes down to it they need to win the veto but if they don't they are still safe.
Porsche: "This means we got to final 3 with Jordan or Rachel" Kalia: "no worst case scenario it is.. this is just a fall back plan"
Porsche: "Rachel does not deserve to be final 3 that bitch needs to go"
Kalia yes that is fine we want Shelly in the final 3 but seriously if we don't win the veto then we need a back up plan and going final 3 with Jordan isn't that bad.
Kalia says she will go give Shelly some pep talks.
(I swear Kalia is the worst player this year..)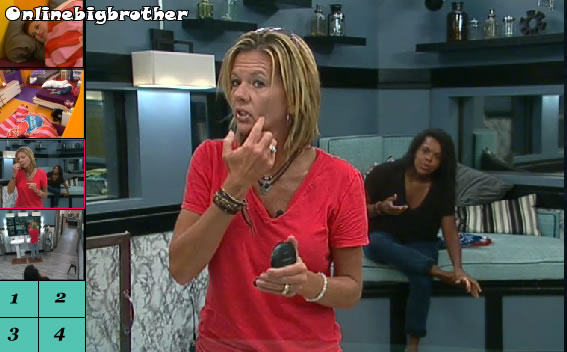 6:30pm Bathroom Kalia giving Shelly a pep talk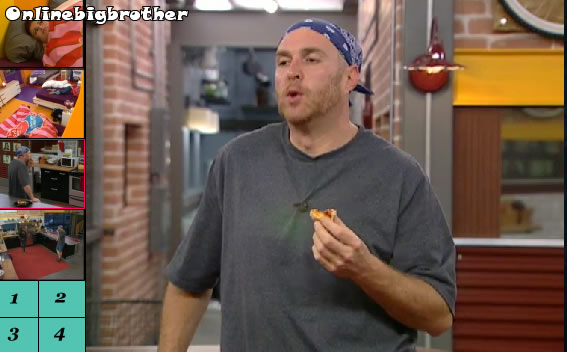 6:32pm kitchen adam and Kalia Kalia: "When everything is perfect DO NOT ACCEPT anything they give you" Adam says the pandora's box wasn't a big deal. Kalia agrees, she adds that all this makes is the stakes are higher on both side.
Adam: "what i've been slaying since day one.. if I don't win the POV and I know my ass is on the line and I don't win then I go home no big deal". Kalia tells Adam if it's physical and he's attached to shelly he better pick her ass up.. Adam knows he's ready to win this.
6:36pm Nomination Cermony
JR will go up.
7:41pm nominations yo
(Adam is making some sense, kalia wants to take Jordan to final 3 and Shelly needs to win POV or probably go home.. )
Share it YO!!
Tweet