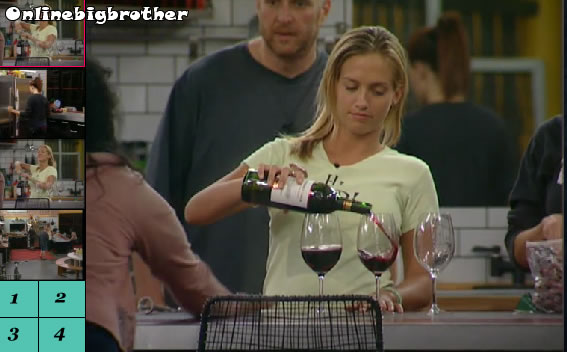 8:40pm Kitchen Porsche pouring 3 glasses of wine (hopefully for her self) Moments after feeds cut..
what happened before is this P nominated JR huge surprise there. Rachel hints she wants to talk about a deal with Porsche. They decide to talk later in the HOH.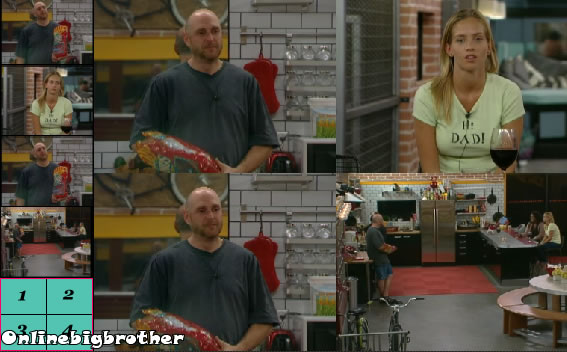 8:50pm everyone but Shelly Chit chat wine drinking. Adam is telling them about how bad his sleep apnea was when he was fat.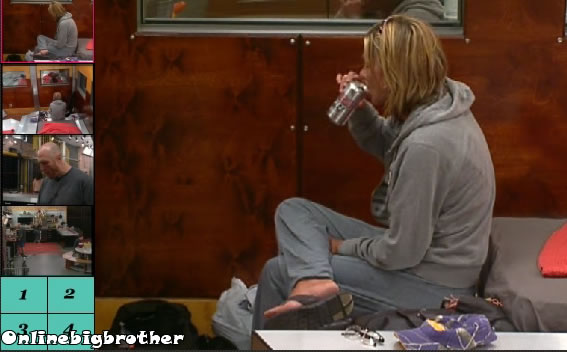 8:56pm Shelly drinking a beer by herself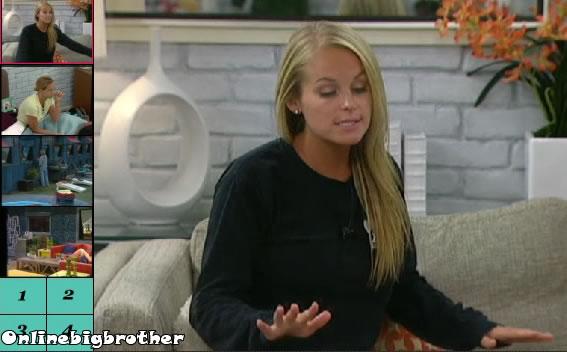 8:56pm KP HOH
Kalia says she was talking to Jordan and told her nobody has a problem with her they have the problem with Rachel… feeds cut..
Kalia thinks they will be having the Veto tomorrow night because they were given alcohol. Porsche brings up a previous POV that they had where they were given booze the night before.
Jordan comes in, "since they are all outside smoking can we just talk about it and get it over with".
Porsche offers her a snack. Porsche says no.
Jordan starts: "hmm OK I never talked game to you yesterday because i have never talked game in the past.. I dunno .. we can all work together for this week if you want. .. Clean slate now.. there's no grudges."
Jordan brings up how they got BJ out and JJR got Dani out so in her mind they are even.
Jordan understands how they might not trust Jordan because of the dani thing. Jordan explains when JEff lied to dani. She says JJ never swore to Dani they wouldn't backdoor her, Jordan swears on her mother she didn't. Jordan continues the only reason why we told her we wouldn't backdoor her is because we just caught her in 3 lies that night so Jeff thought it was the best game move to say whatever. . "I dunno I dunno ".. (she tugs on her hair).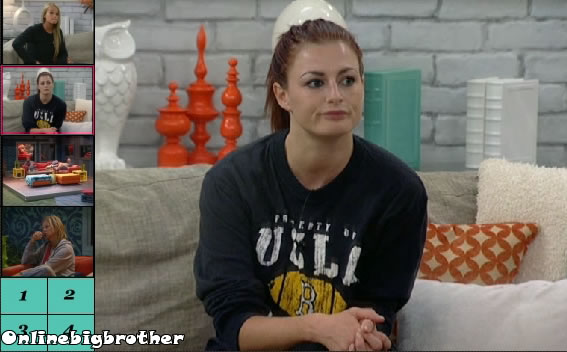 Rachel jumps in says they needs to get Shelly and adam out because they've been workign both sides. Jordan: "we can make a deal one week we're safe one week you're safe"..Rachel warns them that KP are not going to make it and SA will luck out and win a comp, rachel thinks they wil get picked off.
Jordan goes on and on about being backstabbed and how upset she is.. she wants to get Shelly out. Jordan: "you 2 decided to stick together rachel and I have stuck together .. so lets get shelly and Adam out and compete".
POrsche brings up that Jordan never came and talked to her before the nominations. Jordan says she was too upset because she never got picked for Thursday's POV, she lost Jeff, and She got back-stabbed. Porsche says she understands.
Rachel says it will be tragic if Adam and Shelly make it to the finals, she wants one of them 4 to win. Porsche says that it's anyone's game right now BR Vs SA, winner of the POV is safe.
Rachel tells them she's straight forward and honest, she thinks that working together will be a really great move on all 4 of their parts. Rachel floats to them and offers them a final 4 deal.
Rachel says the back and forth going on with SA is getting a bit ridiculous and tiring.. Jordan gets up tells Rachel they understand she thinks it's time to go. they Leave.
(Jordan did much better than rachel imoo)
Porsche says regardless of what happens on the POV the week is going to be hilarious. Kalia agrees is happy now because she thinks it puts them in a good spot for next week.
Kalia says worst case scenario JR win the veto and put SA up on the block and Shelly goes home. POrsche: "I will BLANK  die if She (Jordan) wins again". Porsche wishes they could get rid of Adam over Shelly..
They agree that rachel winning HOH next week is worst case scenario.. she'll put up Kalia and Adam. Porsche thinks it'll be Kalia and Porsche she reminds Kalia how close Jordan and Adam were.
They start strategizing with the jelly beans. (hard to follow when they don't show the beans on the cam)
Kalia: "I'm freaked out that this is the wicked witch that cannot die.. we threw holy water on her week 4" (Kalia is talking about rachel) During one of their scenarios Kalia shows POrsche how Rachel staying in the game is the most Dangerous for them. Kalia says this is why it's imperative that we win the veto and get her out of here.
(So Kalia and Porsche wants Rachel gone this week but if they lose then they will tell JR they threw it)
9:22pm Purple Room Jordan and Rachel Rachel says she's going home.. they need to win the veto tomorrow and go from there. Rachel adds she was onto Shelly week 2 .. They start to play cards..
Share it YO!!
Tweet