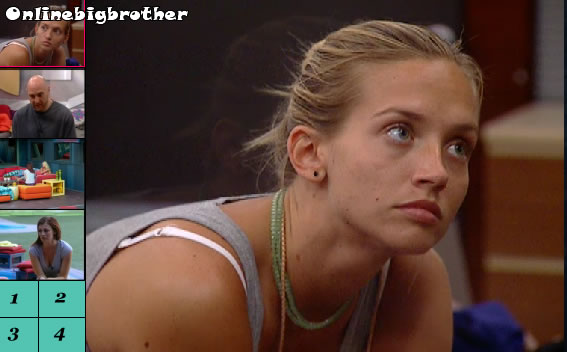 4:50pm bedroom SKAP POrsche opened Pandora's box and now I have to eat my Keyboard..
SKAP are scrambling saying that the Veto comp will be duos Jordan and Rachel, Shelly and Adam and Porsche and Kalia. Porsche leaves.. Kalia asks them why the BLANK  did Prosche open pandora's box.. it was perfect yesterday.. Shelly: "We'll a kid her age 5000 dollars is a lot"
prosche comes back.
Adam is trying to be optimistic.. telling them it's the same as before they need to win Veto this week because the goal is about to get Rachel out of this house.
They start going over the possibility of the POV comp.. Shelly points out that JJ did not win one duos comp the entire time.. Brendon and Rachel won them and it was mostly BRendon.
Porsche: "Their going to scream at each other the entire time"
Adam points out that rachel does not do well under pressure. Shelly mentions it might be the comp were they take punishment. Adam: "Dude i'll take everything to win that" SPK all swear they will to.
Kalia thinks it's better if they play in singles.. Prosche thinks it's better for duos.. Adam thinks it really depends on the type of comp.
( They don't know if the comp is played as single or duos.. However If JR win POV then SA go up)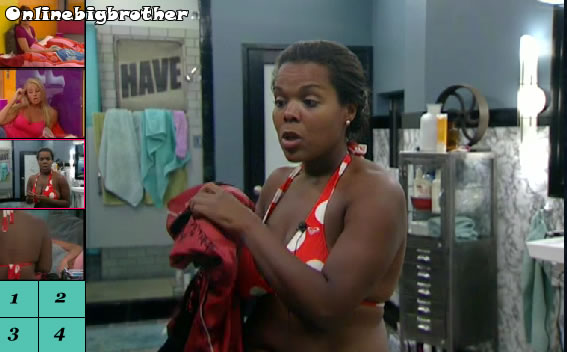 5:10pm Bathroom Kalia and Porsche. Porsche says maybe she shouldn't of opened pandora's box. Kalia says don't worry about it they are still in alright shape. The problem is more for Adam and Shelly. Kalia explains that Rachel was implying that JR want to get SA out and don't mind going final 4 with KP. Porsche wasn't sure she thinks JR will go back with SA. Kalia completely disagrees: "Not after what they did to their alliance"…
Adam joins them Kalia hops in the shower.. They go over the twist..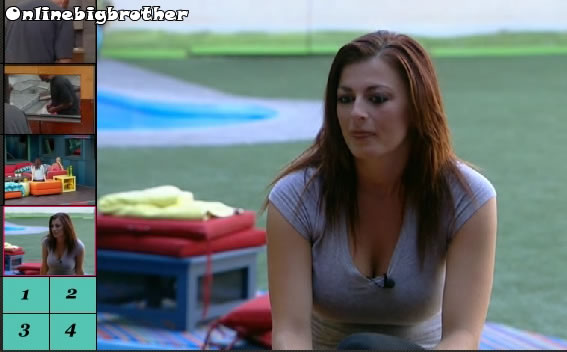 4:50pm JR Rachel saying if they win veto they are both safe for the entire week.
Both of them are very happy.. Rachel says they need to win the Veto and then they can watch all the floaters float back to them. Rachel: "Oh my god i'm so excited this gives us another chance" Jordan: "I bet Shelly and Adam are like DANG lets see their best friend is this week"
They both agree they have to win the veto or they suck as players.
If Jordan and rachel win the veto and get off the block SA will go up and Shelly will go home. Adam says next weeks HOH will be Kalia and adam against JR..
Adam says he loves this.. it's the reason he signed up for the show.
5:22pm Porsche warms Adam that JR will be working him hard. Adam says they will not get to him.. Adam: "you know if they win Veto they have the votes this week" Porsche: "Then Shelly goes home" Adam isn't sure says they need to win veto. POrsche suggests Adam and Shelly start spending a lot of time together so if the comp is duos they are more use to working with each other.