POV Holder:
Victoria
Next POV
July 19th
POV Used
?
POV Ceremony
July 26th
HOH Winner 1:
Frankie
HOH Winner 2:
 Cody
Battle of the Block Winner
Jocasta/Amber
Next HOH/ Next BOB
July 24/July 25
Original Nominations:
Brittany/Victoria(Cody) Jocasta/Amber (Frankie)
Final Nominations:
?
Have Nots
?
POV Players
Cody, Brittany, Victoria, Caleb, Nicole, Zach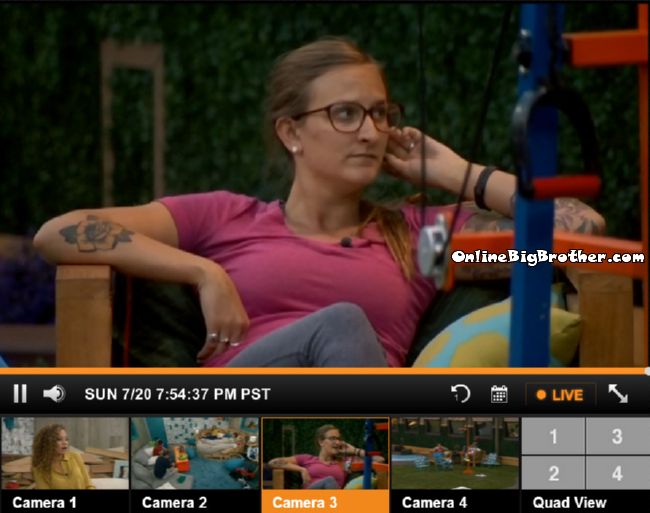 7:52pm Christine., Frankie and Nicole
Christine says Caleb is losing his mind.. he talked to her in circles for 30 minutes
They agree they will be voting for Brittany. Frankie says they have the votes locked to get Brittany out lists, Victoria, Christine, Himself, Nicole, Derrick and Zach
Nicole and Christine are more afraid of Brittany than Caleb.
Frankie – I don't care if Caleb goes up it will be stupid for Cody.. Caleb will stay"
Christine points out that Amber is scrambling
Nicole why is she scrambling to keep Brittany ?
Frankie I don't know it's putting a HUGE target on her back.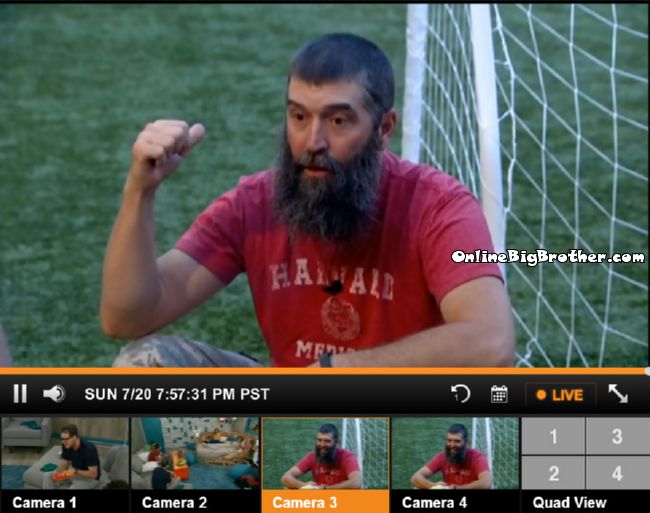 7:57pm Donny, Hayden and Zach Hammock
Donny tells them Derrick is the male version of Amber everytime there is a HOH Derrick is up there, "I'm I lying or dieing "
Zach and Hyden agree.
Donny is saying he is not in an alliance with Jocasta and Brittany , "I like what He (Hayden) likes about Brittany" (B**b, Butt and general body)
Donny like what the three of them have and he wants to bring Cody in.
Donny doesn't want them to feel like he's working with Brittnay or Jocasta sometimes when he does things it's not game related it's just to be nice. He felt sorry for Brittany for doing the penalty he wanted to be there for her outside the game person to person.
Hayden says Amber is the only one in the house that is super paranoid right now. Zach says she's scrambling.
Donny and HAyden agree Caleb is the dumbest person in the game right now.
They all start highlighting Caleb's annoying characteristics
-All he does it talk about himself
-he's in good shape
-he's conceited
-Ohh didn't you hear he had 4$ body fat
-hey buddy she said no.. more than one time
-he's the type of guy to go to the end and tell them to vote for her (amber)
-His stories are stupid
-It's all about him
Donny – He's actually grown on me I really like him.
Zach and Hayden agree and they can't be around him for too long before he gets annoying but they all see he's got a good heart.
Zach asks if Caleb goes up will he stay
Donny and Hayden think Caleb will go home they point out Amber will vote him out.
Zach – Donny.. if Brittany and Jocasta win HOH will I go up
Hayden – I think Brittany will put you up
Donny whispers I don't think Jocasta can win competitions
Zach – you have her (Jocasta's) ear though
Donny – we're friends that it.. I have some influence
Zach why did you use the veto
donny says he did it because Jocasta was sick he felt bad plus it made him look good on TV
Zach says theres a possibility Donny will go up but Zach is going to go talk to Cody tell him what about putting up Beast mode cowboy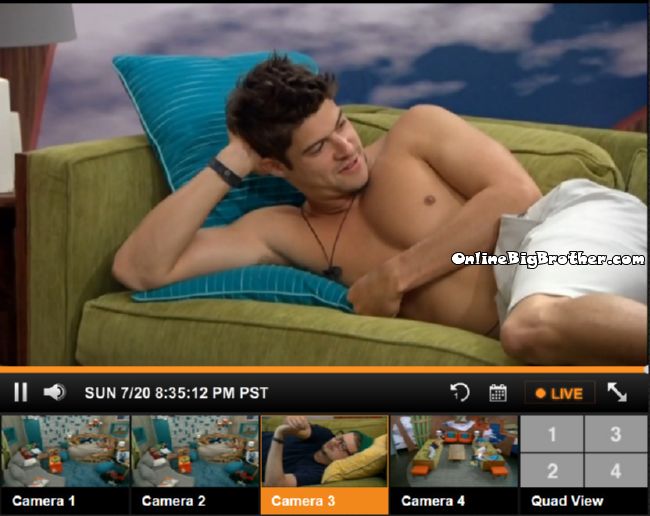 8:43pm living Room Zach and Frankie
Zach says Brittany's lower back is crushed she bent over 54000 times
Frankie she's not going to stay up on the wall
Zach – Exactly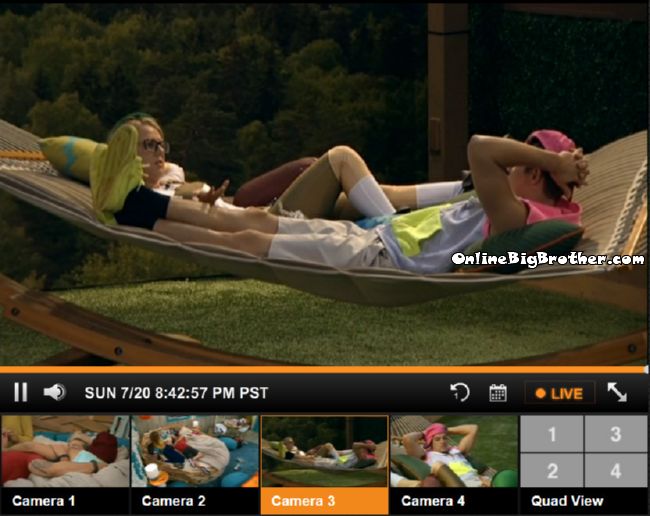 8:38pm Hammock Nicole and Zach
Zach says theres a lot on his mind right now asks her who would she put up if she won HOH
Nicole would have to talk to people to see what they think, she's not a fan of Amber and Brittany has got to go. Nicole – "Theres no boy right now that I'm dieing to get out you know what I mean.. so i would get out girls". She asks him how his targets are.
Zach says Nicole and Cody are lowest on his target list
She asks what he thinks about Donny where does he rank with Amber
Zach dodges the questions says he would go after Amber she's the target next week for him.
She asks him who Cody is putting up
Zach knows who it is but he's not happy with it.. Zach doesn't want to talk about it until he gets a chance to talk to Cody.
Zach – The only person in this house I really want out is Amber
Nicole – you don't want brittany gone
Zach – not really
Nicole points out whatever Brittany is doing isn't working out, She was close to Joey joey is gone, SHe was close to POW and POW went home she "made a deal"
Nicole says she knows 6 people that will vote out Brittany in a heartbeat
Zach – over Caleb ?
Nicole – yes no one will vote Caleb out unless he's coming after them
Zach wants to know who
Nicole won't say ½ boys ½ girls
Nicole say if the guys want Caleb out she'll listen to what they want. "I don't think putting Caleb up is a good idea otherwise he'll be pissed and coming after you don't you think "
Zach always thought Caleb would go home if he went up.
Nicole says Amber will keep Caleb
Zach I would keep brittnay, same with Jocasta and Donny
Nicole says Christine and her are voting brittnay out because she is coming after her
Zach – If she is next to Donny would you vote her out
nicole – yes
what if she's next to aleb
yes.. unless she talked to me and really convinced me she's not my target.
Nicole tells him Amber and Brittany are naming people that don't deserve to be here and one of them is Zach they say all he does is sleep. Zach – "Thats my strategy"
Nicole points out that Caleb is campaigning hard to keep Brittany points out why would you go out of your way to protect someone if you weren't working with them.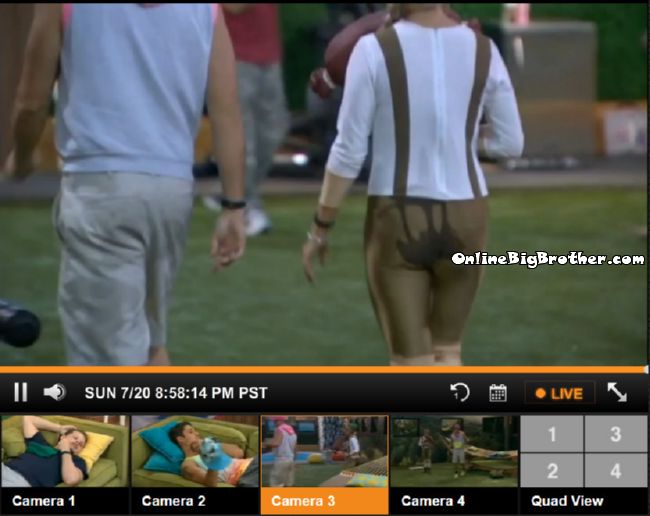 Nicole spills the stein all over herself and the hammock.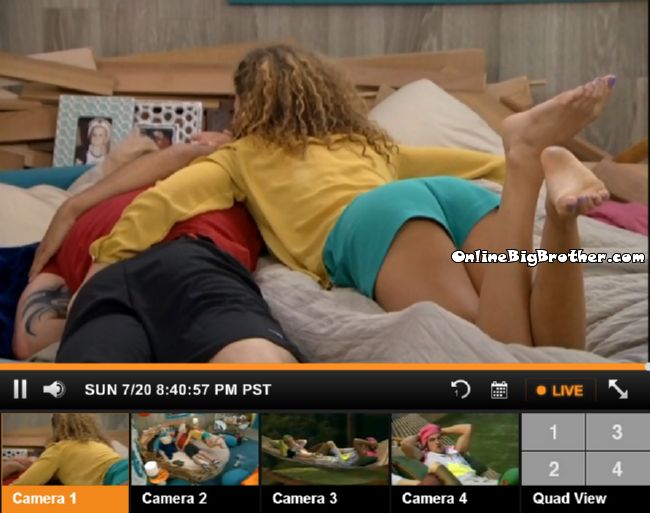 8:41pm HOH Group hug Frankie, Cody, Amber and Caleb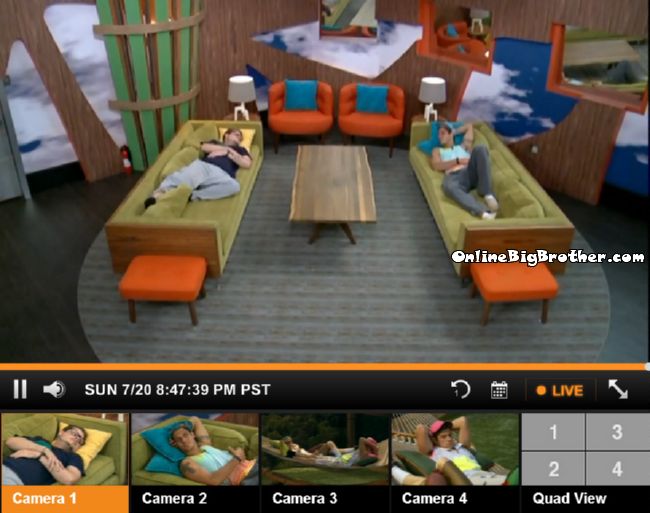 8:47pm Cody and Derrick
Cody says Clab was drawing a circle with a dot in the centre on his back , "I was like what the f** are you doing Dude is this kid drawing a target on my back to the camera"
While the HOH is filled with people talking about Backdooring Caleb.. Clabe and Amber are talking about backdooring Zach.
9:03pm Hammock Christine and Nicole
Talking about what they think of Caleb going up as a nominee.
Christine says she doesn't have Cody's back anymore if he puts up Caleb because Caleb isn't coming after them
Nicole wants to talk to Derrick says people are burning their bridges with her 'I can't believe they are going to do something like that "
Christine – Cody is so Paranoid"
Christine is sick and tired of Brittany batting her eyes and everyone forgetting keeping her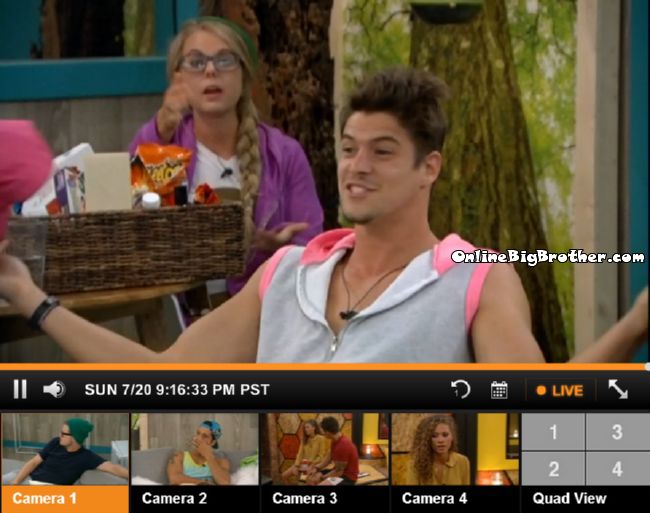 With a live feed subscription you can go back and rewatch all the events we highlight in this blog.
Try It Free! Get 24/7 access to the house for 48hrs before you decide!
8:59pm HOH Cody, Derrick , Zach and Frankie
Talking about Amber being crazy paranoid. Frankie says "They" are trying to drive a wedge in the detonators.
Cody brings up Amber saying she did a lot to save Donny week one "He won the power of veto" they all laugh.
Cody says at the end of the day he's been waiting for Caleb to slip up because his gut is telling him Caleb is bad for his game.
Zach wants to talk to Cody alone
Derrick that sounds bad
Zach "I just think we should send Caleb home."
Cody wants him to give good reason because they have good reason to send Brittnay home.
Zach tells them Caleb put Cody in a terrible spot but not grabbing the veto. "He's not working for the team, he put you in a bad spot, Didn't get the veto and He's going to swing at you before you swing at him if you pass up this opportunity"
Zach says they have the numbers to get out Caleb mentions 30 minutes ago he was talking to Donny and he proposed, Hayden, Zach and Cody alliance "He swore on his life he's not in an alliance with Brittany and Jocasta… Donny loves being by himself.. he trusts me and hayden more than anyone in this house.. he asked me to be in a an alliance"
Frankie says Caleb will stay if he's on the block
Derrick – caleb is going home if he goes up
Cody says caleb is targeting him and not putting Caleb up he's benefiting everyone's game not his, same thing as putting Donny up it benefits all their games not his.
Everyone but Cody and Zach are steadfast against getting Caleb out. they argue back and forth. Zach tells them taking out brittany doesn't help Cody's game or Zach's game. Zach says the alliance is thinking of themselves. Cody says if Caleb goes up Amber is voting him out. Derrick saying "Hey dude roll the dice put Caleb up then if Jocasta and Brittany win HOH you and I are on the block"
Derrick is the most vocal in getting Brittany Brittany out.
Nicole and Christine join them and the debate continues
They count the votes.. Frankie says it comes down to Amber's vote.
Cody I hear everything you are saying at the end of the day i'm doing what is best for my game." I'm the HOH" He says caleb is the most dangerous to him followed by brittany.
Zach tells them they are just thinking of themselves right now they are not thinking about the team . Zach storms out
9:31pm Amber comes up and Zach leaves. Amber says She heard Zach saying he wants her out next week..
Amber says he's stirring up a lot of sh1t and she's not OK with that.