POV Holder:
Victoria
Next POV
July 26th
POV Used
?
POV Ceremony
July 21th
HOH Winner 1:
Frankie
HOH Winner 2:
 Cody
Battle of the Block Winner
Jocasta/Amber
Next HOH/ Next BOB
July 24/July 25
Original Nominations:
Brittany/Victoria(Cody) Jocasta/Amber (Frankie)
Final Nominations:
?
Have Nots
?
POV Players
Cody, Brittany, Victoria, Caleb, Nicole, Zach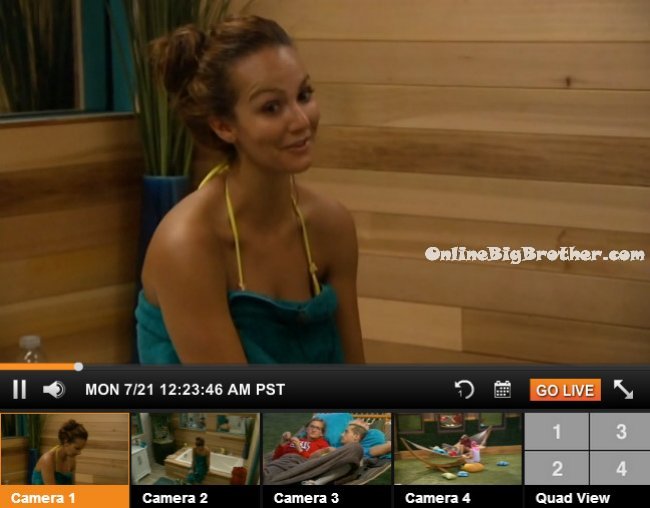 12:20am Up in the HOH room – Brittany tells Jocasta that she feels like they will find a reason to get rid of her no matter what. Either because I've given up or Because I'm a strong competitor. Jocasta agrees. Brittany says I just feel like I'm the step child in the house they just keep throwing more at me.. and it hurts. The camera switch to Hayden and Nicole in the fire room making out.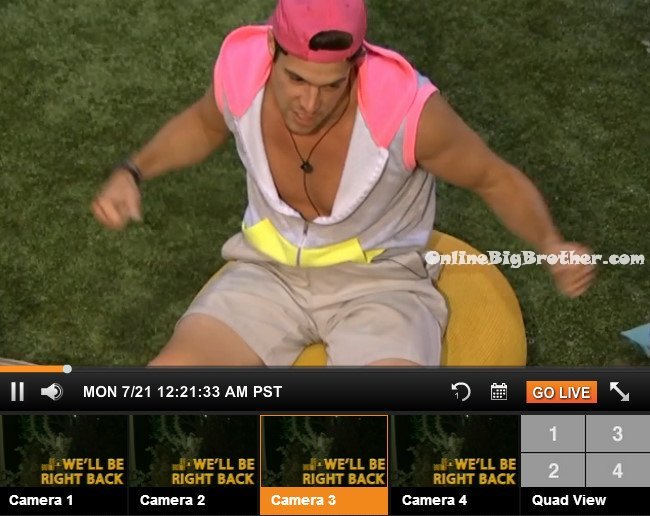 12:25am – 12:45am Out in the backyard – Zach, Christine, Victoria and Frankie are talking. Zach tells them that when he was younger he got jumped beat up really bad. He says his eye was so bad that he couldn't see for two weeks. The conversation turns to talking different universities. Christine says that Arizona is a horrible state for school system. Frankie asks didn't you (Arizona) almost pass a bill against homos*xuals? Christine says yes. It started from a gay couple wanting a lady to make a cake maker to make a cake for their wedding and she said no so they sued her. The cake maker tired to have a bill passed to have the right not to serve someone. Christine says it was almost passed but didn't. Christine says it was more about religious protection. Christine laughs that some businesses posted on their wall that if you voted for this bill I can't serve you. Frankie says oh that's cool. The conversation turns to talking about Jocasta. Victoria says Jocasta isn't as innocent as she seems. Frankie and Christine agree. Christine notices Brittany walk by the door and says "Creature just walked by the door". Frankie laughs that she can't walk but is up and down those stairs every 6 minutes. Frankie says you can't feel bad for judging people because in this house you have to assume everything in this house is a lie. Victoria says a persons game strategy shouldn't be to break down and bully people. Christine says but it is a strategy, Evel Dick did it in season 8. Frankie says I cannot believe that Caleb asked Amber to go on a cruise with him. Christine says this is hilarious. Big Brother please show all of this! She comments on how this is a season of half showmances where one person wants it and the other doesn't.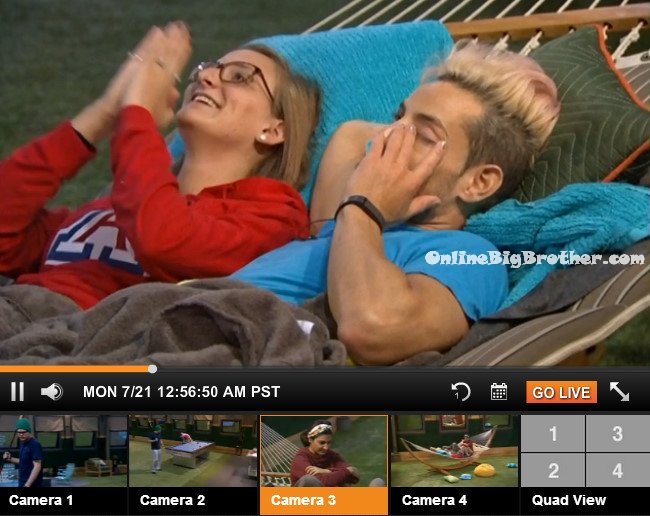 12:47am Zach and Derrick and play a game of pool. Derrick says I am not a genius, that's why I am a Parks and Rec coordinator. Zach says the biggest problem about is, what are we going to do with Caleb? And I am just going to try and pull Caleb to me and you guys try to keep Caleb. And obviously he would stay with you guys but Cody did go against the plan of not putting anyone else up, but he had to because he thinks I'm a snake.. you know? Derrick says dude if Cody's down. Zach asks are there any other cons besides you not wanting me to go on the block? Derrick says me not wanting you up isn't even a con to be honest. Zach says because you know I'm going to stay. That will be between you and Cody because ultimately it will be your thing to pull off. I'm a bystander. Zach says and the thing about is that everybody knows that Cody and I are working together. Is that a bad thing? Derrick says they know you're friends, they don't necessarily know you're working together. Just like the same thing that we think Jocasta and Donny are working together because they're so close. Are there any other cons to me being on the block? Derrick says not really unless they figure out that you two are bullsh*tting. Zach asks and then what happens. Derrick says they throw you both on the block together. And if you don't win POV then one of you go home. Its up to you and Cody because its his HOH. Zach asks it doesn't hurt us does it? Derrick says not unless someone figures it out no. Zach says I think it could be a good thing. Derrick says if you think so you can present it to him tomorrow morning. Cody's not a dumb kid you know. Zach says if I am on the block there is no chance I am going home. Victoria, Nicole, Christine, you, Frankie Cody (tie), are all voting to evict Brittany. And it could be good tv! It can't hurt us either. Derrick says it could hurt you if people figure out you're faking it. No one will trust you. Derrick says Cody will do what is best for his game and if he puts up Donny then we protect Cody by winning HOH this week just like he protected us.
TEST out the Big Brother 16 Live Feeds for FREE with the 2 Day Trial!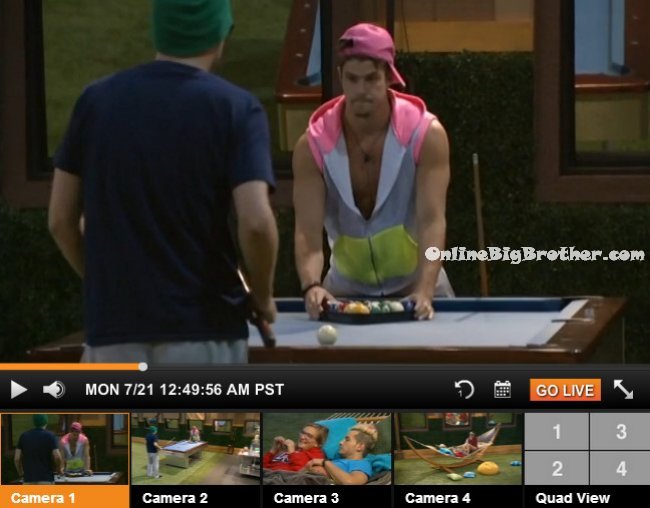 In the kitchen – Victoria tells Hayden that he is her favorite person in the house. Hayden asks really?! Then high fives her.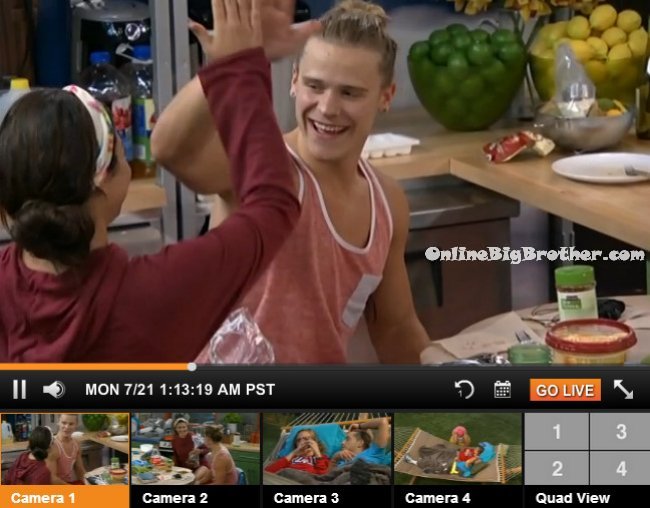 1am Zach heads over to Christine and Frankie on the hammock. Zach says what are the cons of me going on the block. Frankie says I think you should forget about it. Zach asks does it take a target off my back. Frankie says no. It won't do anything to change anyone's opinion. Christine says the only good thing is that Donny wouldn't be mad at Cody. But apparently they have a way around that. Zach says remember when Devin put me on the block, I want to watch that so bad! Frankie laughs that Zach would have done the soccer goals in like 3 hours. Now she gets to show her battle scares. Christine says if there was a hero vs villain version of big brother where they brought back Devin and me I wouldn't come back. And if I did I would punch him in the face. Hayden joins them. Zach asks him what are the cons of me going on the block. Hayden says it puts a target on your back. Its not a good idea at all. Frankie says after Brittany goes home we can tell them because there are only 3 people we're not working with.
See what they can't show you on TV! -Try the Big Brother 16 live feeds for FREE!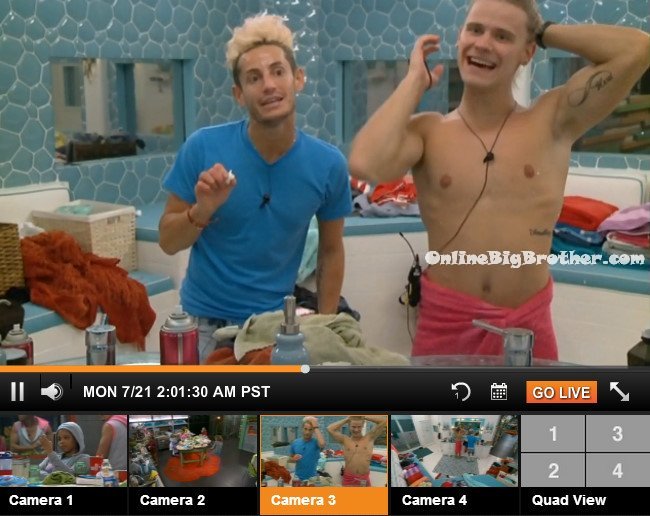 2am
Frankie, Zach, Amber, Brittany, Jocasta, Victoria, Christine are in the kitchen eating and talking about random things. Frankie heads to the bathroom to get ready for bed. Hayden finishes showering. They wonder how they will be perceived outside of the house. Frankie says everything someone says to him may or may not be a lie so I have to play the game as if everything is a lie. I left Frankie at the door when I came in here and will pick him up when I leave.