POV Holder:
Victoria
Next POV
July 19th
POV Used
?
POV Ceremony
July 26th
HOH Winner 1:
Frankie
HOH Winner 2:
 Cody
Battle of the Block Winner
Jocasta/Amber
Next HOH/ Next BOB
July 24/July 25
Original Nominations:
Brittany/Victoria(Cody) Jocasta/Amber (Frankie)
Final Nominations:
?
Have Nots
?
POV Players
Cody, Brittany, Victoria, Caleb, Nicole, Zach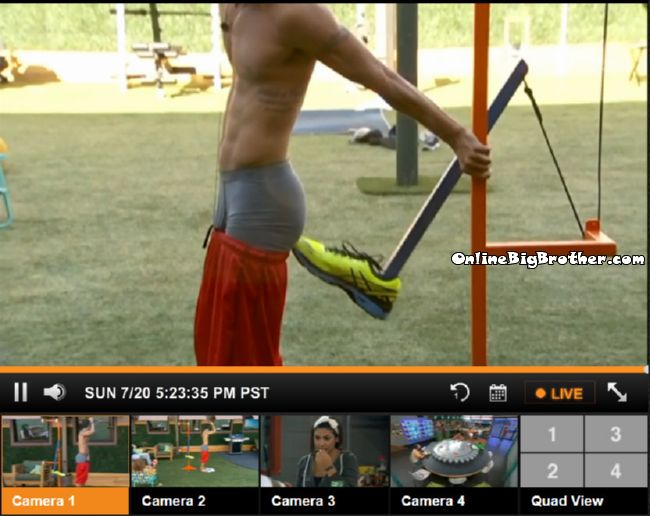 5:25pm Cody gets a penalty kick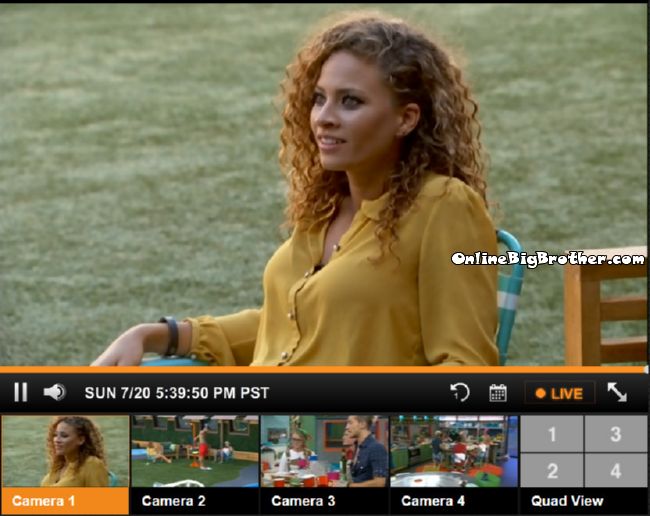 5:40pm Cody get's another penalty kick Amber declares she's not moving until 8pm. The chair is situated right behind the penalty kick apparatus.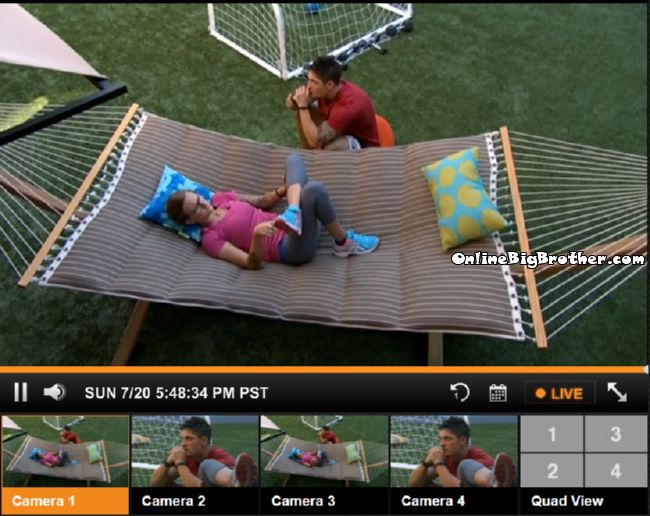 5:48pm Christine and Caleb
Christine saying pelp should be more afraid of Hayden and Nicoe than her and nicole.
Caleb says People ant Amber to go home they feel like she's strong at competition. CHristine says she needs AMber in this game.
Caleb – I wanted Victoria gone so bad
Christine – Me to for so many reasons.. so irritating..
Christine wishes she didn't have to be scared of Brittany. Caleb – "I think she will got after the girl before she goes after the guys"
Christine – That is so catty.. but that's the way she wasn't so play the game.. go for it..
Christine says if Amber can convince Brittany To not come after her she has no reason to vote out Brittany
Caleb says AMber is worried once they get to jury the guys are going to take out her so she wants Brittany around. Caleb thinks once they get to Jury everyone is going to be coming after him
Christine – "She (Amber) wants Brittany to the final 9 right.. cause that would be scary if she means longer…. "
Caleb mentions Brittany saying she's willing to make deals to stay.
Christine doesn't understand why more people are not going after Victoria. Caleb explains that she's a vote for the guys and does whatever they say.
Caleb – That is how people like Andy wins.. Caleb adds they're going to end up with Vicotira in the final 4 scratching their heads how did that happen.
Christine is going to put up Victoria if she wins the hoh. Christne asks him if the guys are going to go after AMber next week.
Caleb – I think they are going to try and backD**r her.. they don't trust her they don't think she is trustworthy.. there's one or two guys that just don't want her here.
Caleb – at the end of the day.. it's if I say so
Christine doesn't feel threatened by Amber at all it would be stupid for her to be sent home.
Caleb saying Brittany deserve to be here more than Zach, Jocasta and VIctoria
Caleb – "Zach is in my alliance but I still don't like his game play.. he sleeps all day he eats plays pool"
6:17pm HOH Victoria and Frankie
Victoria "Oh my god OH my god Oh my god.. I'm so annoyed by everyone.. UGH.. so annoyed oh my god"
Victoria – First off jocasta.. like .. I can't
Frankie – she's awful
Victoria – she always picks on me I'm not going to open my mouth and pick on her
Frankie says Amber and Jocasta is pissed that Victoria won the veto because they wanted her gone over Brittany.
Victoria doesn't think anyone in the house wants her here.. Frankie tells her there's plenty of people in the house that like her, "me, Hayden, Nicole, Christine and Derrick "
Victoria – ok 5 people
Frankie – that's ½ the house you can't be friends with everyone
Frankie says if things were so bad for some of these people back home they shouldn't have came into the game.
Victoria – the point of being fake to someone is they don't know you're being fake.
Victoria and Frankie agree saying you are more deserving to win the money based on their lives back home is bullshit.
Frankie says if he heard Brittany say how much her foot hurts he's going to throw up. Says she should just take the punishment and play better in the future to not get another one.
Victoria says the fact that people in the house are going so personal, is disgusting to her.
Frankie says it doesn't matter who COdy puts up as a replacement nomination he is still going to vote out Brittany, 'She's dangerous for me, She's dangerous for you and for Zach"
They start talking about competitions. Frankie says they will have a endurance before double eviction.
Victoria "I want the wall so bad"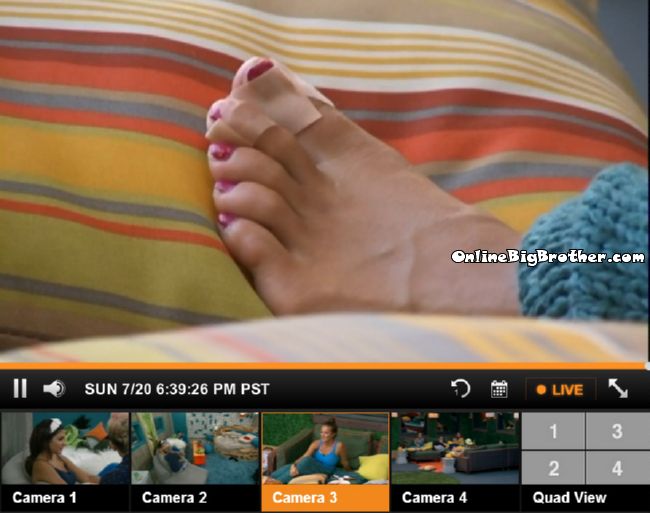 6:39pm Banged up foot 2400 Soccer goals later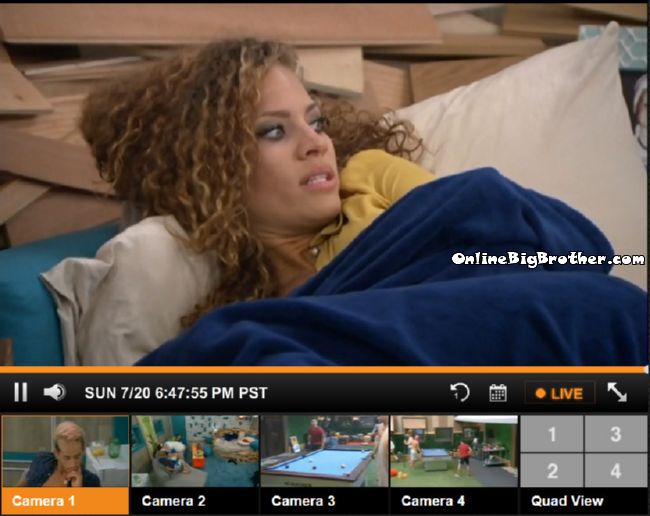 7:00pm HOH Amber, Frankie and Cody
Amber saying she's in a worse spot than the guys in the alliance. Frankie tells her he felts vulnerable to when Debvin won HOH he was in real danger. Frankie leaves.
She asks Cody what is wrong. He feels like she doubts him a lot.
Amber wants to be on good terms if Brittnay stays or leaves.
Amber says yesterday she was told she is working to get the guys out she doesn't know where this questioning is coming from,. Cody – "I didn't even tell Derick who i wanted to put up " yet he told her.
Amber says people are noticing things why are they having to put the girls up as a pawn she thinks it shows the guys are all together. Amber – "It's good i'm going up as a pawn for my game" but she is worried how it looks.
Cody says he's close to Frankie but what he's learning he's saying things Throwing cody under the bus.
Cody – "I'm not Devin i'm not the Devin in this group"
Cody does not want to put up Donny doesn't think it helps his game one bit.
Amber suggest he puts up Nicole.
Cody thinks Nicole would be a good one but she legitimately tried to get the veto he points out that there was people playing in the POV and were clearly not trying to win it. He thinks those people should go up before her.
Cody mentions how last week Donny proved to them all he's ready to play ball with the house now he has to put Donny up.. he doesn't like this.
Amber – I've done so much for the guys and none of it is appreciated.
Zach comes in to use the bathroom.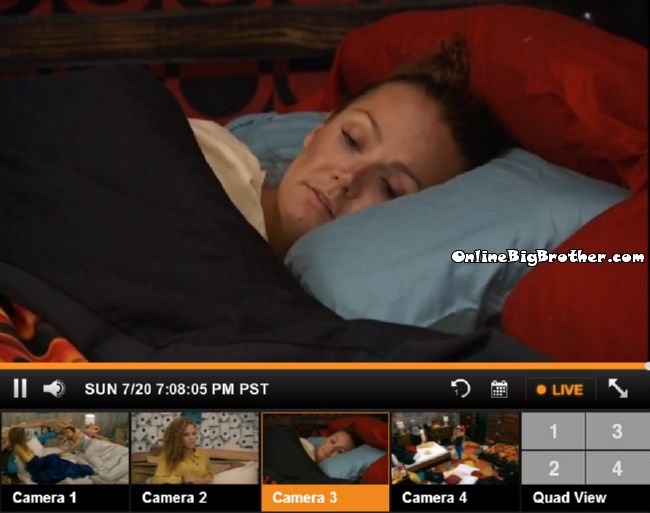 Brittany gets to sleep in a bed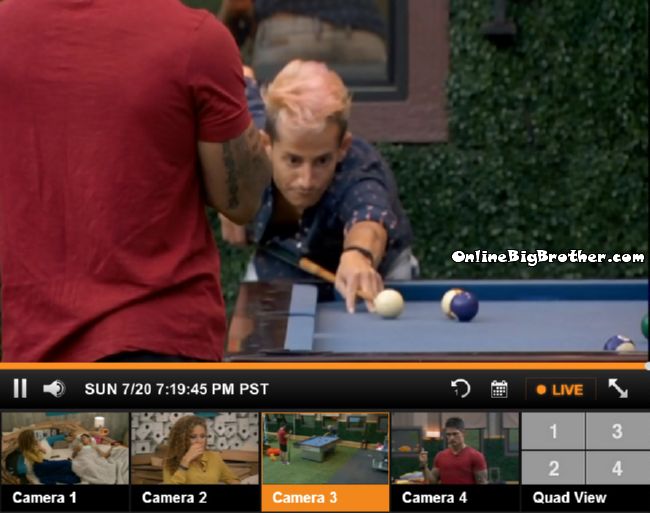 7:18pm Pool Frankie and Caleb
Caleb says he told Amber she needs to stop working both sides of the house because people are seeing that. Caleb mentions how Amber wants more girls in the Jury house. He told her they have to get to the jury house first before they start worrying about who is in it.
Frankie agrees says he told Amber the something yesterday.
Frankie – God knows what she is saying up there (HOH).. i hope she's smart"
Caleb being sup amber saying she's going to vote to keep Brittany regardless of whose Cody is putting up.Caleb told her you want to go against the alliance look at Devin you will be next.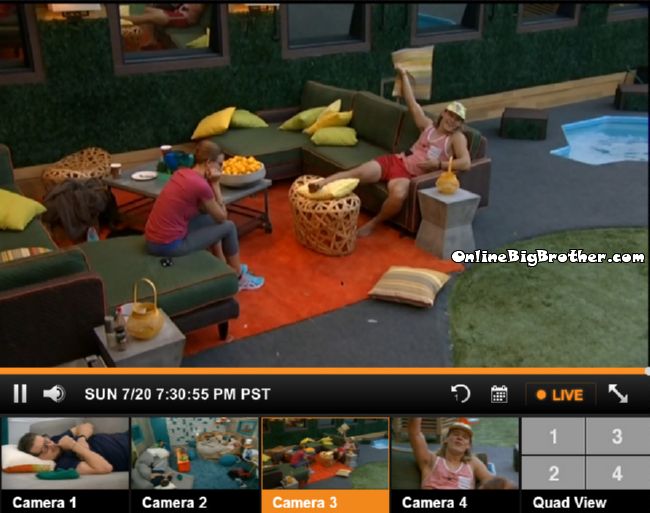 7:29pm CHristine and Hayden
Hayden says it would be nice to get rid of Caleb but game wise it makes no sense. Hayden told Cody to put up Donny and that is what he thinks will happen. CHristine told him the same but had a 45 minutes conversation with Cody that makes her think otherwise.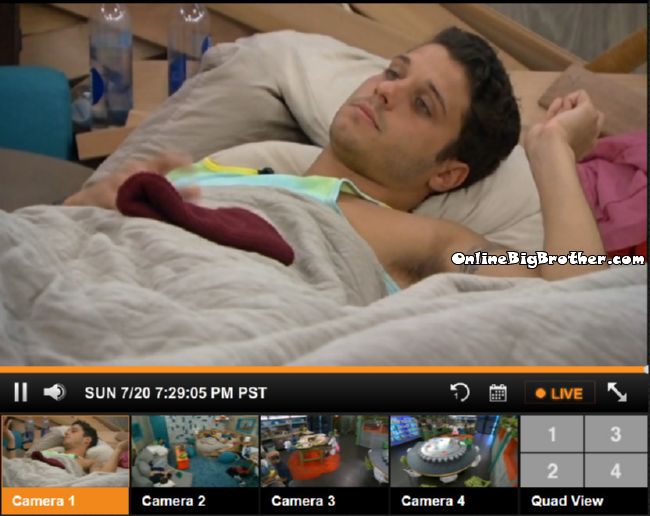 7:28pm HOH Cody Amber and Derrick
Amber says she will never put Jocasta up, it depends on her game but she will never put her up.
Cody says he's going to talk to Donny tomorrow morning. They start to go over what COdy will say to him.
Caleb joins them tells them they need to put someone up from the alliance. Amber – 'thats what I've been saying all along"
Cody suggests hayden.
Caleb now says Cody should put Cody up.
Victoria comes up
Amber – "Now we can't talk anymore"
Cody she's coming up for Derrick"
victoria walks in cody says Derrick is sleeping
Cody gets a penalty kick.
Cody goes down to do it comes back up and gets a second penalty kick when he walks into the HOH.
Cody decides to stay in the backyard with Frankie.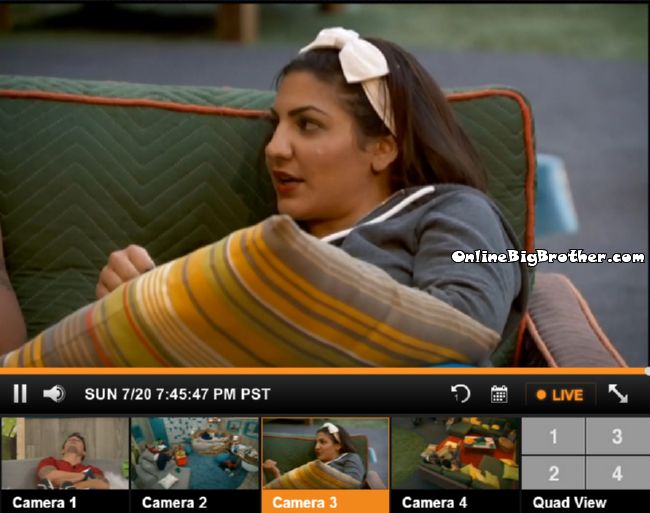 7:47pm Cody and Victoria
Victoria says the girls are saying she's made a deal with the guys and they are talking sh1t about her and being mean.
Victoria – Jocasta is pissed as hell she hates me.. she's pressing my buttons more and more.. Amber is giving me attitude and Brittany is being a b1tch because i'm safe.. I don't know what I did whatever.
Alliances (Some Of these are dead)
Zankie = Frankie/Zach
Bomb squad = Caleb, Amber, Frankie, Derrick, Cody, Christine, Zach, Hayden
Team America = Donny, Derrick, Frankie
Nicotine = Christine/Nicole
Not a showmance= Hayden/Nicole
Los Tres Amigos = Derrick, Cody, Zach
The bottom Feeders = Derrick/Nicole
We hate Devin = Christine and Zach
Outsiders = Brittany, Victoria, Jocasta, Donny
Old timers = Jocasta/Donny
Stalker = Caleb/Amber
Quad Kings = Derrick, Zach, Cody and Hayden (still being built)
Trilogy = Nicole, Christine & Hayden
The Detonators = Derrick, Frankie, Zach, Christine, Cody
Final 2 Deal "The HITMEN" – Cody & Derrick
[polldaddy poll=8194643]
[polldaddy poll=8192326]