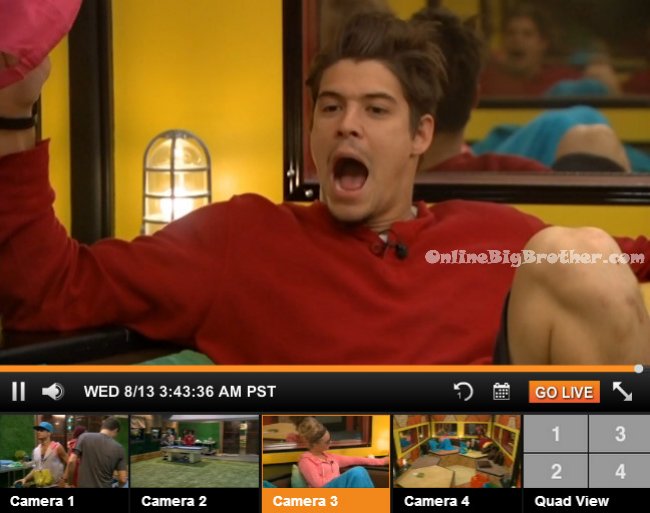 3:40am
In the hive room – Nicole tells Zach you should keep me in this house. Zach asks why? Nicole says so we can hang out and stuff. Zach says oh now you want to hang out. Zach says 18 dates with Hayden and he didn't even get a kiss. Nicole says you're plot was to get me on the block to evict me. Zach says I got you on the block to keep my girl (Victoria). I love her! Nicole says you don't even like her. Zach says I will tell her to her face again I love her. Zach says I will promise to vote to keep you but I won't go out of my way to campaign for you to stay. If you tell me exactly what happened I will vote to keep you. Nicole says I heard you would be pissed if I stayed in this house. Zach says I am not. Nicole says I am not giving you information for free. Zach says you have nothing to lose at this point. Nicole says you just want to get information out of me to then evict me. Zach says tell me what happened. Nicole says I heard that you, Caleb and Frankie said that you're going to come after Christine if she didn't put me up. Zach says that is not true. Zach says it doesn't affect my game if you or Donny stay in this game. Victoria and Nicole tell Zach to swear he will vote for her to stay. Nicole says that Frankie and
Christine approached me to get you out. I was like okay if you really think so. I told them I don't have a vote this week. I told them to go to work. They went to everyone – they told Cody a bunch of crap about you and now he doesn't trust you any more. They had all the votes that morning and then something happened. Then right before things changed and Hayden and I were left out of it. Zach says you're leaving out a huge chunk of information.. did you start an alliance? Nicole says that was way before that. Zach asks what was the name? Nicole says no, what does it matter. You're going to go out and blow things up as soon as I tell you. Zach asks what was the name. Zach asks did you tell Christine and Frankie that you wanted me out? Nicole says no. Zach says tell me the name and I will vote to keep you. Victoria says no offence to you but you are… I don't like to degrade people. Zach asks what grimy, conniving, dirty? Victoria says yeah. Nicole asks I shouldn't talk to him should I? Victoria says I don't know. Victoria tells Zach that Derrick called you out for lying.. about being in an alliance with him. Zach says well technically we're not working together. Victoria says right so you lied. Zach says okay I lied. Victoria says just like with her if you're going to help her, then help her and if not then peace out. Nicole talk to him. Victoria leaves. Nicole asks what should I do, I need help. Zach says I have no one. Nicole says I think its impossible at this point. I don't even think Dan could pull it off. Victoria joins them again. Nicole says you're not going to get much further in this game without me. Zach says I know. Nicole says I would need 4 votes to stay. Zach says you have 2 right here. Nicole says I have one more but I don't have a fourth. Zach says I am going to go play pool and keep thinking about it. Nicole says I would be an asset to your game. Be a hero for once. If you could get me to stay you would be the best player of all time because no one could get me out of this situation. Zach goes to play pool with Derrick while Cody and Christine watch.
4:10am Victoria and Nicole continue to talk in the hive room. Nicole says I am on the outside. I can't get on the inside at this point. Victoria says start making deals. Did you talk to Cody? Nicole says I did and he said he wants me to stay but Christine told me he doesn't want me here. He isn't going to go against what she wants. Nicole asks what do you know that I don't know? Victoria says laughs and says I can't say. Keeping my mouth shut is what has got me this far. Nicole asks what is the reason they want me out? Victoria says I don't know, I can't. Nicole asks do you really think Derrick wants me to stay? Victoria says I don't know, I have to talk to him. Nicole asks is it that I know too much information. I know a lot of information but I don't know how to use it. Victoria says you better get to work. Nicole asks should I tell Caleb all the things Frankie said about Amber? Victoria says he already knows. Nicole says I could tell Caleb about how when they told Caleb Amber's target was him ..they got her to say that after they told him she said it. Nicole asks Victoria if I tell you a secret about him (Derrick) will you tell me. Nicole says Derrick and I have been working together since week 3. Victoria asks so when did that end? Nicole says it didn't and now he's voting me out. Nicole tells Victoria that she and Donny are the next targets.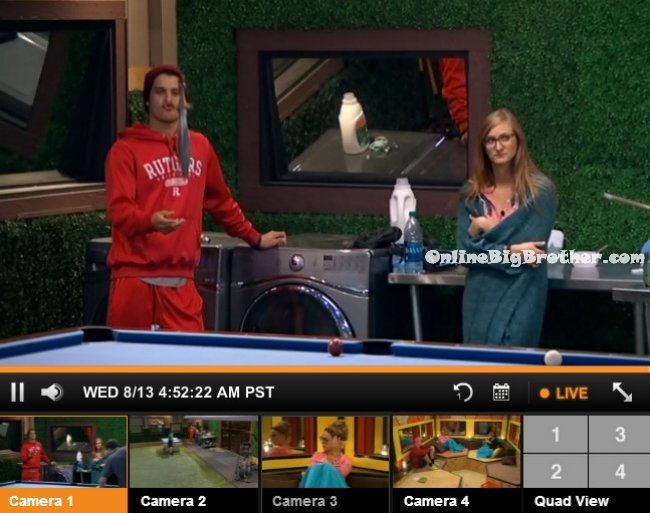 Out in the backyard – Cody is talking about how bad he wanted to head butt Zach for the things he's said and done to Victoria. She's a child, she's only 22. Derrick says if I was her parent at the finale I would wait until no one was looking and then I would murk him (Zach). Cody says I don't know what the f**k he is going to do in this game so I don't care about crossing him. He is sketchy. I don't think he is going to try and get Donny out if he is HOH. Derrick says I am surprised Nicole hasn't thrown you and I under the bus, I dont think she would because she needs our votes. Cody says I don't think she has anything on us. Derrick says that's just it, she can make stuff up. Derrick heads inside.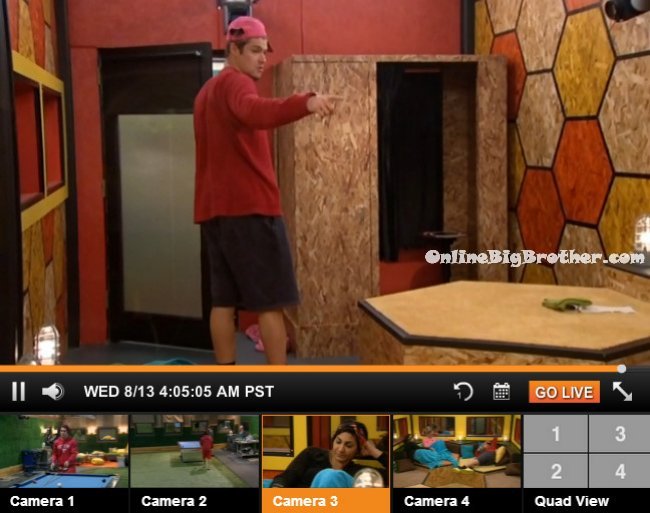 Big Brother 16 Live Feed FREE TRIAL – Use the FLASHBACK feature to watch everything you've missed!
4:35am Zach joins Nicole and Victoria in the hive room. Zach says we obviously need to swing the votes. We have two right here and we know who the other two are. I don't think it will be that hard if we do it. Nicole says that Cody and Christine are like this. He's not going to do that to her. I think Derrick is even scared about how close they are. Nicole says they're turning on you. Cody wants you gone.. Christine told me today that Cody doesn't like you. Zach says I am f**ked. Nicole says I am not going to give you a pity party. Nicole says keep me here and I will do whatever dirty work you guys need. Zach says if I get you out of this you have to promise to not put me up for the rest of the summer. Nicole says deal, I will take you to the final two! Zach says lets do this. Nicole says I will vote for you in the end. Nicole say if we do this you will be the love of my life. Victoria joins them. Zach comments on how Cody hates me. Victoria says I know he kicked you in the butt. Zach asks how do you know. Victoria says I was out there and he said he did. Nicole asks Victoria to help convince Derrick to keep me. Victoria says I will try. Zach tells Nicole that everyone thinks you're the biggest liar in the house. Nicole says oh my god. Now I just want to go home because I didn't lie.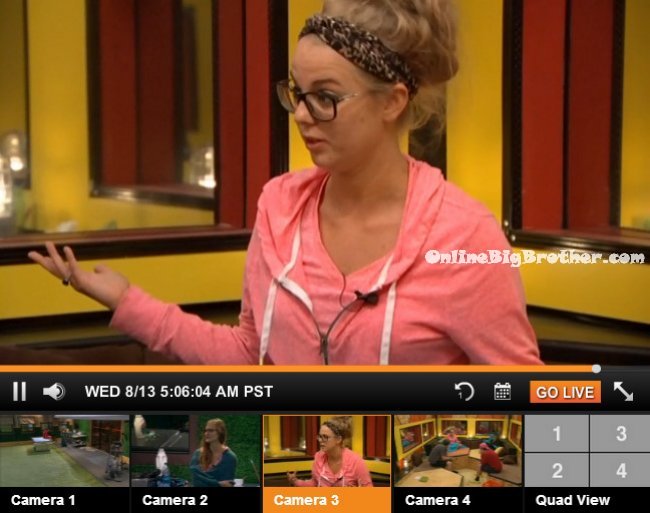 5am Zach goes to get Derrick to talk to Nicole. Nicole says I just want to clear somethings.. I am not a liar! I heard that people think I am really good at lying. Derrick says no, you won 3 HOH's in 8 week. Nicole says I just want you to seriously consider keeping me. Zach says if you and Cody will consider flipping then I will. Frankie is a huge f**king snake. He is walking around with Caleb's d**k in his hands. I want to flip and keep Nicole. We just need Cody and obviously he is working with Christine but she is the biggest snake in this house. Derrick says I am open to it. Zach says I want you to stay. I know you would help my game more than Donny. Derrick says we need to talk to everyone together because people can tell you anything and then vote the other way and then I'm the odd man out. Zach says Christine is the biggest f**king liar in here. She has a Final 2 deal with Frankie. Zach says we have two votes right here. Derrick says then I'm in. Lets talk to Cody.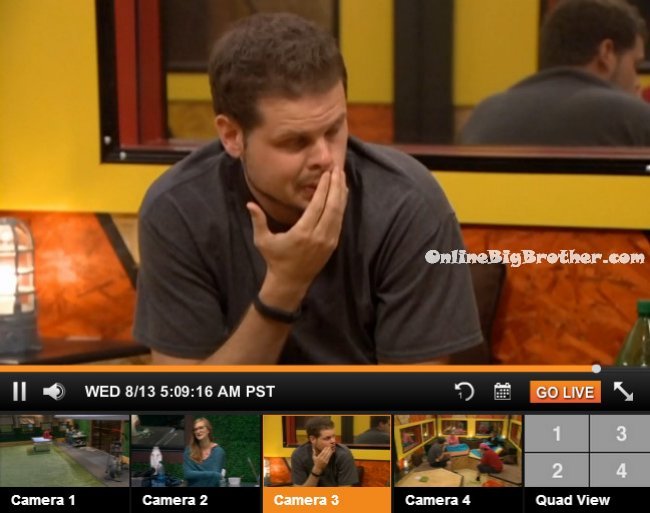 In the bathroom – Derrick tells Zach that if we vote to keep Nicole then we've made 3 enemies in Frankie, Caleb and Donny. If we vote her out we're voting with the house. Zach says I know I am the first one to go. Derrick says Donny and Victoria are next to go and I've thought I was the first to go. Cody says I've thought that too. Derrick, Cody and Zach head outside. Zach tells Cody that Christine said you hate me and can't stand me. Cody asks did she tell you that or did Nicole? Zach says Nicole. Derrick says I don't believe that. Derrick asks who is the common denominator? Zach says Christine and Nicole. Derrick says right and is Christine on the block this week. Zach says I just feel like I am going to get f**ked. Cody says news flash so are we. Derrick says we're the only reason why you're here. Once we get down to the final 5, only one of us is going to win. Cody says I a pretty sure Caleb is all about the final 4 (You, me, him and Caleb). Zach says Frankie has Caleb's d**k in his hand. He is honestly walking around with his d**k in his hand. Zach says that Nicole told me that Christine told her that you hate me and want me out of the house. Zach says so we have an unspoken final four. Derrick says its not even unspoken its real, its what we want. Zach says so we get out Nicole this week, Donny, Victoria and then Christine. Derrick tells Zach to watch what you say because it can be used against you. Zach says Nicole is going home.
5:50am Cody talks to Christine about how Nicole was trying to convince Zach to flip the vote. Cody and Christine whisper. Cody leaves. Derrick talks to Christine. Christine tells Derrick she's going to avoid being cornered by Nicole tomorrow. If she asks me to talk I am going to say I don't want to. Derrick says its going to be unanimous vote to evict Nicole. Derrick comments on how he had to talk sense into Zach.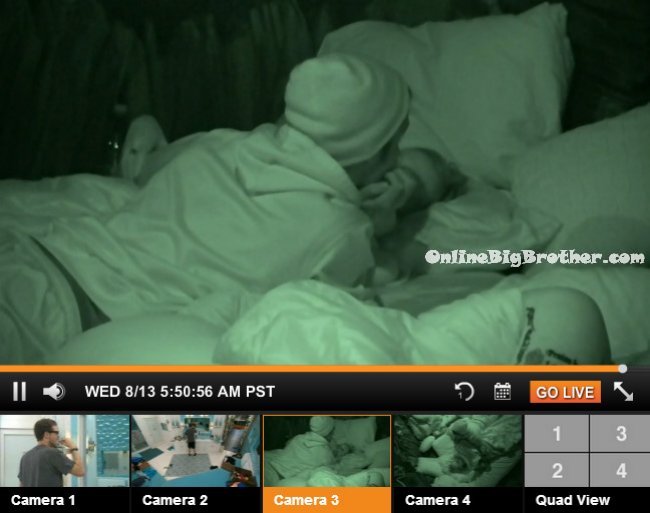 6pm – 6:55am Derrick and Cody talk about Nicole. Derrick says Nicole is saying whatever she needs to to get us to vote out Donny instead of her. They rehash the conversations they had this evening. Derrick says the perfect road for the Hitmen is Donny, Frankie, Christine or Victoria, and the other the next week. Then its Zach, me, you, Caleb. Cody says if I walk out with only my stipend money.. I would have made more money at home. Derrick says you're the only other person I would want to win the money. Cody says our ridiculous social game got us to this point and now we need to start winning comps. Cody says the only reason I thought about flipping is because its making me angry that Donny is still here and we keep talking about getting him out. Derrick says Nicole will go this week and then Donny next week. Cody says I will send Victoria home if I win HOH. Derrick says I will send her home. I will tell her I took you as far as I can. She doesn't deserve to win 50k! Cody says it scares me how f**king gullible Zach is. Cody says I just want Donny gone, he's bad for business. Derrick says that at one point in the BOB competition Caleb tried to get up and play after sitting down and Big Brother wouldn't let him. Big Brother blocks the feeds. They talk about the battle of the block competition and how if Frankie had lost he would have gone home because he wouldn't have won the OTEV competition. They head to bed…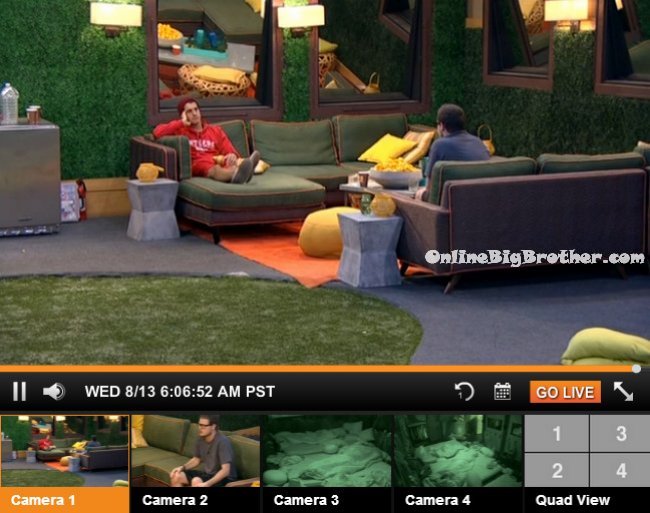 Where the vote stands.. Nicole is going to jury
Alliances
The new bomb squad – Caleb, Zach, Derrick, Frankie, Cody, Christine
"The HITMEN" – Cody & Derrick
Team America = Donny, Derrick, Frankie
More polls here https://www.onlinebigbrother.com/big-brother-compendium/big-brother-16-polls/
[polldaddy poll=8233586]
Share it YO!!
Tweet