POV Holder:
Zach
Next POV
Aug 16th
POV Used
Yes
POV Ceremony
Aug 18th
HOH Winner 1:
Nicole
HOH Winner 2:
Christine
Battle of the Block Winner
 Frankie/Caleb
Next HOH
Aug 15th
Original Nominations:
Nicole's Noms (Caleb & Frankie) Christine's Noms (Zach & Donny)
Final Nominations:
Donny & Nicole
Have Nots
Donny and Zach
POV Players
Christine, Zach, Donny, Nicole, Caleb, Derrick
1:20am In the living room –
Cody, Christine, Zach, Frankie, Nicole and Victoria are still playing with the Jenga blocks. Cody asks Victoria if she is wearing any clothing that is pink. Victoria says no. Then she looks back and laughs and says oh my gosh my thong! F**K! Zach says oh daddy! Cody says she's wearing that whale tail!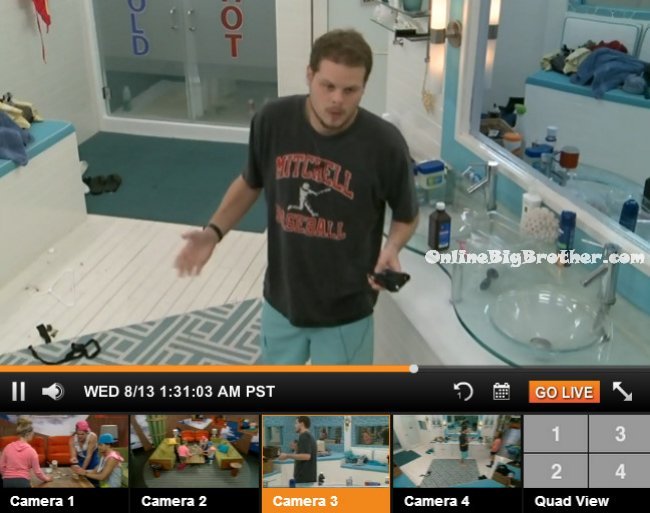 1:30am In the bathroom – Derrick talks to Christine. Derrick says she asked me if I should just give up, like I have no chance. I told her I am not telling you to give up like you have no chance. In the conversation that I did have with her I explained the pros and cons she was like, Christine was like yeah. Nothing bad, but she didn't say anything good. No not really. She was like I know its probably impossible but I refuse to go home and give up. I told her that's great. I am just letting you know that it's not looking great. And she was like I know her and Cody are close and maybe Cody can convince her. I was like okay. Christine says he tried. Derrick says but I didn't tell her she is going home but it softens it. She said that Christine is definitely Donny's target. She's not mine. And I was thinking yeah that's why Donny's going to go home next week. Derrick say you won 3 HOH and have a good chance at winning another one. Donny talks to no one and if he wins HOH then we can work with that and make sure he loses the battle of the block and HOH. It is what it is, its a game.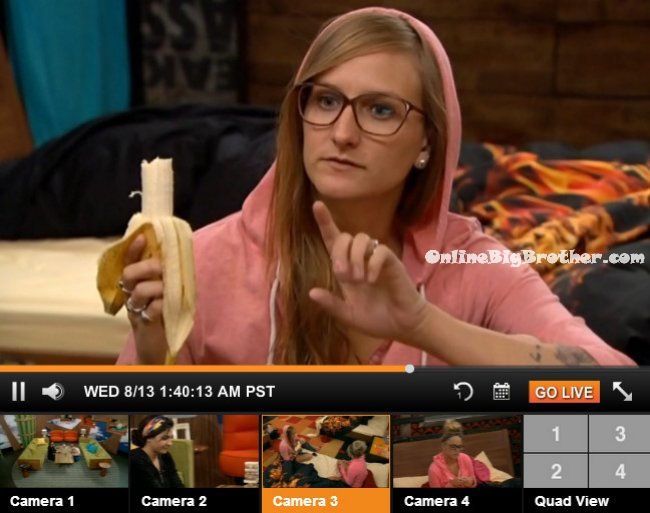 Take Advantage of the FREE 2 day Trial to watch all the drama!
1:38am – 2:15am Nicole and Christine head into the fire room to talk. Nicole says so I talked to Cody and Derrick and they basically said they're on board if you are. Christine says they said that to you? Because that's not true, that's bull crap! Nicole says they said that if you wanted me to stay they would be the three votes and then you would be the tie breaker. Christine says that's so irritating that they're pinning this on me to be completely honest. Nicole asks really!? That's frustrating for me too because they were also like we'll tell you, we don't want you to look like a fool and we'll tell you what she's thinking. And you have a very good case that you're not going to put her up. Christine says this is what I was thinking if you go home, Donny is definitely coming after me. The bad thing is if you stay then three people are coming after me plus Donny that's 4 people! Nicole says oh if I stay then people are going to be angry. Christine says I would have Zach, Cody Caleb and Donny mad at me. Nicole says I am just pissed they're giving me false hope. Christine says Cody and I talked about what was best for our game. Nicole asks if I go who are they going after. Christine says Donny and Victoria. They're sacred of you that's why they want you out so bad. Nicole says they were making it like there was something personal reason why you put me up and that's why I wanted to come talk to you. Christine says there was nothing personal I was told by three guys that if I don't put you up then they're coming after me next week. Nicole says I can't believe how scared they are of me. Cody and I legitimately want you to stay. Christine says Donny has always hated me and I don't know why. Nicole says I want Frankie to change his mind, what if we talk to him together. Christine laughs and says I don't think so. We have got to want Frankie to want Donny out of this house. Nicole says I generally think that Derrick and Cody would vote to keep me in this house. Are they really that scared of them. Nicole says that every time Zach is nice to you, then he just did something mean to you. They end their conversation and leave the room. Christine says lets just sleep on it you never know. Nicole laughs.

2:20am – 2:40pmNicole talks to Derrick and Victoria on the backyard couch. Nicole explains that Christine says that its not her that wants me out. Derrick says it makes no sense. Derrick tells her that on Wednesday night he will ask her two reflective questions about her game. Nicole says I am going to be mad. Derrick says you can't be mad you came here knowing there was only a slight chance you could win. If we walk out of here not winning we go back to our lives the way they were before we left. Nicole says it sucks to be going out 8th.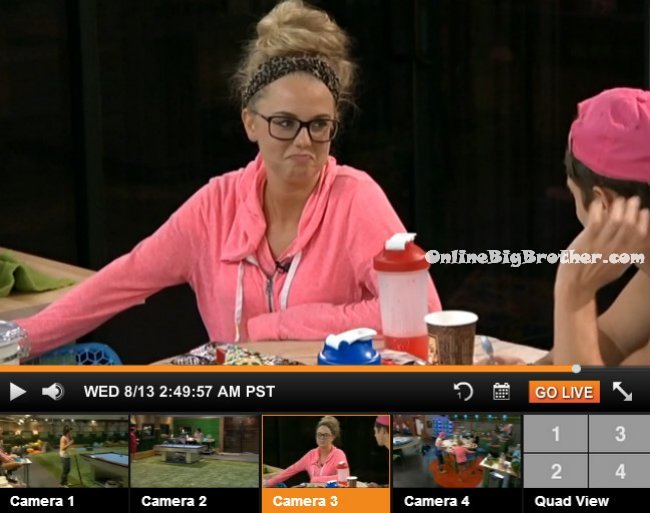 2:50am In the kitchen – Nicole says I can't believe our show sucked so bad that we didn't have a showmance. Derrick and Zach say oh yeah we did. Nicole says you think I had a showmance with Hayden? What does a showmance entail? Zach says you kissed! Nicole says no I didn't. (Yes they did multiple times) I wish I did but I didn't! Zach asks you wish you would have kissed him? Nicole says yeah I wish I had but I didn't. Zach says you'll have an opportunity to kiss him this weekend! Nicole says you're such an A$$! You're nothing but an A-HOLE! Zach asks me an a$$ hole? You've got to be kidding! Nicole says you're the biggest cuddly sweetheart I have ever met. On Thursday I am going to say that. Zach jokingly says you better not say that.. you B***T! If you say I am a sweetheart on national television, I will ruin your life out the door. Nicole says I will call you the most disgusting, meanest! Zach says oh that I like! Zach says if you want to waste your last chance to swing votes go do it. Nicole laughs at people changing there votes. Zach says Christine said it best things change hourly in here. You can start right here. Nicole says okay can I have your vote? Zach says if you want to talk, we can talk in the bee hive. Nicole says its not worth a try, I know you won't change your vote. Zach asks how do you know that? Zach asks how do you know that?! Nicole says because you're the reason I am on the block! Zach laughs and says oh my god do not go there?! I'm the one that got you on the block?! That's funny!!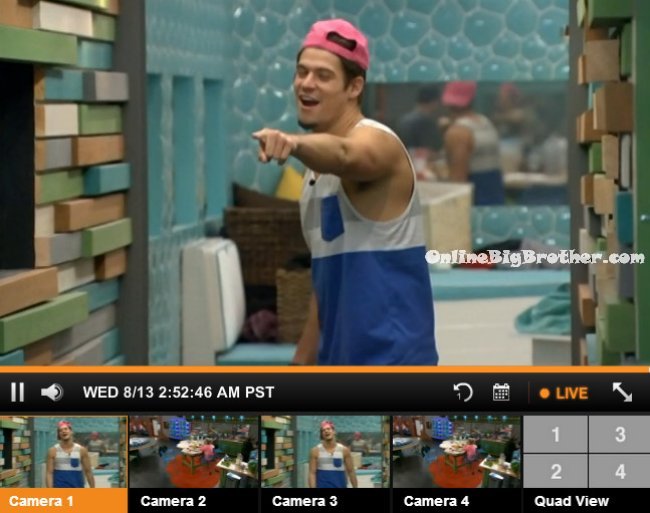 Nicole asks why did you want me on the block? Zach says only one reason because I wanted Victoria to stay. Zach says straight up you chose Hayden over me, so I am going to choose Victoria. Zach asks why should I vote to keep you? Nicole says because I could be an asset to your game. Zach asks how? why!? I think you're a liability. Nicole asks really?! Zach asks how are you an asset to my game. Nicole says several reasons! Well you're not my target! Zach says do I believe that?! No! Go on! Nicole says I really have no argument for you to keep me. Zach says oh come on you have to have something! Nicole says no because I know how much you like Donny. Zach says Donny voted to evict me twice already. TWICE! Why the f**k should I keep him! You never voted me out. You tried to get me gone. Nicole says it wasn't my master plan. Zach asks can we talk about this actually!? I want to know what happened. Nicole says no I don't trust you. Zach says promise you I will give you my vote if you explain everything that happened to me last week. Nicole asks do you promise I have you're vote. I'm scared. Do you think your vote is going to change everything? Zach says its a start! Nicole asks what do you know so far? Zach says so Frankie and Christine went up to you and said we need to get Zach out of the house. Nicole says I don't know if they said need. They might have said should. Zach says so you got excited and said yeah lets do it. Nicole says yeah I'm not going to lie I said lets do it. Nicole says the next thing they wanted you to do was convince Hayden but he didn't want to do it. Frankie joins them and the conversation ends.