POV Holder:
Zach
Next POV
Aug 16th
POV Used
Yes
POV Ceremony
Aug 18th
HOH Winner 1:
Nicole
HOH Winner 2:
Christine
Battle of the Block Winner
 Frankie/Caleb
Next HOH
Aug 15th
Original Nominations:
Nicole's Noms (Caleb & Frankie) Christine's Noms (Zach & Donny)
Final Nominations:
Donny & Nicole
Have Nots
Donny and Zach
POV Players
Christine, Zach, Donny, Nicole, Caleb, Derrick
See what they can't show you on TV! -Try the Big Brother 16 live feeds for FREE!
9:30am – 10am Big Brother wakes up the house guests. Donny and Caleb are in the kitchen. Caleb says man those people stayed up till 5 or 6am. Donny asks playing Jenga? Caleb says I don't know what they were doing. Donny heads outside with his breakfast. Donny goes to the bathroom. Nicole says good morning. Donny asks did you go to bed late? Nicole says yes. I saw our suit cases.. scary! Oh well.. When I went to bed there were still a lot of people up. Donny says good lord. Nicole says I think you're good here, like you're not going anywhere. They 100% want me out to the point that it get awkward last night. Donny asks really? Zach started telling a bunch of information. You know how he gets when he thinks he's then next one out. The next thing I knew Derrick was in there talking and then they were out in the backyard kind of yelling. I just went to bed. Donny says things could change for you. If they're arguing that means their minds aren't made up. Nicole says I would just like to know so I can prepare. I had to at least try to state me case. Donny says yeah you got to, I don't hold it against you. Donny says if they keep waking me up at night I will kick the damn door down and leave myself. Nicole says they hurt my feelings thought saying that I am a beast a competitions and Frankie and Christine said I am the biggest liar in the game. They wont let go of thinking that you and I are in an alliance. Donny says you should tell them a bunch of stuff. Nicole says I don't know what good it would do. Donny says it wouldn't. Cody comes out of the diary room and Nicole goes in.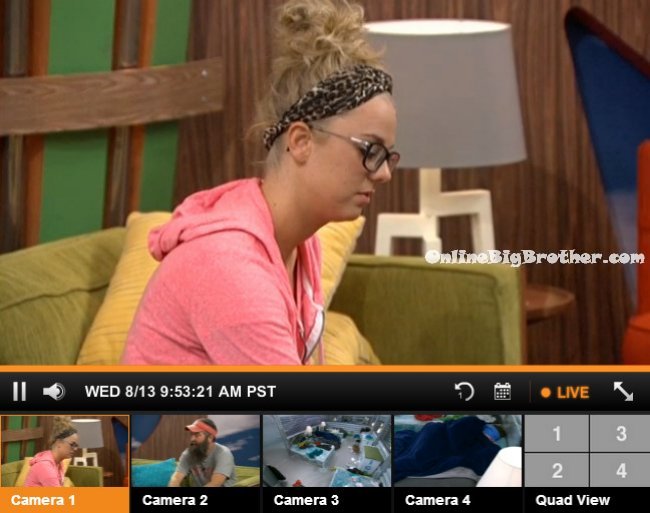 10:20am – 10:45am Frankie joins Donny out in the backyard and helps him lower the awning. They high five. In the bathroom – Derrick asks Frankie does he know what happened last night? Frankie says I don't think so. Derrick says better keep it that way otherwise he will think that we're questioning him. Derrick says that Nicole had said she won a lot of HoHs and Donny won a lot of Vetos. She said that I am one of Donny's targets. Derrick says yes Rose, there are only eight people left here. Frankie says that he thinks there are a few weeks left until Donny would target Derrick. Derrick says he thinks Donny is setting himself up for the long term. I think he would take you (Cody) over me if Donny thought he could beat you. Donny comes by and asks what time they were up till last night. Derrick says past 6 o'clock. Donny is shocked. Donny leaves. Christine joins Derrick and Frankie in the bathroom. Derrick says the more she campaigns the more I am sure its best to get rid of her. Derrick talks about Zach questioning sending Donny how instead. Zach's last words were that Nicole is going home but I bet you could go to Zach and convince him to vote out Donny. Frankie says I wouldn't. Derrick says but that's my point its the last person to talk to him that changes his mind. Derrick says Nicole is going to campaign till the bitter end. On some level I respect it but on anther I don't when everyone is tell you, you're going home. Derrick heads to bed. Frankie and Christine talk about Nicole. Christine says maybe my head bobs are giving off the wrong signs.. but I literally told her 100 times there's not chance. Frankie heads to bed.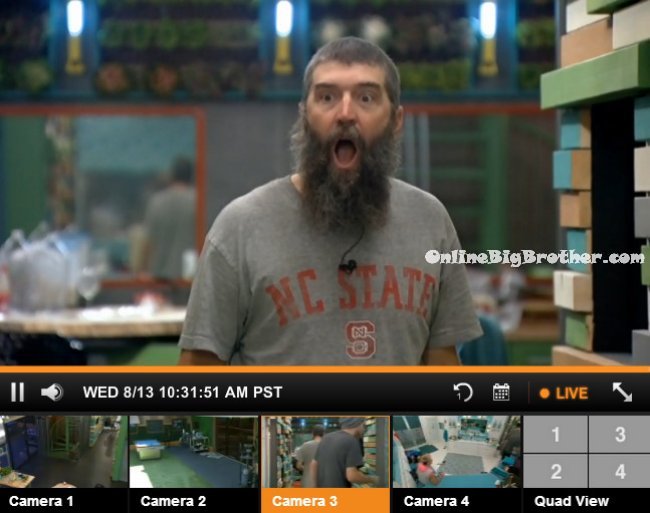 11:25am – 1:40pm Donny is alone in the backyard reading the bible. All the house house guests are sleeping. Donny sits in silence and then heads inside to get some slop to eat.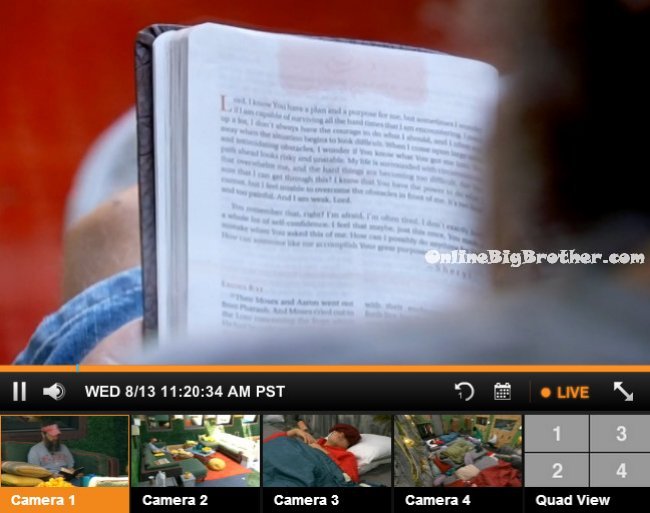 1:45pm Donny heads over to the middle of the yard and says "Christine if you're watching I love and miss you! Tommy, tell everybody I miss them. Hope everybody is having a great day. I'm having a great day."