POV Holder:
Zach
Next POV
Aug 16th
POV Used
Yes
POV Ceremony
Aug 18th
HOH Winner 1:
Nicole
HOH Winner 2:
Christine
Battle of the Block Winner
 Frankie/Caleb
Next HOH
Aug 15th
Original Nominations:
Nicole's Noms (Caleb & Frankie) Christine's Noms (Zach & Donny)
Final Nominations:
Donny & Nicole
Have Nots
Donny and Zach
POV Players
Christine, Zach, Donny, Nicole, Caleb, Derrick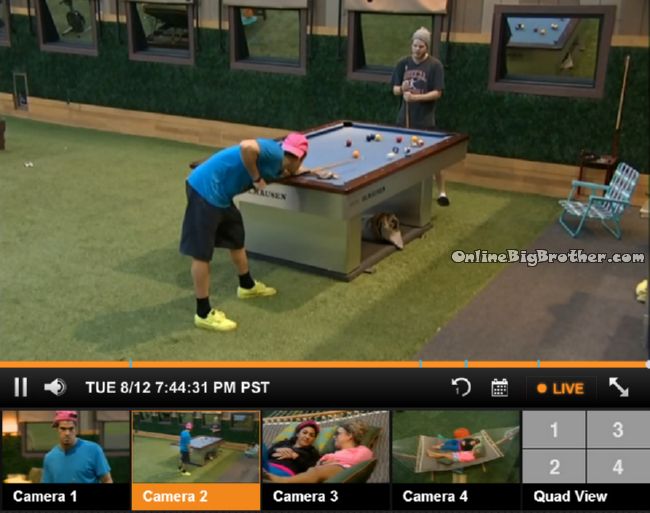 7:39pm POOL TABLE Derrick and Zach
Derrick says he never broke his word with anybody he's going to keep playing the way he's been playing and if he gets taken out thats the game
Derrick nobody is helping you win more than me
Zach – it's a great week to win HOH
Derrick us both
Zach – that would be best case scenario
Derrick it's crazy trying to stay calm.. the pressure is mounting
zach – you feeling pressure
Derrick – Ya
Zach – what kinda pressure
Derrick – I got people relying on me I go home with nothing… imagine if you have people relying on you.. it's a lot of pressure..
Derrick you'll never see a happier second place winner.. 50 grand is a down payment for a house..

7:46pm Nicole and Christine FIREROOM
Nicole Campaigns..
Nicole says Donny and Zach/Caleb are tight. she's going after Frankie, Donny is veto King, I'm willing to work with you. Nicole says it's hard to campaign against Donny because she likes him.
Nicole knows she's Christine's targets but she stresses she's not coming after Christine .
Nicole – I just wanted to give you a little pitch.
Nicole – I know DOnny is coming after you.. and Zach is close to Donny.. that's two people coming after you.
Nicole – I'm putting up Frankie and Zach.. My targets are your targets.. to be honest with you"
Christine – DOnny is "Skerry"
Christine says the boys are controlling getting Nicole out this week. Nicole wonders why the boys want her out so bad it happened all of a sudden.
Nicole – You can't play HOH
Christine – It sucks ya
Christine what's Donny's second target
Nicole – He's been talking about Cody a lot.
Nicole knows Cody, Derrick and Christine are tight she wanted to state her case first with Christine.
awkward silence…
Christine- This is so skerry.. I want DOnny out of here so bad he's so Skerry.. skerry.. he's the Helen of the season"
Nicole – He's smart
Christine – Skerry
Nicole brings up DOnny winning Veto competition beating Caleb
Christine- God he's so Skeerry

Nicole why do they want me home so much
THey say you know too much
Christine is feels like it's her, Caleb, Frankie, Cody and Derrick against Nicole, Donny and Victoria. Nicole thinks she can be a asst to her.
Nicole says if Christine gets Frankie out he would hate her if Christine keeps Nicole she's already got all the blood on her hands getting Frankie out wouldn't matter.
Nicole says Donny is good with his words
Donny – I hate that.. Skeerry"
Christine says she gave Nicole's family a shout out today, said she made 3 good friends Nicole, Derrick and Cody.
Nicole – aww thanks
Nicole brings up her and Derrick have been close since they won the first HOH.
Nicole – I think we've been through way too much for me not to be comfortable not talking to you.. I had to give it a try
Christine – Absolutely
Nicole – you can use me to get the people out of this house that you can't get out of this house.. Donny will put up one of you and he won't put Victoria up as a pawn"
Christine – i'll be going home before Cody and Derrick
Nicole – I don't know about that.. what if it was Frankie and Zach that won the HOH
Now Nicole is saying that DOnny will put Victoria and Christine up , "He's not afraid to put up two people two strong people.
Christine – Dammit this is crazy
Nicole – Everything has gone Frankie way every single week
Christine – I don't get it Caleb wanted him out so bad and now they're best friends.
Nicole – I just don't see why you would keep someone that is coming after you and Cody.
Nicole – Christine if i stayed it would be 5 vs 3 not 4 vs 4 and you can play in HOH so it's 4 vs 3
Christine – So skerry
Nicole – I don't have a huge scheme just the facts.. Frankie, Caleb and Zach are somewhat together.. they have somthing.
CHristine apologizes for the speech says everyone told her her speeches were boring it was only for TV purposes. "I'm so sorry I feel bad about it every day"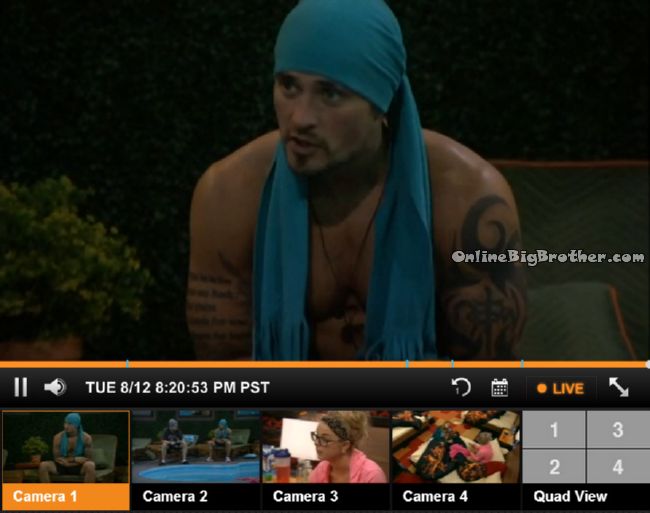 8:20pm Derrick and Caleb
Derrick tells him Nicole is working on Christine because Christine is the tie breaker
Caleb – it ain't being a toe.. I think if Zach got in power he would put the two of us up
Derrick that is why we got to get the power do what is best for us.. I don't know any more bro you are like the only person that hasn't burned me I sue tpo trust Frankie to until all that stuff came out.
Derrick – I still trust him in terms of GAme and alliances.. but that was a big one.
Derrick – I didn't are about that pop star stuff.. He admitted he threw us under the bus..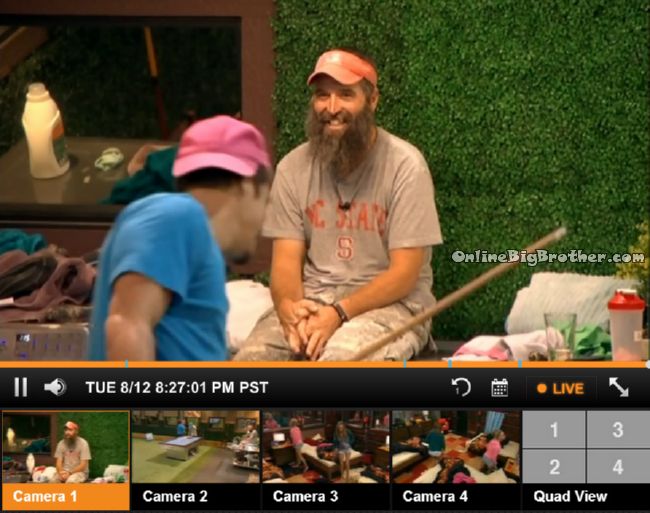 8:26pm POOL table Zach Donny and Cody talking about Caleb always name dropping
Zach he one ups every story
Cody – he's a one upper
Zach – he's the worst one you've ever met in your life..
Donny – his interviews must have been epic.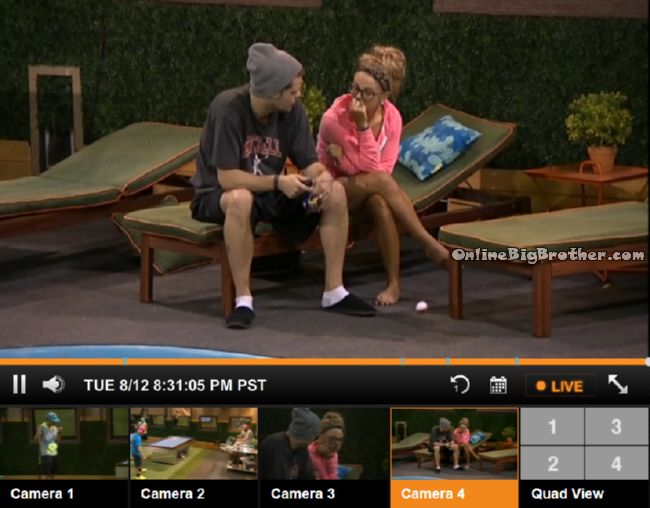 8:29pm Nicole campaigns to Derrick
(says the same thing as above)
Target is Frankie, Zach , Caleb.. she a bigger target to those three then Donny is.
Derrick says he wants to roll with Nicole his problem is if she doesn't have  the votes.. if she does he's going to vote to keep her..
Derrick will tell her if she has the numbers or not.. "Before you walk out that door i'll tell you"
Nicole says she needs Christine on board and that is the biggest obstacle
Derrick agrees.
Nicole says Christine is saying the boys want Nicole out of the house all of you. Christine was pressures into putting Nicole up she was threatened if she didn't
Nicole tells him when talking to Christine she never said anything bad about Cody and Derrick she knows how dirty this game is being played and didn't want Christine say she threw Derick and Cody under the bus.
Nicole asks him not to tell people that she graduated top in her class.
Derrick tells her she played a phenomenal game "Only two people in here are going to win the money"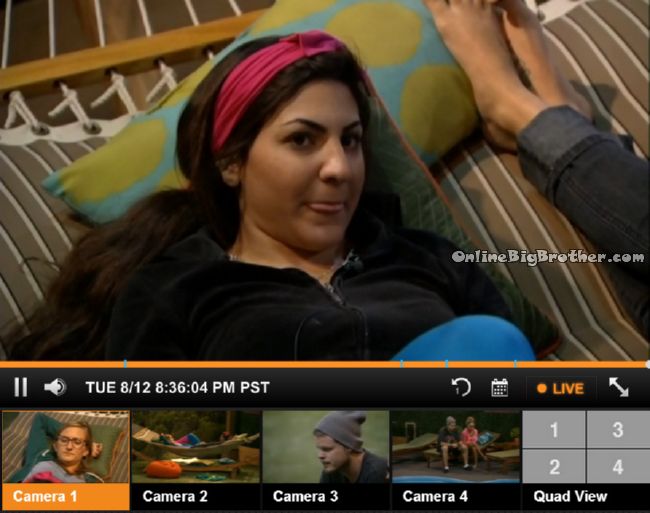 8:34pm Hammock Victoria and Christine
Victoria says if Nicole stays and Hayden comes back they are screwed.
CHristine says she just let Nicole talk and say her side of things. Christine – this is a crazy game..
Christine highly doubts a tie will happen there's nothing she can do for Nicole at this point
Christine – I have donny so much he pisses me off I don't even like being near him he irritates me
Victoria  – his comments.. alot of times he so rude
Victoria she knows where you stand
Christine theres no way she can convince them.
Christine – I love hanging out with her.. .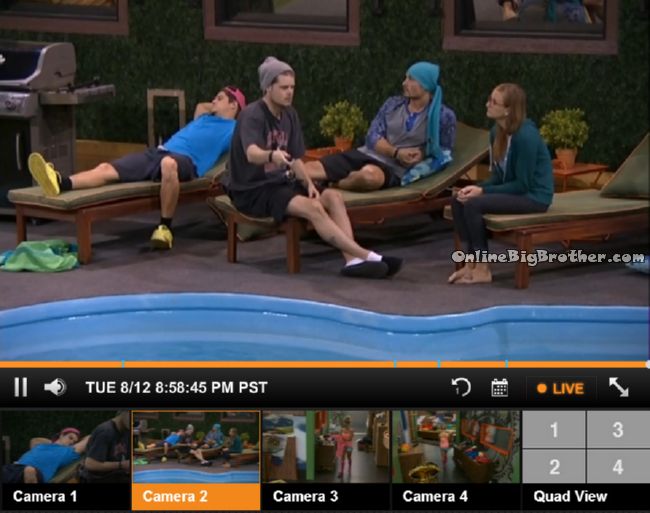 8:54pm Derrick, Zach, Caleb and Christine
Derrick says as long as Christine is cool about it he's going to tell Nicole she doesn't have the votes to stay.
Derrick – I wouldn't want to campaign when it's pointless.. rather spending my time playing games.. At this point there's nothing that can get blown up.
Derick will tell Nicole tonight that she's not staying, "At this point I would hope we all did that.. don't let me campaign for 3 hours"
Caleb volunteers to tell her "At the end of the day I can beat her she's too smart "
Derrick doesn't want any more blindsides he wants to be the one to talk to Nicole . (To secure her jury vote)
Derrick – let her enjoy it.. Feed the fish play some pool enjoy it..
Derrick to Christine – If anything you earned her respect you got her before she got you.. that's big brother.
Derrick – you did nothing wrong.. Ask yourself how would you want tot go.. don't let her running around scrambling.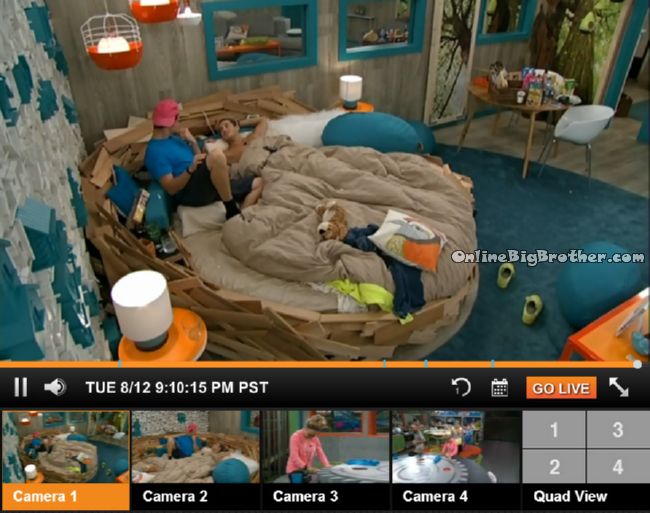 9:09pm HOH Zach and Frankie
Zach – I don't know how Cody cuddles with people and doesn't get h@rd (Frankie mentioned this earlier)
Zach – Blows my mind
Frankie I don't know or care if he is or isn't .. if he's secretly gay and wanted to have s$x with me I would be OK..