POV Holder:
Victoria
Next POV
July 19th
POV Used
Yes
POV Ceremony
July 26th
HOH Winner 1:
Frankie
HOH Winner 2:
 Cody
Battle of the Block Winner
Jocasta/Amber
Next HOH/ Next BOB
July 24/July 25
Original Nominations:
Brittany/Victoria(Cody) Jocasta/Amber (Frankie)
Final Nominations:
Brittany & Donny
Have Nots
?
POV Players
Cody, Brittany, Victoria, Caleb, Nicole, Zach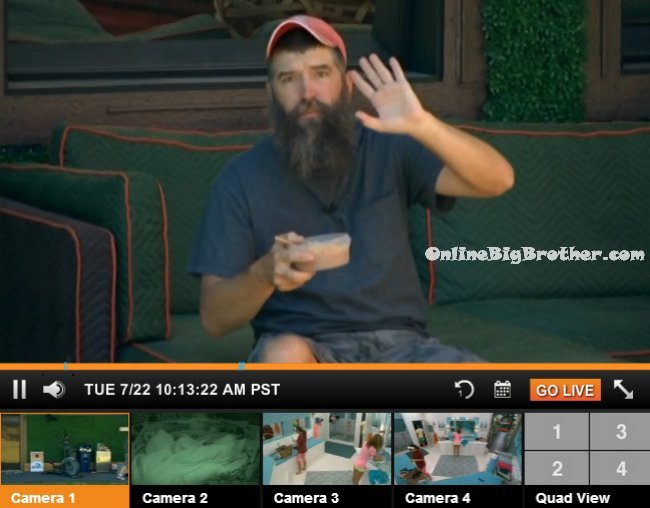 Big Brother 16 Live Feed FREE TRIAL – Use the FLASHBACK feature to watch everything you've missed!
10am – 10:40am Big Brother wakes up the house guests. Donny heads outside to eat his cereal. He looks up and waves to the live feeders. Donny tells Cody that he and a lot of other people want Brittany gone and that he only put me up because I am such a likeable person and no one would want me gone. Its a pretty nice thing if its true. Jocasta says she heard the same thing and thinks it could be true. Donny says its risky but I hope its true. Its best just to hide and say nothing till Thursday. Jocasta says that Brittany thinks she has Amber, Caleb and I can't remember the other person. Thats the same thing with Pow and it wasn't true. Donny says when you have nothing else to believe you have to believe if for a little while. When people tell you a lie you have to pretend to believe it and hope its true. Jocasta says I believe what they're telling you. My gut feeling tells me its true. Donny says that Cody once told me he would never nominate me. I think someone else was behind it. Someone had to say something to put it in his brain.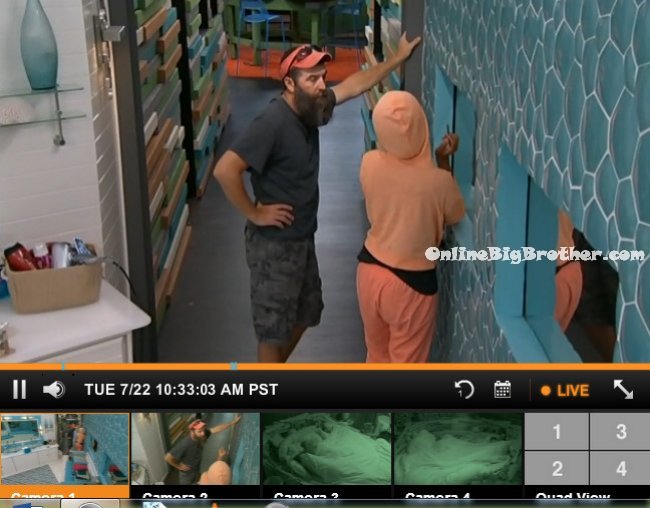 10:45am – 11:15am In the bathroom – Brittany finds a grey hair and tells Jocasta that she's never had one before. Jocasta says well if you were going to get one it would be in here. Brittany talks to Jocasta about how Cody doesn't want me to go. Caleb and Derrick also said they're voting for me to stay. Amber said she was going to vote with the house because she's scared of being a target but why is she scared if the head of household wants me to stay. Brittany asks should I be upset that when I asked Amber if I still have her vote and she told me she had to go with the house? It's ridiculous Nicole and Christine think she's coming after them because of the bed situation. I couldn't believe it when Amber told me that. Caleb will vote however Amber votes. Jocasta wonders if Amber couldn't tell her how she was voting because of the announcement to not discuss votes with other house guests. Brittany says that she feels bad for campaigning against Donny. Jocasta tells her not to and that Big Brother is an individual game. Brittany says that she is still holding out hope for a miracle announcement or twist. She says that she thinks if there was something like that they would have heard by now. She says she doesn't have Frankie's vote but probably has Victoria's. Jocasta says that Victoria will do what they tell her. Brittany says well then, I'll have her vote. It's so f**king frustrated how people are afraid to speak up and won't play their own game. I feel like I'm on a leash all the time. Brittany says I have the biggest bags under my eyes! Jocasta says you have to start going to sleep. Brittany says I've tried to but what am I supposed to do if my body just won't let me. Brittany says I just can't believe Amber did that. Jocasta says she is probably just doing whatever it takes to last another week. Brittany says well if that's true then people should be afraid of Donny because he is coming after all of them. Jocasta says well they probably don't believe that.
TEST out the Big Brother 16 Live Feeds for FREE with the 2 Day Trial!
11:25am – 11:40am Donny joins Cody out in the backyard. Cody comments that he was locked out of the diary room while they get the HOH blog ready for him. Donny asks if Cody had a good sleep. Cody says no. Donny says I did, isn't that funny the guy on the block slept good and the head of household didn't. Cody talks about how he'll be doing his blog today. Donny tells Cody that he can write about why things happened the way they did and blame things on people. You can explain things to your family and no one will know, I won't know and the rest of the house won't either. Cody heads inside to eat.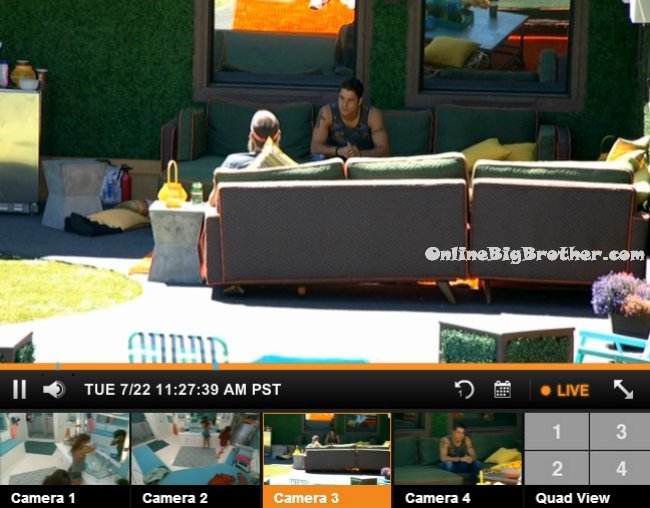 11:50am – 12pm Brittany asks Victoria I know you probably can't say but can you tell me what direct you are going to vote. Victoria says that she isn't sure yet. She says that no one is really talking about it. I don't know it will be a house vote or not. Brittany says that she doesn't understand why people are scared to vote because the most influential people in the house: Cody, Derrick and Caleb want me to stay .. so I don't know why people would be scared. The only way us four stay in this house is if we stick together. If you don't save yourself next week you're going to be the next one out. Victoria says I think there are bigger targets than me. Brittany says she fears Donny is making deals with them now. He is a threat, more than me so I don't understand why they would want to keep him unless they made a deal with him. I know Nicole thinks she's a target of mine because of the bed situation with you but she's not my target, one of the guys is. Victoria says I know if I go up again I WILL take myself off, its 100%. Brittany says nothing is a 100% in here, so don't fool yourself. Victoria says its within my own will and I know if I put my mind to something I can do it. I can take win the veto if I'm nominated again. Brittany says I have proved that I deserve to be here, I kicked a ball for 21 hours. They leave the room.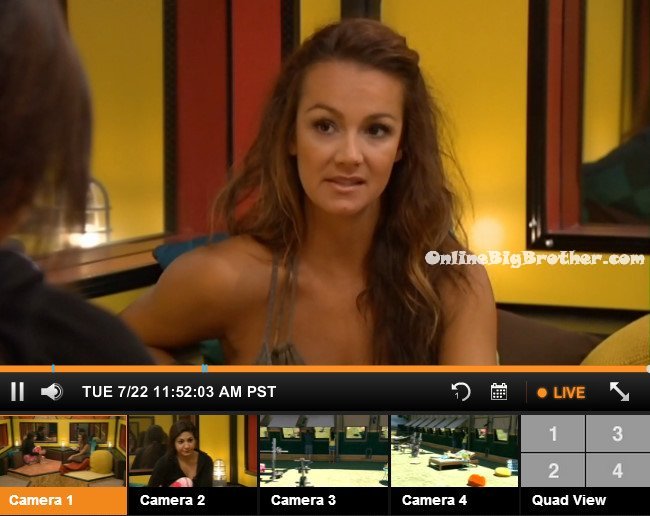 12:20pm Donny and Jocasta are making lunch in the kitchen and Brittany is suntanning out in the backyard.
12:40pm – 12:55pm Brittany asks Nicole to talk to her in the hive room. Brittany say that people have been coming to me telling me that you and Christine are my targets. Which is not that case at all. I am just tired of having to pick sleeping arrangements. You and Christine are not my targets at all. Its hard for me to campaign against Donny after he sat out there and helped me through the kicking challenge. I am sorry if I am distant, this whole situation is just hard for me. Brittany says that both Cody and Derrick want me here. The people that I want gone are the people that don't appreciate being here and don't do anything. I knew I had to complete that challenge because I didn't want people to think I gave up. I've had the sh*t end of the stick more than anyone. I've been put on the block more than anyone. Nicole says the only thing I heard was that I was your target. Brittany says there are a few people here that are stirring sh*t up and they're the people I want out of the house. Nicole says I will definitely think about it now. Brittany says I know you don't trust me completely, its hard to trust in here. Nicole asks all I would ask is that you don't put me up if you win HOH. Brittany says I wouldn't put you or Christine up. Brittany says that she wouldn't ever put her up, and would even agree to throw the HOH. Nicole says I wouldn't ask you to throw it, just not put me up. Brittany says I'm not a threat, Donny is a superfan and understands the game and can win comps, if you are going by threat,, it's not me. Brittany says Nicole and Christine aren't threats to her game. Nicole says I will take this into consideration. Brittany says I just don't want people to tell me one thing to my face and then do another. Nicole says right now, I just don't know what I'm doing. They hug and leave the room.
Out in the backyard – Nicole tells Donny that she just talked to Brittany. She says I won't vote for her to stay. She tells Donny he's good.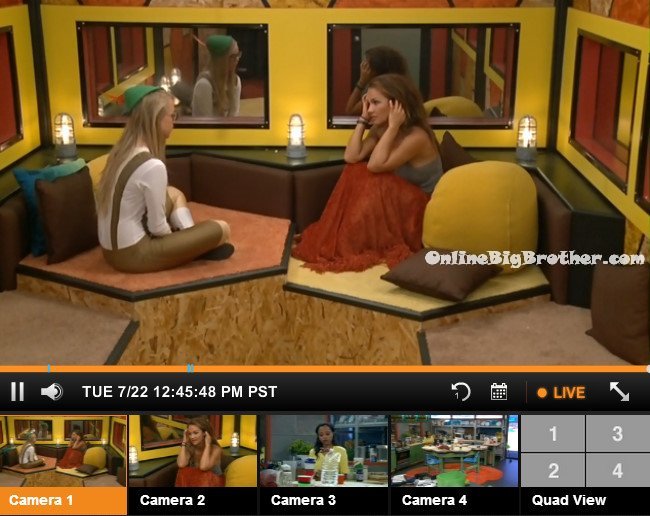 1pm Brittany talks to Derrick in the hive room. She tells him that she talked with Nicole and tried to clear up the issue of the bed situation. Brittany tells Derrick that Victoria is all cocky now thinking she's a big time competitor. Derrick says well that's not true, she wasn't the biggest competitor out there. Caleb really won the competition, Victoria went out before him. Derrick tells Brittany to just keep doing what she's doing and make it as discrete as possible. Brittany says that Donny is a bigger threat he has been calling out what's going to happen before it happens. That to me is a bigger threat than I am. Derrick says well I think that's why he's on the block. Brittany says all the girls are stupid saying they're going with the house vote. Derrick says I think you need to get to Christine and Nicole to convince them for sure. That is the only way you will feel safe. Derrick says going to Cody doesn't make a difference because he doesn't have a vote. Brittany says the 20 year old girls are up his a$$ and they go to him for what he wants. He wants me to stay. Derrick says it's definitely not going to be a landslide vote unless you can get Christine & Nicole. Brittany says Victoria is convinced she's a beast in the house. Derrick says okay, she beat me. I wasn't in the veto.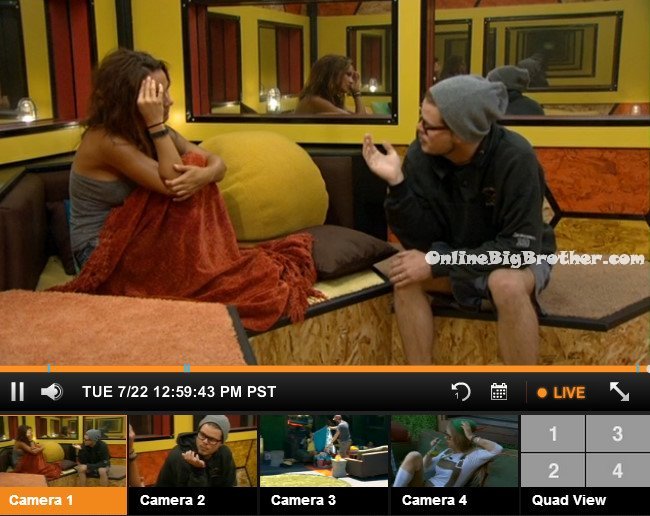 1:10pm Cody comes out with the HOH camera and starts taking photos. Nicole laughs about her talk with Brittany and tells Cody & Derrick that you two mean a lot in the house so I have to do what you want.

In the storage room – Derrick tells Christine that Brittany is going to come talk to her. Christine asks did you tell her you would vote for her. Derrick says yeah I pretended that I would. Nicole comes in and tells them about her talk with Brittany. Nicole says that Brittany thinks Cody and Derrick have a lot of control in the house and that we should all vote with them. Nicole tells Christine to just tell Brittany that you're not sure what you're going to do yet. Nicole says that Brittany is way worse than Donny.
1:30pm Brittany then pulls Christine into the hive room. She gives her the same campaigning speech. She tries to smooth over the bed situation and how she isn't mad at her or Nicole. Brittany says my targets are the people that have money and don't deserve to be here.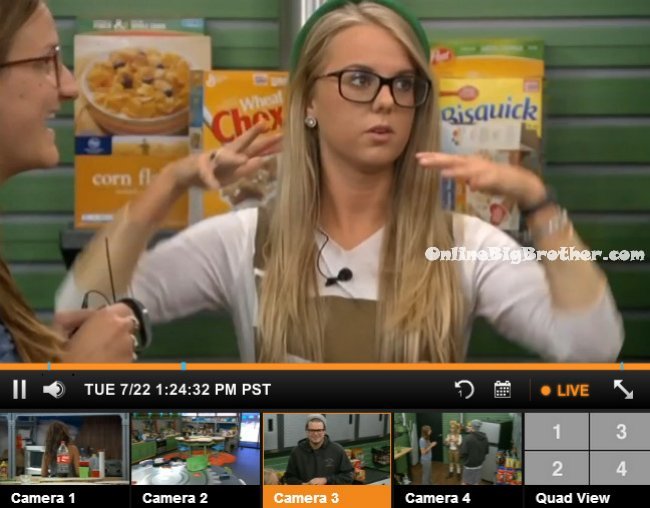 Alliances (Some Of these are dead)
Zankie = Frankie/Zach
Bomb squad = Caleb, Amber, Frankie, Derrick, Cody, Christine, Zach, Hayden
Team America = Donny, Derrick, Frankie
Nicotine = Christine/Nicole
Not a showmance= Hayden/Nicole
Los Tres Amigos = Derrick, Cody, Zach
The bottom Feeders = Derrick/Nicole
We hate Devin = Christine and Zach
Outsiders = Brittany, Victoria, Jocasta, Donny
Old timers = Jocasta/Donny
Stalker = Caleb/Amber
Quad Kings = Derrick, Zach, Cody and Hayden (still being built)
Trilogy = Nicole, Christine & Hayden
The Detonators = Derrick, Frankie, Zach, Christine, Cody
Final 2 Deal "The HITMEN" – Cody & Derrick
More polls here https://www.onlinebigbrother.com/big-brother-compendium/big-brother-16-polls/
[polldaddy poll=8198814]
[polldaddy poll=8194643]