POV Holder:
?
Next POV
July 19th
POV Used
?
POV Ceremony
July 21st
HOH Winner 1:
Frankie
HOH Winner 2:
 Cody
Battle of the Block Winner
Jocasta/Amber
Next HOH/ Next BOB
July 24/July 18
Original Nominations:
Brittany/Victoria(Cody) Jocasta/Amber (Frankie)
Final Nominations:
?
Have Nots
?
POV Players
?
1:40am Nicole and Amber are in the hive room talking and Christine enters. Amber says we want to keep you safe and each other safe. And we want to get some of these guys out of the house. I don't know where they stand but I am ready to make a bold move to make it to jury. I just found out that this morning that I was going up as a pawn and I don't like that. If I was to choose two girls that I trust, I would choose you two. I am close to Cody and I know you are too. I think that Zach should be the first to go. Nicole says but he would blow everyone up. Amber says I did trust Caleb until I heard he's telling people not to trust me. I don't need anyone to carry me in this game. I came in to this house by myself and I'm going to walk out by myself. Christine agrees. Amber says I want to see a girl win this year. Nicole and Christine say they want that too. I would carry you two as far as I can. We need one guy that we can trust, maybe two. Brittany and Jocasta aren't really playing the game. And Victoria they will try and get her. Amber says that she trusts Derrick. Christine tells Amber she thinks it would be good to stick close to Caleb because he will carry you. Amber talks about the conversation she had with Caleb earlier. Amber tells Nicole I know you're close with Hayden. Nicole says I am but not in that way. I am too scared to talk game with a boy. Amber says maybe I can mend things with Caleb. Amber says I have just been so loyal to people and now I am realizing they aren't to me. Christine says yeah I think this is a good triangle. Amber says I think we could share different information with each other that can help each other. Christine says we have so many different ranks of information we can get. Amber says I definitely want Jocasta to make it to jury. Nicole says well lets do this then. Christine says yeah.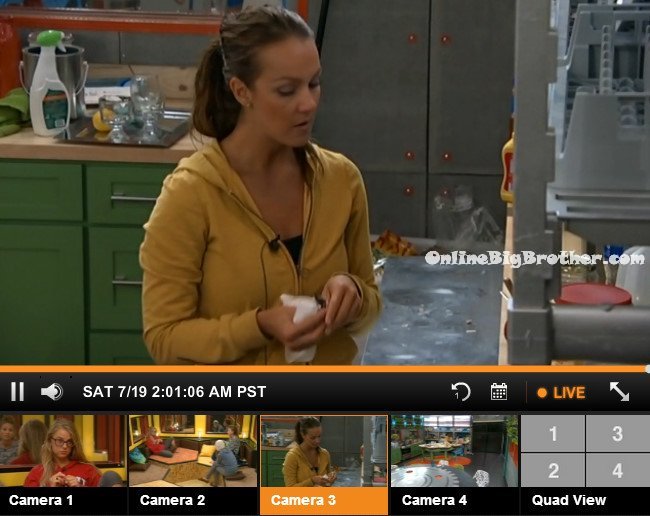 In the kitchen – Victoria talks to Brittany in the kitchen. Brittany says honestly I want to go home! I am good with going home I have never been around so many horrible people! I don't deserve this sh*t! I don't deserve to be f**king treated like this! I am giving up so much to be here and its not worth missing out on time with my kids. Victoria asks so are you going to stay up tonight. Brittany says I have to go back into the diary room because I couldn't keep myself together.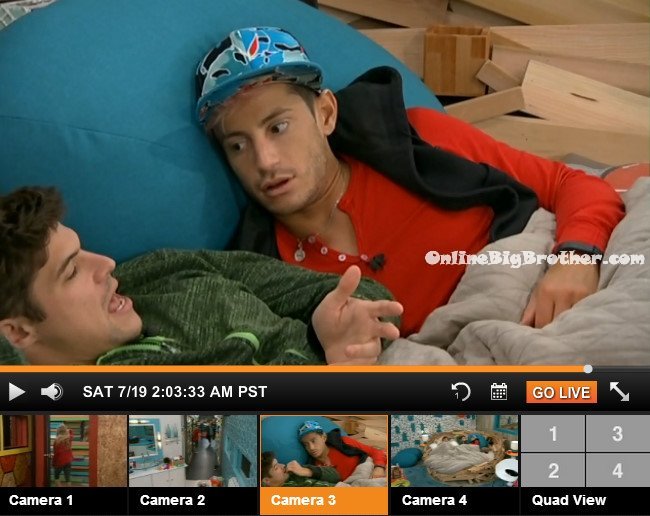 Big Brother 16 Live Feed FREE TRIAL – Use the FLASHBACK feature to watch everything you've missed!
2am – 2:10am In the HOH room. The cameras switch to Zach, Cody and Frankie in the HOH bed talking. Cody says that if Donny wins the veto and uses it I would put up Caleb and backdoor him. Zach asks would we really send Donny home if Brittany or Victoria won the veto? Frankie says no, I think he's a good seat filler. Zach asks so we would send Victoria home? Frankie says yeah I think thats what we would need to do. Zach says but we can't let Victoria go dude! If you knew what happened with Victoria today dude.. I wish I could tell you but I'm not allowed to say. Cody asks you're not allowed to say? Can you like hint at it?! Frankie asks what do you mean? Zach says sh*t went down! Like serious sh*t went down! I honestly can't talk about it! Frankie says I don't understand! Zach says it had to do with the diary room. Frankie says okay I understand. Cody says I don't get it. Zach says I want to tell you guys so bad but I honestly can't. Cody says I don't get why you can't. Zach says because they said you can't say a fucking thing, or you're going to get f**ked! Cody says wow! Zach says yeah it got that serious. Cody asks what was it about?! Zach says Victoria. Frankie asks but with you? Zach says no with her .. Frankie asks but how were you there? Zach says because she came out of the diary room balling her eyes out and I asked her what's wrong and she told me what happened and I was like that didn't actually happen. You're lying. And then I went into the diary room and asked what the f**k happened because she told me something that I don't believe.. It's just .. its f**Ked up! Cody asks did it have to do with anyone in the house?! Zach says no, dude I wish I could tell you guys!! Cody says I don't get it. Frankie says maybe she can tell you in private. Zach says no she can't because they made her do something about it. Frankie asks is it a personal thing? Is she pregnant? Zach says no, no! It's all about game. Zach says its that she did something that you can't do. Frankie says oh I understand. Zach says she did something you can do and she swore that she didn't do anything wrong and I was like Victoria I'm pretty sure you did something wrong. And she was like no I didn't bla bla bla.. And then I went in there and I was like obviously I don't believe Victoira but she comes out of the diary room crying her eyes out and … big brother blocks the feeds. When the feeds return. Frankie says Okay cool! I can only imagine. Zach says so you're picking Hayden for house guest choice and Amber for host. Frankie says are you kidding me?! I put her on the block. Cody says fine she will hate be but.. Frankie says No I don't care I will host many a gig in my life I don't care…
See what they can't show you on TV! -Try the Big Brother 16 live feeds for FREE!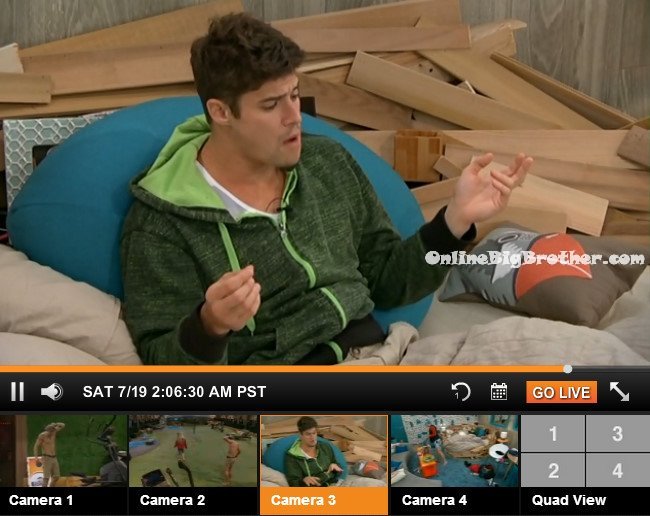 Zach mentions the Cody that Caleb says Cody was putting a target on his (Cody) back because of how close you're being with Amber. Cody says good I'm glad he said that now I have a reason to back door him. I want to send him home so he can see how creepily obsessed he is with her. Derrick joins them. Cody says I feel like if I don't get Caleb out and he wins HOH he will definitely put me up.
Out in the backyard – Caleb says that ever day he wakes up thinking she can kick him in the balls and spit in his face. Amber says I am sorry you feel that way. Caleb comments on how out of the blue she follows Cody around.
2:20am – 3am In the HOH room – Christine, Derrick, Zach, Cody and Frankie. Christine tells them that Amber wanted to make a final 3 (Christine, Nicole, Amber) deal with them and that is her first target (Zach). She said she wants a girl to win. Derrick asks does she not see that you hang out with us all the time? Derrick said the whole house will be playing against Amber for HoH. Zach says she wanted to use your HOH room to hold the meeting! They all laugh. Christine says that Amber said she is done with Caleb. Cody asks if she's done with him why is she out there with him. Christine laughs. They talk about the veto and if it gets used. If Brittany wins it Donny goes up and if Donny wins it and uses it on Brittany then Caleb goes up. Derrick brings up the who deserves it more card needs to end because no one knows what people have outside of the house. Everyone deserves to be here. Brittany saying that she deserves to be here because she has kids. She had kids before coming in here and I think she wants it for personal selfish reasons too. Hayden joins them. Hayden says I put in a good word for you I told him that it was all Amber and you were just going along with it. Cody says there isn't one thing that Caleb is better at than me. Derrick says it doesn't even matter if he put you up .. he has to have the votes and he doesn't have them.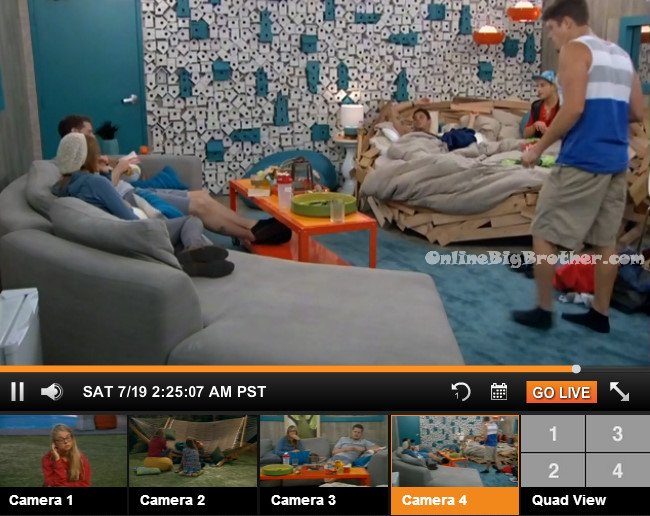 3am Zach says that Amber has lied to so many people in this house and now she is desperately crawling to get her self out of this hole! She is trying to be friends with You (Christine) and Nicole who f**king hate her! BOOM BOTS! Zach goes off about how much he hates Amber and wants her gone. Hayden tells Zach to bottle it up and hold it in.. because Amber is safe this week and she could win HOH next week. Hayden says okay Zach is 12 years old now!
3:10am – 3:20am Derrick takes spanky the sock monkey out of the HOH room and hang him up on the grill above the HOH's stairs. Hayden then goes out and grabs him and throws him over the balcony. Derrick goes out and chases Hayden. Derrick grabs spanky and starts putting him up at the cameras. The people in the HOH room watch him on the spy tv. Hayden grabs spanky and takes him to the nomination chairs. Zach hosts the eviction. Hayden does a silent speech and then does one with spanky. Zach evicts Hayden. He flips out and and fingers Zach as he leaves the room and then comes back and pretends to beat up Zach. They head back up to the HOH room. Zach says Caleb is just sitting outside in silence he is heated!! Zach then says you're welcome! Zach brings up how Amber said so many times "we're just friends!" Clearly she wants to talk about it.
WATCH the next 48 hours for FREE – Big Brother 16 Live Feed TRIAL!
3:35am Derrick, Christine and Amber head downstairs to get ready for bed. Zach, Cody and Frankie are all sleeping in the HOH birds nest bed. Hayden comes out from having a shower in the HOH room. They start talking about the thing with Victoria in the diary room. Zach says that Victoria made something up that never happened. Cody asks was Victoria saying it was something that happened to her in the house? Zach says no it was something that happened to her in the diary room. Big Brother blocks the feeds. When the feeds come back Hayden is leaving the HOH room and turns off the light.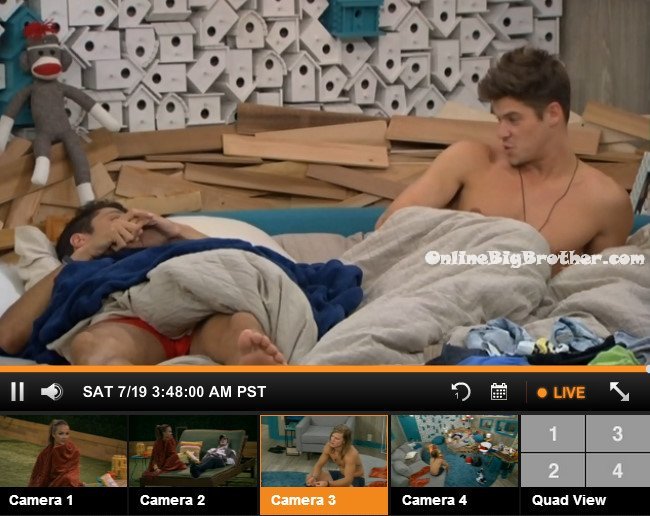 3:45am – 5:10am Out in the backyard – Brittany joins Caleb on the lounger. He tells her about his conversation with Amber earlier. He tells Brittany how any morning he feels like Amber could kick him in the balls and spit in his face. He says I wish everything I did for her I wish I didn't do it. Brittany says that everyone in here twists things. Brittany talks to Caleb about how she feels like she is being bullied. I don't understand why people think that I am such a big threat. Caleb tells her that all the other girls are scared to make a move in the house. They think that if you got HOH you would make a big move and put the guys up. Brittany says I like Victoria but if I go and she stays I am going to be pissed off because I am fighting to be here and she thinks this is summer camp. Caleb says I am in the same boat of wanting Victoria to go. She does not deserve to go to jury. Caleb says that people just want to know where you stand because some people think that you are working with Jocasta and Donny. It would be best for your game if you sat down with people and told them where you stand. Brittany says I've tried that, I am the most honest person in here. Caleb starts talking about all the things he's done for Amber and how she doesn't appreciate anything he's done for her. The romantic cowboy goes out the window. If I win a veto, I will not use it to save her. She has done nothing to put a smile on my face since day 1. Caleb says everyone in this house knows that I am the victim in this situation. The conversation turns to who deserves to be in the house more. Brittany says I am to prideful to campaign. She says she can't understand why anyone would keep Victoria over me. Caleb says no one in this house knows how to read me. No one knows where my loyalties lie. People base my eviction on me being able to win any competition at any minute. Caleb says that Derrick is one of the most trustworthy people beyond those doors. Caleb tells Brittany that someone persuaded Cody to put you up. Caleb says I hope you win the veto and that you stay. You can always talk to me. Caleb says my thing is that I don't want another Andy to win this thing? He won 1 or 2 competitions at most. I think the people that deserve to win this are people who have won 3 POV's and 4 HOH's. Caleb and Brittany continue to talk about the same things over and over again.
Caleb says more than likely I will have a whole line of girls that are looking for a good old country boy when I get out of here. At the end of the day I feel like I shouldn't have told amber how I feel (today). Brittany urges him to talk to her again tomorrow. Caleb says I opened my heart to her and I wish I didn't. Hopefully when we get out of here she gives me her number.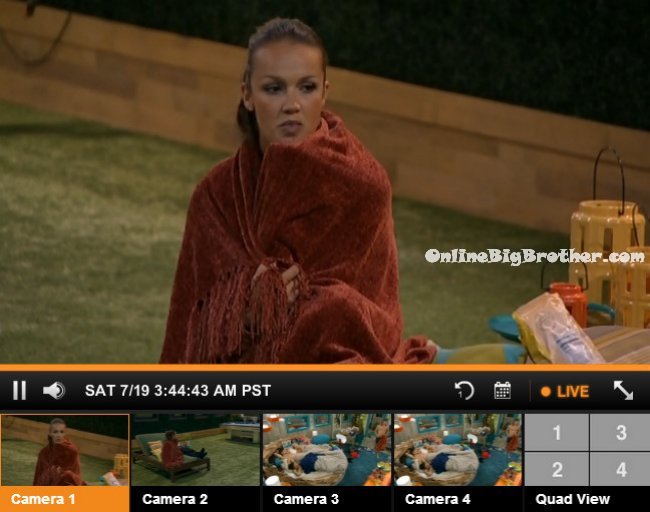 Alliances (Some Of these are dead)
Zankie = Frankie/Zach
Bomb squad = Caleb, Amber, Frankie, Derrick, Cody, Christine, Zach, Hayden
Team America = Donny, Derrick, Frankie
Nicotine = Christine/Nicole
Not a showmance= Hayden/Nicole
Los Tres Amigos = Derrick, Cody, Zach
Feed watchers = Derrick/Nicole
We hate Devin = Christine and Zach
Outsiders = Brittany, Victoria, Jocasta, Donny
Old timers = Jocasta/Donny
Stalker = Caleb/Amber
Quad Kings = Derrick, Zach, Cody and Hayden (still being built)
Trilogy = Nicole, Christine & Hayden
The Detonators = Derrick, Frankie, Zach, Christine, Cody
Final 2 Deal "The HITMEN" – Cody & Derrick
[polldaddy poll=8194643]
[polldaddy poll=8192326]