POV Holder:
?
Next POV
July 19th
POV Used
?
POV Ceremony
July 21st
HOH Winner 1:
Frankie
HOH Winner 2:
 Cody
Battle of the Block Winner
Jocasta/Amber
Next HOH/ Next BOB
July 24/July 18
Original Nominations:
Brittany/Victoria(Cody) Jocasta/Amber (Frankie)
Final Nominations:
?
Have Nots
?
POV Players
?
5:50am – 8am Brittany and Amber are still awake and in the kitchen talking. Amber says that she asked Zach what his reason for being here was and he couldn't tell me. Brittany says for me the game doesn't start until you get rid of the Zach's and the Victoria's because that is when you start making the crazy alliances and going against each other. Brittany says that Caleb said that I am up because people don't understand where I stand? Are you kidding me?! Brittany says for me I don't know how to go to people. Outside of here I don't show weakness… Amber says I like to help you as much as I can because I am close to Cody. If you were still here who would you want out. Brittany says don't say anything to anyone but Zach and Nicole. Also Frankie because he lied to my face. He told me that he was only going to put up weak people and then after nominating me he said that he was putting up the fiercest players. I am upset that Cody for me up and I feel like he owes me an apology. He compared me to apples and oranges saying that he doesn't understand why I am here. Are you kidding me? I feel like every time I get put up people shun me. I feel like I have been excluded from everything. I just don't get why I am on the outside. Brittany says I have never been give the opportunity to prove anything to anyone. Brittany says I would totally put up Zach. I still trust Cody. I would never put up Derrick, I love him like a family member. Zach he is like the male version of Victoria. I am not okay going home if Zach and Victoria are still here. After that I am okay with going home. Zach just sleeps and Victoria plays dress up. I honestly went to the diary room and told them that I want to go home now. Amber says you can't say that. Brittany says I don't give up in my normal life and it just broke me down. Amber says I can try and talk to Cody because I am close with him. Brittany says me, Jocasta and Donny aren't going to make it to jury and I think that needs to be mixed up with Zach. He doesn't deserve to be here. Zach told me I need to be cut throat and make up lies about Victoria but I am not going to do that, that's not me. I don't want my daughter to see that. Brittany says I was even going to volunteer for Cody or Frankie to put me up against Victoira that's how confident I was that people would vote Victoria out over me. Brittany says I am tired of being put up on the block and being used. Brittany says for sure votes that I would have would be you, Caleb, Jocasta, Donny. Amber says if I know that I can work with you, I will do whatever it takes to keep you safe. Amber and Brittany discuss what Amber could say to Cody.
Big Brother 16 Live Feed FREE TRIAL – Use the FLASHBACK feature to watch everything you've missed!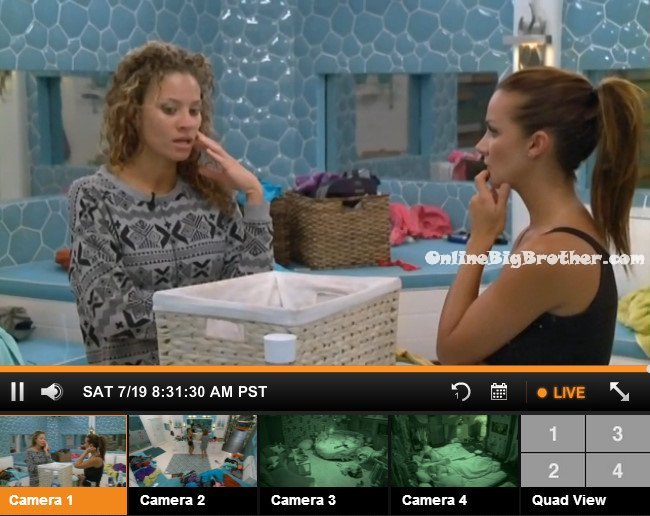 8:20am – 9:25am In the bathroom – Brittany and Amber are talking. Brittany says she doesn't get it. I've been up on the block three times now. It's time for someone else to go up. Amber says yeah I've been up twice now. Brittany tells Amber I am telling you if you and I are in a challenge together like an endurance I would be on it until my legs fall off. Amber says even if they did replace you I think it would be with someone else that would stay here. Brittany you need to get you butt in gear and start playing the game because people don't think you're in it. Brittany says its crazy it's not like am going to align with Donny or Jocasta. Amber tells Brittany on Thursday if you are still on the block I will tell you if you're going. Brittany says I feel like people would vote for me to stay if the guys knew I wouldn't put them up. I could says that I would put up whoever they want me to put up. Amber says don't say that because what if they want you to put me up. They're going to know we're working together if you say you won't put me up. Amber says its a good thing that Cody is HOH because he's a softy. We just need to play hard in the POV. Amber says she volunteered to be the host if she doesn't get picked. We need to get Cody to pick Zach as the host. Amber says no one can know that you, me and Cody are talking. Amber asks what should I say to him. Amber says tell him that I understand why he put me up, I was just upset.. Big Brother blocks the live feeds. When the feeds return – Donny is up with Brittany and Amber. Brittany and Amber say they're going to go to bed. Donny is the only one up.
Watch the ENTIRE SEASON of Big Brother 16 for ONLY $26.99 – TRY it For FREE!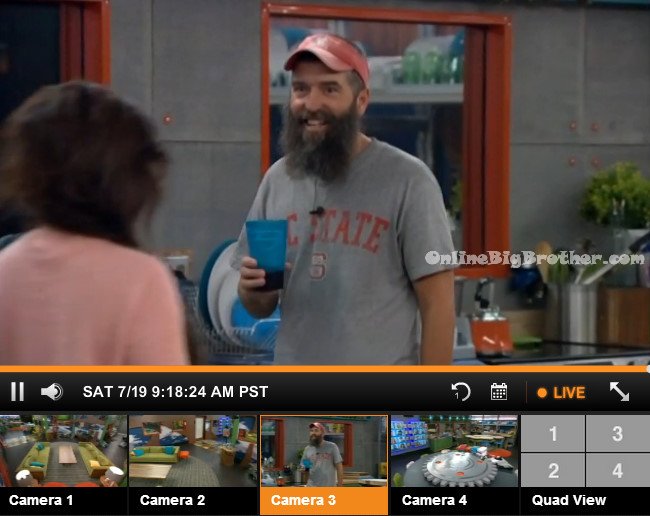 9:25am – 9:30am Christine, Victoria and Amber get up and start getting ready for the day in the bathroom. Up in the HOH room – Zach asks how did you know that Brittany and Amber pulled an all-nighter? Frankie says because I was called to the diary room at 7am and he ran into Brittany and Amber and they said they were up all night. Frankie says so they were trying to figure out how to pull Brittany off the block. Cody says okay so that's what's going on. Amber is such a flip flopper! Cody wonders what he should say. Frankie says just nod your head to whatever she says. Cody heads down stairs and asks Amber when she went to bed. She says she didn't. Cody asks are you out of your mind?!! Amber says I guess.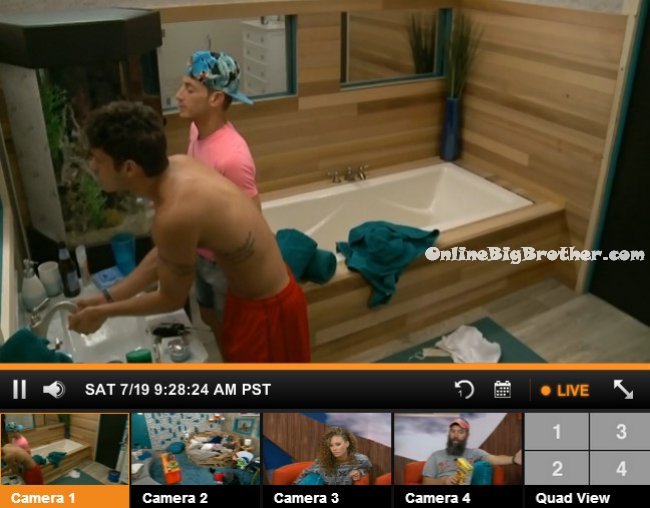 9:35am – 9:45am Amber and Cody talking the storage room. Amber tells him that I don't want to host I want to play in the POV. Brittany wants to talk to you. If Brittany is still here she will not put you on the block or come after you. Cody says I will talk to her but I just know that if she had won this week it would have been a different story. I would be up, Caleb would be up.. Amber tells Cody that she trust him and tell him that Brittany deserves to be here. Jocasta comes in and Amber says I would just like to not host. Amber leaves. Cody hugs Jocasta and asks her if she will be the host of the power of veto. Derrick comes in and laughs about what Amber just told him. She doesn't want to host because she wants to play. Doesn't she realize that its not like I pick the host first. Cody laughs at how Amber doesn't even understand how it works. Cody says that Amber told him that Brittany deserves to be here.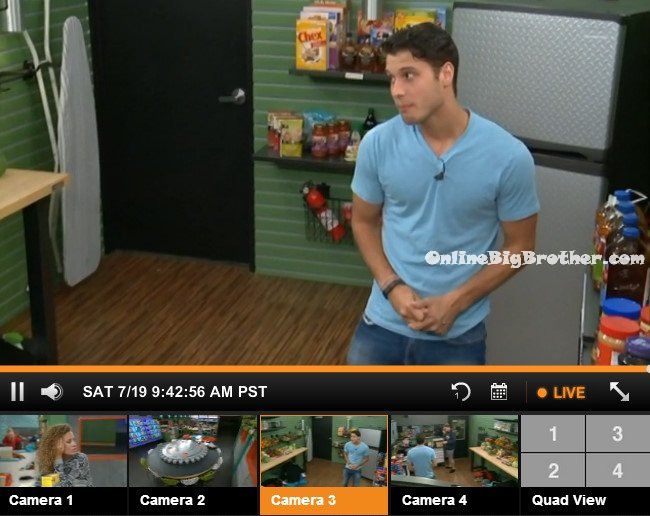 9:45am Up in the HOH room – Cody talks to Frankie and says that Amber said she talked to Brittany all night and I'm not her target. And she wants to play in the POV. Frankie says so basically she wants to play to take Brittany off. Cody says I don't think she gets the concept that you only get to host if you don't get picked! I am not picking you as house guest choice are you crazy!? Cody is annoyed that Brittany wouldn't just come talk to him herself. They comment on how Caleb was up with her all night too. Frankie says wow. Cody says I think Brittany needs to go then Amber, then Jocasta and Caleb.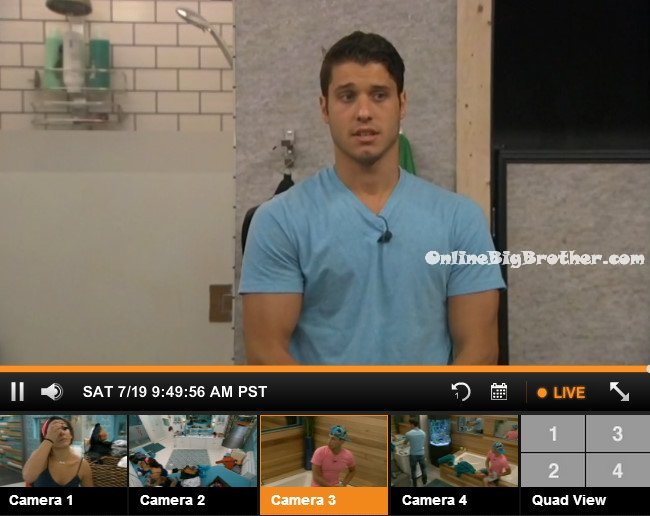 9:50am – 10am In the fire room – Brittany talks to Derrick. He tells her that she needs to talk to Cody because there are people here that didn't know he was putting you up, me included. Brittany tells Derrick that she trust him 100%. Brittany brings up Cody said he was putting up weak players and then he puts me up and says we're fierce players. Brittany says the two people I think should go home before me are Zach and Victoria. I don't think I have done anything for people not to trust me other than being hard to read. I have been on the board more than anyone else. It pisses me off that Cody said he didn't know if Victoria and I were here for the game. Don't compare apples and oranges. Derrick says I can mention something to Cody if you want. Derrick tells Brittany that she should be focusing on the Veto because if you win it you can basically tell people to go f**k themselves in a nice way. Big Brother literally changes at the drop of the hat. He told me that he just didn't know where your head was at. Go out and win the POV and then you don't have to justify yourself to anyone and this is a moot point. Just know I have your back and you can always talk to me. Derrick leaves the room.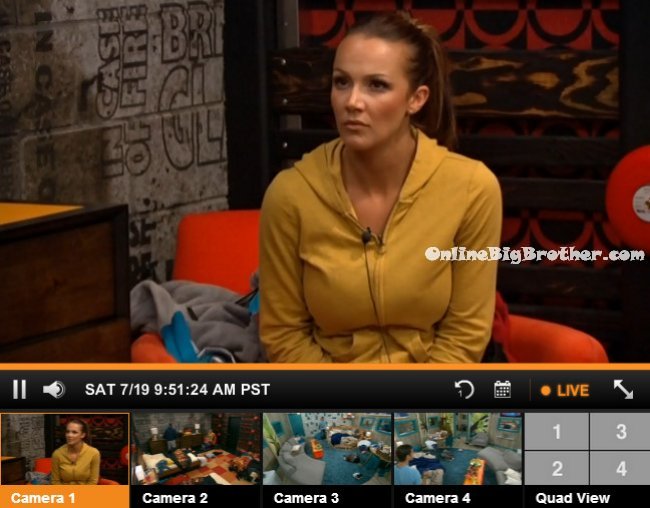 10:10am – 10:20am in the HOH room – Derrick tells Cody about his conversation with Brittany in the fire room. She thinks there was an ulterior motive to you putting her up. I told her that you just didn't know where her head was at. Cody says I already told her that. Derrick says two things I took from the conversation are that Zach needs to keep his mouth shut and Amber can't be trusted. Cody says there is no chance in hell that we are keeping Brittany this week. Derrick comments that Brittany won't come up and kiss you butt like the other girls. Cody says that he will ask her flat out which girls are kissing my a$$. Derrick says Brittany said that Zach told her that everyone is voting her out and she thought she was safe and now she has to campaign. Cody says if she tells me that about Zach I am going to call Zach out. He needs to keep his mouth shut. Zach comes up and says we need to keep Brittany. Zach pauses and then laughs. Cody says I don't know how much longer I am able to play this game with Amber. She played an all-nighter with Amber and now she is saying she wants to play in the POV.. why because you want to pull Brittany off the block if you win it!? Derrick says you just need to concentrate on winning the veto and if I get picked I will too. Derrick heads down stairs.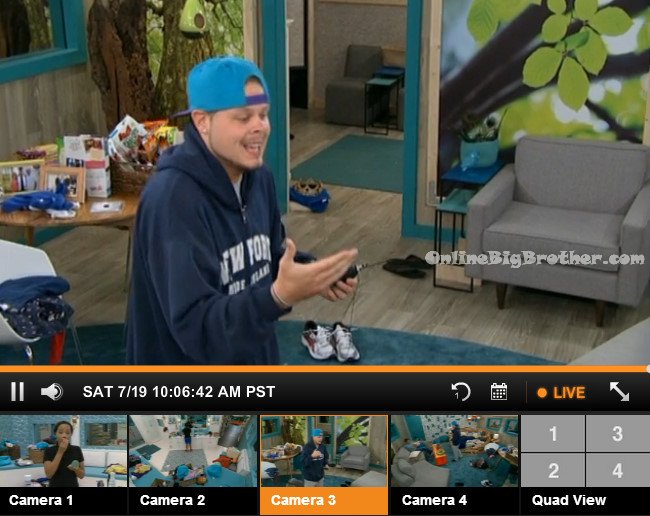 10:30am Zach says hopefully you get house guest choice and you pick Hayden and then Brittany pulls my name. Zach laughs. Cody says next week Amber needs to go and then Caleb. Cody says he is stunned that Brittany won't just come talk to me. Cody says we cannot let anyone know that Christine is working with us because she is finding out everything for us. There is not a single girl in this house that I would protect over Christine. Amber thinks that she can play me like she played Caleb. Cody says that Caleb is being a little b***h! Zach agrees. Cody gets called to the diary room. Everyone comments on how the picking for the Veto players will be happening soon since Cody just got called in.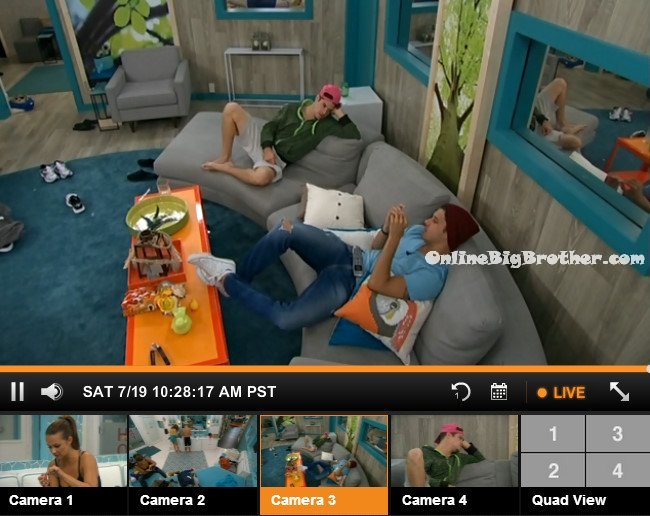 10:40am – 10:55am UP in the HOH room – Frankie tells Zach that you're Brittany's number 1 target. Zach asks what? I thought she liked me. I talk to her all the time. Frankie says she thinks she deservers to be here more than you because she has kids. Zach says I hate that excuse. Frankie says once we walked through that door we all became equal. Frankie heads downstairs. Frankie heads back downstairs. In the kitchen – Derrick, Caleb, Frankie, Hayden, Victoria and Amber are hanging out talking about random things. In the living room Donny and Christine are sitting on the living room couch. Caleb and Frankie head into the hive room. Caleb tells him about his conversation with Amber where he told her that every morning he feels like she will kick him in the balls and spit in his face.
10:55am
Big Brother blocks the live feeds..
Alliances (Some Of these are dead)
Zankie = Frankie/Zach
Bomb squad = Caleb, Amber, Frankie, Derrick, Cody, Christine, Zach, Hayden
Team America = Donny, Derrick, Frankie
Nicotine = Christine/Nicole
Not a showmance= Hayden/Nicole
Los Tres Amigos = Derrick, Cody, Zach
Feed watchers = Derrick/Nicole
We hate Devin = Christine and Zach
Outsiders = Brittany, Victoria, Jocasta, Donny
Old timers = Jocasta/Donny
Stalker = Caleb/Amber
Quad Kings = Derrick, Zach, Cody and Hayden (still being built)
Trilogy = Nicole, Christine & Hayden
The Detonators = Derrick, Frankie, Zach, Christine, Cody
Final 2 Deal "The HITMEN" – Cody & Derrick
[polldaddy poll=8194643]
[polldaddy poll=8192326]