POV Holder:
?
Next POV
Aug 2nd
POV Used
?
POV Ceremony
Aug 4TH
HOH Winner 1:
Donny
HOH Winner 2:
Nicole
Battle of the Block Winner
 ?
Next HOH/ Next BOB
Aug 8/Aug 1
Original Nominations:
?
Final Nominations:
?
Have Nots
?
POV Players
?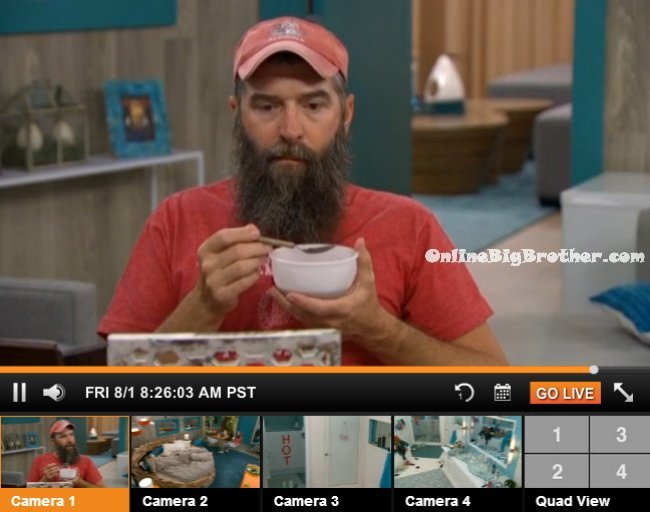 Take Advantage of the FREE 2 day Trial to watch all the drama!
8:10am Big Brother wakes up the house guests. UP in the HOH room – Nicole, Christine and Donny are waking up. Donny is looking at his HOH photos. He comments on what the world he was thinking in one of the photos. Christine leaves the HOH room. Donny asks Nicole if everything is still copasetic? Nicole says yeah… I am just trying to figure out what to say. Donny says say froot loops… say Coco Pebbles, it don't matter. Donny looks at his photo and says I look so fat …goodness. Donny says it would be nice if you're people dethroned me. Nicole asks really? Donny says Like what you side right here, for the long term thing. It would be nice, it would be good for tv. I try to think about how it would be for the viewer. I am a viewer. I will give mine a good pep talk after too. Nicole says I don't want people to think that Zach isn't my target. Donny says I would want to talk to Victoria because she will be crying and it would hurt my feelings. Him, I want him to think he is my target. But I want him to know that he put me up, I put him up. We're even, we're square. IF for some reason you're here next week. We're square. I don't know what people would be wasting their time alone. I don't know what in the world why a bunch of young people would target me. Donny says you best get up and eat. It could go fast. Nicole says I know I am just thinking.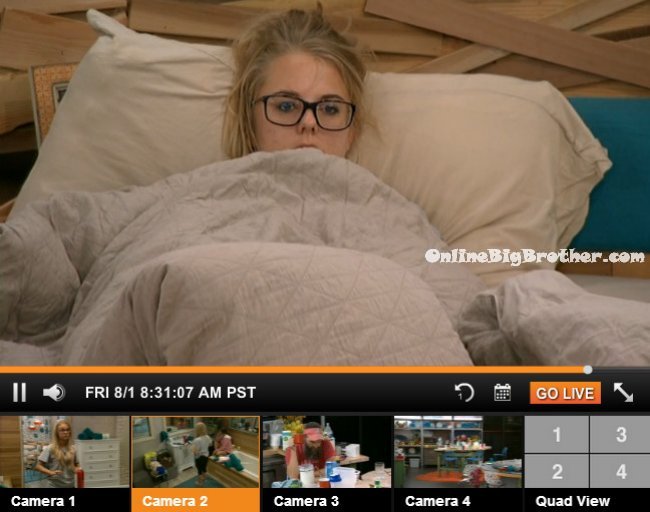 8:55am – 9:40am Victoria joins Nicole up in the HOH room. Nicole and Victoria head into the HOH bathroom to get ready. Victoria asks Nicole has he talked to you about nominations? Nicole says no. Victoria asks Donny are we good? Donny says we good. She's my target. Victoria you have to win HOH so that you can get that letter and pictures. Victoria heads down stairs to get dressed.
9:40am – 9:55am Nicole is annoyed in the HOH bathroom because she pulled down her pants and her butt was out. (The cameras weren't on the HOH bathroom so nothing was seen on the live feeds.) Nicole is super worried about her butt being out on the internet now. Donny says he's sure the camera's weren't on her.
Nicole says I don't want to be mean to Zach at all. Like I don't want to stoop to his level but I was thinking I could say something like… If I were to put him up. Zach .. I wanted to say something about a dictionary. Zach I wanted to keep up the tradition of bringing out the big brother dictionary and … I don't know if this is too mean but I wanted to say something like BUT its not needed and I am sure you did expect this. I really wanted to says Zach I wanted to keep the tradition and pull out the big brother dictionary.. you can look it up in any dictionary the word Karma.. Last week you said some mean things to me and so I bet you did see this one coming. Do you think saying Karma is mean? Because it could then come back on me. Donny says yeah Karma would only be if he could go out the door you know? Nicole says yeah and he's not going to. Donny says because all this nominations is useless because he could take himself off today. Nicole says yeah I don't want to put him on blast but I don't want to look like a weak player and .. Could I say Zach I wanted to pull out the big brother dictionary ..but its not needed. With everything that happened last week I am sure you saw this coming. Donny says that's fine. And he's been up there before all the way to Thursday and it didn't bother him. Nicole says I think he wants me to say something mean so that he can say something back. Nicole is worried about her butt hanging out. Donny says these people in this establishment won't put it out there. Nicole says I hope not because I want to be a nurse. Nicole says I wanted to run my speech by Hayden and he knew I wanted to too…but he didn't get up. Oh well I can handle it. Donny agrees.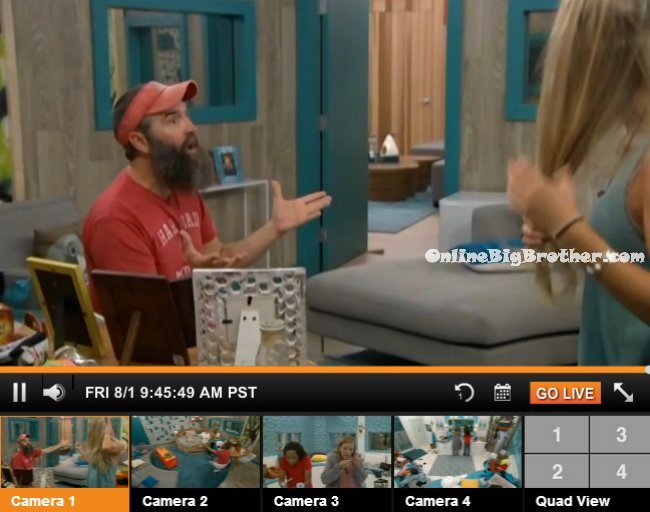 10am Big Brother blocks the live feeds for the nomination ceremony to take place…
10:50am Still blocked..
Alliances
Zankie = Frankie/Zach
The Detonators = Derrick, Frankie, Zach, Christine, Cody
"The HITMEN" – Cody & Derrick
Trilogy = Nicole, Christine & Hayden
Team America = Donny, Derrick, Frankie
Old timers = Jocasta/Donny
Nicotine = Christine/Nicole
More polls here https://www.onlinebigbrother.com/big-brother-compendium/big-brother-16-polls/
[polldaddy poll=8220599]