POV Holder:
Chrsitne
Next POV
Aug 2nd
POV Used
?
POV Ceremony
Aug 4th
HOH Winner 1:
Donny
HOH Winner 2:
Nicole
Battle of the Block Winner
 Caleb/Victoria
Next HOH/ Next BOB
Aug 7/Aug 8
Original Nominations:
Donny's Noms (Victoria & Caleb) Nicole's Noms (Zach & Jocasta)
Final Nominations:
?
Have Nots
Frankie, Cody and Hayden
POV Players
Nicole, Christine, Jocasta, ZachAttack, Caleb, Victoria,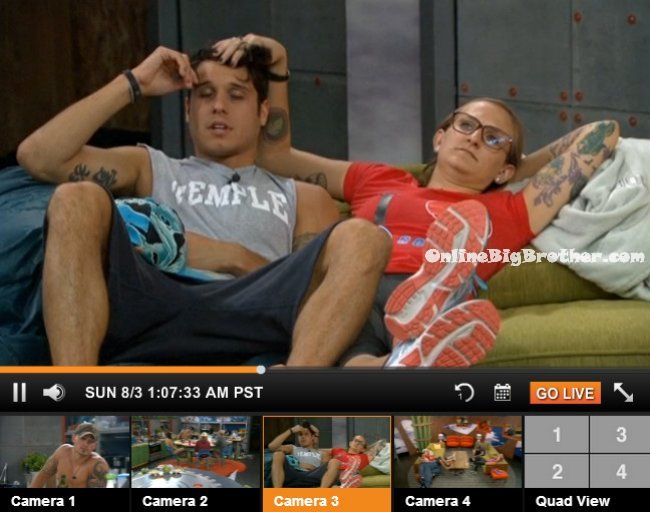 1am In the living room – Cody, Christine, Derrick and Frankie are in the living room talking. Cody says after this is all over I would like to stay here in LA for a while. Christine says Amber has a place here. Cody says I don't think Amber would be that mad at me. They're all sitting around talking about random things and about their lives outside the house.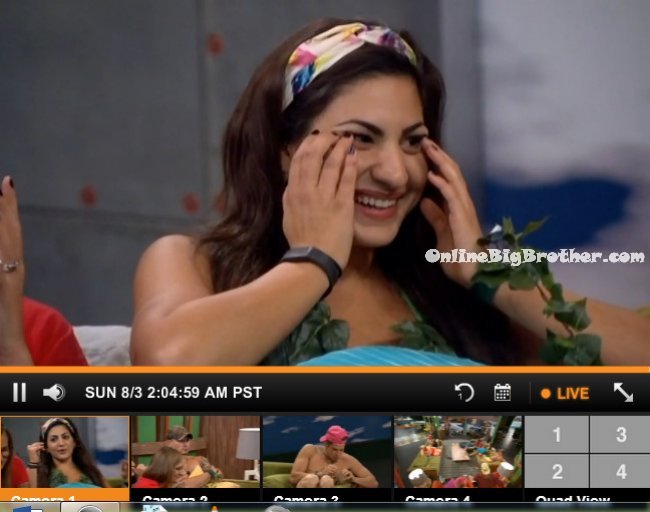 2am In the living room – Victoria, Caleb, Zach, Jocasta, Frankie, Cody, Christine, Hayden and Derrick are talking about dating. Victoria talks about dating. She says when guys come over her Mom has coffee, tea, cake, etc, out for them. She says she pretends to need to still get ready so that her mom can grill the guy. Victoria says she texts her mom throughout the date too to let her know how its going. Zach asks if she does this more than once a week with different guys. Victoria says yeah. Zach asks if she takes guys to the apartment she rents. Victoria says she doesn't take guys there. Its for work, I don't want to get it dirty. Zach says oh so guys are dirty. Derrick says my wife busts my balls everyday because I call my mom everyday. Caleb says when I pick a girl up I tell them exactly what's going to happen. I pick a girl up with we'll head out to a field with pizza and beer and watch the stars. Zach says smash lab! Caleb says sometime we be half drunk and and ask them hey what do you want to do? They house guests yell! Caleb says sometimes we'll go cow tipping. We don't do that any more because I'm gown up and know that you can kill them. Caleb says Amber loves hiking so I would plan a date with hiking because its more about her. Derrick asks would you talk about how you voted her out?! Caleb laughs and says no we wouldn't talk about that. In the kitchen Frankie and Cody laugh about how Caleb has his and Ambers name in his hat. Cody says come on dude!
Big Brother 16 Live Feed FREE TRIAL – Use the FLASHBACK feature to watch everything you've missed!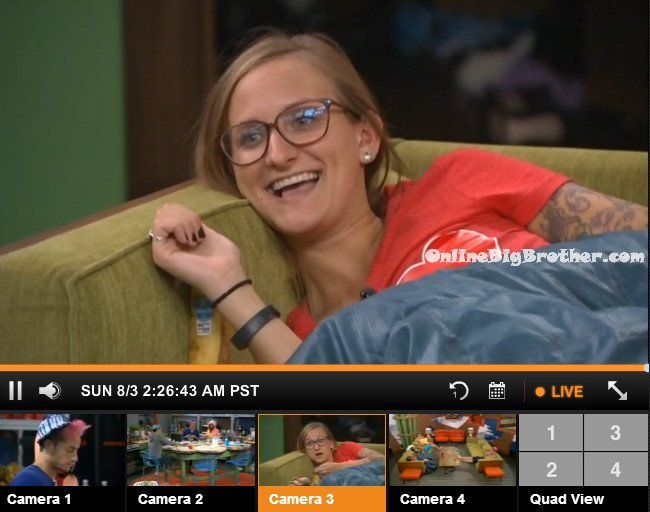 2:40am – 3am Zach asks Victoria what she drives. Victoira says a Hyundai. Zach says what a Genesis, Sonata? Victoria says a Sonata, I just leased it before I came in here. Zach says can't wait to have my Prius. Caleb says even if you do get evicted Thursday you'll go to jury and you'll get your prius. Zach says I'm not going home Thursday, I will eat a banana, I'll eat 20 bananas! I'll suck your d**k! Zach wonders if he will get lots of dates after. He says he would be ecstatic if he got two dates a week. Caleb says talks about adding a girl on facebook that's a smoke bomb and then didn't message her for two years because she was way out of my league. When I did message her and talked about wanting to be on reality tv she said she doesn't date guys who want to be on reality tv. Zach says in Florida there are literally 17 girls walking around in thongs and you don't know they're 17. Zach says I am going to go to the mall and hit up Forever 21 and hit on the girls there. Caleb says you don't chase a girl you let her come to you. Caleb says where I come from I am the town bachelor. Zach laughs and says just sounds funny. Caleb says in that town me and my brothers own that town. Everyone knows us. We have the biggest salon, the biggest church. Caleb says when I get out of here I am going to be getting Facebook and Instagram direct messages like crazy! Zach says eviction speech is going to epic! Caleb asks Zach to tell him his speech.
Big Brother 16 Live Feed FREE TRIAL – Use the FLASHBACK feature to watch everything you've missed!
Zach says its a poem:
"Roses are red, violets are blue. Bla Bla Bla is my target and I'm coming for you. I love all you people and I am so grateful. Maybe I'll even change my ways and not be so hateful. We're all going to jury, we're on the right track. Fans and America please hashtag Zach-Attack. House guests please give me another chance, If you want to follow me on instagam or twitter my name is Rancypants. Your decision is crucial, the wrong choice my cost ya. So when you walk into that Diary Room please vote out Jocasta."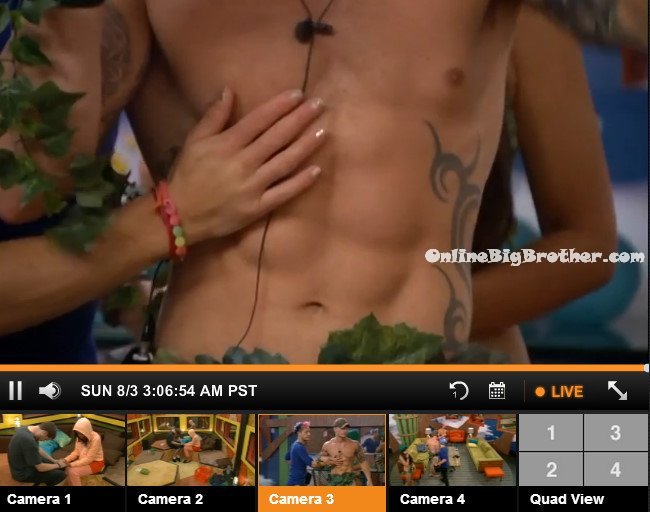 3:10am In the hive room –
Derrick and Jocasta are praying. After Derrick tells her to wait until after Monday and see what happens. She says that she thought she almost won that competition. Nicole joins them. She tells Jocasta to talk to Christine first and then talk to me.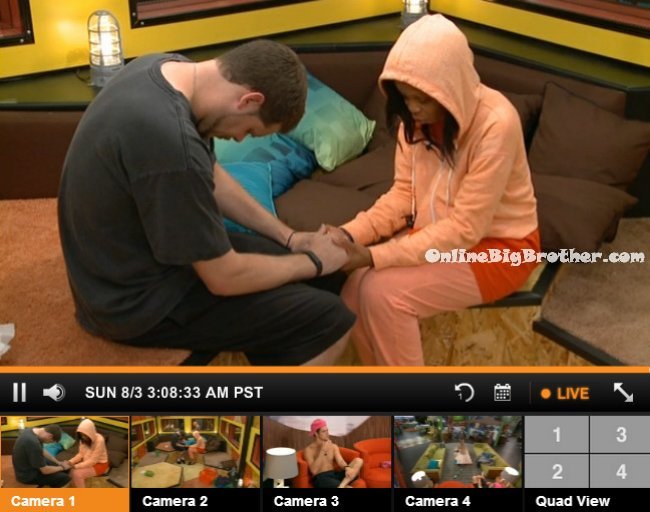 3:15am – 3:35am Hayden and Cody are talking in the havenot room. Cody says that Christine wanted Zach gone and now she's pushing for him to stay.. Hayden says and obviously because of Frankie. Derrick joins them. He talks about praying with Jocasta in the hive room and how Nicole came in and it got awkward. Hayden says that Christine is really pushing for Zach to stay. Derrick leaves. Hayden says I don't mind if Zach goes because that takes away from Frankie and Christine. Frankie joins them and they go to sleep. Cody comments that he didn't want to be the guy that hit on a girl and go denied on national television. He talks about Amber laying tickling his arm for hours. Cody says I am telling you right now Brittany would have made out like a champ. Hayden says you would have shoved your face in her boobies. Frankie says I am telling you if you act guy you would get so much more play.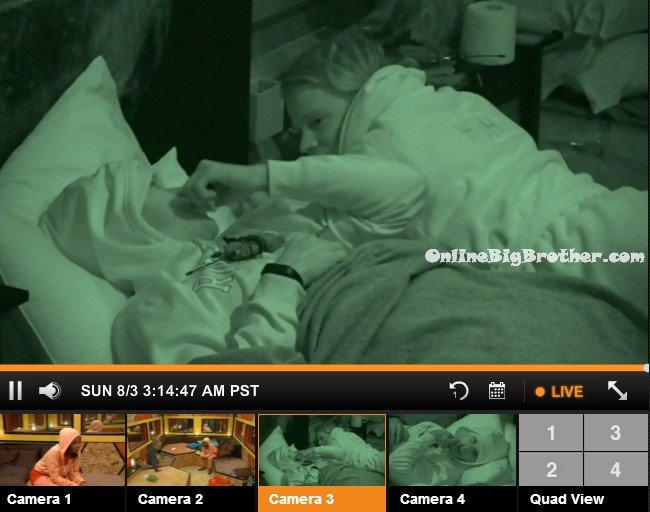 3:30am – 3:50am Zach and Derrick are sitting on the living room couches talking. Derrick talks about his wife Jana paying the minimum for the bills while he is gone and then when he gets out he can take care of them with the stipend or winnings. Derrick talks about the small house they live in. The conversation turns to talking about the casting process and how they noticed. Zach says she saw Nicole and thought no way she's getting on the show. He says when I walked in she was the first person I saw and was like alright. Zach says Nicole is the Ian of the show. I'm the Amanada. Derrick says I'm the Helen of this season. Derrick and Zach get ready to go to bed. Zach looks at the memory wall and says its crazy 5 people are gone and 2 more could go this Thursday. Zach comments on how he Zach says that Victoria is unintelligent, she's weak. Derrick says and that's why we're keeping her.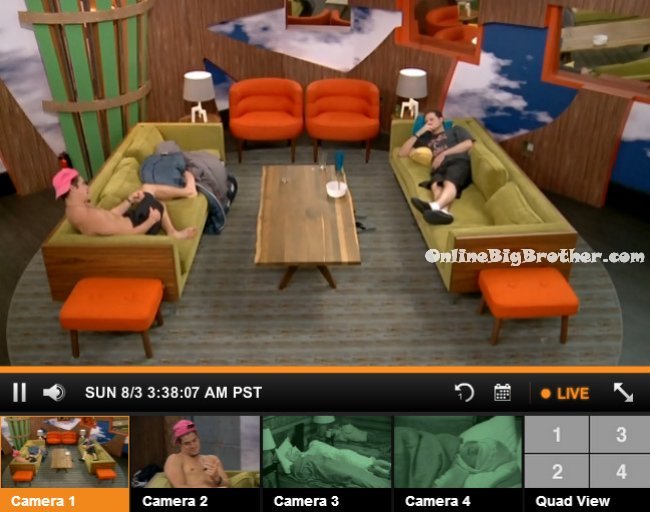 3:53am – 4am Derrick heads up to the HOH room and he and Nicole head outside to talk. Derrick says that Zach was asking if Christine would use the veto and I told him he needs to campaign hard. I was talking in the havenot room with Cody and Hayden and Hayden said that Christine was talking like she wasn't using the veto. I don't think she would use it because she doesn't know who you would put up as the replacement. Christine walks by and notices them talking. Nicole asks him if he thinks Christine will use it. Derrick says he doesn't know. Nicole says if Christine does use the veto she'll put up Frankie. Nicole says she's not going to put up Donny. Nicole says that Zach's target is me. Nicole says getting rid of Zach is best for all their games because he can snap at any moment.. Derrick says that Zach's target is Victoria and not Nicole. Nicole says that Zach told her to her face that she's his target. Derrick thinks the battle of the block will still be going on next week and if I win HOH I have to find reason to not put up you, Cody and Hayden. They agree how if Christine asks what we're talking about I'll just say it was about you walking in on Jocasta and I talking earlier because it was awkward.
4:10am – 4:15am In the earth room – Zach, Derrick and Christine are talking. Zach asks if she (Nicole) still want me out? Christine says yes. Derrick tells Zach to not be so obvious but that he should still campaign. Zach thinks the vote will be 8-0. Zach tells Christine that he's glad she won. He tells her that he'll make her breakfast tomorrow but then says he doesn't want to make it obvious. Zach says we're in such a good spot. Christine agrees. Zach says if Frankie or Cody win HOH we're good. Zach tells Christine you are the only girl that has a chance at winning this game. Christine says laughs and oh my god. Zach says after Thursday there will only be 3 girls and 7 guys. Zach says we have to make sure we get to the final 5. Christine says we just have to make sure two of us aren't on the block. Zach says we're so close! Zach says we are essentially like the Brigade we control the vote. I honestly think everything is going according to plan. They say goodnight..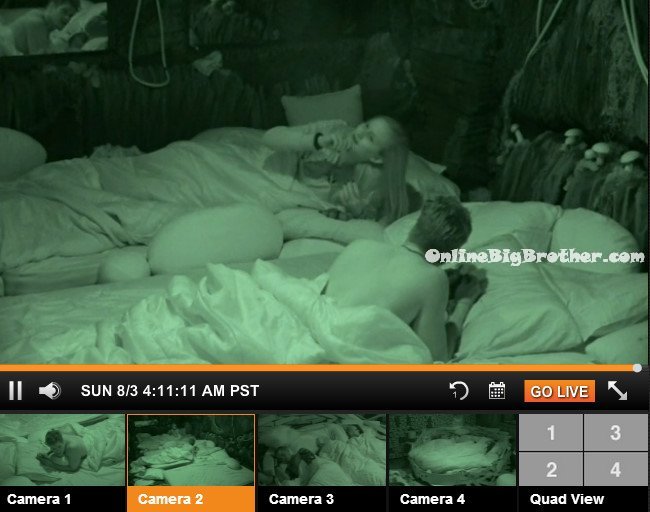 Alliances
Quad Squad = Nicole, Derrick, Hayden and Cody
Zankie = Frankie/Zach
The Detonators = Derrick, Frankie, Zach, Christine, Cody
"The HITMEN" – Cody & Derrick
Trilogy = Nicole, Christine & Hayden
Team America = Donny, Derrick, Frankie
Old timers = Jocasta/Donny
Nicotine = Christine/Nicole
bottomfeeders = Derrick and Nicole
More polls here https://www.onlinebigbrother.com/big-brother-compendium/big-brother-16-polls/
[polldaddy poll=8220599]