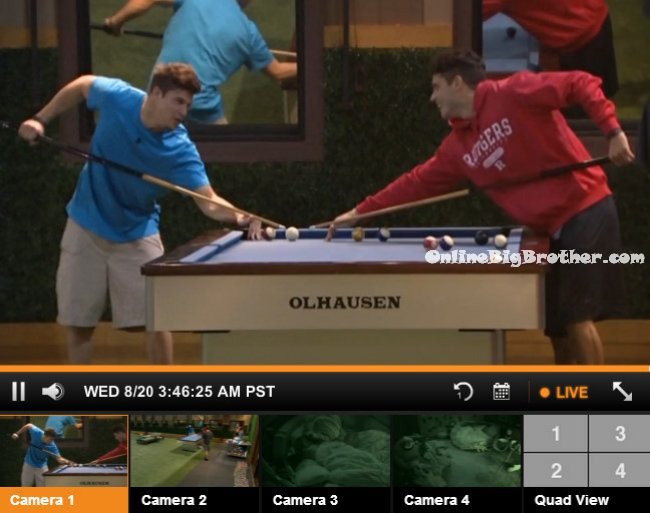 4:16am – 4:30am Cody wins the game of pool. Zach heads over to the pool and jumps in. Zach then gets into the hot tub to warm up. He says if you don't vote for me to stay I'll pee in the hot tub. Christine says oh god I hope not. Zach says I'm going to be dreaming about that buy back!
4:30am – 4:40am
Derrick and Cody play another game. At the end Derrick wins but Cody claims he never called the pocket so he didn't win. They yell and scream back and forth. Derrick says you're literally a b***H if you don't jump in the pool. Cody goes and jumps into the pool.
5am – 5:25am Out in the backyard – Derrick, Christine, Cody and Victoria are talking about getting to know someone before you marry them. Derrick is trying to convince Victoria its a good idea to live with someone for awhile before marrying them. He thinks that's that many reason why 40% of marriages end in divorce. The conversation turns to talking about what the competition will be this Thursday. Derrick says I think we'll be out here for hours this Thursday. Meanwhile in the havenot room – Zach grabs some of the flower and brings them into the have not room. He cleans them up and puts them into the side black big brother bag. He then goes to sleep in the earth room. Christine brings up how weird it was that their things got stolen. Derrick talks about how maybe we find out Zach was America's player and he has 20K already .. and a trip to Germany. Victoria says I don't think we would know until the finale. They head inside to go to bed.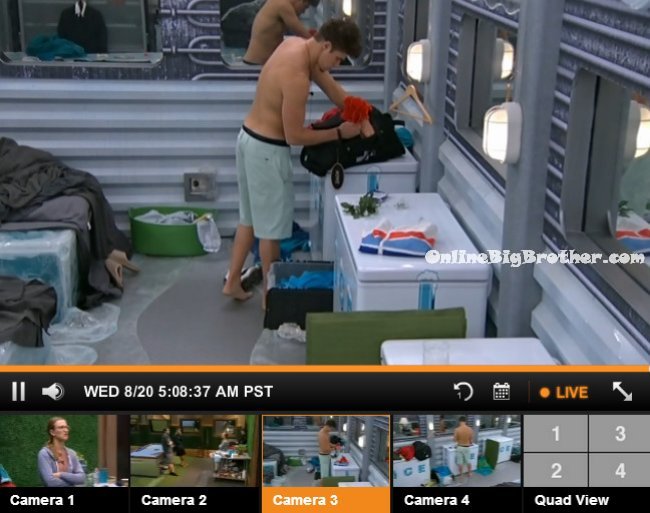 5:20am – 6:50am In the kitchen – Christine comments to Cody how she looks so tired. Cody says no you look f**king HOT! Hottest I've ever see you in this house. Christine says alright Cody you're lying.. you're going home. Victoria heads to bed. Derrick and Cody head out to play pool. Christine joins them to watch. Frankie wakes up and joins them. Christine says you know what the number 1 best thing about staying up late is.. No Donny! Cody says Donny called me a pud puller because I had my hands down my pants. She says that he made a comment about having a huge d**k. And I literally almost got up and pulled his hair! In a horrible way like throw him to the ground. Cody asks what!? Christine says when we made a comment like oh that was huge and he said thank you and then jiggled his junk. Derrick says he's a little bit of a pervert. Christine says he has said 50 things to Victoria. Derrick says Victoria caught him staring at her. Christine says he's said things that are weird ..like that creeps me out. Cody asks Christine to wake him up in the morning. You have my permission to dump water on me if I don't get up. They finally go to bed.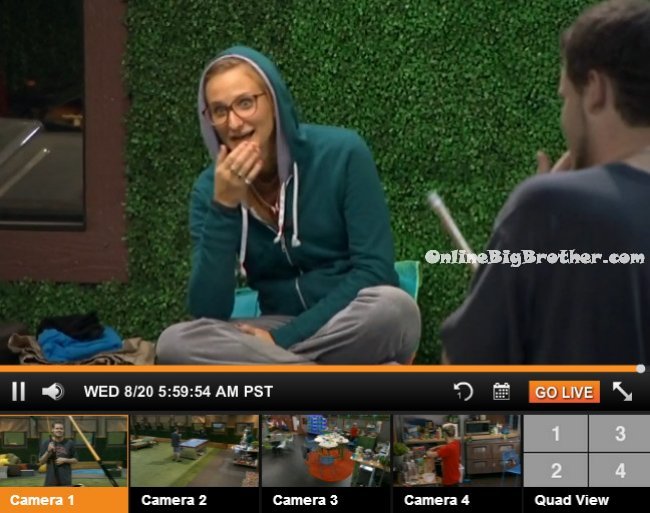 10:10am – 10:50am Big Brother wakes up the house guests. A few of the house guests wake up and go to the bathroom but they all head back to bed except for Donny.

Alliances
"The HITMEN" – Cody & Derrick
Team America = Donny, Derrick, Frankie
More polls here https://www.onlinebigbrother.com/big-brother-compendium/big-brother-16-polls/
[polldaddy poll=8255055]
Share it YO!!
Tweet