POV Holder:
Frankie
Next POV
Aug 23rd
POV Used
Yes
POV Ceremony
Aug 25th
HOH Winner 1:
FRANKIE
HOH Winner 2:
Derrick
Battle of the Block Winner
Donny & Christine
Next HOH
Aug 21st
Original Nominations:
Derrick's Noms (Donny & Christine) Frankie's Noms (Caleb & Cody)
Final Nominations:
Zach & Cody
Have Nots
Christine & Victoria
POV Players
Cody, Caleb, Frankie, Victoria, Donny, Christine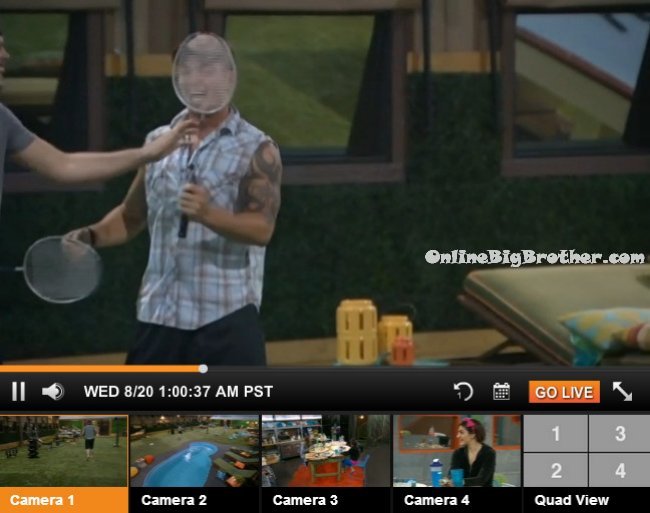 Big Brother 16 Live Feed FREE TRIAL – Use the FLASHBACK feature to watch everything you've missed!
1am – 1:25am In the backyard – Derrick, Frankie, Caleb, Cody and Zach are hitting the badminton birds like baseballs onto the roof of the house. Big Brother blocks the feeds and when they come back. Caleb, Cody, Derrick and Frankie are laughing hysterically. Frankie is going inside laughing saying production said we don't want to ruin your fun but.. Big Brother blocks the feeds again. The feeds come back again and Caleb is hitting more home runs. They finish play and Frankie and Cody start a game of pool.
1:40am Zach says I bet Hayden is getting massaged in the jury house. Frankie says he's not been too busy knee deep in Nicole? Zach says his d**k has definitely fallen off. Caleb asks you think so? Zach asks DUDE!? Seven days with Nicole Dude!? No cameras BRO!? Caleb says I just don't see her doing it. I don't think Nicole would let him in like that. Cody says she wouldn't but I bet they're dry humping the shit out of each other! Zach says I'm sure they're making out and sh*t too. Zach says at least he can rub em out in there without any cameras. Cody says OH GOD YEAH! Zach looks at his stomach and says that he looks like he's pregnant. They notice that something stinks and can't figure out what it is. They realize that its Derrick's sandals. Zach picks one up with the pool stick and carries it over to Derrick by the couches. Frankie grabs the other one and drops it beside Derrick. Derrick asks why did you bring them over here? Frankie says because we wanted them to be by their owner. Derrick gets up puts his sandals on and joins them by the pool table. Derrick compares his and comments that Zach is still cut.
1:55am Up in the HOH room – Caleb and Frankie are talking. Frankie says so far I don't have any jury votes. I don't have jocasta's, Hayden's, or Nicole's votes. Cody says I hadn't even thought about that yet. Frankie says that he (Zach) said I was guaranteed the win.. and I asks how?! 50K would buys me two schools and no one in the jury is going to vote for me. He made me think about that. When we get to the final four if you me and Derrick are there you're going to do what's best for your game. The knives in our back are done. Big Brother blocks the feeds and when they come back. Frankie tells Cody I've always had your back. Cody says Zach literally ripped my and you.. and no one else. Cody says he thought Zach was America's Player with the speeches he was doing. Cody says that after he tried to throw us under the bus I haven't talked game with him and would shut him down when ever he would try. Christine joins them. Frankie talks about how Zach was saying everyone would vote for me. Christine says yeah like he is the only one to take you to the end. Frankie says the knives are going to come from the front now. Christine says yeah so expect it. Frankie says I honestly believe he is the last person that would stab you in the back. They leave the bathroom so Cody can shower.

See what they can't show you on TV! -Try the Big Brother 16 live feeds for FREE!
In the bathroom – Derrick jokes that Victoria replaced Christine … you were rubbing his back.. running your fingers through his hair.
2:20am Derrick joins Zach by the hammock. Derrick says Christine isn't going to vote for you. Zach says but why though?! Derrick asks because you're a bigger target?! Zach says yeah. Derrick says it doesn't matter. Zach says its better for everyone's game to keep me. Zach says Donny said he would vote for me. Derrick asks he said he would. Zach says well not directly. Derrick says I'm not, its want the house wants at this point. If I was going I wouldn't campaign. Derrick says if that's your rational .. at what point do they send you home? there are only 3 weeks left till the final HOH. Zach says yeah I get your point.
Derrick asks why would I vote for you to stay, I would be the next one out. Zach asks what if I can get Christine? Derrick says Christine isn't keeping you over Cody. Zach says I think she would after I say the only reason she wants to keep Cody is because she likes him. Zach says if Christine won't vote for me I will put her on blast during my speech.. I will tell her husband to get the divorce papers ready literally, literally. Derrick says I am looking out for you. You threatening her on national television will look bad for you. You don't want to do that. Zach says I've got no chance. Derrick says you threatening her and her husband on national television about adultery isn't going to look good for you. Don't do it. That's not how you want to go out. She is already sad about it and has lot of of explaining to do. If you did that to me I would vote you out just out of spite. Zach says if you tell me I don't have a chance then I don't have a chance. Zach says I told Donny his only play is to win HOH, POV, HOH.. Zach tells Derrick you should talk personal with Donny. Derrick says Donny doesn't trust me. Derrick says I am not going to suck your d**k to stay. Like I am not going to knob you off to stay. If I go out, I go out. Zach says for you I will whisper in Donny's ear that he can trust you. Derrick says I appreciate that. Derrick says I have nothing but love for you. Derrick says Victoria loves me but she is not getting to the end. She is going very soon. Zach if she won 500K… Derrick says its not going to happen. There is no one anyone would vote her over because it reflects on your game play. The winner reflects on everyone below them. I don't want her to be the icon of our season. People will type in BB16 and see her!? Someone will take her out soon. Derrick tells Zach that you going home was not the plan if Donny won the veto. Zach says I'm not upset I'm leaving .. I knew I wasn't going to win any ways. Derrick says you made all the staples.. OTEV, Zing-Bot, Jury. Zach says 500K would be nice but I will make it another way.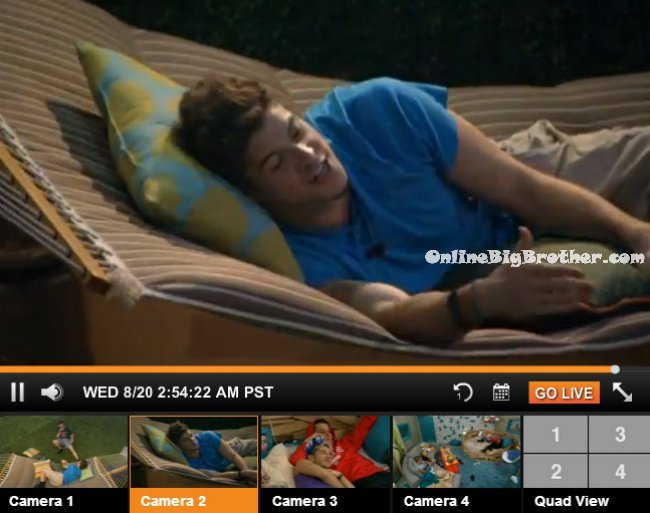 2:20am Up in the HOH room – Frankie, Caleb and Christine are talking. Frankie says at a certain point Victoria becomes a commodity. Everyone is going to want to take her to the end because there is no way anyone is loosing to that thing. Christine and Caleb says that is why we need to get rid of her. Caleb says I would hate to go out third. If I could look into the future and know I was going out third then I would want to go out now. Christine says not me I am here for the experience and want to experience everything. Caleb says I would cry if I went out third. Frankie says I would be okay going out third. They start talking about random things. Derrick joins Frankie up in the HOH room. He tells Frankie how Zach is okay to go and I believe him. He might be dogging us all season but correct me if I'm wrong but as long as he hasn't been attacking our families then I would laugh at it. Every time it comes on I would text him saying PRICK! Frankie leaves to go out to the backyard where Cody, Zach and Christine are hanging out playing pool. Derrick talks to Caleb about needing to win the HOH. We can't let Donny win. We're in trouble if he does. Derrick says we're alright .. we just have to keep everyone loyal. Caleb says we get Donny out this week. Derrick says then Christine, then Victoria. Derrick explains to Caleb how the final 3 part HOH works. Derrick talks about how he already told Zach how you and him will be the most memorable characters. Derrick says you and I in the end it would be close but you would probably win because you've won more competitions. Derrick references Big Brother 10 with Dan and Memphis and says that Dan took Memphis to the final two and Dan won to like a 5-4 vote (Not true it was a 7-0 vote). Derrick says it was a close vote and you know what was the deciding factor was that Dan won more competitions. Derrick says and that's how I will vote if I'm in jury. Derrick leaves and Caleb goes to sleep.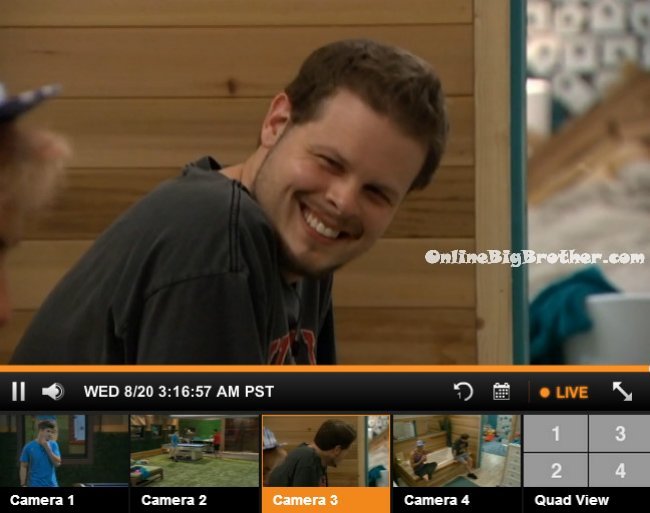 3:45am – 4:20am Derrick, Cody, Zach, Frankie and Christine are out in the backyard. Cody and Zach are playing pool. Zach says if Cody beats him he will jump in the pool fully clothed. Zach keeps beating Cody. Derrick then plays Cody. Frankie comes out to say goodnight again. Zach says you're going to bed for the third time, OKAY VICTORIA! Frankie says that's the most horrific thing you've ever said to me. Zach plays Cody again. They say that the loser has to jump in the pool fully clothed. Christine asks why does it have to be fully clothed!?!? Derrick tells Christine you really don't make it easy on yourself do you?! Zing-bot is building it back up again. Zach and Cody agree she doesn't make it easy on herself. Christine says I can't help it. Tim gets pissed off at me and his brother. Derrick asks you flirt with his brother?! Christine says no I say inappropriate things all the time. Zach asks like why do you have to jump in the pool fully clothed when you can do it n@ked? Christine says like I say inappropriate things and he says them back. This year at Thanks Giving I said something that Tim said that was too much!