POV Holder:
Frankie
Next POV
Aug 23rd
POV Used
Yes
POV Ceremony
Aug 25th
HOH Winner 1:
FRANKIE
HOH Winner 2:
Derrick
Battle of the Block Winner
Donny & Christine
Next HOH
Aug 21st
Original Nominations:
Derrick's Noms (Donny & Christine) Frankie's Noms (Caleb & Cody)
Final Nominations:
Zach & Cody
Have Nots
Christine & Victoria
POV Players
Cody, Caleb, Frankie, Victoria, Donny, Christine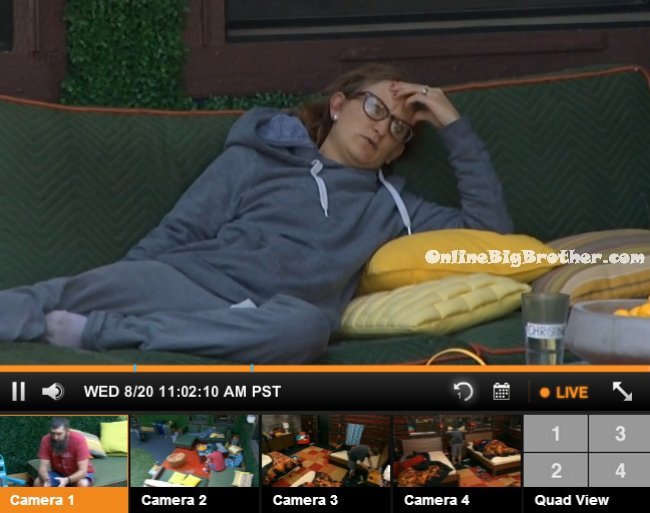 Watch the last month of the live feeds for only $9.99!
– PLUS try it out first with the 2 day FREE trial! –
11am – 12pm Out in the backyard – Donny is talking to Christine. She says I got 4ish hours of sleep. I don't know if I should go back to sleep or what. Donny and Christine talk about memory foam mattresses. Donny comments on how Frankie said he stayed up till 6:30am. Christine says he didn't he kept going back to bed and waking up. Donny asks what in the world would cause someone to stay up till day light, unless they're sick. Christine recounts the events of last night. How Cody, Zach and Derrick played a million games of pool and how Cody and Zach jumped in the pool with their clothes on. Donny asks do you think there's a possibility of a double eviction? Christine says if its true to last season it would be next week. But who knows, anything is possible. Christine says I can't believe I'm on the show. Donny says and we've lasted a long time too. Donny asks would you sad if Victoria lasted longer than you? Christine says I don't think there would be a sole that wouldn't to be honest. Donny says she's a number and a vote. She has a lot of power. Christine says absolutely. She has a lot more power than you think. Donny says yeah and that gives other people power too. Christine says and they're smart for keeping her. You can definitely sway her vote easily. Donny says for someone like you and me to get who-doed by her it would be terrible. If she is used to get you or I out it would be terrible. Donny says and the people that got her, ain't going to give her up. Christine says and you can't get her at this point. Donny says not even a pop star. Donny says there are a couple that I mind losing to. We deserve it at this point. Christine says the sad thing is people are going to want to take her because she won't get the votes. Big Brother calls for an indoor lock down. Donny and Christine move inside.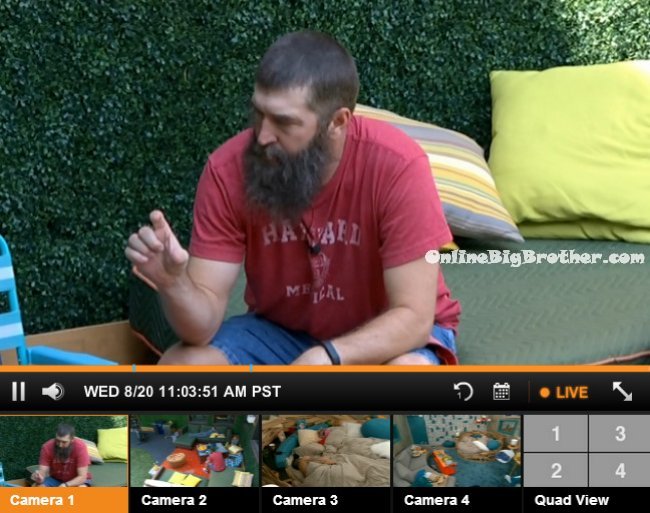 12:10pm – 12:25am In the kitchen – Donny asks you find yourself doing dirty work for others? Christine says many times. Hindsight is 20/20. Donny says you can't really trust anyone, that's why I stayed so quiet as long as I did. Donny says if I am the next one I am going to go out with my head held high. I will do what I can do but at that point I will be fine with it. It all comes down to who you can trust and you don't know if you can trust that person. I think about well how many times has this person lied. Well they haven't lied to me but they've lied to this person 5 times… Are they lying to me too?! Christine says exactly! You don't know. Donny talks about Nicole and says that there is always a bit of truth to what people say. Donny says we better talk about Jenga because Creep Mode Cowboy might be up listening. Christine laughs. Donny says right now I have no one! All my friends like that are gone. Christine says that's the sad part. I feel like I did dirty work for others. Donny says as long as you're in here you can redeem yourself. Christine says you can get them back. Christine says I wish I could talk to Hayden. Donny says I heard something about Hayden but I don't believe it until I hear it from the person.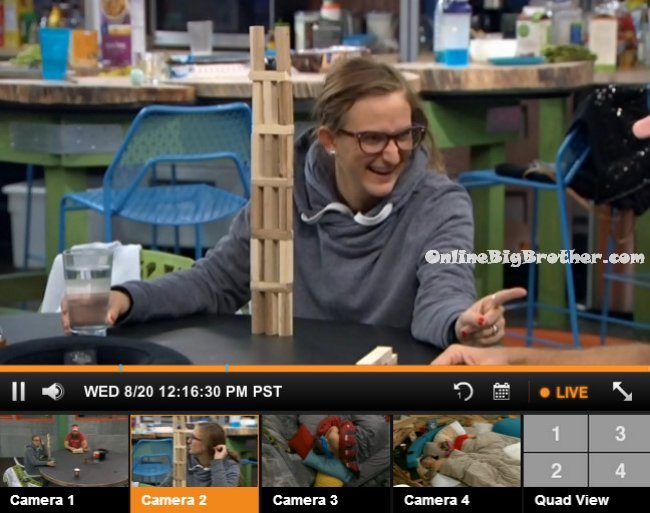 12:25pm – 1:05pm Donny says there is someone (Derrick) that has never been nominated and is everyone's friend and may never be nominated. Some times when it gets down to the final 6 or 5 you need to use those people to get them out. Think about who those people hang out with, that's who they're loyal to. Donny says you've got to think about who belongs to who. Its a numbers game at this point. Who belongs to you? Don't say but you need to think about that. I've been a target since the beginning and I'm a target again. Look at Cody up there .. you have to think about who he is loyal to? Donny says I know. Don't says anything you don't want to. I won't tell a sole, I won't go out like that. Donny says Frankie is a target but he automatically is. There is someone that isn't a target and never will be. Does that make sense? Christine says totally. Can I live with Victoria coming in second. I could. Can I live with someone winning who's never been nominated. I can't. Can I live with Frankie. I can because of how big of a target he is. If he is in the jury we've lost America's Fave. I would want him in the final two. If this season comes down to Derrick, Cody and Victoria .. then we have done the views a huge disservice. Christine says I don't think Nicole was going to backdo*r me. Donny says she wasn't. Donny says I won't win, I might not but I have played a good honest game. I haven't stabbed anyone in the back. For me to be ganged up on 6-1 is bad television. Christine says it is. Donny says I hope I haven't told you anything you will go and tell others. Christine says I won't. Donny says we should throw some laughter in just in case people are listening. Donny says I haven't approached you with nothing but just think about it. Donny says if some way Zach stayed he would go after Frankie. Christine says she thinks he would come after me. Donny says I don't think he would. Donny says Christine Cody is with Derrick. When I sleep back there all the whispering. I hate to tell you. Donny says that camera that shined on you at night has shined on me a few times crying. Donny says when I was talking to Zach he told me that you're the next to go. He had no reason to tell me that but he did. I hope you don't tell anyone this tonight when I go to bed because they'll think of reasons to tell you different. I have been against an insurmountable obstacle .. I can only hope for a $25,000. I am not against Frankie. It's almost like the bed situation is telling a story. I am alone, Zach is alone and I think you're alone. If Zach were to stay .. I bed his outburst would be directed to Frankie because he doesn't have a vote. Please don't use this against me. Cody is wrapped around Derricks finger because he is a smooth talker. Caleb and Victoria are never going to help me or you. Christine asks do you think Derrick would take Cody over Victoria? Donny says I think once it got down to the final 4 he would get rid of Cody because he has the potential to win competition whereas Victoria doesn't. In my opinion if Frankie won, this season wouldn't be a let down. Would anyone ever suspect you and me working together. Christine says never, never! Donny says I am not even saying we have to make a deal we could just help each other through the next couple weeks. Christine says it would be good tv! Donny says I can't beat Frankie. Christine disagrees. Donny says you couldn't beat Frankie. We couldn't beat Derrick either .. he is friends with everybody. Donny says please don't let them know we talked. I promise on the holy bible I won't tell anyone. Christine promises she won't tell them. Christine says it would be so unexpected if we did work together.