POV Holder:
Frankie
Next POV
Aug 23rd
POV Used
Yes
POV Ceremony
Aug 25th
HOH Winner 1:
FRANKIE
HOH Winner 2:
Derrick
Battle of the Block Winner
Donny & Christine
Next HOH
Aug 21st
Original Nominations:
Derrick's Noms (Donny & Christine) Frankie's Noms (Caleb & Cody)
Final Nominations:
Zach & Cody
Have Nots
Christine & Victoria
POV Players
Cody, Caleb, Frankie, Victoria, Donny, Christine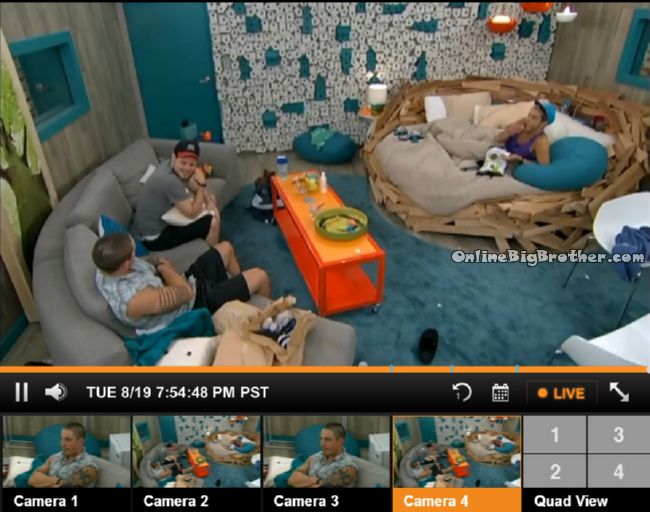 7:54pm HOH Caleb, Derrick and Frankie
Frankie uses the bathroom room. Derrick tells Caleb they cannot take Victoria to the final 3 because anyone will take her to the end she's a guaranteed win.
Caleb saying he was down playing pool and Cody and Christine were on the couch she was rubbing his shoulders and all the cameras were on them. Caleb says if he got a zing like she did he wouldn't be doing stuff like that anymore..
Lots of chits chat.. Frankie says after taking time off from ej@cualting when you do it it's painful
Caleb says when he was deployed he never "went".. "you go home push it through the tubes it hurts… it feels good but it hurts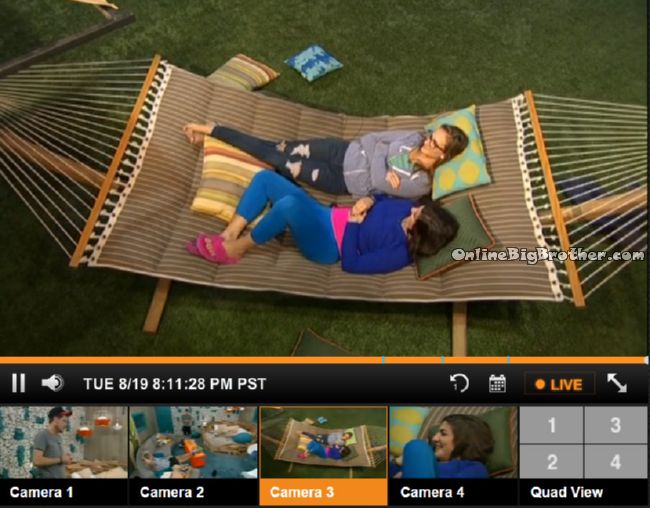 8:07pm Hammock Victoria and Christine
Victoria saying if it's endurance she has to win it..
CHristine – Ya.. oh my god.. it's stressing me out
Victoria – I'm so f***g stressed..
Victoria Says it sucks all she does is win POV's and BOB's she hasn't won a HOH yet, "I freeze all the time just like i did in front of Julie.,. I don't know why the nerves get so bad for me it's insane.. I dunno I just frickin freeze I don't know why it sucks.
Victoria – It's so hard for me I cannot be fake..
Victoria about Zach – I can't believe he said now he' can F*** my sh1t up
Christine – Oh my god he's a idiot I hate him
8:24pm
The guys showing how they hide J***king off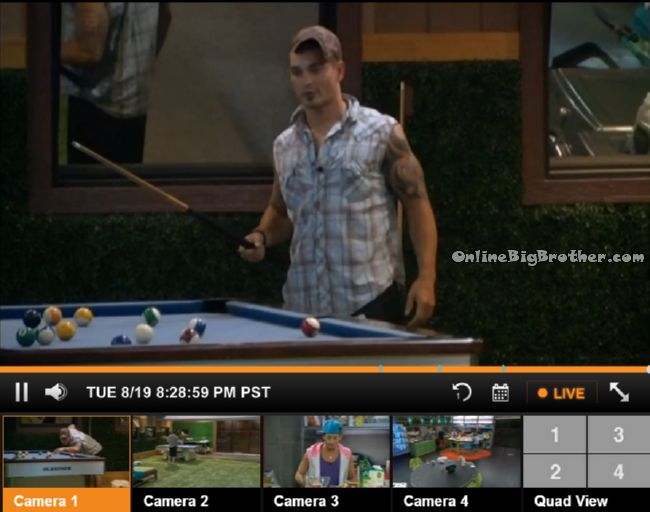 8:28pm Pooltable Derrick and Caleb
Derrick tells him he doesn't want to do the acting or modelling thing like some of the other houseguest he wants to start up a Big BRother website..
Derrick wants to do Video Fan Chats where he has past cast members in Skype chat. "People can log on check out the conversation.. I'll have Beast mode of the week fruit loop dingus of the week"
Derrick starts saying that COdy makes a lot of money.. "He's got a business degree from temple and for all we know he was the top of his class"
Donny joins them..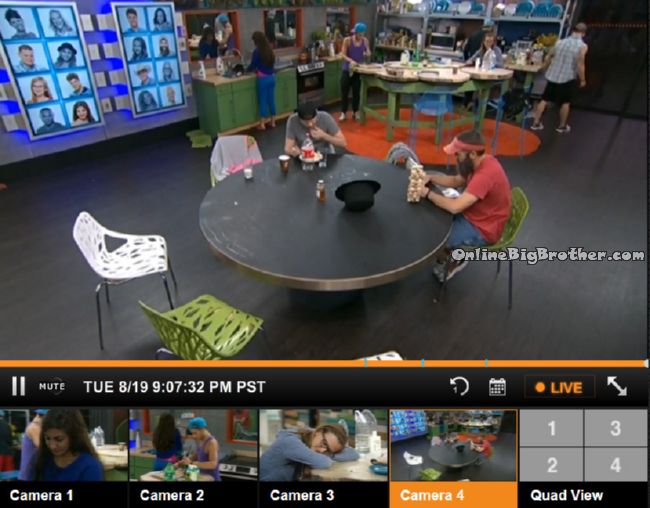 9:09pm Movie talk.. random chit chat..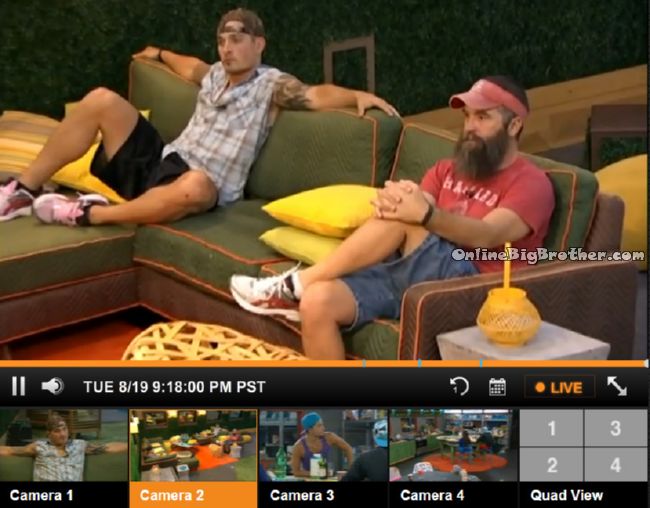 9:17pm Backyard Derrick and Caleb
Derrick – I'm a boring guy man.. I'm 30 coming on 50 .. Kids change things a lot..
Derrick – You know what I did recently for my 30th I went to F-1 racing my brother took me with some of my friends.. it's like Go Carts but FAST go karts..
Caleb start talking about being here 90 days is a long a$$ time
Derrick – we're 2/3rds done..
DOnny joins them.
Donny – You've been Creepin today..
Caleb – Nah.. `
Caleb – I'm not going to lie I would like to see the jury house. would I rather be here to win the money YA..
Derrick – I get what you're saying. Explains that caleb would you rather leave now than week 3..
Caleb – They are kicking it watching whatever movie they want, Huge swimming pool, hanging out with the handler, Drinking beer whenever., walking through a HUGE house, No cameras, Str*king the meat every night…. just the view itself.. they are in a mansion 3 times this house.
Derrick – right now Jocasta is reading her bible Hayden and NICole are smooshing talking about their future..
Caleb – "these days are sleep aways just sleep them away they're so long and boring..
Victoria – I heard I love you
Derrick I didn't hear anything.
Feeds cut to fist (ahhh Cmon)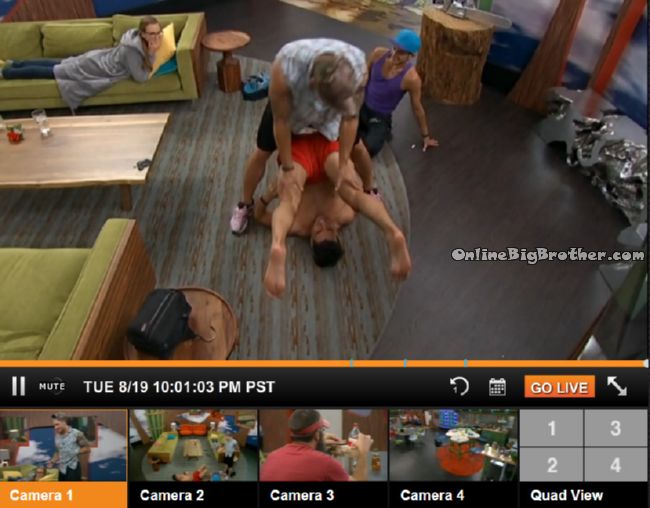 10:00pm Caleb shows Cody his favorite position. Could be lockdown everyone but Zach in the living room chit chat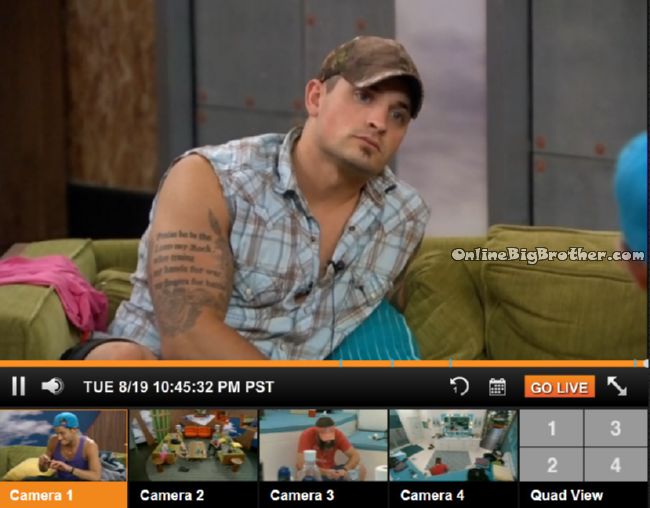 10:46pm Living Room Frankie and Caleb
Frankie says he hasn't really had a relationship since he started his youtube channel. It's hard for some people to wrap their heads around him "Vlogging" all day
Caleb asks Frankie if he thinks a guy would date him because of his sister to try and get a in. Frankie doesn't think so..
Frankie says he doesn't go for feminine guys but he doesn't go for Manly men either.
Caleb says he will like the manly men after meeting him.
Frankie says he might.
Caleb – you better
Frankie says there a club called blazing saddles near his house he thinks he'll go give it a try.
Frankie explains that there's cowboys with their shirt off.
Caleb says he should get a job there
11:12pm Pool table Derrick and Caleb
Derrick telling Caleb he promises on everything he loves Caleb is not going home but if there was a chance situation he would never tell Caleb he's staying with he wasn't
Zach and Frankie join them.
12:00AM whole lotta chit chat..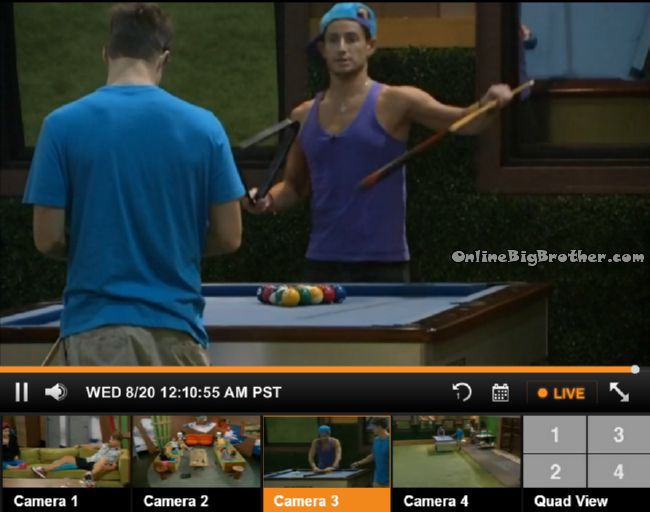 12:07am Zach and Frankie Pool table
Zach – what's the difference of you sending Me home and COdy .. in your eyes..
Frankie – You are more unpredictable
Zach – Right and that is a bad thing.. but Cody is predictable ..
Frankie – COrrect
Zach – THat is a bad thing for your game
Frankie – I mean do I think he wants to go with me to the end.. probably not..
Zach – ROSE no one wants to go with you to the end..
Frankie – okay..
Zach highlights all Frankie accomplishments in the game..
Frankie – I have no jury vote.
Frankie – Derrick wins hands down no questions
Zach says he really thinks Frankie needs to rethink who he is sending home.
Frankie says he's sick of Frankie saying sh1t about Frankie like when he was on the NFL trip.
Frankie says how can Zach suggest he gets Cody out while he's throwing him under the bus and hurting his game.
Frankie – you're hurting me, your hurtful.. that hurts my game that hurts my life that hurt my chances of feeding children in Africa..
Frankie doesn't think anyone will vote for him in the final 2.
Zach – All i'm saying is once I leave you are the biggest target in the house.. I have thrown you under the bus yes.. Everything I said I'll say it to your face.
Frankie – a lot
Zach – I think it benefits your game a lot more if you keep me here..
Zach says he's not putting Frankie up. Frankie doesn't believe it.
Zach – It's better for everyone's game if i'm here over COdy.. COdy has no enemies and everyone is going up on the block before him
Frankie you honestly think I have more jury votes than Cody
Zach – you've played a much better game.. Derrick is winning over cody
Frankie – I don't have the jury votes to win people don't think i need the money
Zach tells him he's played the best game in this house by far' It's not even a question.. If Christine and Victoria were smart they would vote COdy out to because if Zach is in the house Zach is going on the block before then. If zach goes to jury the it's Victoria /Christine/Frankie.
Zach "If i'm in the house i'm going on the block every single week"
Frankie it's not a bad pitch.. i'm sick of you throwing me under the bus you are so hurtful..
Frankie – You know what I would do pray for a f***g buyback"
12:38AM Cody, Frankie, Caleb and Derrick
Derrick telling him with the exception of this week there is no more back dooring
Frankie tells them that Zach is trying to stay saying that he needs to keep him in the game because he's the biggest target.
Derrick says now is the time to get the big targets out..
Frankie – He's hurting everyone reality now because his game is f*** if he's going to continue lying, cheating and stealing like he's doing….
Alliances
"The HITMEN" – Cody & Derrick
Team America = Donny, Derrick, Frankie
More polls here https://www.onlinebigbrother.com/big-brother-compendium/big-brother-16-polls/
[polldaddy poll=8255055]